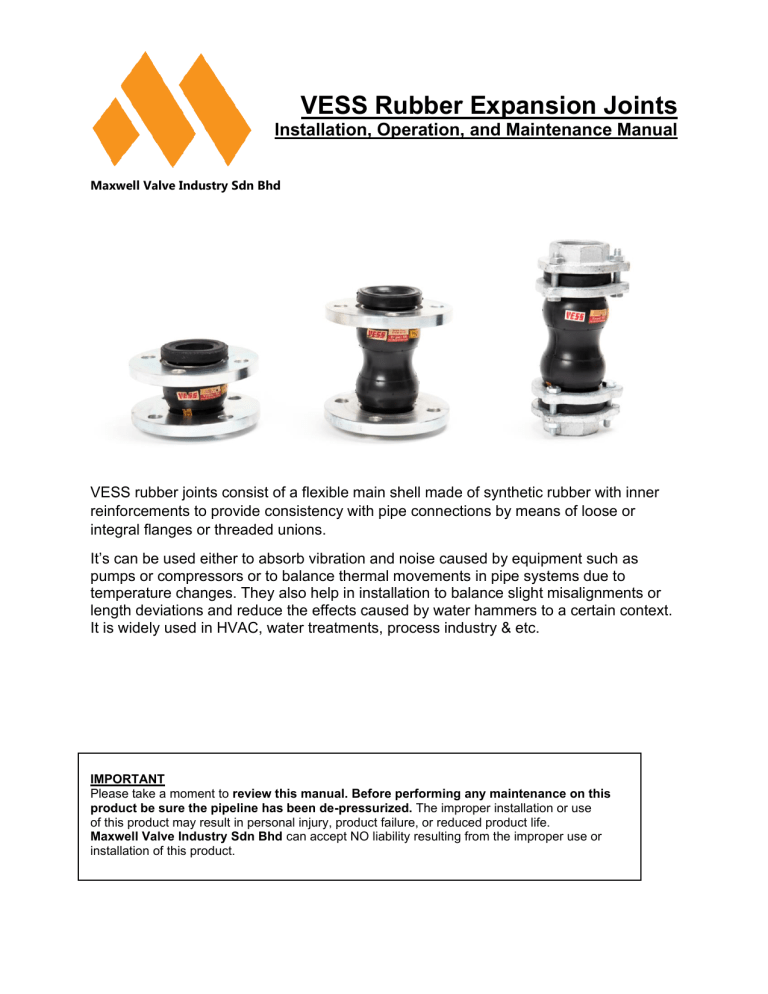 VESS Rubber Expansion Joints
Installation, Operation, and Maintenance Manual
Maxwell Valve Industry Sdn Bhd
VESS rubber joints consist of a flexible main shell made of synthetic rubber with inner
reinforcements to provide consistency with pipe connections by means of loose or
integral flanges or threaded unions.
It's can be used either to absorb vibration and noise caused by equipment such as
pumps or compressors or to balance thermal movements in pipe systems due to
temperature changes. They also help in installation to balance slight misalignments or
length deviations and reduce the effects caused by water hammers to a certain context.
It is widely used in HVAC, water treatments, process industry & etc.
IMPORTANT
Please take a moment to review this manual. Before performing any maintenance on this
product be sure the pipeline has been de-pressurized. The improper installation or use
of this product may result in personal injury, product failure, or reduced product life.
Maxwell Valve Industry Sdn Bhd can accept NO liability resulting from the improper use or
installation of this product.
GENERAL DESCRIPTION
VESS Expansion Joints are designed to alleviate stresses caused by thermal expansion
and contraction in piping systems and reduces noise and vibration.
The flexibility of these durable expansion joints permits the connecting of misaligned
piping which is caused by worn parts, foundations settling or in the operating of systems
and mechanical equipment.
VESS Expansion Joints are manufactured like a heavy duty truck tire. The abrasive
resistant, all elastomer expansion joints are designed for maximum flexibility and
available in sizes 15mm – 400mm.
VESS Expansion Joints are reinforced with steel wire or solid steel reinforcing rings and
synthetic fabric for additional strength. The construction of the VESS Expansion Joints
includes: a tube, body cover, and flanges. The tube is a protective leakproof liner made
of an elastomer, and is the only wetted part. The body consists of fabric and various
rubber compounds and is reinforced with steel wire or rings for strength. The cover is
formed from the desired elastomer, normally Neoprene or Butyl. The flanges are made
of mild steel to BS4504 PN16 flange.
ANCHORING
It is absolutely necessary that rigid metal pipe on both ends of the expansion joint or
any flexible connector be properly anchored to eliminate the danger of excessive
movement. It cannot be emphasized too strongly that rubber expansion joints and
connectors, by virtue of their design and function, are not designed to take end thrusts
and in all cases where such forces are likely to occur, proper anchoring is essential.
Anchors should always be installed. An expansion joint should never be used to support
the piping.
NEVER paint or lubricate rubber Expansion Joint
NEVER cut or modify Expansion Joint or rubber fitting.
NEVER operate rubber Expansion Joint or pipe above specified
pressure and temperature rating.
DO keep Expansion Joints and rubber fittings on pallet until
ready to install.
DO install expansion joints at recommended length, even if
arch is slightly compressed.
STORAGE AND HANDLING
VESS Expansion Joints and rubber fittings should be stored in a cool, dry location on
original shipping pallet or a wooden platform with the flanges down (Figure #1).
Do not drop, bend or twist VESS rubber products or damage may occur cover it
1. Do not allow joints to be in contact with the ground. If joint is to be stored outdoors,
with a tarpaulin to prevent weather and sun damage.
2. Avoid exposure to light, electric motors, dirt or chemicals. VESS rubber products
are subject to deterioration when exposed to ozones and non-compatible chemicals.
Ozone especially causes age hardening of the elastomer.
3. Do not store other heavy items on top of an expansion joint.
4. Store Installation Operation Manual with product so it will be readily available
for installation.
5. Do not lift joints or pipe by bolt holes. Tearing of the flange and bolt holes or
deformation of the bolt holes can occur .They should be handled with a padded sling or
a piece of pipe longer than the face-to-face of the joint with a cable through it so as not
to cut into the rubber joint or pipe (Figure #2).
INSTALLATION INSTRUCTIONS
VESS EXPANSION JOINTS AND RUBBER FITTINGS
Review the application to which the expansion joint is going to be applied. Special
attention should be paid to the pressure/ vacuum, temperature, and movements
to ensure that the expansion joint meets the system requirements.
1. INSPECT PIPE AND PRODUCT
Check flange faces of pipe and VESS expansion joint for rough/damaged areas.
Pipeline flanges must be flat, properly spaced, and parallel to achieve proper seal.
Mating flange I.D. must match the VESS I.D. Flanges
with an oversized I.D. can cut the VESS flange. Grind or file any sharp edges of the
pipeline flange to prevent damage to the VESS expansion joint. Flange standard of
VESS expansion joints are built to BS4504 PN16 and bolt circle specifications.
2. MEASURE LENGTH OF JOINT NEEDED
Measure the distance between the two flanges to be connected. Measurements should
be taken at ambient temperature. Make sure that the flanges are properly aligned, and
that any misalignment does not exceed 1/8".
3. SET JOINT IN PLACE
Install VESS in recommended face-to-face dimensions,
avoiding expansion or elongation. Arch may be slightly
compressed if distance between flanges necessitates.
4. TIGHTENING BOLTS
When tightening bolts, two wrenches should be used to
prevent damage to the rubber flange. Always use a star
pattern when bolting an expansion joint or rubber pipe.
Initially, torque the bolts to the recommended values
shown in the Torque Values chart. Pressurize the line.
Retorque the bolts to the proper torque. If process
fluid leaks, increase the torque in increments of 50% of
the tabulated values. During installation you may need to
retorque the flange bolts several times for a
proper seal. This will overcome any leaks due to the cold
flow of the rubber expansion joint flange. Check bolt
torque and retighten if necessary several days after
initial operation and then periodically thereafter.
TORQUE VALUES
5. INSPECT COVER AFTER INSTALLATION
After the unit is securely bolted into position, carefully inspect the cover of the
expansion joint for any cuts or gouges caused by tools or bolts. These should be sealed
with rubber cement to prevent oil or water from penetrating the elastomeric cover.
6. CONTROL UNITS
Control rods must be installed where piping is not sufficiently anchored to prevent
excessive axial movement. Install the gusset plates first, to the pipeline flange.
7. INSERTING THE CONTROL ROD
The control rod bolt is passed through holes in the gusset plates and secured using
steel and rubber washers or rubber backed steel washers to properly set the spacing of
the rod. This rod limits the expansion of the joint to set limits.
When adjusting the control rod bolt take the following into consideration:
1. The free standing face-to-face dimension of the joint;
2. The required elongation capabilities of the joint;
3. The flange thicknesses of both mating flanges;
4. The thickness of the gusset plates;
5. Unless the joint is installed at the maximum elongated state (NOT RECOMMENDED)
or you do not want the joint to elongate, the rod will be loose;
6. If you do not want the joint to elongate, adjust HAND TIGHT ONLY.
8. COMPRESSION SLEEVE
An optional compression sleeve can be used to limit the compression of the expansion
joint. The control rod is passed through the sleeve before being inserted through
the second gusset plate.
9. THEREADED END EXPANSION JOINTS
For threaded end expansion joints, thread one end to pipe a few turns only. If pipe
ends to be connected are misaligned, bend joint and begin to thread second coupling
a few turns. Continue to thread both couplings, alternating sides every few turns until
both are snug. Check that pipe introduction in the joint does not exceed valve thread,
leave at least 1mm as safety margin.
10. INSTALLATION POSITION
VESS rubber joint are bi-directional and can be installed either in horizontal or vertical
pipelines subject to proper anchoring and guiding.
VESS CONTROL UNITS
Expansion Joints, Vibration Pipe, and Reducers installed in piping systems must be
rigidly anchored on both sides of the unit to control expansion and contraction.
The illustration below exhibits the details of a properly installed set of control units.
Control rods do not protect the expansion joint and piping system against lateral
offsets and are not a replacement for proper system anchors, guides and supports.
Control rods should not be used with non-metallic flanges such as PVC, FRP and
other flanges which do not have sufficient strength.
MAINTENANCE AND REGULAR CHECKING
Rubber Joints are subject to wearing down and material fatigue. Thus, life span is
limited and largely related to parameters such as service pressure, service temperature,
movements amplitude, environmental conditions and ozone exposure, number of cycles
and product compatibility.
Rubber bellow should be preventively replaced. Corresponding intervals should be
defined and scheduled by the plant operation personnel according to service level.
Before starting any maintenance work at the plant, wait for the valve medium to cool
down and release the pressure from the system. Clean the pipe system thoroughly in
the event of toxic, corrosive, flammable or caustic fluids.
Check periodically for tightness and good condition of bellow surface and flanges,
as well as the rest of pipe system (especially anchoring and guiding). If bellow is
scratched or worn down, replace it.
Check the joint length and position in the pipe to ensure that the equipment is working
properly. In case of excessive swelling or deformation, check material compatibility,
working parameters, pipe anchoring and guiding. Replace the bellow when necessary.
PAY ATTENTION TO THE FOLLOWING RECOMMENDATIONS
TROUBLESHOOTING
SYMPTOM:
Flange leakage
• Check bolt tightness.
• Check mating flange surface area for grooves, scratches, or distorted areas.
• Overextension may indicate need for control units.
SYMPTOM:
Cracking at base of arch and/or flange
• Check installed face-to-face dimensions for overextension or overcompression.
• Check for proper pipe alignment to within 1/8".
SYMPTOM:
Liquid weeping from bolt holes
• Check tube portion of joint for leaks. Replace joint or rubber fitting, if necessary.
SYMPTOM:
Excessive ballooning of arch
• May indicate distortion or deterioration of joint strengthening
members, or may indicate excessive system pressure.
• Reevaluate service conditions and install a new joint.
NEVER WELD NEAR REDFLEX® EXPANSION JOINTS OR
RUBBER FITTINGS!
Intense light and sparks from welding can damage the protective cover of rubber joints
and fittings.