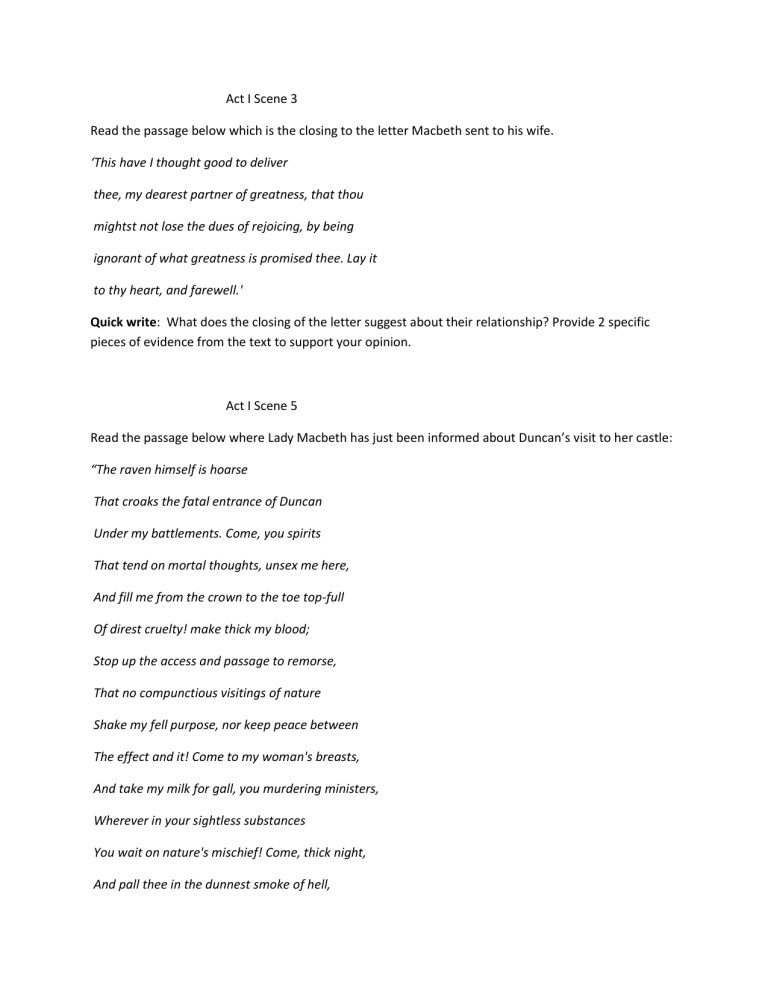 Act I Scene 3
Read the passage below which is the closing to the letter Macbeth sent to his wife.
'This have I thought good to deliver
thee, my dearest partner of greatness, that thou
mightst not lose the dues of rejoicing, by being
ignorant of what greatness is promised thee. Lay it
to thy heart, and farewell.'
Quick write: What does the closing of the letter suggest about their relationship? Provide 2 specific
pieces of evidence from the text to support your opinion.
Act I Scene 5
Read the passage below where Lady Macbeth has just been informed about Duncan's visit to her castle:
"The raven himself is hoarse
That croaks the fatal entrance of Duncan
Under my battlements. Come, you spirits
That tend on mortal thoughts, unsex me here,
And fill me from the crown to the toe top-full
Of direst cruelty! make thick my blood;
Stop up the access and passage to remorse,
That no compunctious visitings of nature
Shake my fell purpose, nor keep peace between
The effect and it! Come to my woman's breasts,
And take my milk for gall, you murdering ministers,
Wherever in your sightless substances
You wait on nature's mischief! Come, thick night,
And pall thee in the dunnest smoke of hell,
That my keen knife see not the wound it makes,
Nor heaven peep through the blanket of the dark,
To cry 'Hold, hold!'"
Quick write: Discuss what is revealed about Lady Macbeth's character based on her words above.
Select two specific lines/sentences which provide the most insight into her character.
Act I Scene 7
Read the passage below where Macbeth contemplates murdering Duncan:
"If it were done when 'tis done, then 'twere well
It were done quickly: if the assassination
Could trammel up the consequence, and catch
With his surcease success; that but this blow
Might be the be-all and the end-all here,
But here, upon this bank and shoal of time,
We'ld jump the life to come. But in these cases
We still have judgment here; that we but teach
Bloody instructions, which, being taught, return
To plague the inventor: this even-handed justice
Commends the ingredients of our poison'd chalice
To our own lips. He's here in double trust;
First, as I am his kinsman and his subject,
Strong both against the deed; then, as his host,
Who should against his murderer shut the door,
Not bear the knife myself. Besides, this Duncan
Hath borne his faculties so meek, hath been
So clear in his great office, that his virtues
Will plead like angels, trumpet-tongued, against
The deep damnation of his taking-off;
And pity, like a naked new-born babe,
Striding the blast, or heaven's cherubim, horsed
Upon the sightless couriers of the air,
Shall blow the horrid deed in every eye,
That tears shall drown the wind. I have no spur
To prick the sides of my intent, but only
Vaulting ambition, which o'erleaps itself
And falls on the other."
Quick write: Identify two central ideas (themes) within this speech and provide one piece of textual
support for each central idea.