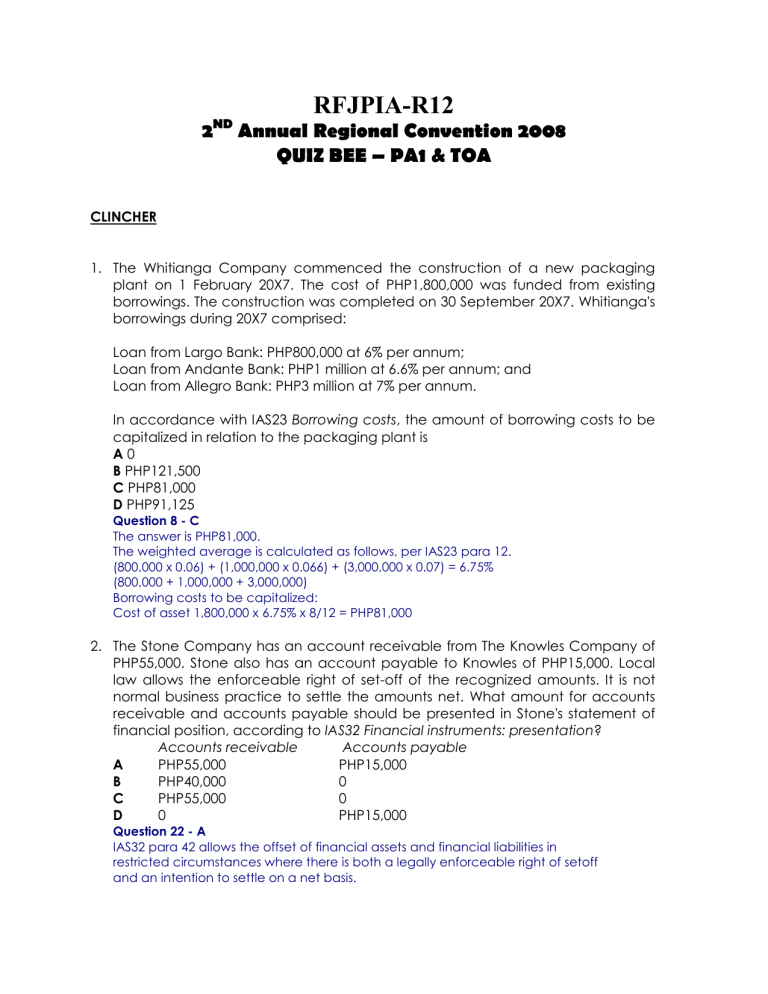 2
ND
RFJPIA-R12
Annual Regional Convention 2008
QUIZ BEE – PA1 & TOA
CLINCHER
1. The Whitianga Company commenced the construction of a new packaging
plant on 1 February 20X7. The cost of PHP1,800,000 was funded from existing
borrowings. The construction was completed on 30 September 20X7. Whitianga's
borrowings during 20X7 comprised:
Loan from Largo Bank: PHP800,000 at 6% per annum;
Loan from Andante Bank: PHP1 million at 6.6% per annum; and
Loan from Allegro Bank: PHP3 million at 7% per annum.
In accordance with IAS23 Borrowing costs, the amount of borrowing costs to be
capitalized in relation to the packaging plant is
A0
B PHP121,500
C PHP81,000
D PHP91,125
Question 8 - C
The answer is PHP81,000.
The weighted average is calculated as follows, per IAS23 para 12.
(800,000 x 0.06) + (1,000,000 x 0.066) + (3,000,000 x 0.07) = 6.75%
(800,000 + 1,000,000 + 3,000,000)
Borrowing costs to be capitalized:
Cost of asset 1,800,000 x 6.75% x 8/12 = PHP81,000
2. The Stone Company has an account receivable from The Knowles Company of
PHP55,000. Stone also has an account payable to Knowles of PHP15,000. Local
law allows the enforceable right of set-off of the recognized amounts. It is not
normal business practice to settle the amounts net. What amount for accounts
receivable and accounts payable should be presented in Stone's statement of
financial position, according to IAS32 Financial instruments: presentation?
Accounts receivable
Accounts payable
A
PHP55,000
PHP15,000
B
PHP40,000
0
C
PHP55,000
0
D
0
PHP15,000
Question 22 - A
IAS32 para 42 allows the offset of financial assets and financial liabilities in
restricted circumstances where there is both a legally enforceable right of setoff
and an intention to settle on a net basis.
3. In accordance with IAS7 Statement of cash flows, and treating it as a
nonrecurring event, which classification of the cash flow arising from the
proceeds from an earthquake disaster settlement would be most appropriate?
(select one answer)
A Cash flows from operating activities
B Cash flows from investing activities
C Cash flows from financing activities
D Does not appear in the cash flow statement
Question 6 - A
The definition in IAS7 para 6 of operating activities includes "other activities
that are not investing or financing", so will include disaster settlements.
4. Mackerel, a company listed on a recognized stock exchange, reports operating
results from its North American activities to its chief operating decision maker. The
segment information for the year is:
Revenue
PHP 3,675,000
Profit
PHP 970,000
Assets
PHP 1,700,000
Number of employees 2,500
Mackerel's results for all of its segments in total are:
Revenue
PHP39,250,000
Profit
PHP 9,600,000
Assets
PHP17,500,000
Number of employees 18,500
According to IFRS8 Operating segments, which piece of information determines
for Mackerel that the North American activities are a reportable segment?
A Revenue
B Profit
C Assets
D Number of employees
Question 8 - B
The correct answer is profit, because it is the only criterion out of profits,
revenue and assets that exceeds 10% of the total for all segments. The
number of employees is not one of the criteria.
See IFRS8 para 13.
5. According to IAS41 Agriculture, which TWO of the following items would be
classified as biological assets?
A Oranges
B Chickens
C Eggs
D Trees
Question 6 - B & D
The correct answers are "Chickens" and "Trees".
IAS41 para 5 defines a biological asset as a living animal or plant.