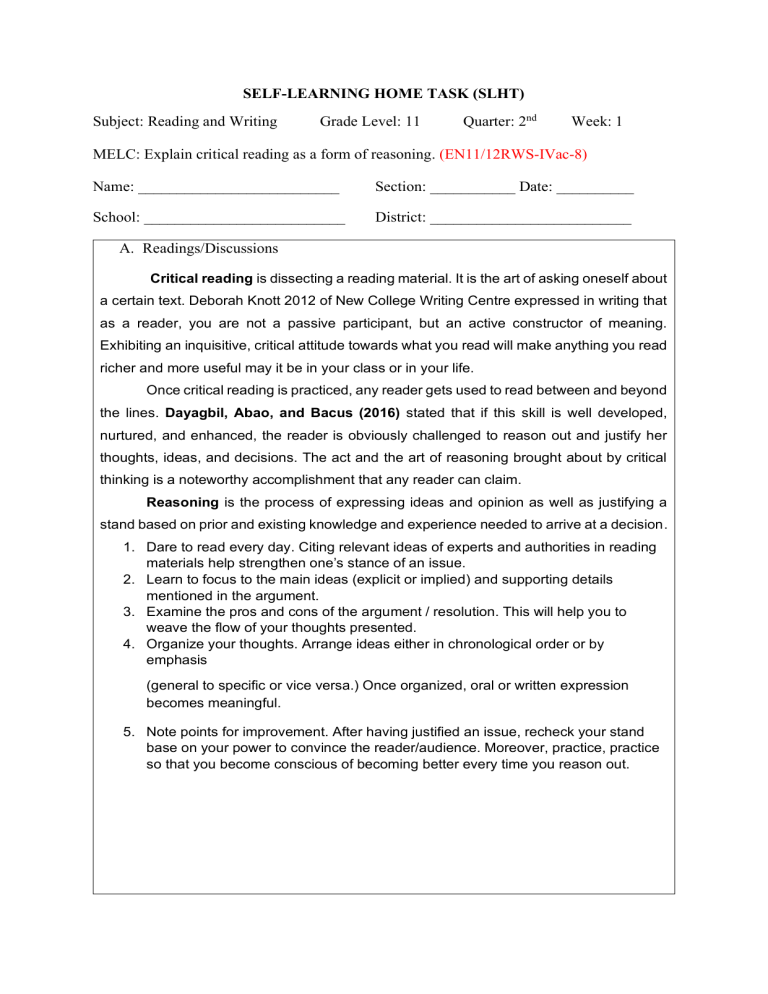 SELF-LEARNING HOME TASK (SLHT)
Subject: Reading and Writing
Grade Level: 11
Quarter: 2nd
Week: 1
MELC: Explain critical reading as a form of reasoning. (EN11/12RWS-IVac-8)
Name: __________________________
Section: ___________ Date: __________
School: __________________________
District: __________________________
A. Readings/Discussions
Critical reading is dissecting a reading material. It is the art of asking oneself about
a certain text. Deborah Knott 2012 of New College Writing Centre expressed in writing that
as a reader, you are not a passive participant, but an active constructor of meaning.
Exhibiting an inquisitive, critical attitude towards what you read will make anything you read
richer and more useful may it be in your class or in your life.
Once critical reading is practiced, any reader gets used to read between and beyond
the lines. Dayagbil, Abao, and Bacus (2016) stated that if this skill is well developed,
nurtured, and enhanced, the reader is obviously challenged to reason out and justify her
thoughts, ideas, and decisions. The act and the art of reasoning brought about by critical
thinking is a noteworthy accomplishment that any reader can claim.
Reasoning is the process of expressing ideas and opinion as well as justifying a
stand based on prior and existing knowledge and experience needed to arrive at a decision.
1. Dare to read every day. Citing relevant ideas of experts and authorities in reading
materials help strengthen one's stance of an issue.
2. Learn to focus to the main ideas (explicit or implied) and supporting details
mentioned in the argument.
3. Examine the pros and cons of the argument / resolution. This will help you to
weave the flow of your thoughts presented.
4. Organize your thoughts. Arrange ideas either in chronological order or by
emphasis
(general to specific or vice versa.) Once organized, oral or written expression
becomes meaningful.
5. Note points for improvement. After having justified an issue, recheck your stand
base on your power to convince the reader/audience. Moreover, practice, practice
so that you become conscious of becoming better every time you reason out.
Below is an evaluation guide to help develop your critical reading ability.
As you peruse any reading material, you need to check its content, objectivity, and
relevance for you to be able to connect and find its significance to your life.
Evaluation Guide for Critical Writing
Elements for Evaluation
Explanation Guide
This is the substance of the text.
Context
Are the input/ideas present comprehensive- covering the
breadth
And depth of the text? It is comprehensible?
As a whole, is it appealing to the reader?
Objective
This is the stand of the author about an issues/article. Are
facts presented? Does it present both side of the
argument? Does the author possess ethical and moral
consideration in his/her article?
This is the intention, the entire meaning, and the value of
the issue/article to the reader's life.
Significance
Can the reader readily connect the issue to his/her life? Is
it open for interaction? How is it valuable to the reader?
(Dayagbil, Abao, Bacus, 2016)
B. Exercises
Exercise 1: Let's Think Critically
Directions: Read any recent article in the newspaper. Identify a pressing concern/issue
of our country today. Then do the following in writing:
a.
b.
c.
d.
What is the central message of the article?
Do computers surpass man's intelligence? Justify.
Identify the opportunities and challenges brought about by computers.
How do you foresee the world fifty years from now in terms of technology use?
Example:
There's a virus among us: How gaming helps Filipinos bond (and stay sane) amid the pandemic
May it be to entertain themselves, to bond with friends, to train or to quench their
competitive spirits, humans have been fond of games for ages. Video games, meanwhile,
are a relatively new breed – but it will be here to stay for as long as we do.
Even before the pandemic, millions from all over the world have always liked – or
even get addicted to – video games. Some are professionals, others are competitive, while
many are just casual gamers. Gaming itself has surpassed film and music as the world's
biggest form of entertainment.
Now, as we have been forced to stay inside our homes in the past few months, those
who haven't even picked up a controller before in their lives are trying out gaming – both
to pass the time and to bond with friends.
In the Philippines, where COVID-19 has affected and killed thousands, people are
left with only a few options on how to spend their time inside their homes.
Having been forced to live under the longest lockdown in the world – which is still
ongoing – Filipinos have turned to gaming to destress and escape, as other forms of
entertainment, such as cinemas, are unavailable.
People are still discouraged, if not outright compelled, to refrain from holding gettogethers. Thus, playing online games has become one of the few ways friends can still
socialize and have a good time.
By: Ian Biong - @IBiongINQ
INQUIRER.net / 05:00 PM December 10, 2020
Exercise 2: Let's Create
Directions: Read a national/international issue from any source. Then your top priority
for national development. Create a program to achieve such. You may use graphic organizer
and explain it in a paragraph form. Follow the tips/techniques to develop critical thinking.
To Assess Student's Output
10
8
6
4
2
The program is
relevant,
attainable,
well-organized,
and free from
grammatical
errors.
The program is
relevant,
attainable,
well-organized
but contains
grammatical
errors.
The program is
relevant and
attainable but
not wellorganized and
contains
grammatical
errors.
The program is
relevant but not
attainable, not
well-organized
and contains
grammatical
errors.
The program is
not relevant,
not attainable,
not wellorganized and
contains
grammatical
errors.
Example:
https://ctb.ku.edu/en/table-of-contents/overview/models-for-community-health-and-development/healthycities-healthy-communities/main
This is a sample program about how to sustain a healthy community which must be a
top priority for national development. A healthy community is one in which all systems work
well (and work together), and in which all citizens enjoy a good quality of life. This means
that the health of the community is affected by the social determinants of health and
development – the factors that influence individual and community health and development.
C. Assessment/Application/Outputs (Please refer to DepEd Order No. 31, s. 2020)
Directions: Listen/read some speeches of prominent personalities. Then jot down their
statements which are factual and opinionated in the corresponding column below. Then
write your reaction about his/her speech.
To Assess Student's Output
20
17
14
11
8
The ideas are
clear,
comprehensive,
and wellorganized and
free from
The ideas are
clear,
comprehensive,
well-organized
but contain
Ideas are clear,
comprehensive
but not wellorganized and
contain
Ideas are clear
but not
comprehensive,
not wellorganized and
contain
Ideas are not
clear, not
comprehensive,
not wellorganized and
contain
grammatical
errors.
grammatical
errors.
grammatical
errors.
grammatical
errors.
grammatical
errors.
Example:
Name of the Prominent
Personality
I Have a Dream – Martin
Luther King, 1963
Factual Statements
1. The official event
was called the
"March on
Washington for Jobs
and Freedom."
2. The March was not
universally
supported by
activists.
Opinionated Statements
1. The main idea of
Martin Luther
King's speech called
for civil and
economic rights and
an end to racism in
the US (I have a
dream that my four
little children will
one day live in a
nation where they
will not be judged
by the color of their
skin but by the
content of their
character).
2. One day right there
in Alabama, little
black boys and
black girls will be
able to join hands
with little white
boys and white girls
as sisters and
brothers.
Reaction:
"I Have a Dream" is an eye-opening to see how King's words resonate today. There
is still a long way to come to achieve the world the King strived for us to become.
D. Suggested Enrichment/Reinforcement Activity/ies
NEWS ANALYSIS
Read any local or international issue from the newspaper which interests you.
Afterwards, identify the cause/s of the issue/problem, your reaction towards it then propose
a solution to the problem.
Issue/Problem
Cause/s
Reaction
Proposed Solutions
References:
Barrot, J. S. (2016). Academic Reading and Writing for Senior High School. Quezon
City: C & E Publishing, Inc.;
Dayagbil, F. T., Abao, E. L., Bacus, R. C. (2016). Critical Reading and Writing for
Senior High School. Quezon City: Lorimar Publishing, Inc.; and
https://ctb.ku.edu/en/table-of-contents/overview/models-for-community-health-and
development/healthy-cities-healthy-communities/main
Prepared by: JUVELYN B. BINONDO
Edited by: JORIE ANN L. SASING
Reviewed by: ANA MARIE L. TUMULAK
GUIDE
For the Teacher:
Amidst inevitable circumstances, Department of Education extends their resources and
looks for varied ways to cater your needs and to adapt to the new system of Education as a
fortress of Learning Continuity Plan. One of the probable solutions is the use of Self-Learning
Home Task (SLHT) in teaching.
The creation of this SLHT is a combined effort of competent educators from different
levels and various schools of Department of Education-Cebu Province. In addition, this SLHT
is meticulously planned, organized, checked, and verified by knowledgeable educators to assist
you in imparting the lessons to the learners while considering the physical, social, and
economical restraints in teaching process.
For the Learner:
This is your Self-Learning Home Task (SLHT) on "explaining critical reading as a form
of reasoning (EN11/12RWS-IVac-8)" as written and found in the K-12 Most Essential
Learning Competencies.
In using this SLHT, keep note of the fundamental reminders below.
•
•
•
•
•
•
You should be responsible in reading and understanding every part of this selflearning home task.
You should manage your time carefully in doing all the activities while
considering the tasks from other subjects.
You should not skip any part of this SLHT to avoid confusion and
misinterpretation.
Make sure to clearly comprehend the first activity before proceeding to the next
one. If there is a part which is hard to understand, learn to utilize other available
resources or even ask help from your family members if possible.
You should not procrastinate. Make a timetable for all your activities if
necessary.
Neither copy the work of your classmate not let family members do your
activities/tasks. This is independent learning, so allow yourself to discover and
develop your own potentials.
For the Parent/Home Tutor:
The use of Self-Learning Home Task (SLHT) aims to overcome the challenges of
teaching in a new normal education set-up. Through this, the students are given independent
learning activities based on the Most Essential Learning Competencies which are anchored in
the K-12 Curriculum Competencies, to work on them in accordance with their capability,
efficiency, and time. Thus, this is helping the learners acquire the prerequisite 21st Century
skills needed by considering the holistic well-being of the learners.
If you wish to talk to the teacher/educator for some concerns/clarifications, do not
hesitate to keep in touch with him/ her for further discussion. Know that even if this is a homebased class, the teacher is only a call away. Good communication between you, the teacher,
and the student is the top priority to flourish understanding on the given lessons.
Your major role is to help/guide the learner to accomplish all the given tasks on/before
the scheduled time. Your words of encouragement may help them cope with the challenge to
gain ample knowledge and skills to be fully equipped and ready to answer the demands of the
globally competitive world. Thank you so much!