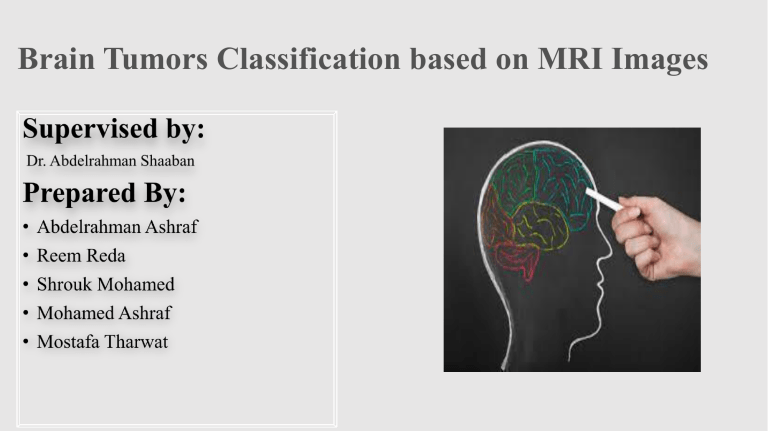 Brain Tumors Classification based on MRI Images
Time Plan
Table of Contents:
• Introduction
• Problem Definition
• Literature review
• Block Diagram
• flowchart
• References
Introduction
• The brain is one of most
complex organs in the human
body.
• It is made up of a large mass of
nerves that is protected with a
hard covering known as the
skull.
What is brain tumor?
•A brain tumor is an
abnormal growth of cells
inside the brain; some are
benign, others malignant.
Types of brain tumors
• A primary brain tumor is an abnormal growth that starts in the
brain and usually does not spread to other parts of the body. .
A benign brain tumor grows slowly, has distinct
boundaries, and rarely spreads.
A malignant brain tumor grows quickly, has irregular
boundaries, and spreads to nearby brain areas.
• Metastatic (secondary) brain tumors begin as cancer elsewhere in
the body and spread to the brain.
Common symptoms of brain tumor
How brain tumors are diagnosed ?
For medical image diagnosis, the images can be
obtained from various imaging modalities
namely Positron Emission Tomography (PET),
and Computed Tomography (CT), Magnetic
Resonance Imaging (MRI).
Among all these modalities, MRI is found to be
best for brain tumor diagnosis.
MRI
• MRI is harmless because it is based on
magnetic field and do not pose any radiation
hazard to human body
• It provides rich information on the brain
tissues structure with high-quality images to
visualizing the abnormalities in the brain
tissues
Problem Definition
The problem in radiological is still analyzing the results
of MRI brain tumor manually so that it takes a long time
to find out the diagnostic by the doctor
• To make the classification of brain tumor more precise
and faster.
Literature Review
Sno
Reference
1
2
Sasikala et al.
2008
Verma et al.
2008
Tissue Classes
MRI mode
Num of images
N, ABN, B, M
T2W
100,
(N = 35, B = 35, M = 30)
Neoplasms,
edema, and
healthy tissue
DWI, B0, FLAIR,
T1, and GAD
14
(G-3 = 8, G-4 = 7)
N, ABN
.3
3064
Deepak et al.2019
El-Dahshan et al.
2010
5
M. K. AbdEllah
et al.2018
DWT
Architecture for
Classification
ANN
Bayesian, and SVM
Deep learning
and machine
learning
Softmax, SVM and
KNN
N, ABN
T2W
DWT
349
Performance
ACC = 98%; SEN = NA; SPC =
NA; AUC = NA
ACC = NA; SEN = 91.84; SPC =
99.57; AUC = NA
Acc = 98%
ACC = 98.6%; SEN = 100; SPC =
90; AUC = NA
60,
(N = 60, ABN = 10)
N, ABN
4
Classification
method
Deep learning
FP-ANN, KNN
ECOC-SVM.
Acc = 99.5%
Objectives
• Automated brain tumor classification based on MRI
images using Artificial intelligence techniques that can
accurately classify the brain tumor into glioma,
meningioma, pituitary tumors )
Dataset
The dataset is organized into 2 folders (Training, Testing) and contains 4
subfolders for each image category. There are 3,264 MRI images (JPEG)
and 4 categories (Glioma/Meningioma/Pituitary/No_tumor).
• Training set
Glioma tumor (826 images), Meningioma tumor (822 images), Notumor (395 images), Pituitary tumor (827 images)
• Testing set
Glioma tumor (100 images), Meningioma tumor (115 images), No
tumor (105 images), Pituitary tumor (74 images)
Images for the dataset
Glioma - Meningioma – Pituitary- No_tumor
Block diagram
Data Collection
Data Preprocessing
Model Selection
Training and validation
Testing
Final Model
Flowchart
Dataset
Data
splitting(training,
testing and
validation)
Data
preprocessing
Prediction of type of
tumor
Model training
Final model
No tumor
Glioma
Meningioma
Pituitary
References
• Brain Tumor Segmentation to Calculate Percentage Tumor Using MRI
Ieeexplore.ieee.org
eeexplore.ieee.org/document/8628591
• Neurosurgicalatlas.com
https://www.neurosurgicalatlas.com/foundation/care-and-treatment/brain-tumor-what-the-patient-needsto-know
• NBTS, National Brain Tumor Society: Quick brain tumor facts, 2020. Available from:
https://braintumor.org/brain-tumor-information/brain-tumor-facts/.
• Cancer. Net, Brain Tumor: Staticstics, 2020. Available from:
https://www.cancer.net/cancertypes/brain-tumor/statistics.
• NHS, National Health Service: Brain Tumours, 2020. Available from:
https://www.nhs.uk/conditions/brain-tumours/.