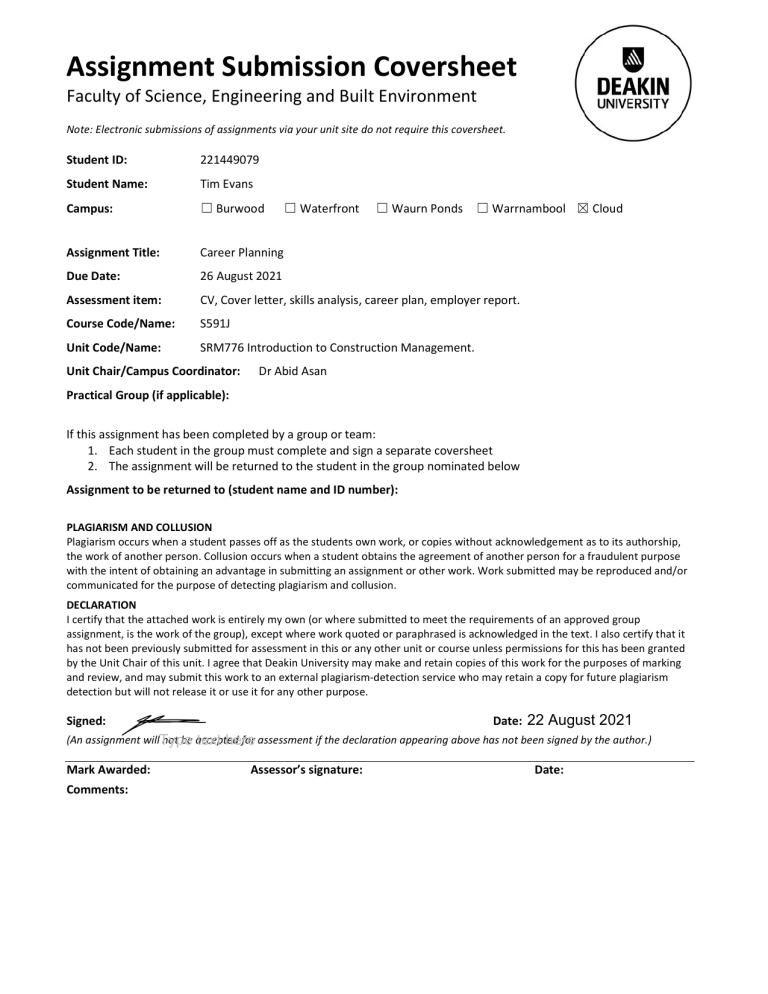 Assignment Submission Coversheet
Faculty of Science, Engineering and Built Environment
Note: Electronic submissions of assignments via your unit site do not require this coversheet.
Student ID:
221449079
Student Name:
Tim Evans
Campus:
☐ Burwood
Assignment Title:
Career Planning
Due Date:
26 August 2021
Assessment item:
CV, Cover letter, skills analysis, career plan, employer report.
Course Code/Name:
S591J
Unit Code/Name:
SRM776 Introduction to Construction Management.
☐ Waterfront
☐ Waurn Ponds
Unit Chair/Campus Coordinator:
Dr Abid Asan
Practical Group (if applicable):
Click or tap here to enter text.
☐ Warrnambool ☒ Cloud
If this assignment has been completed by a group or team:
1. Each student in the group must complete and sign a separate coversheet
2. The assignment will be returned to the student in the group nominated below
Assignment to be returned to (student name and ID number):
Click or tap here to enter text.
PLAGIARISM AND COLLUSION
Plagiarism occurs when a student passes off as the students own work, or copies without acknowledgement as to its authorship,
the work of another person. Collusion occurs when a student obtains the agreement of another person for a fraudulent purpose
with the intent of obtaining an advantage in submitting an assignment or other work. Work submitted may be reproduced and/or
communicated for the purpose of detecting plagiarism and collusion.
DECLARATION
I certify that the attached work is entirely my own (or where submitted to meet the requirements of an approved group
assignment, is the work of the group), except where work quoted or paraphrased is acknowledged in the text. I also certify that it
has not been previously submitted for assessment in this or any other unit or course unless permissions for this has been granted
by the Unit Chair of this unit. I agree that Deakin University may make and retain copies of this work for the purposes of marking
and review, and may submit this work to an external plagiarism-detection service who may retain a copy for future plagiarism
detection but will not release it or use it for any other purpose.
Date: 22 August 2021
Signed:
(An assignment willType
not be accepted
for assessment if the declaration appearing above has not been signed by the author.)
text here
Mark Awarded:
Comments:
Assessor's signature:
Date:
Employer Report BGC Vs Multiplex
Two of the largest construction companies in Australia are BGC Construction and Multiplex. Both
began in Australia, Multiplex in 1962 and BGC in 1974.
BGC is one of Australia's largest privately owned companies with many subsidiaries including BGC
Construction. The parent company is based in Western Australia and has interests in Materials,
Production, Manufacture of Building Products, Industrial Maintenance and Fabrication Services,
Heavy Road Haulage, and Property Ownership and Management. (https://www.bgc.com.au/, 2021)
With this holistic approach to construction BGC has become what would be considered a Tier 2
construction company in the Western Australian market, having won, and completed state icons
such as the Perth Entertainment Centre and NIB stadium. A tier 2 company will win contracts in the
tens of millions of dollars and be large scale commercial and small to mid-sized infrastructure
projects. (Ollie Nugent, 2021) BGC is a vertically integrated company (BGC, 2021) utilising its
construction materials and haulage companies to leverage efficiency in execution and value add for
its clients. For this reason, BGC is an employer of choice as the junior Construction Manager can
participate in the vertically integrated business model. This exposure yields experience in more
facets of the construction lifecycle which in turn creates networking opportunities for career
development.
A recent project award is the of East Village Karrinyup (BGC, August) which is developed by luxury
property developer Blackburne. Luxury property construction is appealing as it has a high focus on
quality finishing and fit out. Career pathways that present when employed on a luxury construction
project are stepping into the development manager role. This is certainly career development as the
development manager has greater oversight over the construction methodologies, quality assurance
and collaboration with the architecture firm. In the instance of the East Village project the
developer, Blackburne has employed Construction Management qualified developers
(blackburne.com.au, 2021) to work with the construction company and the architect Hames Sharley.
(evkarrinyup.com.au, 2021)
Multiplex is the employer of choice when comparing the two. With a global portfolio across 7
countries (https://www.multiplex.global/au/about-us/, 2021) Multiplex is owned by global asset
management company Brookfield Asset Management who finalised the takeover in June 2007
(ACCC, 2021). With this financial backing Multiplex, originating in Perth, WA has gone to build some
of the world's iconic sites such as Wembley Stadium, the foundations for the worlds tallest building
Burj Khalifa and many more, from aircraft hangers in Brisbane to waste water treatment plants in
Western Australia. This is not to mention the hundreds of residential buildings across 4 continents.
(Multiplex Projects, 2021)
This type of diversity in projects is important to becoming a well-rounded Construction Manager.
Although sectors of the construction industry may differ as well as methodologies, importantly
innovation is never far away, and this type of cross pollination leads to critical thinking and solutions
focus in a manager. For the employee engagement with the company is important as it leads to job
satisfaction and staff retention. Multiplex quote a 94% overall engagement score on their most
recent employee survey. (Mutliplex Careers, 2021) Multiplex offer in house training through the
Multiplex Academy and has a strong graduate program.
As a tier one construction contractor, Mulitplex has a pipeline of projects in Commercial; Residential;
Tourism and Leisure; Justice Education and Community; Health and Aged Care; Retail; Stadiums;
Engineering and Infrastructure and now Data Centres. Each of these sectors has its own
idiosyncrasies, technologies, and innovations. For a graduate or a professional changing career, the
opportunity to diversify one's portfolio of experiences under the same roof is a worth while
Employer Report BGC Vs Multiplex
endeavour. Not only does this company cover many sectors but also regions of the world. What a
supply chain may take for granted as available in one country may be a sought-after resource in
another. Sand for construction aggregates is in short supply globally (Vince Beiser, 2019). For an
Australian construction company sand is not in short supply, however, constructing in the UAE
requires the import of aggregate sand. Managing this supply chain is important for the success of the
project, and for the budding construction manager, participating in the management of critical
resources is important in developing an understanding of the hold points in the schedule, which are
often materials.
Multiplex has learned difficult lessons in the past, particularly on the Wembley Stadium project,
which through the eyes of many project management firms is deemed a failure. Rising costs, poor
subcontractor management, fixed price contracts, a fatality and several near miss incidents, and
poor planning lead to a massive cost blow out, and embarrassment leading to reputation damage.
(UKEssays, 2018) To learn from failure and move forward is success in its own rite. The value of
learning from a company that has made many mistakes in the past and is still operating and profiting
is second to none.
Multiplex is an employer of choice to learn, develop, progress one's career and least not enjoy a
diverse range of experiences shared by others and won by the employee themselves. Not to fall into
the trap of naivety, any company this successful in the construction industry will have a ruthlessness
about its vision that will see it succeed over its competitors or those subcontractors that have failed
to deliver. In the case of Wembley Stadium, Multiplex sued its subcontractor but was not able to
recoup its loss. (Kitney, Cloutland, Wilmot, 2006) Acute attention to detail is a value best kept close
for the Construction Manager. This quality coupled with a strong ability to spot delays and act before
they impact the schedule will benefit the employee on their career path and be favoured upon by
line managers in a global construction giant.
Bibliography
ACCC. (2021, August 21). Brookfield Asset Management Inc - proposed acquisition of Multiplex
Group. Retrieved from accc.gov.au: https://www.accc.gov.au/public-registers/mergersregisters/public-informal-merger-reviews/brookfield-asset-management-inc-proposedacquisition-of-multiplex-group
BGC. (2021, August 20). BGC Bulletin December 2020. Retrieved from https://www.bgc.com.au/bgcpublications:
https://www.bgc.com.au/assets/bgc/docs/BGC%20BULLETIN%20DECEMBER%202020.pdf
BGC. (August, 2021 20). Current Projects. Retrieved from bgcconstruction.com:
https://bgcconstruction.com/current-projects/
blackburne.com.au. (2021, August 20). Our team. Retrieved from blackburne.com.au:
https://www.blackburne.com.au/our_team/rhys/
evkarrinyup.com.au. (2021, August 20). Team. Retrieved from evkarrinyup.com.au/team/:
https://evkarrinyup.com.au/team/
https://abr.business.gov.au. (2021, August 21). ABN Lookup. Retrieved from Australian business
register: https://abr.business.gov.au/ABN/View/83064638197
https://bgcconstruction.com/about-us/. (2021, August 20). About Us. Retrieved from BGC
Construction: https://bgcconstruction.com/about-us/
Employer Report BGC Vs Multiplex
https://www.bgc.com.au/. (2021, August 20). Landing page. Retrieved from
https://www.bgc.com.au/: https://www.bgc.com.au/
https://www.multiplex.global/au/about-us/. (2021, August 20). About Us. Retrieved from Multiplex:
https://www.multiplex.global/au/about-us/
Kitney, Cloutland, Wilmot. (2006, June 6). Multiplex wins Wembley case. Retrieved from Australian
Financial Review: https://www.afr.com/politics/multiplex-wins-wembley-case-20060606jfe5w
Multiplex Projects. (2021, August 21). Multiplex Projects . Retrieved from
https://www.multiplex.global/au: https://www.multiplex.global/au/projects
Mutliplex Careers. (2021, August 21). https://www.multiplex.global/au/careers/. Retrieved from
Mutliplex careers: https://www.multiplex.global/au/careers/
Ollie Nugent. (2021, August 20). Complete List of Australia's Tier 1, Tier 2 and Tier 3 Contractors and
Builders. Retrieved from iseekplant.com.au: https://blog.iseekplant.com.au/blog/completelist-of-australias-tier-1-tier-2-and-tier-3-contractors-and-builders
UKEssays. (2018, Novemeber). Case Study Of The New Wembley Stadium Management Essay.
Retrieved from UK Essays: https://www.ukessays.com/essays/management/case-study-ofthe-new-wembley-stadium-management-essay.php
Vince Beiser. (2019, November 18). Article 20191108. Retrieved from BBC Future :
https://www.bbc.com/future/article/20191108-why-the-world-is-running-out-of-sand
Overall goal: is to become a consultant either working for a high end consultancy or as a director of my
company, specialising in technical construction management, with a focus on new technologies adapting to
sustainable construction markets. This is the 5 year goal. There are some way points along the way. Firstly the
transition out of oil and gas maintenance and construction and into sustainable domestic/commercial
construction. Understanding the sustainable aspect of the desired occupation may not initially be available I
will pursue the aspect that is critical towards becoming a construction manager, that of coordination of
construction projects. I will supplement the desired outcome with further learning and networking in
professional memberships such as Project Management Institute, Australian Sustainable Built Environment
Council (ASBEC), Green Building Council of Australia (GBCA).
By May 2022 I hope to have secured a role on the pathway to Construction manager as a site manager/
construction coordinator for a tier 1 construction firm or high end consultancy. I will advance myself through
experience on the job, learning and networking to ensure I maintain the trajectory towards managerial levels.
This may require a focus on my financials acumen to ensure I have a broad skill set for the management
positions.
During my course I want to up-skill in the BIM field to allow me to adapt to the generation of the digital twin,
understanding the construction inputs and how this translates into the maintenance life-cycle of the project.
Understanding BIM is still junior in the construction world with a lot of growth to be undertaken in all
sectors of the industry.
Improving my estimation and procurement skills so as to be an effective manager, developing financial
acumen specific to debt mechanisms to fund bigger projects.
S = Specific
Management experience in Construction of new build sustainable infrastructure.
M=
Measurable
2 years experience for a consultancy or construction contractor.
A = Achievable
I have project management experience, maintenance planning and scheduling
experience as well as access trades and on the tools experience in Construction.
R = Realistic
The potential that I stay in the oil and gas industry attracted by the lure of higher
wages, even if only in the immediate future.
T = Timely
By May 2022 have committed to a new role.
Qualities and experience I have now
Qualities and Experience I want
MY SKILLS E.g. good
communicator, data
management, adapting to
change, troubleshooting
problems
Excellent communicator both
written and oral, can relate to the
majority of people, certainly in a
professional setting. I am
solutions focussed and adaptive
to change.
All of the skills I have require
further honing to ensure I maintain
employability. Additional financial
acumen to understand financing of
larger projects.
MY INTERESTS E.g. being
outdoors, creating new things,
organising information, teaching
others
Music, sharing adventure
experiences, being outdoors,
experiencing culture. Learning
new skills and sharing
knowledge.
​stronger teaching ability. Calming
approach to explosive situations
MY VALUES E.g. independence,
challenge, creativity, teamwork,
balance, integrity
independence, creativity, team
work, work/life balance,
leadership, emotional
intelligence, global citizenship,
learner mindset
Mentoring, stronger initial self
confidence
whilst
maintaining
humility. Focus on sustainable
constructions and methods.
MY EXPERIENCE E.g. customer
service role (Coles), leadership
(CoastCare group), problem
solving, creating solutions
(Hackathon)
Hospitality - numerous, access
trades - rigging scaffolding rope
access, inspection - NDT, work
force coordination - project
coordinator, scoping estimating
resourcing - planner.
Construction management
experience, expand on technical
skills, develop financial acumen.
WAYS OF WORKING E.g. prefer
to work independently, prefer to
work in a big/small team, like to
be challenged, prefer regular
supervision & clear tasks
Work autonomously in
challenging fast paced
environments, prefer to
supervise rather than be
supervised. Self starter. Thirsty
for information.
superintendent, operations
managerial, business
development, guiding remote
teams in efficient execution.
Assistant Project Manager, TotalPM – Analysis.
As a would-be applicant for this job, I am confident that I have all the requisite skills and more. The first
three paragraphs of the job posting describes an overview of the company and the reputation that they are proud
of. The posting sells the reputation of the company to the applicant as part of the allure of applying for such a role.
The pipeline of work that requires project management is outlined denoting a very broad range of projects from
$10k to $150M in multiple sectors. The post then leads into the what the role is, the reporting line and the key
responsibilities.
The role is very much worded as an assistant role as all the key responsibilities are "assisting". Even for someone
with 20 years working experience the ability to "assist" is very important as it allows for complete immersive on the
job training, effectively shadowing a senior project manager. The focus on client engagement and advisory suits a
person such as myself who is keen to learn through collaborative communication. Administering the administration
of construction contracts as the responsibility is worded, allays me to believe there is a specific requirement to
understand and be proactively engaging with all the stakeholders of each contract ensuring there is no contractual
conflict. I believe I am suited to this type of negotiation, though my experience in this precise field may be lacking,
the opportunity to develop the skill under guidance is to be sought after.
There is an administration aspect to this role of note taking, distribution of forecasts, management of subcontractor
documentation and conducting meetings. I have strong organisational skills and desktop communication that would
see me flourish in this set of responsibilities.
The job posting then outlines the required experience and background. Whilst my recent work history is focussed on
oil and gas there is a great deal of that experience in construction both greenfield and brownfields assets, as well as
maintenance. 15 years of trade experience in 4 countries in many sectors gives me an understanding of the bluecollar labour force that most professionals will not have. This is one of my selling points. Coupled with 5 years of
maintenance planning, project management and coordination, and on the way to post graduate certification in
Construction Management, I would easily pick up the new challenge of the Assistant Project Manager for TotalPM.
There are distinct pathways alluded to in the last two points lead and deliver. This job posting wants an applicant
who will thrive under pressure learning quickly to progress to a Project Manager.
TotalPM
Level 6/1008 Hay St, Perth WA 6000
To Whom it may concern,
In response to the recent Assistant Project Manager role, I
would like to offer my capabilities to TotalPM.
With many years in construction, maintenance,
supervision, and coordination I believe I offer the correct
approach, attitude and skill sets to excel in the role.
My commitment to career growth can be noted in the
recent enrolment to Postgraduate studies in Construction
Management.
Are you looking for an employee that has?

15 years access trade experience in 4 countries
and many sectors?

5 years Supervision, coordination and
management, and maintenance planning
experience?

A commitment to the future of the construction
industry, career development and the local
economy?
If so, then you need look no further. You will see from my
enclosed resume that I meet all these qualifications and
more. As requested by the posting my availability is
immediate for interviews and 4 weeks' notice to my
current employer if an offer of employment is presented.
TIM EVANS
PHONE:
0437141142
PROFILE:
www.linkedin.com/in/
tim-evans9
EMAIL:
evans.timothyr@gmail.com
I would very much like to discuss opportunities with
TotalPM. To schedule an interview, please call me or
email. Thank you for taking the time to review my resume. I
look forward to talking with you.
Sincerely,
Tim Evans
TIM EVANS
White Gum Valley, Western Australia, 6162 • 0437141142
evans.timothyr@gmail.com • https://www.linkedin.com/in/tim-evans9/
CAREER PROFILE
Beginning in construction over 20 years ago learned from field and through to becoming a manager offer innovative,
efficient methodologies at height of safety. A good leader with ability to be decisive and efficient in managing best
work health and safety practices in high-risk environments, whether in field supervising, planning, and coordinating
or as a manager.
OVERVIEW
Guided peer supporter and mental health first aider supporting colleagues in work and at a personal level. The health
and safety of colleagues and all stakeholders are paramount. Communicating needs of business comes easily, engaging
at the work front or presenting in the board room. Experiences range from construction sites in Europe and North
America to advanced offshore processing facilities. Career progression, safe continuous improvement of capabilities
and those of the business are daily drivers to garner job satisfaction at every step. As a champion of connected worker
programs leadership qualities are helping others to find efficiency through technology and continuous improvement.
EDUCATION
Post Graduate Certificate.
Deakin University, Victoria
 Work health and safety, certificate IV.
July 2021 - Present
Work Health and Safety Certificate IV
Central Institute of Technology, Perth, WA
January 2014 - December 2014
 Recognized prior learning of 6 units of the Certificate IV. Occupational Health & Safety.
Project Management Diploma.
Central Institute of Technology, Perth, WA
January 2011 - December 2011
 Continuation of Certificate IV in Project Management
EDUCATION AND CERTIFICATIONS
Certificates of Leadership
Various, Perth, WA
July 2015 - December 2018
 The certificates of leadership were conducted at various employer locations as in-house training.
 EdX - The Science of thinking - Confirmation Bias.
 Various LinkedIn Learning Courses.
 Sentis - leadership management training. Clough in-house.
 Lavenders - Non-Destructive Testing Managers Awareness 2015.
 Duratec safe to Supervise.
 Questammon - Understanding Construction Contracts and Tenders 2015.
EXPERIENCE
Monadelphous Engineering Associates, Perth, WA
September 2018 - Present
Manager
 Driving effective and safe maintenance execution planning through commissioning and startup phase of facility.
From 0 to 100 cargoes before TA22.
 Improving ways of working as facility transitioned to steady state operations through continuous improvement of
work packs. Mentor for a team of 10.
 Promoting schedule compliance utilizing computerized maintenance management system SAP.
 Developed connected worker program for Prelude and designated super user. Delivering 30 iPads across 5
disciplines.
Monadelphous, North Complex, Rankin, Woodside
July 2018 - September 2018
Supervisor
 Managed technical access scopes. Advanced Rigger/Scaffolder Level 3 IRATA.
 Scaffolding, Rigging, Stopaq application, Coatings and hand prep, Supervision of Rope Access Activities.
MAS, Inpex HUC, Browse Basin, WA
November 2017 - July 2018
Supervisor
 Supervising rope access trade activities, confined space rescue, insulation scope during the Hook-up and
commissioning phase of Inpex FPSO Ichthys Venturer.
 Scaffolding for technical access required during turnaround event. Maintaining scaffolding skill set Yara Fertilizer
Plant Shut down.
Applus RTD: Various oil and gas facilities, Perth, Western Australia
March 2017 - November 2017
Supervisor
 Supervise and manage rope access teams on new build LNG tank farms and offshore LNG platforms. Phenolics
coatings remediation utilizing Stopaq, and inspection campaigns.
MAS, Wheatstone Platform HUC, Shelf, North West, Western Australia
December 2016 - February 2017
Rope Access Level 3, Team Lead
 Direct supervision of rope access activities. Development of rope access rescue plans for confined space entry and
all other works at height. Rigging as required.
Vertech Group, Park, Osborne, WA
July 2015 - December 2016
Project Coordinator
 Managed implementation of Rope Access packages awarded to Vertech for brownfields construction,
maintenance, and decommissioning. Developed specific Rope Access and Rigging procedures for technical and
high-risk projects.
 Identifying and developing 3 client specific training programs to improve risk mitigation and improve production
outputs. Proactive approach to HSE on projects resulting in quality and efficiency gains.
 Engage all clients with provision of awareness training programs to further industry knowledge, provided SME
participation in client Hazids, risk reviews, constructability reviews and ALARP workshops, specific to 4 high risk
flare replacement scopes.
Vertech Group, Numerous offshore and onshore facilities, Perth, WA
February 2013 - June 2015
Leading Hand
 Scaffolding, crane and deck operations on offshore/onshore oil and gas facilities. Technical rigging, lift and heavy
lift planning. Inspection of assets, Non-Destructive Testing of equipment and process. Servicing 5 drill rigs, 8
production facilities and several mine sites.
Various Employers, Oil and Gas, Mining, Construction, Perth, WA
January 2001 - February 2013
Rope Access Rigger/ Scaffolder Lifting Equipment and NDT inspector.
 Scaffolding, Rigging and rope access for multiple companies in Western Australia. Details of these experiences is
available upon request.
 Scaffolding / Lead Scaffolder. Before 2010 employed with various companies across Canada and the UK during a
5-year period living and working overseas. Details of these experiences is available upon request.
VOLUNTEER EXPERIENCE
DFES, Cockburn, WA, Coogee
Bush Fire Fighter
 Volunteer bush fire fighter at the South Coogee station.
 Executed Certified to drive 2.4 to fireground and across highways.
 Operate UHF Radio communications across emergency zones.
January 2012 - December 2014
QUALIFICATIONS AND TECHNICAL SKILLS











BIM modelling – Walkinside, Navisworks, Revit
Strong Microsoft Office Suite skills
CMMS SAP
Connected Worker including industrial wearables, deployment and continuous improvement
Procurement
Supervision
Advanced Rigging Worksafe Australia HRWL 2009
Advanced Scaffolding Worksafe Australia HRWL 2009,
NDT - MT, UT, RT assist (non-destructive testing).
LEEA - Lifting Equipment Inspection.
Level 3 rope access technician.
REFEREES
 Paul Stevenson, Rope Access Manager, UGL, details
available upon request.
 Jorge Adams, Prelude Services Coordinator, Shell
Australia. details available upon request.
 Reinhard Grussler, Supervisor. IHUC. Browse Basin.
Details available upon request.
 Josh Rowney, Lead Services Work Preparer,
Monadelphous Shell. Details available upon request.