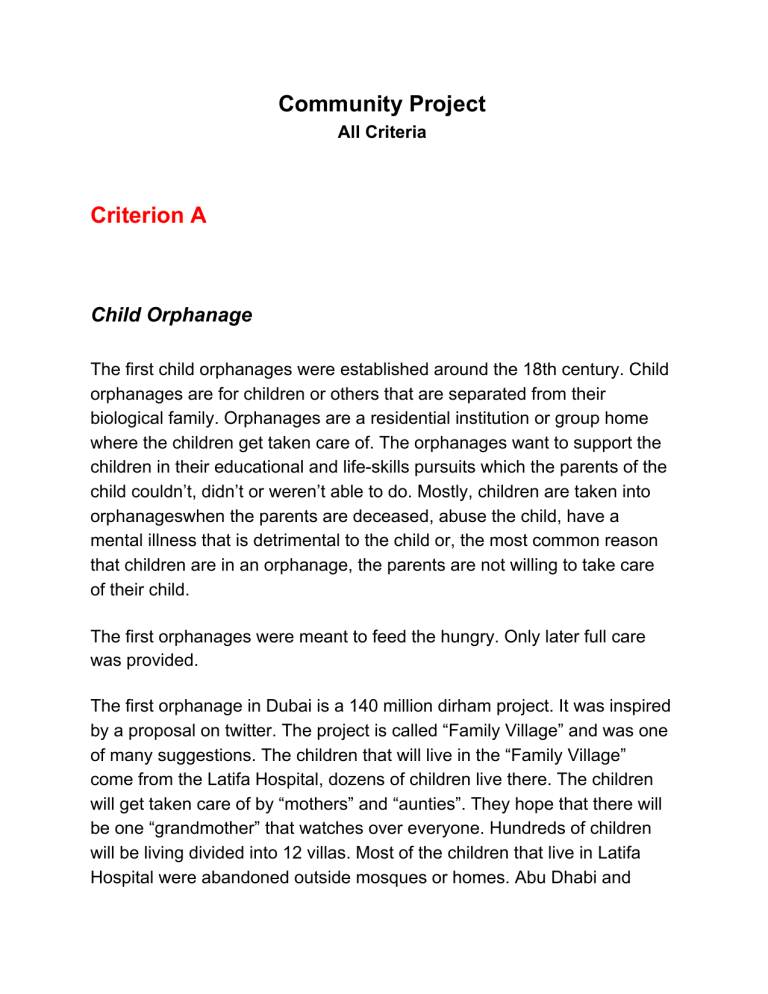 Community Project
All Criteria
Criterion A
Child Orphanage
The first child orphanages were established around the 18th century. Child
orphanages are for children or others that are separated from their
biological family. Orphanages are a residential institution or group home
where the children get taken care of. The orphanages want to support the
children in their educational and life-skills pursuits which the parents of the
child couldn't, didn't or weren't able to do. Mostly, children are taken into
orphanageswhen the parents are deceased, abuse the child, have a
mental illness that is detrimental to the child or, the most common reason
that children are in an orphanage, the parents are not willing to take care
of their child.
The first orphanages were meant to feed the hungry. Only later full care
was provided.
The first orphanage in Dubai is a 140 million dirham project. It was inspired
by a proposal on twitter. The project is called "Family Village" and was one
of many suggestions. The children that will live in the "Family Village"
come from the Latifa Hospital, dozens of children live there. The children
will get taken care of by "mothers" and "aunties". They hope that there will
be one "grandmother" that watches over everyone. Hundreds of children
will be living divided into 12 villas. Most of the children that live in Latifa
Hospital were abandoned outside mosques or homes. Abu Dhabi and
Sharjah already have government orphanages but Dubai doesn't.
Only Emiratis can take in abandoned children, who receive UAE
nationality.
Adoption is not forbidden in Islam. A person is not allowed to take away a
child's sense of his own biological lineage and biological rights.
Prophet Muhammad, who is said to have reared a child who was unrelated
to him, reportedly said: "The best house is a house in which an orphan is
well-treated, and the worst house is a house in which an orphan is badly
treated. "According to the US Department of State, which monitors the
numbers of US adoptions from each country, it appears Muslim countries
are among the more difficult countries to adopt from".
Half of the people, that are waiting for adoption are single women over
40 and families with children.
The adoption program has strict eligibility criteria. Adoptive parents must
be Emirati nationals. Married couples are supposed to be over 25 years
old, and single women over 30. Single men are not allowed to adopt.
In the UAE, abandoned children are often the product of illicit
relationships or sexual assaults that result in the pregnancy of migrant
workers. Sex outside of marriage is illegal in the UAE, so the women many of whom are unable to travel to their home countries - often
conceal their pregnancies and then abandon their babies.
Sheikh Mohammed bin Rashid, Vice President and Ruler of Dubai,
inaugurated the Family Village orphanage in Al Warqa, Dubai. He had a
tour through the building which includes a kindergarten and entertainment
and health facilities. He had an opportunity to meet and speak with some
children. According to some sources, Sheikh Mohammed was happy to
visit this place. "All orphan children are our sons and daughters, and
caring for them is part of our religious, moral and governmental duties," he
said.
He signed a commemorative plaque inscribed with a quote of his in the
administration building and added: "We are happy to see the children
living in a family environment and receiving all kinds of care and interest
from alternative mothers and aunts." Sheikh Mohammed later tweeted: "In
the UAE, orphans are not alone."
For our community project we are going to put up two boxes; one in the
primary school building and the second one in the secondary school
building. We are going to collect old toys from students in the school who
are willing to give them. We are also going to find people outside of school
to donate toys that they don't use anymore.
There are four places in Dubai where we can donate the toys so we are
going to call the places and ask them if they want the toys. We will offer to
come there and play half a day with the kids and maybe teach them to
draw or how to play with the toys. We hope to bring joy to the children and
give them the toys of their dreams. We want to show them that we care
about them and that every single child means something to us.
Bibliography:
Fisher, Amanda. "Adopting Orphans and Breaking Taboos in Dubai." ​
UAE
News | Al Jazeera,​ Al Jazeera, 6 Mar. 2015,
https://www.aljazeera.com/news/2015/03/adopting-orphans-breaking-tab
oos-dubai-15030208 0741099.html.
staff, The National. "Sheikh Mohammed Bin Rashid Inaugurates Dubai's
Family Village Orphanage - in Pictures." ​
The National,​The National, 24
June 2015,
https://www.thenational.ae/uae/government/sheikh-mohammed-bin-rashi
d-inaugurates-dubai -s-family-village-orphanage-in-pictures-1.103885.
Criterion B
We have made a diary to write down all our present and future steps. We
have made a timeline to have a good view of what needs to be done and
by when.
By the end of this week, we want to reach out by phone to orphanages to
ask if we can donate toys - and if our planning would suit theirs. We will
compose a list of orphanages in Dubai for us to call, the more we call the
greater the chances are that we will be accepted by one. To be organized
and prepared we will have a script so that we know exactly what we are
saying when we call them. We will call the orphanages under the
supervision of Mr. Wilson. We will then visit the one orphanage that is in
most need of toys. The one orphanage that we will visit will be chosen from
the whole group.
As of this Sunday, we will be painting and putting up boxes in order to
collect toys to donate to the orphanage. We will also arrange a meeting
with the head of primary school, Mr.Gauthier to see if he can help us
promote this action by telling children about it in an assembly and maybe
even be able to inform the parents about it. If we get a chance we might
also speak to the parents and children ourselves. We will also do small
presentations during reading time in order to promote our idea to
secondary school pupils. This is how we will be able to raise attention to
our project. Most of the boxes will be placed in the primary section as the
kids there will probably have more toys to bring. At the same time, we will
also be making and designing posters to put around both primary and
secondary schools in order to remind people to donate any spare toys. It
will be like an advertisement. The boxes will be in school from 26.01 on
and collected with all the donated toys on Thursday the 30th of January.
Between the 1st and 4th of February, we will be visiting the orphanage to
meet the kids and give them the toys we have collected.
Prior to that, we will be making 'photo permission slips' which can be
signed by the people working at the orphanage to allow us to take
pictures of the children and them receiving the toys the students in
school donated.
We have had meetings with Mr. Wilson, our supervisor, and talked about
the things we have achieved and about the things that will have to be
achieved. We have talked in the group too and divided a few tasks that
have to be done in order that everything works out well. We have a very
good plan of how we will advertise our project and we came to good
conclusions.
Criterion C
-Taking action into the plan
-Start preparing your notes for the exhibition
Mona had contact with Dr. Aalla (We are not
sure how her name is spelled) to inform her
about the project and make an appointment.
She wanted us to come on the second of
February, but because we couldn't miss school
we had to switch the date to the first of February
- 11 AM.
On Saturday the first of February, we went to visit the Family Village
Orphanage. Mona and Nuray left together from Mona's house - Mona's
dad drove them. On the way to the orphanage, they picked up Saltanat
from the boarding school and drove to the Orphanage. Piper's mom
brought her to the orphanage separately. All of the donations were ready to
be donated to the orphans. They were washed, ironed, disinfected and put
in bags or boxes. When Mona first called the Family Village Orphanage
she was not told how old the
children were. Later (2 days before the
planned visit!) she got to know that the
children were at the age of 12 to 18.
Therefore we had to immediately change
our plan and collect things that were more
suitable for these ages. Saltanat and Nuray
have collected a few things from the
boarding to give to the orphanage. The
boys have given us about 4 bags of
clothing, mostly football jerseys which were
perfect because at first there was a lack of
boys items. Saltanat washed everything
and ironed all the clothes.
However, it seemed there was a slight miscommunication. When Piper
arrived at 11.00, the security said that no one has informed them about our
visit. When Mona, Nuray, and Saltanat arrived we were able to go inside
the orphanage and had to sit in the waiting area. We were greeted by a
lady but she was very confused about why we were there because nobody
had informed her. The lady then called Dr.Aalla. Mona was on the phone
with Dr. Aalla and explained why we were there, but Dr. Aalla had forgotten
that we moved the day to the first of
February. Because of the miscommunication,
we were not able to go and visit the children
or take photo evidence. Luckily we took
pictures outside of the orphanage. We were
able to give all of the things the students in
school donated into the boxes. The friendly
lady who welcomed us was very thankful and
was going to pass it on to the orphans.
Two days after the visit Dr. Aalla sent Mona a message to apologize for
the misunderstanding. She also said she was very thankful for the many
gifts. She loved our generosity and wished us a further pleasant life.
Criterion D
We worked hard for our project, and in my opinion we succeeded our
goals. After investigating and designing our work, we took an action. We
collaborated with our group and demonstrated understanding through our
actions. Mostly every student took responsibility to their work and finished
everything before deadline. But, we got issues with our teammate Piper,
who did not want to participate and finish her own work. Me, Mona and
Nuray tried to make everything comfortable for her participation.
Orphanages are places, where children under age 18 can live and
grow up. Those children do not have parents, that are able to live with
them. Sometimes their parents or one of them are alive, but they are not
allowed to live with their children in sort of some kind of issues. But also,
children who don't have their parents and any relatives. Number of the
orphans all around the world are over 180 millions. UNICEF finds the
orphanage topic really important because of child protection worldwide.
In our step of researching and conducting the sources, we found out
that there are not many orphanages in the UAE, the same as that there are
not many sources. We used some official UAE news portals for our
Criterion A and conducted some information. I find the fact that we had
only few sources as a problem.
As it is mentioned in our diary, I made a poster to get student
attention about collecting toys for children. I used an app on my laptop to
create a poster and make it attractive. It is not difficult to make a poster, but
I still needed my knowledge in Pages App.
ATL Skills:
When our group found out that children in the orphanage were
between the age 12-18, we got a problem because in the beginning we
were preparing toys for little children. But here is where we used our
thinking skills. In one day me and Mona changed a whole plan and
collected clothes and things, that teenagers will be interested in. We
collected more than expected. Mona also used her communication skills
and contacted Dr. Aalla all the time. By that, she organised our meeting
day and checked all details, which was really helpful.
Me, Nuray and Mona had managed and organised our time and work.
Piper got some issues in that process. As I mentioned above, our research
skills didn't well perfect, but we tried our best.
In the end, I will add that I am really proud of our work and I think we
achieved our goals and tried our best, including these issues that we had.
One of the biggest problems is that fact that Piper was avoiding all the
process and her not doing the work.