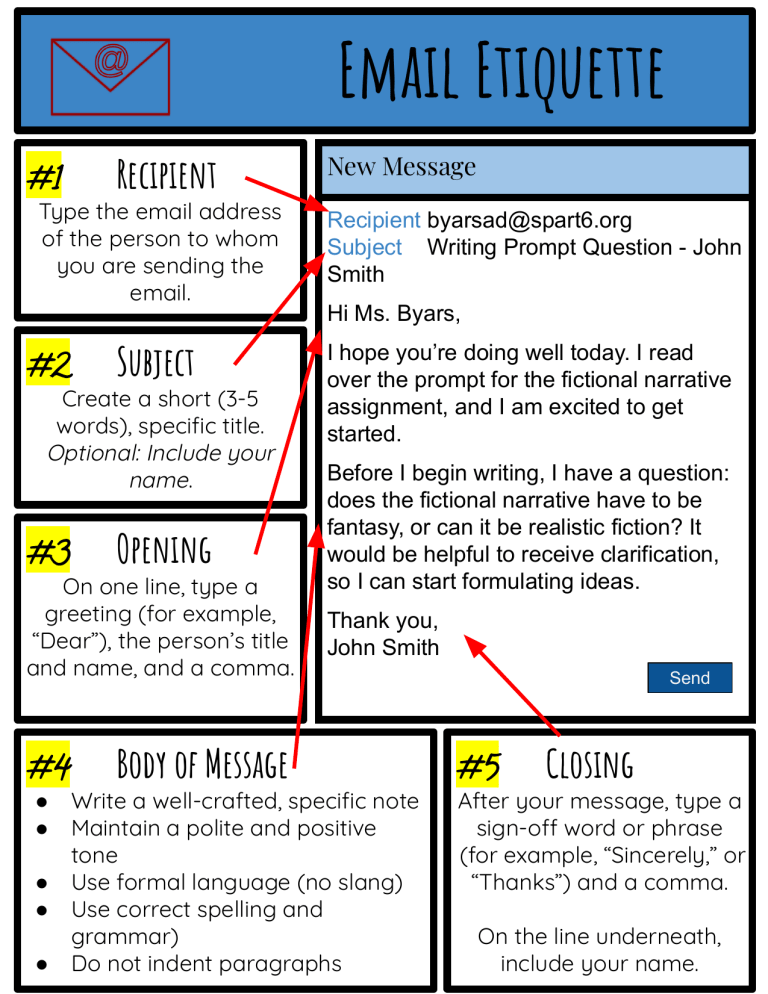 Email Etiquette
#1
Recipient
Type the email address
of the person to whom
you are sending the
email.
#2
Subject
Create a short (3-5
words), specific title.
Optional: Include your
name.
#3
Opening
On one line, type a
greeting (for example,
"Dear"), the person's title
and name, and a comma.
#4
●
●
●
●
●
Body of Message
New Message
Recipient byarsad@spart6.org
Subject Writing Prompt Question - John
Smith
Hi Ms. Byars,
I hope you're doing well today. I read
over the prompt for the fictional narrative
assignment, and I am excited to get
started.
Before I begin writing, I have a question:
does the fictional narrative have to be
fantasy, or can it be realistic fiction? It
would be helpful to receive clarification,
so I can start formulating ideas.
Thank you,
John Smith
Write a well-crafted, specific note
Maintain a polite and positive
tone
Use formal language (no slang)
Use correct spelling and
grammar)
Do not indent paragraphs
Send
#5
Closing
After your message, type a
sign-off word or phrase
(for example, "Sincerely," or
"Thanks") and a comma.
On the line underneath,
include your name.