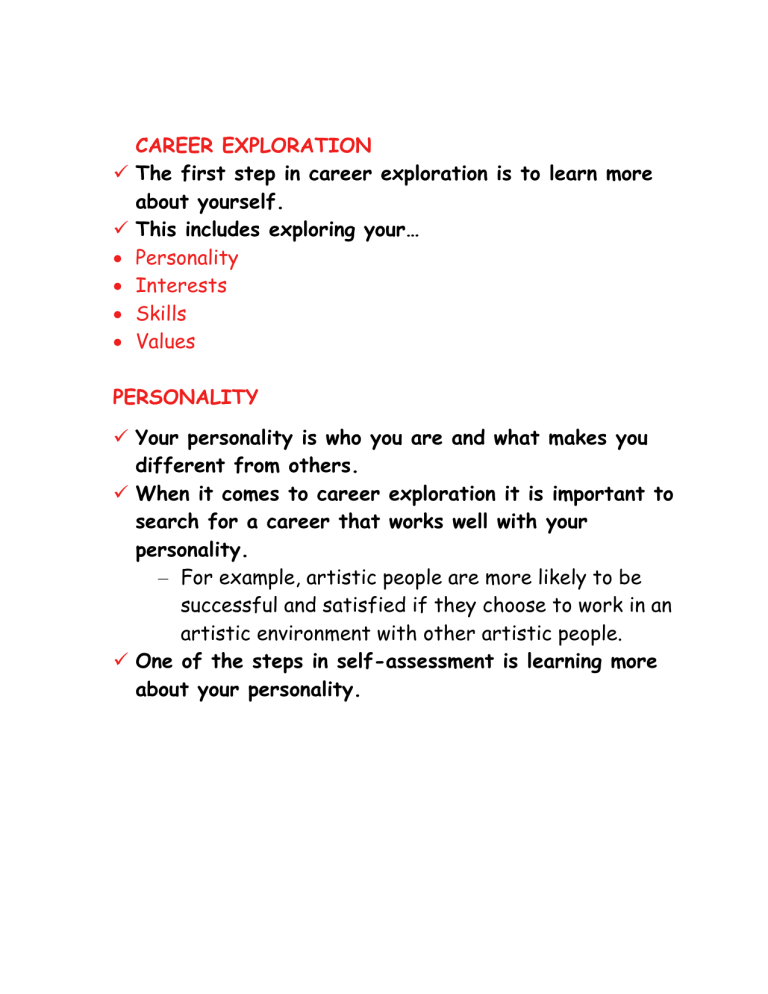 





CAREER EXPLORATION
The first step in career exploration is to learn more
about yourself.
This includes exploring your…
Personality
Interests
Skills
Values
PERSONALITY
 Your personality is who you are and what makes you
different from others.
 When it comes to career exploration it is important to
search for a career that works well with your
personality.
– For example, artistic people are more likely to be
successful and satisfied if they choose to work in an
artistic environment with other artistic people.
 One of the steps in self-assessment is learning more
about your personality.
HOLLAND'S PERSONALITY TYPES
They are six and one can have a mix of them. These are;
–
–
–
–
–
–
Realistic
Investigative
Artistic
Social
Enterprising
Conventional
Realistic
– Skilled at working with tools, machines, electronics,
or plants and animals.
– Values things you can see, touch, and use.
– Sees self as practical, mechanical, and realistic.
Investigative
– Likes to solve problems.
– Generally avoids instructing or
persuading people.
– Is good at math and science problems.
– Sees self as scientific, and intellectual.
Artistic
– Likes to express themselves creatively through art.
– Generally avoids highly structured
or repetitive activities.
– Has good artistic abilities.
– Sees self as expressive, independent, and original.
Social
– Likes to help people.
– Is good at teaching, counseling, or nursing.
– Values helping people and solving social problems.
– Sees self as helpful, friendly, and loyal
Enterprising
– Has leadership skills.
– Enjoys leading and persuading people.
– Values success in politics and leadership.
– Sees self as sociable and ambitious.
Conventional
– Likes to work with numbers or records.
– Avoids unstructured activities.
– Values success in business.
– Sees self as organized and dependable.
INTERESTS
Interests is one of the important things to take into
consideration when making career explorations.
Make a list of your interests:
– What do you like doing?
– What challenges you?
– What experiences have you had
in the past that you enjoyed?