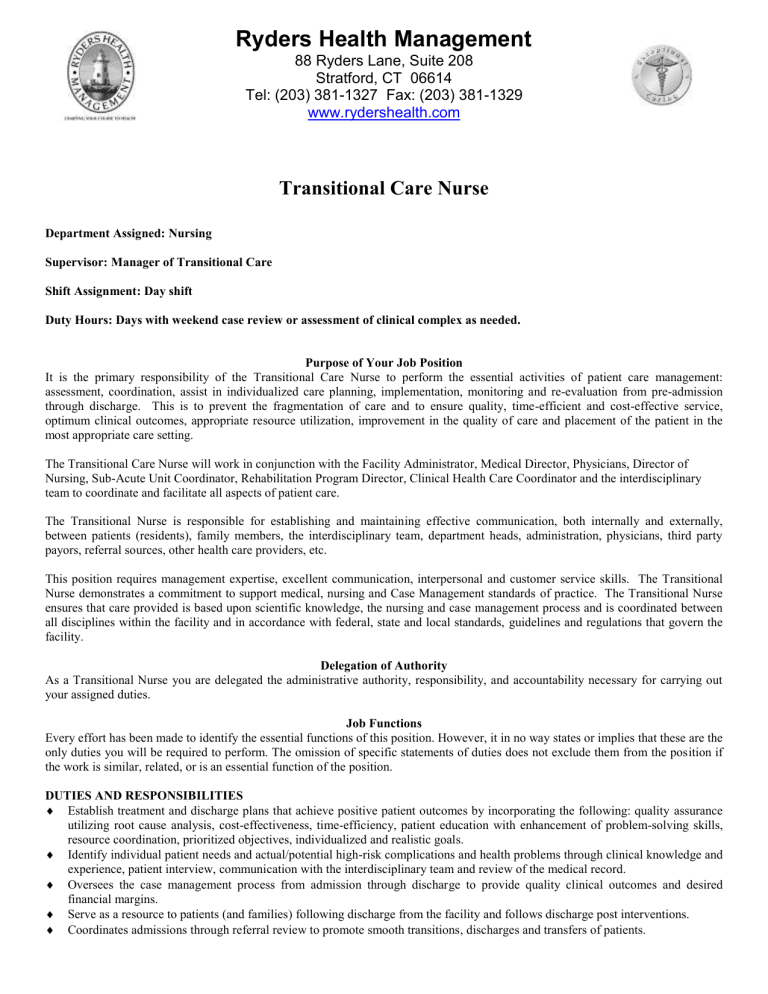 Ryders Health Management
88 Ryders Lane, Suite 208
Stratford, CT 06614
Tel: (203) 381-1327 Fax: (203) 381-1329
www.rydershealth.com
Transitional Care Nurse
Department Assigned: Nursing
Supervisor: Manager of Transitional Care
Shift Assignment: Day shift
Duty Hours: Days with weekend case review or assessment of clinical complex as needed.
Purpose of Your Job Position
It is the primary responsibility of the Transitional Care Nurse to perform the essential activities of patient care management:
assessment, coordination, assist in individualized care planning, implementation, monitoring and re-evaluation from pre-admission
through discharge. This is to prevent the fragmentation of care and to ensure quality, time-efficient and cost-effective service,
optimum clinical outcomes, appropriate resource utilization, improvement in the quality of care and placement of the patient in the
most appropriate care setting.
The Transitional Care Nurse will work in conjunction with the Facility Administrator, Medical Director, Physicians, Director of
Nursing, Sub-Acute Unit Coordinator, Rehabilitation Program Director, Clinical Health Care Coordinator and the interdisciplinary
team to coordinate and facilitate all aspects of patient care.
The Transitional Nurse is responsible for establishing and maintaining effective communication, both internally and externally,
between patients (residents), family members, the interdisciplinary team, department heads, administration, physicians, third party
payors, referral sources, other health care providers, etc.
This position requires management expertise, excellent communication, interpersonal and customer service skills. The Transitional
Nurse demonstrates a commitment to support medical, nursing and Case Management standards of practice. The Transitional Nurse
ensures that care provided is based upon scientific knowledge, the nursing and case management process and is coordinated between
all disciplines within the facility and in accordance with federal, state and local standards, guidelines and regulations that govern the
facility.
Delegation of Authority
As a Transitional Nurse you are delegated the administrative authority, responsibility, and accountability necessary for carrying out
your assigned duties.
Job Functions
Every effort has been made to identify the essential functions of this position. However, it in no way states or implies that these are the
only duties you will be required to perform. The omission of specific statements of duties does not exclude them from the position if
the work is similar, related, or is an essential function of the position.
DUTIES AND RESPONSIBILITIES
 Establish treatment and discharge plans that achieve positive patient outcomes by incorporating the following: quality assurance
utilizing root cause analysis, cost-effectiveness, time-efficiency, patient education with enhancement of problem-solving skills,
resource coordination, prioritized objectives, individualized and realistic goals.
 Identify individual patient needs and actual/potential high-risk complications and health problems through clinical knowledge and
experience, patient interview, communication with the interdisciplinary team and review of the medical record.
 Oversees the case management process from admission through discharge to provide quality clinical outcomes and desired
financial margins.
 Serve as a resource to patients (and families) following discharge from the facility and follows discharge post interventions.
 Coordinates admissions through referral review to promote smooth transitions, discharges and transfers of patients.
















Regular assessment of treatment plans to determine the need for alternative treatment options and/or goal modification with
revisions, as needed. Supports clinical regulatory processes and provides documentation directed by Corporate Clinical Director.
Communicate all relevant information between the patient, family, referral source, physician and the interdisciplinary team
including, but not limited to: patient progress, barriers to achieving successful outcomes, equipment needs, assist in discharge
planning and dates, etc.
Acquire data necessary to establish and maintain a clinical outcome data base to evaluate clinical outcomes for quality, costeffectiveness and time-efficiency.
Schedule and facilitate interdisciplinary team conferences to evaluate patients' progress.
Assure comprehensive medical record and facility documentation associated with this position.
Identify patient/family strengths, resources and coping behaviors and provide emotional support, as needed.
Explains services and available resources to patients and their families.
Understands assistive/adaptive devices for individuals with disabilities.
Develop and maintain positive working relationships on behalf of the company with government regulators, payors, patients and
families, area health care community and the community at large.
Participate in the quality assurance process.
Provide timely feedback to the facility and/or to Ryders Corporate staff regarding: payor trends, competitive trends, quality
perceptions and client satisfaction.
Communicate all unresolved patient and/or family grievances or concerns to the facility administrator.
Provide administrator with written or verbal feedback regarding issues in the facility.
Assist in the development of policies, procedures and protocols.
Participate in medical, nursing, case management and facility committees, as appropriate.
Is involved in community/civic health matters and projects as appropriate.
WORKING CONDITIONS
 Moves intermittently during working hours.
 Is subject to frequent interruptions.
 Is involved with residents, family members, personnel, and hospital partners etc., under all conditions and circumstances.
 Is subject to hostile and emotionally upset residents, family members and visitors.
 Communicates with the hospital partners, medical staff, nursing personnel, and other department supervisors.
 Is subject to callback during emergency conditions (e.g., severe weather, evacuation, post-disaster, etc).
 Attends and participates in continuing educational programs.
 Is subject to exposure to infectious waste, diseases, conditions, etc. including TB and the AIDS and Hepatitis B viruses.
 Maintains a liaison with the residents, their families, insurance companies, other department, etc., to adequately assist with
clerical functions in planning the resident's rehabilitation needs.
 Works in office areas as well as throughout the facility.
 Works beyond normal working hours, weekends and holidays and on other shifts/positions as necessary.
 Is subject to injury from falls, burns from equipment, odors, etc., throughout the day, as well as to reactions from dust,
disinfectants, tobacco smoke, and other air contaminants.
 Communicates with nursing personnel, and other department personnel.
SAFETY AND SANITATION
 Report all unsafe/hazardous conditions, defective equipment, etc., to your supervisor immediately.
EQUIPMENT AND SUPPLY FUNCTION
 Report equipment malfunctions or breakdowns to your supervisor as soon as possible.
 Ensure supplies have been replenished in work areas as necessary.
 Assure that work/assignment areas are clean and records, files, etc., are properly stored before leaving such areas on breaks, end
of work day, etc.
RESIDENT RIGHTS
 Maintain confidentiality of all pertinent resident care information to assure resident rights are protected.
 Knock before entering a resident's room.
 Assure that residents' rights to fair and equitable treatment, self-determination, individuality, privacy, property and civil rights,
including the right to wage complaints, are followed.
EDUCATION REQUIREMENTS
 Must possess an RN license
Ryders Health Management
88 Ryders Lane, Suite 208
Stratford, CT 06614
Tel: (203) 381-1327 Fax: (203) 381-1329
www.rydershealth.com
EXPERIENCE
 Experience in a long-term care facility.
 Knowledge of Medicare rules & regulations as they pertain to Skilled Nursing Facilities.
SPECIFIC REQUIREMENTS
 Possess a current, unencumbered, active license to practice as an RN in the state of Connecticut.
 Be able to read, write, speak, and understand the English language.
 Possess the ability to make independent decisions when circumstances warrant such action.
 Possess the ability to deal tactfully with personnel, residents, family members, visitors, government agencies/personnel, and the
general public.
 Be knowledgeable of nursing and medical practices and procedures, as well as laws, regulations, and guidelines that pertain to
long-term care.
 Possess leadership and supervisory ability and the willingness to work harmoniously with and supervise other personnel.
 Possess the ability to plan, organize, develop, implement, and interpret the programs, goals, objectives, policies and procedures,
etc., that are necessary for providing quality care.
 Have patience, tact, a cheerful disposition and enthusiasm, as well as the willingness to handle difficult residents.
 Be willing to seek out new methods and principles and be willing to incorporate them into existing nursing practices.
 Be able to relate information concerning a resident's condition.
 Not pose a direct threat to the health or safety of other individuals in the workplace.
PHYSICAL AND SENSORY REQUIREMENTS
(With or Without the Aid of Mechanical Devices)
 Must be able to move intermittently throughout the work day.
 Must be able to speak and write the English language in an understandable manner.
 Must be able to cope with the mental and emotional stress of the position.
 Must possess sight/hearing senses or use prosthetics that will enable these senses to function adequately so that the requirements
of this position can be fully met.
 Must function independently, have personal integrity, have flexibility, and the ability to work effectively with other personnel.
 Must meet the general health requirements set forth by the policies of this facility which include a medical and physical
examination.
 Must be able to push, pull, move, and/or lift a minimum of 40 pounds to a minimum height of 3 feet and be able to push, pull,
move, and/or carry such weight a minimum distance of 4 feet.
 May be necessary to assist in the evacuation of residents during emergency situations.