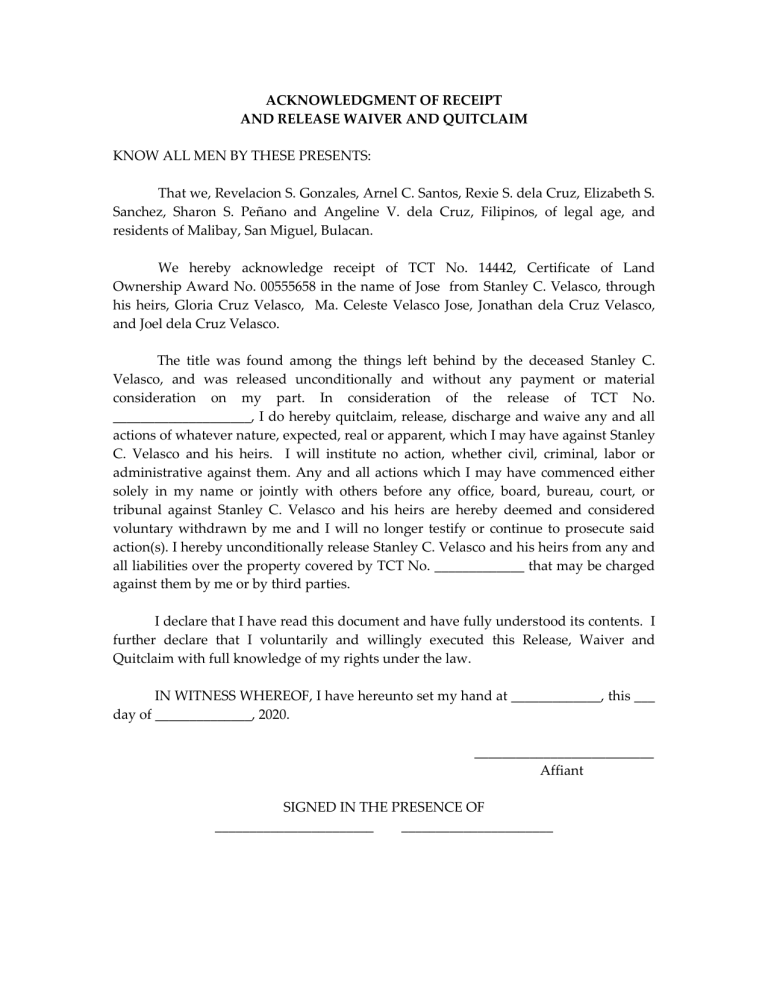 ACKNOWLEDGMENT OF RECEIPT
AND RELEASE WAIVER AND QUITCLAIM
KNOW ALL MEN BY THESE PRESENTS:
That we, Revelacion S. Gonzales, Arnel C. Santos, Rexie S. dela Cruz, Elizabeth S.
Sanchez, Sharon S. Peñano and Angeline V. dela Cruz, Filipinos, of legal age, and
residents of Malibay, San Miguel, Bulacan.
We hereby acknowledge receipt of TCT No. 14442, Certificate of Land
Ownership Award No. 00555658 in the name of Jose from Stanley C. Velasco, through
his heirs, Gloria Cruz Velasco, Ma. Celeste Velasco Jose, Jonathan dela Cruz Velasco,
and Joel dela Cruz Velasco.
The title was found among the things left behind by the deceased Stanley C.
Velasco, and was released unconditionally and without any payment or material
consideration on my part. In consideration of the release of TCT No.
____________________, I do hereby quitclaim, release, discharge and waive any and all
actions of whatever nature, expected, real or apparent, which I may have against Stanley
C. Velasco and his heirs. I will institute no action, whether civil, criminal, labor or
administrative against them. Any and all actions which I may have commenced either
solely in my name or jointly with others before any office, board, bureau, court, or
tribunal against Stanley C. Velasco and his heirs are hereby deemed and considered
voluntary withdrawn by me and I will no longer testify or continue to prosecute said
action(s). I hereby unconditionally release Stanley C. Velasco and his heirs from any and
all liabilities over the property covered by TCT No. _____________ that may be charged
against them by me or by third parties.
I declare that I have read this document and have fully understood its contents. I
further declare that I voluntarily and willingly executed this Release, Waiver and
Quitclaim with full knowledge of my rights under the law.
IN WITNESS WHEREOF, I have hereunto set my hand at _____________, this ___
day of ______________, 2020.
__________________________
Affiant
SIGNED IN THE PRESENCE OF
_______________________
______________________
SUBSCRIBED AND SWORN to before me this _____ day of _____________, 2020
at ________________, Philippines, affiant exhibiting to me her/his Government ID's No.
_____________________.
Doc. No. ____;
Page No. ____;
Book No. ____;
Series of 2020.