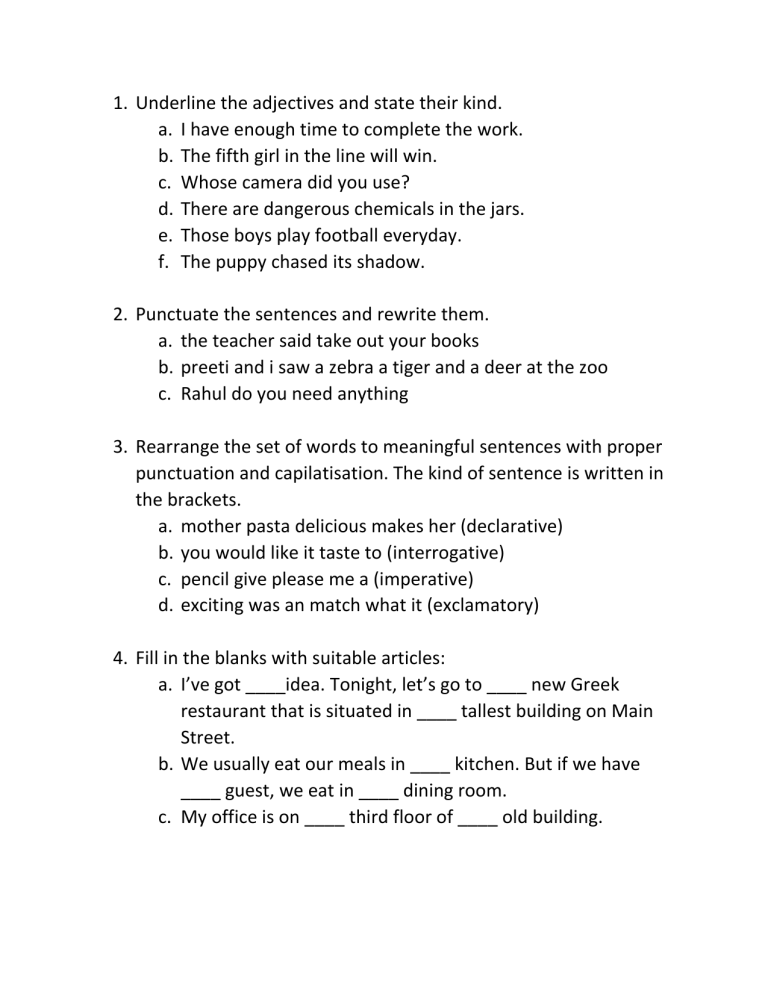 1. Underline the adjectives and state their kind.
a. I have enough time to complete the work.
b. The fifth girl in the line will win.
c. Whose camera did you use?
d. There are dangerous chemicals in the jars.
e. Those boys play football everyday.
f. The puppy chased its shadow.
2. Punctuate the sentences and rewrite them.
a. the teacher said take out your books
b. preeti and i saw a zebra a tiger and a deer at the zoo
c. Rahul do you need anything
3. Rearrange the set of words to meaningful sentences with proper
punctuation and capilatisation. The kind of sentence is written in
the brackets.
a. mother pasta delicious makes her (declarative)
b. you would like it taste to (interrogative)
c. pencil give please me a (imperative)
d. exciting was an match what it (exclamatory)
4. Fill in the blanks with suitable articles:
a. I've got ____idea. Tonight, let's go to ____ new Greek
restaurant that is situated in ____ tallest building on Main
Street.
b. We usually eat our meals in ____ kitchen. But if we have
____ guest, we eat in ____ dining room.
c. My office is on ____ third floor of ____ old building.
5. Fill in the blanks with the correct order of adjectives: of
a. I am going to wear my ____ dress. (blue cotton big bright)
b. Please recycle those ____ bottles. (curved water green
empty)
c. She packed her clothes in a ____ box. (cardboard large
flimsy brown)
d. Their dog is a ____ shepherd. (German loving brown big)
6. Fill in the blanks with the correct form of the adjectives given in
the brackets:
a. Our History book is ____ but the Science book is the ____ of
all our textbooks. (heavy)
b. This painting is ____ than that one. (colourful)
c. Her lunch is ____ than mine. (good)
7. Fill in the blanks with the correct collective nouns:
a. The farmer kept a ____ of geese in the barnyard.
b. A ____ of performers arrived from Russia.
8. Fill in the blanks with the correct form of the word in the bracket:
a. Namrata's dance ____ was appreciated by all. (perform)
b. Our Principal is always ____. (cheer)
c. Sometimes nature causes a lot of ____. (destruct)
d. We visited many ____ sites in Egypt. (history)
9. Rewrite the following sentences after changing the nouns to their
opposite gender, making other necessary changes if required:
a. The bridegroom was blessed by the priestess.
b. The landlady argued with the milkman.
10.
Fill in the blanks with more…than, as few……as, as
much……as, or as many…….as. each option to be used only once.
a. Tina has ____ dresses ____ Kayla.
b. Health is ____ important ____ wealth.
c. We have got ____ homework ____ you have.
d. The factory may make ____ cars ____ it did last year.
11.
Add a subject to the following sentences:
a. ________________ were jumping from tree to tree.
b. ________________ are flying kites in the park.
12.
a.
b.
c.
d.
13.
Complete the following phrases:
A ____ of bread
A ____ of salt
A ____ of dust
A ____ of hay
Rewrite using the hints in the brackets:
a. The officer permitted his soldiers to rest. (use 'permission')
b. My father decided to buy a new car. (use 'decision')
14.
Complete the table:
a.
b.
c.
d.
Singular
salmon
Plural
trousers
passer-by
Aircraft
15.
Add suitable prefix or suffix and fill in the blanks:
a. Teena is very ______; she shares her notes with Meena.
Meena is ______ to attend classes because of her ______.
(thought, able, ill)
b. Harsh works for the ______ of ______ to animals. I cherish
my ______ with him. (prevent, cruel, friend)
16.
a.
b.
c.
d.
e.
Fill in the blanks with 'ent' or 'ant'
pleas_____
confid______
contest______
depend______
import______
a.
b.
c.
d.
e.
f.
g.
h.
Name the following:
Feminine gender of elephant
Masculine gender of goose
Feminine gender of fox
Masculine gender of doe
Abstract noun of deep
Abstract noun of act
Plural of half
Feminine of rooster
17.
18.
Add a predicate to the following sentences:
a. The villagers ________________.
b. An owl ________________.