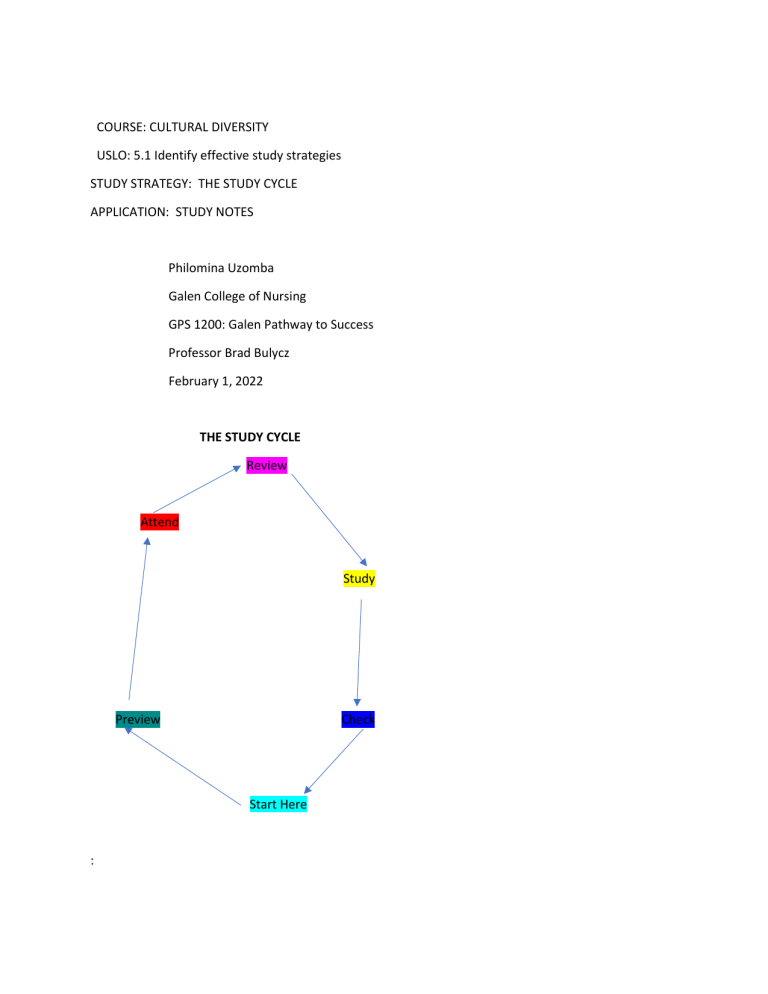 COURSE: CULTURAL DIVERSITY
USLO: 5.1 Identify effective study strategies
STUDY STRATEGY: THE STUDY CYCLE
APPLICATION: STUDY NOTES
Philomina Uzomba
Galen College of Nursing
GPS 1200: Galen Pathway to Success
Professor Brad Bulycz
February 1, 2022
THE STUDY CYCLE
Review
Attend
Study
Preview
Check
Start Here
:
Ethnocentrism is the tendency to evaluate other groups according to the values of ones own group.
Racism is nothing but prejudice or discrimination against member of one race. Ethnocentrism is
based in a belief in the superiority of one's own culture over others, and it too may be transient and
superficial. Racism is the belief in and promotion of the racial worldview described above.
Ethnocentrism holds skin colour and other physical features to be irrelevant as long as one is a
member of the same culture, or becomes so. The racial worldview holds that, regardless of
behaviour or cultural similarities, a member of an inferior race (who is usually perceived to be so by
means of physical features) can never be accepted. Race is an invented, fictional form of identity;
ethnicity is based on the reality of cultural similarities and differences and the interests that they
represent.