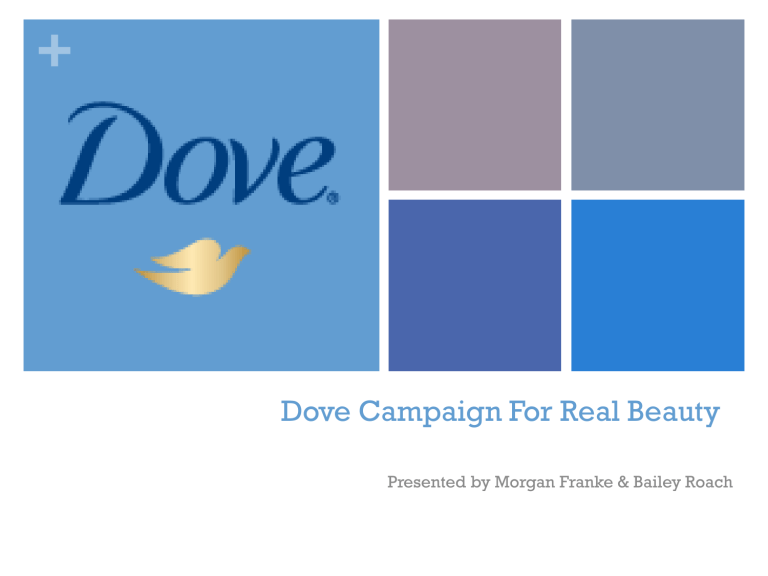 +
Dove Campaign For Real Beauty
Presented by Morgan Franke & Bailey Roach
+
Research

Enacted a global study: The Real Truth About Beauty: A
Global Report, Dove.

Study revealed that only 2% of women around the world
genuinely found themselves beautiful.

Conducted a phone campaign where viewers of DOVE ads
could call in an report whether the models looked "fab" or
"fat".
+
Objectives

Inspire women and society to think differently about what is
defined as beautiful.

Increase sales of Dove beauty products and new product lines.

Drive users to the website to share their thoughts and opinions
about the campaign and beauty stereotypes.

Create a call to action for consumers to join the movement
through website pledge that activate a donation by Dove for selfesteem awareness programs.

Public relations campaign.






Advertisements
Videos
Workshops
Sleepover Events
Book publication
Play write
+
Reasoning Behind Objectives
 68%
of those surveyed believed media and
advertising created unrealistic standards of
beauty.
 Declining
 Needed
sales
brand positioning
+ Programming
 2005-started
the
advertising campaign
using 6 real women
with real curves
 2006-Dove
came out
with the Evolution video
 2006-Created
the Dove
Self-Esteem Fund
 2006-Dove
released the
Little Girls commercial
during the Super Bowl
+
Programming
Continued
 2007-Dove
launched a
campaign aimed at
women 50+.
 2010-Dove
Movement for
Self-Esteem
+
Evaluation
 2011-Dove
released findings of its global study,
The Real Truth About Beauty: Revisited
 Some
of the Dove photo shoot pictures were
edited, which seemed contradictory to many
people.
 Some
people believed different components of
their product line to be contradictory.
 Many
wanted to see a male beauty campaign.
 Were
able to target a wide variety of ages.
+
Evaluation Continued
 PR Week's
Consumer Launch Campaign of the Year
2006
 PRSA's
Silver Anvil 'Best of' Award 2006
 Grand
EFFIE Award 2006
 In
the first 6 months of the campaign, sales of the
products in the advertisements increased 600% in
the USA and Europe
 Most
importantly, they were working to make a
difference for the better!