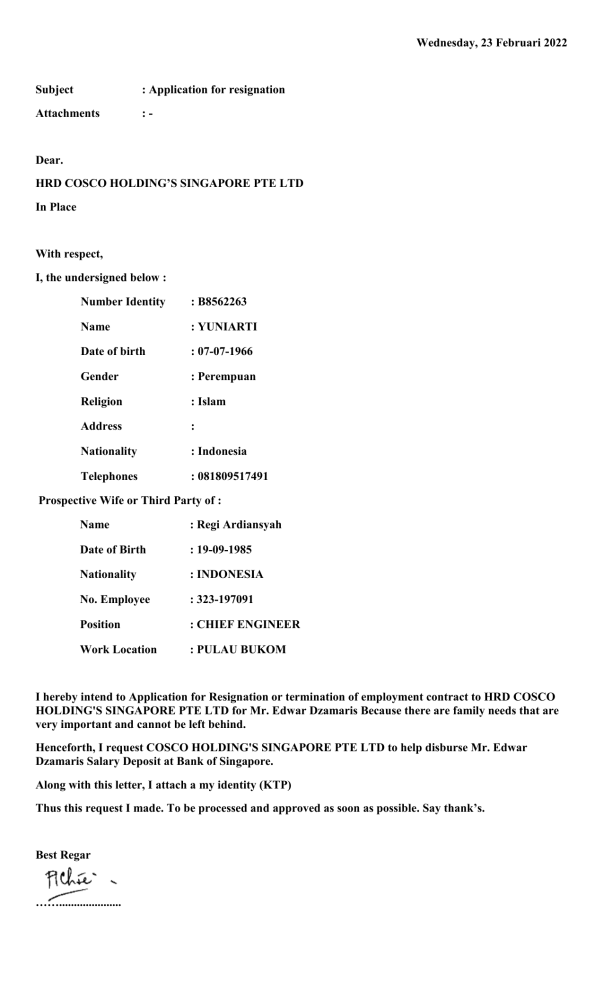 Wednesday, 23 Februari 2022
Subject
: Application for resignation
Attachments
:-
Dear.
HRD COSCO HOLDING'S SINGAPORE PTE LTD
In Place
With respect,
I, the undersigned below :
Number Identity
: B8562263
Name
: YUNIARTI
Date of birth
: 07-07-1966
Gender
: Perempuan
Religion
: Islam
Address
:
Nationality
: Indonesia
Telephones
: 081809517491
Prospective Wife or Third Party of :
Name
: Regi Ardiansyah
Date of Birth
: 19-09-1985
Nationality
: INDONESIA
No. Employee
: 323-197091
Position
: CHIEF ENGINEER
Work Location
: PULAU BUKOM
I hereby intend to Application for Resignation or termination of employment contract to HRD COSCO
HOLDING'S SINGAPORE PTE LTD for Mr. Edwar Dzamaris Because there are family needs that are
very important and cannot be left behind.
Henceforth, I request COSCO HOLDING'S SINGAPORE PTE LTD to help disburse Mr. Edwar
Dzamaris Salary Deposit at Bank of Singapore.
Along with this letter, I attach a my identity (KTP)
Thus this request I made. To be processed and approved as soon as possible. Say thank's.
Best Regar
…….....................