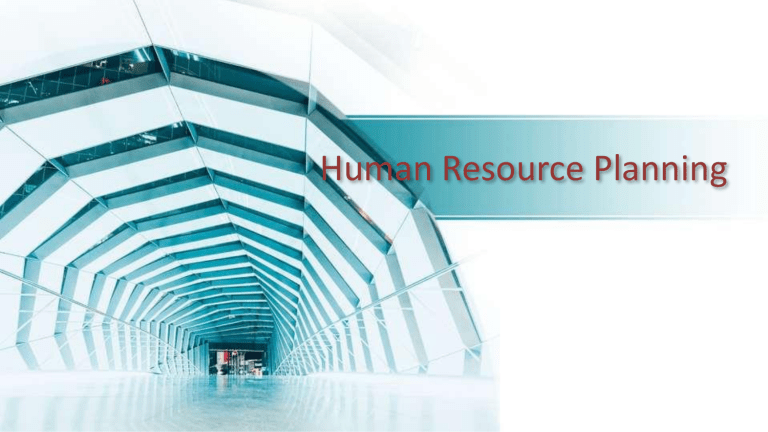 Human Resource Planning
Talking points
•
•
•
•
•
•
•
•
•
•
•
•
•
•
•
•
•
What is HRP?
Why Human Resource planning is important?
Features
Objectives of HRP
HRP process
Need of HRP
Benefits
Types
Approaches to human resource planning
Forecasting Human resource availability
Forecasting Techniques
Guidelines for making HRP effective
Factors affecting Human Resource Planning
Challenges for HR planning
Barriers to HR planning
Requirements for effective HR plan
conclusion
What is HRP?
• HRP is a sub-system of total organizational
planning
• HRP facilitates the realization of the company's
objectives for the future by providing the right
type and number of personnel.
• HRP is also called Manpower planning,personnel
planning or Employment planning.
Importance of HR
•
•
•
•
•
Future personnel needs
Coping with change
Creating highly talented personnel
Protection of weaker sections
International strategies
Features
•
•
•
•
•
Futuristic
Continuous process
Part of corporate planning
Flexibility
Long term and short term plans
Objectives of HRP
•
•
•
•
•
Forecasting Human Resource Requirement
Effective Management of change
Realizing organizational Goals
Effective utilization of HR
Promoting Employees
HRP Process
Organization's Strategies and Plans
Human Resources Requirement
Human Resources Availability
Assessment of Human Resources Needs
Gap Analysis
Action Planning
Implementation
Needs of HRP
•
•
•
•
•
•
Employment –Unemployment situation
Technological change
Organizational change
Demographic change
Skill shortage
Government influence
Benefits of HR Planning
•
•
•
•
•
•
Lower HR costs through better HR management.
More timely recruitment for anticipate HR needs
Better devlopment of managerial talent
Improve the utilization of human resources.
Make successful demand of local labor market.
Co-ordinate different HR programs
Types of HR planning
 SHORT TERM
• Approaches to matching a weak individual and a job
• For optimum utilization of the strong incumbent.
 LONG TERM
•
•
•
•
Projecting manpower requirements.
Taking stock of existing manpower
Recruitment & selection
HR devlopment
Approaches to HR planning
Two Approaches used in forecasting the demand for
human resources areQuantitative
qualitative
Forecasting HR availability
• Forecasting the supply of internal human resources
• Forecasting the supply of external human resources
Forecasting Techniques
•
•
•
•
•
Managerial judgment
Ratio-trend analysis
Work study techniques
Delphi technique
Other techniques
GUIDELINES FOR MAKING HRP EFFECTIVE
1. Integration with Organizational Plans
2. Period of HR Planning
3.Proper Organization
4. Support of Top Management
5. Involvement of Operating Executives
Factors affecting Human Resource
Planning
1.Organizational growth cycles and
planning
2.Time horizons
3.Nature of job being filled
4.outsourcing
Challenges for HR Planning
•
•
•
•
•
•
•
Globalization
Handling multicultural/Diverse Workforce
Employee selection
Training & Devlopment
Balance with work life
Retaining Talents
conflict Managing
Barriers to HR plan
•
•
•
•
•
•
Time consuming
Incompatible information
Conflicts between short term and long term HR needs
Trade unions
Uncertainties
Conflicts between quantitative and qualitative
approaches of HRP
Requirements for effective HR plan
• HR plan must be as a part of corporate planning.
• HR plan duties should be centralized in different management
level
• Plan should be prepared by skill levels rather than by
aggregates
• The time horizon of the plan must be long enough to permit
any remedial action.
conclusion
• An effective HRP is required for an organisation to be
effective
• HRP needs to be fully integrated to be organization
plan
• Secret of success is the right type of people available
in the right number at time at right place.
Thank you..