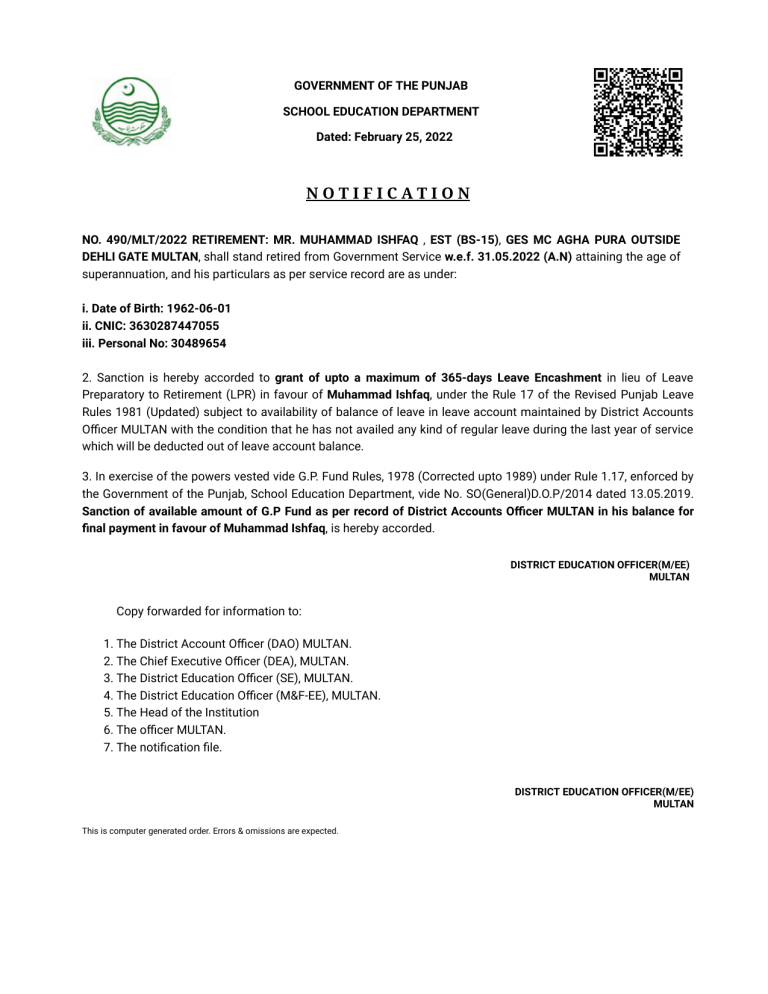 GOVERNMENT OF THE PUNJAB
SCHOOL EDUCATION DEPARTMENT
Dated: February 25, 2022
NOTIFICATION
NO. 490/MLT/2022 RETIREMENT: MR. MUHAMMAD ISHFAQ , EST (BS-15), GES MC AGHA PURA OUTSIDE
DEHLI GATE MULTAN, shall stand retired from Government Service w.e.f. 31.05.2022 (A.N) attaining the age of
superannuation, and his particulars as per service record are as under:
i. Date of Birth: 1962-06-01
ii. CNIC: 3630287447055
iii. Personal No: 30489654
2. Sanction is hereby accorded to grant of upto a maximum of 365-days Leave Encashment in lieu of Leave
Preparatory to Retirement (LPR) in favour of Muhammad Ishfaq, under the Rule 17 of the Revised Punjab Leave
Rules 1981 (Updated) subject to availability of balance of leave in leave account maintained by District Accounts
Officer MULTAN with the condition that he has not availed any kind of regular leave during the last year of service
which will be deducted out of leave account balance.
3. In exercise of the powers vested vide G.P. Fund Rules, 1978 (Corrected upto 1989) under Rule 1.17, enforced by
the Government of the Punjab, School Education Department, vide No. SO(General)D.O.P/2014 dated 13.05.2019.
Sanction of available amount of G.P Fund as per record of District Accounts Officer MULTAN in his balance for
final payment in favour of Muhammad Ishfaq, is hereby accorded.
DISTRICT EDUCATION OFFICER(M/EE)
MULTAN
Copy forwarded for information to:
1. The District Account Officer (DAO) MULTAN.
2. The Chief Executive Officer (DEA), MULTAN.
3. The District Education Officer (SE), MULTAN.
4. The District Education Officer (M&F-EE), MULTAN.
5. The Head of the Institution
6. The officer MULTAN.
7. The notification file.
DISTRICT EDUCATION OFFICER(M/EE)
MULTAN
This is computer generated order. Errors & omissions are expected.