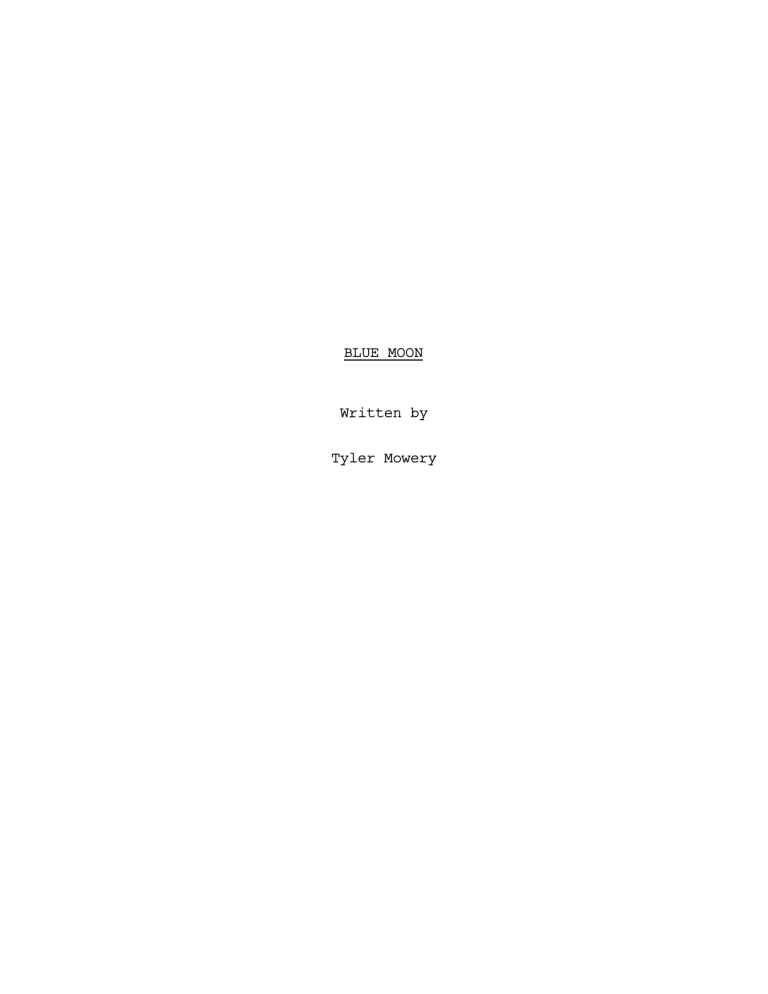 BLUE MOON
Written by
Tyler Mowery
EXTREME CLOSE UP -- of blue bacteria swirling and wiggling.
We slowly pull out and we see thousands of the blue bacteria
all wiggling and moving in unison. The blue bacteria moves in
packs, like a hive mind.
It seeks out and destroys brown, black, and yellow bacteria.
We continue to pull out until we are in the bloodstream, then
out into a web of veins, arteries, and muscle, then through
the skin into...
INT. AMERICAN HOSPITAL ROOM - DAY
Where a healthy looking middle-aged man sits upright in the
bed. A nurse stands beside him with a clipboard.
AMERICAN NURSE
How are you feeling today?
FRANKLIN
Amazing. I honestly haven't felt
this good in years.
INT. JAPANESE HOSPITAL ROOM - DAY
A Japanese woman in her 70s walks without a walker as a nurse
walks beside her, ready to catch her if she falls.
JAPANESE NURSE
(in Japanese)
Let's see if you can make it all
the way across the room today.
The Japanese woman beams at the nurse as she crosses the room
with ease.
NEWS REPORTER ONE (PRE-LAP)
The public is calling it "The
Miracle Moon Drug." Referring to a
bacteria recently discovered on our
moon called Lunaphilus.
INT. NEWS REPORT - DAY
Two reporters sit in a traditional international news studio.
2.
NEWS REPORTER ONE
Over the past month, small
quantities have been delivered from
the moon and made available to some
select hospitals. Have you ever
heard of anything like this?
NEWS REPORTER TWO
It's absolutely amazing.
Unfortunately, it's only available
to those rich enough to afford it,
however some charities are making
it more widespread to others who
desperately need it.
INT. NIGERIAN HOSPITAL - HALLWAY - DAY
A doctor walks beside a woman. The hallway is crowded full of
sick patients.
NIGERIAN DOCTOR
Your son and the other children
have gotten better almost
overnight. It's the most amazing
thing I've ever seen.
The doctor and the woman arrive at a door. The doctor opens
the door to a room full of Nigerian children who laugh and
play together in the group hospital room.
FADE TO BLACK.
HARD CUT IN:
EXT. THE MOON - DAY
The camera flies over the large, grey expanse. Craters and
break the landscape. Small points of light illuminate the
otherwise black horizon.
The camera continues flying until it reaches a MOON BASE. It
looks like a series of large metallic circles interconnected
by tubes.
TITLE: LUNAPHILUS MINING FACILITY: YEAR 2107
The camera flies phases through the metal exterior into...
INT. MOONBASE CORRIDOR - DAY
... as two soldiers walk side by side.
3.
One soldier wears an American flag on each of his shoulders.
The other wears an Egyptian flag on each of his shoulders.
SCHMIDT
You know when our next shipment's
coming in?
No idea.
AMMAD
SCHMIDT
I need some more nicotine patches.
Ran out a week ago.
CUT TO:
INT. MINING FACILITY GYM - DAY
SERGEANT CARTER, a blonde American man, 47, lifts weights as
rap music plays through the speakers.
Carter curls the barbels and grunts.
CAPTAIN BARKANOV, a burly Russian, deadlifts on the other
side of the gym.
BARKANOV
Can we listen to something else? I
can't stand this garbage.
CARTER
Can't. Keeps me motivated.
Barkanov stares at the back of Carter's head.
INT. COMMAND BARRACKS - DAY
COMMANDER LEE, a confident 54 year old Singaporean man,
meditates in front of a small Buddha statue.
INT. MOONBASE CORRIDOR - DAY
CORPORAL JABARI, 27, wears the Egyptian flag on his uniform,
walks down the sterile corridor to a set of double doors.
The doors open and he enters...
4.
INT. MINE LABORATORY - DAY
A massive dome-shaped room. A wide walkway extends around the
entire circumference, with a large hole in the center.
A Russian scientist, DR. REZNOV, examines moon rocks at a
nearby workbench.
Jabari!
Yes sir?
REZNOV
JABARI
Reznov holds up a binder.
REZNOV
Take this report down to Dr. Lim
please. He will need it.
Can do.
JABARI
Jabari takes the binder and heads towards a large elevator in
the center.
Jabari enters the elevator's airlock, where a line of exosuits await.
Jabari climbs into an exo-suit and then presses depressurize.
COMPUTER
Depressurizing.
Oxygen is pulled out of the room. The elevator doors open and
Jabari walks onto the platform.
INT. ELEVATOR - CONTINUOUS
The elevator slowly descends. The clean, bright white of the
lab walls slowly fades away into darkness.
The elevator's lights flicker to life.
Jabari checks the time on his suit. The elevator finally
comes to a stop and opens.
INT. MINE - DAY
Jabari walks out into a MASSIVE, CYLINDRICAL HOLE. A gigantic
drill bit sits idle in the center.
5.
Tables, lights, and lab equipment sit scattered around the
mine floor.
Three scientists are hard at work in exo-suits.
Damien?
JABARI
Jabari calls out to the male scientist, DAMIEN LIM, a short
Singaporean scientist who is scanning the mine floor with
what looks like a heavy duty metal detector.
DAMIEN
It's Dr. Lim.
JABARI
Sorry. Reznov told me to bring this
to you.
Jabari hands Damien the binder.
Thank you.
DAMIEN
MARIAH (O.S.)
They put you on guard duty again?
Jabari turns.
MARIAH, a 35 year old American woman with sharp, intelligent
eyes, stands by a table full of equipment.
JABARI
I know. I keep getting stuck in
this black hole with you three.
SAFIYAH, a 30 year old Egyptian, looks up from her
seismograph-looking equipment.
SAFIYAH
Aww, what could possibly be worse
than witnessing us change the
course of human medicine?
JABARI
Looks to me like you're doing
nothing but looking at rocks.
Safiyah smiles.
SAFIYAH
Yes, but rocks on the MoOoOOon!
6.
Safiyah picks up a pebble and tosses it at Jabari. It clinks
off of the chest of his exo-suit.
JABARI
Hey! You know how expensive these
things are?
SAFIYAH
Expensive enough to stop a pebble,
I hope.
Damien is getting frustrated by the others.
DAMIEN
I'm really not sure why they let
soldiers down here at all.
SAFIYAH
Jabari is harmless.
JABARI
I wouldn't say harmless.
DAMIEN
Useless then.
Mariah snorts.
JABARI
I can live with that.
Mariah glances over at Jabari, who aimlessly walks around the
wall of the mine. Mariah turns and looks at Safiyah, who she
just caught staring at Jabari.
Safiyah averts her eyes back to her equipment. Mariah smiles.
Damien opens the binder given to him by Jabari. He references
the pages as he makes adjustments on his equipment.
MARIAH
(to Damien)
New data from Dr. Reznov?
After a moment, he is satisfied and continues using the
machine to hunt on the rocky ground.
DAMIEN
Yes. Making adjustments now. If his
math is correct, we should be
close.
How close?
MARIAH
7.
Beep beep beep beep beep beeeeeeeeeeeep....
Damien's device is going off. Everyone turns to look at him.
DAMIEN
Very close.
INT. CONTROL ROOM - DAY
Carter and Barkanov enter the room. Commander Lee is already
there.
In this room, we see soldiers from four nations; The United
States, Singapore, Russia, and Egypt. The soldiers all wear
flags on both of their arms, which show which nation they
belong to.
A United Nations logo hovers on the main screen on one wall
of the dome-shaped control room.
Gentlemen.
LEE
Carter and Barkanov walk up.
LEE (CONT'D)
It is day 63 of our 80 day mission.
All systems are normal. The solar
panels are inputting average levels
of power. Food, water, and oxygen
supplies are all at predicted
levels.
CARTER
You're up early.
LEE
And you've been more than 5 minutes
late for the past ten days.
CARTER
It's almost as if this place runs
itself and we're just here to make
sure the floors get swept.
Lee doesn't smile.
LEE
Today we should do a manual check
of all systems. It's protocol for
us to do the checks on the 65th
day, but--
8.
CARTER
--But we have nothing better to
do...
LEE
If you want to put it that way,
yes. Start with life support and
work your way down the level of
importance.
BARKANOV
One or two man job?
Two.
LEE
Carter smiles and throws his arm around Barkanov.
CARTER
Come on, Russki. Let's get to it.
EXT. MOONBASE - DAY
A massive wide shot of the compound. In the bottom right, two
tiny exo-suits move around the exterior.
CUT TO:
Carter and Barkanov arrive at the OXYGEN GENERATION SYSTEM.
Carter boots up a display while Barkanov looks around behind
him.
The display comes to life and shows different graphs,
percentages, and other complex information.
CARTER
(into comms)
All systems reading normal on O2.
Visual examination of structure
shows no damage or erosion of any
kind.
Copy that.
EGYPTIAN SOLDIER ONE (O.S.)
Carter shuts the display off and starts walking away.
CARTER
You'd think being on the moon would
be unforgettable. But after a few
weeks, it's just work like anything
else.
9.
BARKANOV
I think it's beautiful.
CARTER
'Course you do. Anywhere's prettier
than where you're from. Nothing but
snow, ice, and Kalashnikovs.
Barkanov ignores him. He seems used to this.
BARKANOV
Let's head towards the power grid.
EXT. MINING FACILITY POWER GRID - DAY
The camera flies over thousands of shiny, metallic solar
panels that sit in a sprawl around a central power station.
Carter and Barkanov walk along the top of a tube that takes
power from the central power station back to the mining
facility.
EXT. CENTRAL POWER STATION - DAY
Barkanov checks a display, while Carter stands in a crow's
nest, examining the faces of the solar panels.
BARKANOV
(into comms)
Power is outputting at expected
levels.
CARTER
(into comms)
No visible damage to individual
panels.
BARKANOV
(into comms)
Display reading all panels in
working order.
LEE (O.S.)
Barkanov. Carter. Return to the
station immediately. There's
something you need to see.
INT. CONFERENCE ROOM - DAY
Mariah, Safiyah, and Reznov sit around the sterile, white
table with Lee, Carter, and Barkanov.
10.
Damien stands at a display.
DAMIEN
So I've been going over the math
and the data with Reznov. And we've
gone through it at least six times
so far. We did this because we
wanted to be sure...
Everyone in the room stares straight at him.
DAMIEN (CONT'D)
We less than 100 meters from one of
the largest caves we've ever come
across at this facility.
CARTER
What does that mean?
BARKANOV
It means we're about to get what we
came here for.
Carter looks to Barkanov.
DAMIEN
We've always been looking for caves
or small pockets in the moon's
crust. We've been able to find
Lunaphilus in these places and
transport small amounts of it back
to Earth.
REZNOV
But this is bigger.
DAMIEN
Much bigger.
LEE
What do you mean?
DAMIEN
I mean we could be looking at a
whole system of caves, or at least
one massive cavern. The chances of
us finding large amounts of
Lunaphilus are very high.
MARIAH
If he's right...
They turn to Mariah.
11.
MARIAH (CONT'D)
... Billions of people could be
healed by this bacteria. We might
be standing over the biggest
breakthrough in human health since
the thermometer.
The room is silent.
Shit...
CARTER
LEE
How far away are we from entering
the cave?
DAMIEN
A few weeks, at the earliest.
Lee crosses his arms and thinks.
BARKANOV
Is there a way to speed up the
process?
SAFIYAH
Maybe. We would need more people to
run the drill.
LEE
We can assign the lab's soldiers to
help mine.
The scientists sit up.
MARIAH
I'm not sure that's a good idea.
They don't know the equipment. None
of them have been trained.
BARKANOV
But they can be trained, right?
CARTER
Hold on. We need to discuss this.
Barkanov turns to Carter.
BARKANOV
Why? There's no reason we can't
speed up the process.
12.
CARTER
I'm saying a decision like this
needs to be decided between us.
BARKANOV
We are deciding now.
LEE
If it will not endanger anyone to
use the soldiers in the mine, then
we should do it. Dr. Lim?
DAMIEN
If we train them properly... Yes,
it could work.
Barkanov and Carter stare at one another.
LEE
It's settled, then. We will assign
the soldiers to speed up the mining
efforts. Meeting adjourned.
Lee walks out of the conference room, followed by Barkanov
and Carter.
CARTER
(under his breath)
Damn Russians...
INT. BARRACKS - NIGHT
Mariah and Safiyah play chess. Damien lays in his bunk,
reading. Reznov is asleep.
MARIAH
I don't like the idea of having
more soldiers in the mine.
SAFIYAH
I don't like it either, but they
aren't going to be a problem.
They'll do what we say and we'll
get there faster.
Maybe.
MARIAH
Safiyah makes a move on the board.
13.
MARIAH (CONT'D)
Why does an international
humanitarian outpost get to be
controlled by military leaders.
Safiyah smiles.
SAFIYAH
I don't know.
MARIAH
We could do so much more without
having to follow their orders. We
are mining for something that could
help cure the entire world of all
sorts of chronic illnesses, and we
have to point guns everywhere?
Damien flips a page in his book.
DAMIEN
I'm surprised they didn't bring
nukes.
MARIAH
They probably did. They just didn't
tell us.
Mariah makes a move on the board.
Knock. Knock. Knock. Someone knocks on the door.
MARIAH (CONT'D)
Who could that be?
Mariah smiles at Safiyah.
SAFIYAH
Definitely not any of the soldiers.
None of them ever learned how to
knock...
Safiyah opens the door to see Jabari standing there.
JABARI
Safiyah! Hello.
Hey.
SAFIYAH
MARIAH
Hey Jabari!
Jabari looks past Safiyah and sees Mariah. Mariah waves.
14.
JABARI
Hey, Mariah.
Jabari waves back. Jabari looks back to Safiyah.
JABARI (CONT'D)
Do you, uhh...
(in Arabic)
I was wondering if you wanted to
join me. I'm about to eat dinner.
SAFIYAH
(in Arabic)
Sure. I'll join.
(in English)
Give me a moment to get dressed?
Of course!
JABARI
Safiyah turns and makes eye contact with Mariah. Mariah
raises her eyebrows and smiles. Safiyah shuts the door.
MARIAH
Wow, sneaking out late with a boy.
High school all over again.
SAFIYAH
He's nice. And you guys are boring
me.
Hey!
MARIAH
DAMIEN
I take offense to that.
Safiyah throws on a pair of pants.
MARIAH
Let me know if he gives you a note
that says, "Do you like me? Check
yes or check no."
Safiyah flips Mariah off and smiles as she walks out of the
door.
INT. BARRACKS - NIGHT
Carter and Barkanov get ready for bed.
CARTER
Hey, what was that about today?
15.
BARKANOV
What was what?
CARTER
In this place, we're a team. You
may have command over your boys,
but not over me or my team. When we
make decisions, we do it together
or not at all.
Barkanov takes his uniform shirt off.
BARKANOV
Are you still on this? We made a
decision. We didn't make it without
you. You were standing in the room.
CARTER
That's not at all what I meant and
you know it.
Barkanov shrugs.
BARKANOV
What do you want me to do about it.
Apologize.
CARTER
Barkanov smiles.
BARKANOV
Only weak men whine for an apology.
I apologize for nothing.
INT. MESS HALL - NIGHT
Jabari and Safiyah sit alone in the mess hall.
[The following conversation is in subtitled Arabic.]
JABARI
So what did your parents think when
you told them you were going to
space?
SAFIYAH
They were hesitant at first. I
think they were just scared to
watch me go. But I know they're
proud. What about yours?
16.
JABARI
My dad said he wished I was coming
as a scientist and not a soldier.
Jabari chuckles.
JABARI (CONT'D)
He's never satisfied.
SAFIYAH
I think this place is amazing
though. A place for multiple
nations to come and do scientific
work. Work that is leading to lives
being saved.
JABARI
I just kind of wanted to be away
from home. Fewer soldiers wanted to
come on this trip than you might
think. I just wanted something to
do.
SAFIYAH
I think we're doing something
amazing for Egypt, don't you think?
We're apart of something bigger.
I guess.
JABARI
Safiyah looks confused.
JABARI (CONT'D)
I'm in the military because I had
to be. Just my luck. No real wars
in the last 100 years and I was
born in one of the few countries
that still has mandatory military
service. Figures. There's nothing
to fight for. Just buildings to
guard. I can't even count how many
buildings I've walked around with a
rifle. This one just happens to be
on the moon.
Jabari picks at his food. Safiyah stares at him.
EXT. MOON - DAY
The sun peaks over the horizon, casting massive pitch black
shadows down the grey landscape.
17.
INT. BARRACKS - DAY
The lights flicker on.
COMPUTER
Good morning. Coffee is being
prepared. You have 60 minutes until
you must report for duty.
Mariah, Safiyah, Damien, and Reznov all climb out of bed.
MARIAH
(to Safiyah)
How was your date?
SAFIYAH
It wasn't a date.
MARIAH
What base did you get to?
Safiyah throws a pillow at Mariah and walks out of the room.
INT. DRILL CONTROL ROOM - DAY
The drill moans loudly as it cuts through the rock. Damien
stands in the drill control room, manning the controls with
Mariah. Reznov stands staring at a screen.
REZNOV
30 seconds...
Damien and Mariah keep their hands on the controls. The
drill's power vibrates throughout the room.
REZNOV (CONT'D)
Ease off. 20 seconds...
They ease off of the controls.
And stop.
REZNOV (CONT'D)
The drills spins to a stop. Carter stares down into the mine.
CARTER
Alright. Time for some old
fashioned manual labor.
18.
INT. MINE - DAY
All of the soldiers from the different nations drill at the
base of the mine with handheld drills.
The scientists each stand with the soldiers, monitoring the
dig and checking their systems to see how close they are to
breaking into the cave.
Carter and Lee walk behind Damien.
DAMIEN
At this rate, we should be through
any time now.
LEE
Why can't you simply use the large
drill and hit the cave?
DAMIEN
Well, we could. But we don't know
how much Lunaphilus there is or
where it's located. If we use the
main drill, we could destroy
massive amounts of it or even all
of it.
Reznov stands beside a complicated machine, monitoring the
ground.
The drills work silently in this oxygen free space.
Mariah walks up to Safiyah.
MARIAH
I still don't like the soldiers
being down here.
I know.
SAFIYAH
MARIAH
Shouldn't this be our discovery?
SAFIYAH
It still is. Remember, what we do
here isn't just for us. It's for
everyone back home. Hundreds of
nations full of sick people.
Holy shit!
DAMIEN (O.S.)
Everyone turns towards him.
19.
DAMIEN (CONT'D)
We're through!
Everyone rushes over. Damien stands beside two soldiers
staring into a small hole in the ground, only a few inches
wide.
Damien gets down on his knees and presses his face against
the ground.
INT. CAVE
We slowly back away from Damien's silhouetted face. It gets
smaller and smaller.
How large is this place?
SMASH TO BLACK.
FADE IN:
INT. CONFERENCE ROOM - DAY
CLOSE on a black coffee mug. Stream rises from the top.
MARIAH (O.S.)
You can't be serious.
The scientists and military leaders sit in the room. They all
speak to a display, where four United Nations leaders sit.
We are.
UNITED STATES REPRESENTATIVE
MARIAH
You're going to let soldiers down
inside before scientists? What for?
To protect against moon monsters?
Mariah...
CARTER
MARIAH
No, this is insane!
UNITED STATES REPRESENTATIVE
The soldiers are there to protect
you and the other researchers.
MARIAH
There's nothing here! We're on the
moon!
20.
SINGAPORE REPRESENTATIVE
You can continue to complain, but
these are your orders. Once they go
down, you can enter and begin
setting up to extract any
Lunaphilus you find.
INT. CAVE
A small beam of light at the top illuminates the otherwise
pitch black cave.
Jabari, so small that he's barely discernible as a person, is
slowly lowered into the murky dark.
LEE (O.S.)
Private Jabari, come in.
Jabari holds onto the rope for dear life.
Here.
JABARI
LEE (O.S.)
What do you see?
Jabari squints into the darkness. He cannot make out
anything.
JABARI
Nothing. Nothing at all.
INT. MINE
A team of soldiers works a crank that lowers Jabari further
into the cave. Lee stands near the hole with a radio.
LEE
Can you see the cave floor?
Mariah and Safiyah look at each other. It should be us down
there.
INT. CAVE
JABARI
No. I don't see anything.
Jabari grips the rope even harder. Something about the cold
blackness makes him feel claustrophobic.
21.
Anything could be down here. He's completely alone.
Jabari glances back up at the hole he came through. He jumps
and grips the rope even tighter, surprised at how far he's
come.
The hole is almost 300 meters above him.
INT. MINE
Damien walks up beside one of the soldiers.
DAMIEN
How far down is he?
SOLDIER
380 meters.
Oh my god.
DAMIEN
SOLDIER
I hope he hits the bottom soon.
We're running out of line here.
Damien walks over and stares into the hole. He can barely
make out the lights on Damien's exo-suit in the darkness.
INT. CAVE
Jabari closes his eyes. He tries to calm himself by focusing
on his breath.
In and out.
In and out.
He opens his eyes again and is met with complete blackness.
JABARI
Commander Lee? I'm not sure I can
do this.
LEE (O.S.)
You're almost there.
No... I...
JABARI
Jabari starts to shake. His mind races. He thinks of all the
horrible monsters that could live in this massive space.
22.
Something he could've awoken for first time in millions of
years. It would eat him for sure.
Private?
LEE (O.S.)
Commander Lee's voice sounds far away now. Drowned out by
Jabari's fear and the pounding in his chest.
Jabari tries to twist the rope around his hands. He needs
something to hold onto. Anything.
And then...
Suddenly...
TAP.
Jabari's foot slams onto solid ground. The unexpected impact
makes him stumble and fall.
INT. MINE
The sound of Jabari falling comes through the speaker.
LEE
Private Jabari? Are you okay?
INT. CAVE
Jabari lifts himself up onto his knees and catches his
breath. He finally rests on solid ground.
JABARI
Yes. I'm okay... I'm at the bottom.
Jabari looks down and his eyes widen.
Holy shit.
JABARI (CONT'D)
The ground is covered in a dark blue organic material in
every direction that Jabari can see.
LUNAPHILUS.
INT. ELEVATOR - DAY
The doors open and Mariah enters. She puts on an exo-suit and
hits depressurize.
23.
COMPUTER
Depressurizing.
The airlock doors open and Mariah steps onto the elevator.
She once again descends slowly into the mine.
She hits the bottom and the elevator doors open.
INT. MINE
Everything looks different. The center hole into the cave is
much larger. Permanent winches have been set up to hold a
small elevator.
A few soldiers stand idly around.
SOLDIER
Good morning.
Morning.
MARIAH
Mariah climbs onto the small, metal lift and the soldier
activates the winch.
INT. CAVE
Mariah descends into the massive cave.
Weeks of work has been done. Cylinders of Lunaphilus have
been marked, packaged, and are waiting to be lifted out of
the cave.
A small tent has been set up where Safiyah and Damien are
running tests and experiments. The soldiers carefully extract
the bacteria off of the floor of the cave in all directions.
All of the equipment rests on a dark grey area right under
the entry hole. A blue border sits around the worksite where
Lunaphilus waits to be excavated.
Mariah lands on the bottom of the cave. Damien walks up to
her.
DAMIEN
Four more cylinders excavated and
packaged this morning.
Amazing.
MARIAH
24.
DAMIEN
And we finally sent out two
soldiers to find out just how big
this cavern is. They walked for six
hundred feet and finally hit the
wall.
MARIAH
Was the wall covered?
Damien nods. Mariah beams
MARIAH (CONT'D)
We did it, Damien. Think about all
of the lives we are going to save.
Literally billions because of this
discovery.
Damien smiles.
DAMIEN
And who knows... maybe this cavern
branches off into other caves.
We'll spend years mining down here.
INT. GYM - DAY
Carter bench presses by himself. Rap music plays over the gym
speakers.
He does one rep. Then another.
INT. CONTROL ROOM - DAY
Commander Lee stands at the center of the room, staring at
the control display.
A blip appears on the screen. A shuttle is coming towards the
base. Lee stares at the blinking dot.
INT. GYM - DAY
Carter grunts under the weight of the bar.
The computer quiets the music and speaks over the intercom.
COMPUTER
Be advised. Shuttle incoming from
Earth.
Carter places the bar back on it's rack and listens.
25.
COMPUTER (CONT'D)
Estimated Time of Arrival: 32
minutes.
CARTER
(to himself)
What the hell?
Carter gets up from the bench press and walks out of the gym.
INT. CORRIDOR - DAY
Carter stands catching his breath in the corridor. Barkanov
walks by him.
CARTER
Did you hear that?
Yes.
BARKANOV
CARTER
Were we scheduled for a resupply?
BARKANOV
I didn't think so.
Carter follows Barkanov towards the ship terminal.
EXT. MOON - DAY
A shuttle flies over the rocky surface, headed towards the
moon base.
It hovers right over a landing platform and slowly docks
beside an airlock.
INT. CORRIDOR - DAY
Carter and Barkanov turn the corner and run into Commander
Lee. Lee stands beside the airlock as the ship docks.
LEE
Don't be alarmed.
CARTER
What's going on?
LEE
I requested more men to aid in the
excavation.
26.
COMPUTER
Ship lock successful. Pressurizing.
Oxygen runs into the room on the other side of the door.
CARTER
Without telling us?
LEE
There was no reason to tell you.
The door to the ship opens and footsteps can be heard moving
into the airlock.
CARTER
No reason to tell us that more men
were coming to the mine?
At that moment, the airlock opens. Eight Singaporean soldiers
in exo-suits stand in the airlock.
SINGAPOREAN SOLDIER ONE
Hello. Can we come in?
Carter and Barkanov stare at each other.
INT. CONFERENCE ROOM - NIGHT
Carter paces back and forth. Barkanov and Lee sit at the
conference table.
LEE
I should have told you. I am sorry.
CARTER
It's not that you should've told
us. We would have needed to
authorize that. You couldn't just
give us a heads up after your
triple your numbers on a neutral
humanitarian base!
LEE
We needed more men for the mining
effort.
Says who.
BARKANOV
Lee turns to Barkanov.
27.
LEE
The mining is still slower than
expected.
BARKANOV
We've excavated more than any other
group.
LEE
That's because we've never seen
this much before. I cleared it with
our coordinators back on Earth.
Really.
CARTER
LEE
Call them now. They will verify
what I've said and that they signed
off on the decision. They've come
unarmed to help with the mining
process.
BARKANOV
Why didn't you tell us they were
coming?
LEE
I didn't want to have this
argument earlier.
CARTER
Why? So you could make sure they
were all your boys and none of
ours?
Carter.
LEE
CARTER
Do you not trust us?
LEE
I simply wanted to work with men I
knew. That's all. Are we done here?
My men need to get to work.
INT. MINE - DAY
Lee directs his extra soldiers around the bottom of the mine.
28.
Carter stands beside Mariah as she runs tests on a group of
rocks. Carter stares at Lee's new soldiers from the other
side of the mine. They are all hard at work.
CARTER
Something's not right here. I can
feel it...
MARIAH
You're delusional. The soldiers are
here to help us finish.
CARTER
And what if they're not?
Mariah sets the moon rock down.
MARIAH
This base has been in operation for
six years now. And it's been used
by more than 140 countries without
a single incident. It's not the
first time a commander has
requested more men for a job.
CARTER
That's naive.
What is?
MARIAH
CARTER
Thinking that just because
something's never happened, that it
won't happen in the future.
Mariah shrugs.
MARIAH
Well I'm a scientist, not a
soldier. I don't fight. I run
experiments and try to help others.
Carter snorts.
CARTER
You know you and your friends
always ask why we're here. That's
why. Because someone around here
has to know that when there's
something valuable on the line,
people aren't always as polite as
they seem. And you have to be
prepared.
29.
MARIAH
Maybe you're the ones bringing the
fight here, not us.
Carter crosses his arms.
Maybe.
CARTER
INT. MINE ELEVATOR - NIGHT
Safiyah rides the elevator by herself. Her exo-suit is
filthy. Inside the suit, we can tell that she has been
sweating in it all day long.
INT. MINE AIRLOCK - NIGHT
Safiyah steps into the airlock.
COMPUTER
Pressurizing.
Air hisses into the room.
COMPUTER (CONT'D)
Pressure stable.
Safiyah steps out of the airlock and removes her helmet. She
breaths for a moment and shuts her eyes.
Long day?
JABARI (O.S.)
Safiyah jumps. Jabari stands on the other side of the Mine
Hub mopping the floor.
JABARI (CONT'D)
Oh my god, I didn't mean to scare
you.
Safiyah looks down at his mop and smiles.
SAFIYAH
You'd think at this point we
would've invented something better
than a mop.
Jabari smiles back.
30.
JABARI
I don't think the military likes
the idea of soldiers letting robots
clean up after them. Makes us lazy,
so they say.
SAFIYAH
You gonna be out here all night?
JABARI
I hope not.
Safiyah pulls up a chair.
SAFIYAH
Are you worried about what happened
today?
Jabari continues to mop.
JABARI
With the new soldiers? Nah.
Why not?
SAFIYAH
JABARI
Commander Lee just likes feeling in
charge. Especially to Carter.
They've spent every second on this
base measuring dicks.
SAFIYAH
I think you should try to enjoy
your time here more. There's a lot
this place has that you can't get
back home.
Jabari stops mopping.
Like what?
JABARI
SAFIYAH
Silence... The feeling of being so
far away from everything else going
on back on Earth... Feeling close
with the only people around for
hundreds of thousands of meters.
Jabari and Safiyah lock eyes.
JABARI
Maybe you're right.
31.
SAFIYAH
Give this place a shot. Stop trying
to drag your feet through it. You
could miss out.
Yea.
JABARI
INT. CONTROL ROOM - NIGHT
Commander Lee is shutting down the computers before heading
to bed.
Barkanov enters.
Commander.
Yes?
BARKANOV
LEE
BARKANOV
Can we talk?
Of course.
LEE
Barkanov walks in and sits down. Lee shuts down the main
display.
The dim light gives the room a completely different feeling
at night.
BARKANOV
We both know Carter is... very
American in how he handles things.
I understand not wanting to talk to
him.
LEE
You're going to ask me why I didn't
tell you about the men.
Barkanov is silent.
LEE (CONT'D)
The reality is that right now, we
are standing above one of the
biggest discoveries in human
history. The work we do now will
change the course of human
medicine.
(MORE)
32.
LEE (CONT'D)
I didn't want to leave it up to the
UN's handful of men they may happen
to have on standby. I wanted
professionals. Men who work hard
and follow instructions.
BARKANOV
Men you trust. And men who trust
you.
LEE
Exactly. I didn't tell you because
I simply didn't want your opinion.
It was my decision. And it was the
right one.
Barkanov considers this.
INT. CORRIDOR - NIGHT
Carter moves through the hall. He arrives at a door and gives
three short taps.
A moment later, Barkanov opens.
What.
BARKANOV
CARTER
We need to talk.
Barkanov thinks for a moment, then lets Carter in.
INT. BARRACKS - CONTINUOUS
BARKANOV
This is about Lee's new men.
CARTER
Yes. We need to be prepared.
Barkanov folds his arms.
CARTER (CONT'D)
I know we have our differences. You
don't have to like me. I don't have
to like you. But both our countries
lose out if Lee tries something and
we aren't prepared.
33.
BARKANOV
He has more men here than both of
us combined.
CARTER
I know. That's why we need to stay
quiet. We may have to strike first.
BARKANOV
Strike first? Before we know what
he wants? No.
CARTER
If we don't, we lose.
BARKANOV
If we do and he isn't planning
anything, we lose anyways.
INT. MINE - DAY
Four new Singaporean soldiers work alongside two Russian
soldiers, as well as Mariah, Safiyah, and Damien.
Damien is teaching the soldiers how to use the harvesting
equipment.
DAMIEN
Please be careful. You have to pay
close attention to where you're
cutting. Right under the bacteria.
You want to get a slice of the
rock.
Like this?
SINGAPOREAN SOLDIER TWO
DAMIEN
Yes. Just like that. Keep your hand
steady.
The Russian soldiers stack canisters into the elevator to be
lifted up.
RUSSIAN SOLIDER
(into comms)
Package good to go.
INT. MINE - DAY
Jabari stands at the entrance of the hole.
34.
Copy that.
JABARI
He presses a button on the winch.
INT. CAVE - DAY
The metal cage begins to rise towards the hole in the
ceiling.
INT. CORRIDOR - DAY
Carter walks alone in the quiet hall. He walks up and opens
the door to the barracks.
INT. BARRACKS - CONTINUOUS
The new Singaporean soldiers are staying here. Their uniforms
with the Singaporean flag have been tossed onto the floor and
the beds.
Carter walks over to a wall filled with small storage
cabinets and begins opening them, one by one.
INT. MINE - DAY
The cage has reached the bottom of the mine. Jabari stops the
winch and begins unloading the canisters onto a cart.
One by one he places the heavy canisters.
INT. BARRACKS - DAY
Carter has opened all of the storage units and found nothing.
He moves over to one of the beds and lifts the mattress.
Underneath he finds small compact guns. Spring-action. Built
for use in space.
Carter moves to another bed and lifts the mattress. Same
thing; two compact guns.
INT. MINE - DAY
Jabari moves the heavy cart full of canisters across the
uneven mine floor. He pushes the cart into the elevator and
sends it up.
35.
He walks back to the hole and sends the cage back down into
the cave.
INT. CORRIDOR - DAY
Carter rushes out of the room. Carter speaks into his radio.
CARTER
Mariah. Mariah, can you hear me?
INT. CAVE - DAY
Mariah stands at a table, looking through a microscope. Her
communicator buzzes and cracks.
CARTER (O.S.)
(distorted)
Mariah... c-- me?
Mariah responds.
MARIAH
Sergeant Carter?
Mariah walks toward the center of the cave, right below the
main hole.
CARTER (O.S.)
(distorted)
...Lee's soldiers...
Mariah can't get a clear signal.
MARIAH
Sergeant Carter, I can't hear you.
Do you read me?
INT. CORRIDOR - DAY
Carter's communicator buzzes and cracks as Mariah tries to
respond.
CARTER
Do not trust Lee's soldiers. I
repeat. Do not trust Lee's
soldiers. Get out of the cave. I'm
coming to you know.
36.
INT. CAVE - DAY
Mariah messes with the communicator on the front of her suit.
One of the Lee's men walks up.
SINGAPOREAN SOLDIER THREE
Everything okay?
MARIAH
Yea! Everything's fine. Just
adjusting something.
The soldier walks away.
MARIAH (CONT'D)
(into comms)
Carter? Can you hear me?
INT. CORRIDOR - DAY
Carter briskly walks down the corridor towards the mine. He
passes through an airlock to see Commander Lee and two
Singaporean soldiers in front of him.
LEE
Carter? Where have you been? Aren't
you supposed to be down in the
mine?
CARTER
That's where I'm headed.
Lee stares at him.
LEE
Where have you been?
CARTER
Cleaning up my bunk. It's been a
mess and I kept neglecting it.
INSERT -INT. CONTROL ROOM - DAY
Commander Lee and the other two soldiers watching Carter
ransack the barracks on a hidden camera.
BACK TO:
37.
INT. CORRIDOR - DAY
Lee and Carter stare at one another.
Take him.
LEE
The two Singaporean soldiers grab Carter. He struggles
against them.
INT. CAVE - DAY
Mariah walks up to Safiyah. Safiyah is completely focused on
her work.
Saf...
Mm?
MARIAH
SAFIYAH
Mariah looks around the cave.
MARIAH
Saf, I think we need to go.
Safiyah doesn't respond. Mariah taps her.
Safiyah!
MARIAH (CONT'D)
Safiyah finally looks up from her work.
What?
SAFIYAH
MARIAH
We need to go.
Safiyah stares at her, confused.
INT. BARRACKS - DAY
The door swings open as two Singaporean soldiers drag Carter
into the room. Commander Lee calmly enters after them. He
scans the room.
The soldiers throw Carter onto the floor and point their guns
at him.
LEE
Find what you were looking for?
38.
CARTER
What are you doing?
LEE
What's necessary for my country.
Lee walks out. The door hisses shut. The Singaporean soldiers
cock their guns and train them on Carter.
INT. CAVE - DAY
Mariah and Safiyah glance over at the Singaporean soldiers.
One of them is talking into his communicator.
Mariah whispers to Safiyah.
MARIAH
Something's going on. Sergeant
Carter tried to message me. I think
it was a warning.
SAFIYAH
Are you sure? That can't be right.
MARIAH
I'm not sure. But he sounded
serious.
SAFIYAH
Okay. Let's just head back up to
the lab and clear everything up.
Mariah nods.
INT. MINE - DAY
Jabari sits beside the entrance to the cave. Completely
bored.
Jabari?
MARIAH (O.S.)
Her voice startles him. Jabari responds to her.
Yep?
JABARI
MARIAH (O.S.)
Safiyah and I are coming up.
39.
INT. CAVE - DAY
Mariah and Safiyah stand close together with their backs
facing the soldiers.
JABARI (O.S.)
Alright. I'm ready when you are.
Mariah and Safiyah stare at each other for a moment.
SAFIYAH
(unsure)
I'm sure everything's fine.
They turn and approach the lift. The soldiers notice them
leaving. One of them gets in their way.
SINGAPOREAN SOLDIER FOUR
Are you going up?
Yes.
MARIAH
The soldier looks deeply at both of them.
Why?
SINGAPOREAN SOLDIER FOUR
MARIAH
I got a transmission from Sergeant
Carter, my military officer, saying
he needed to speak with me.
SINGAPOREAN SOLDIER FOUR
I didn't hear anything come
through.
MARIAH
It was only to me.
The other soldiers, three Singaporeans, two Russians, listen
to the exchange.
INT. BARRACKS - DAY
Carter looks up at the two soldiers whose guns are still
locked on him.
CARTER
Guys. I'm sorry. This is clearly
just a misundersta--
40.
Carter lunges at them. Their guns go off just as Carter
knocks their arms away.
Carter grabs the nearest hard object he can find, a hardcover
book, and swings it down corner first onto one of the
soldier's heads.
INT. CONTROL ROOM - DAY
The last of Lee's soldiers are at work in the control room.
Lee enters.
COMMANDER LEE
Send the order down to our men in
the cave. Kill the scientists, but
spare Dr. Lim.
Yes, sir.
SINGAPOREAN SOLDIER FIVE
Commander Lee walks up to the center display.
INT. CAVE - DAY
The soldier isn't budging.
SINGAPOREAN SOLDIER FOUR
Stay here until I clear this with
Commander Lee.
Behind her, Mariah hears one of the Lee's soldiers receiving
a transmission. She turns and looks at him. He makes eye
contact with her.
She listens to her gut.
Run!
MARIAH
(to Safiyah)
Mariah and Safiyah bolt past Lee's soldier and move as fast
as they can towards the lift.
MARIAH (CONT'D)
(into comms)
Jabari, pull us up!
The lift begins to rise.
Mariah!
SAFIYAH
41.
Mariah turns. Safiyah is moving as fast as she can, but two
soldiers are gaining on her.
Lee's other two soldiers attack the Russians.
Mariah looks at the lift slowly rising, then back at Safiyah.
She turns and bolts towards Safiyah.
INT. BARRACKS - DAY
Carter's book sliced deep into the eye of Lee's soldier. The
man screams.
Behind Carter, the other soldier grabs reaches for his
dropped weapon. Carter turns and dives for it.
Out of reach for either man, they turn their attention
towards each other, throwing clumsy punches in the tight
space.
The injured soldier screams in pain behind them. Lee's voice
crackles through his communicator.
LEE (O.S.)
Is he dead?
INT. CONTROL ROOM - DAY
Lee listens to nothing, but static.
LEE
Have you finished Sergeant Carter?
Report.
Nothing. Lee turns to his remaining men.
LEE (CONT'D)
Make sure Carter is dead... And
find the Russian. We need to end
this now.
INT. CAVE - DAY
Mariah picks up a rock and throws it as hard as she can at
one of Lee's soldiers. It bounces harmlessly off of his exosuit.
MARIAH
Run, Safiyah! Get to the lift!
The soldiers are right on Safiyah's tale.
42.
Nearby, the Russian soldiers move around the excavation
equipment, looking for tools to fight with.
STEPANOV
(into comms)
Captain Barkanov! Captain, are you
there?
INT. MESS HALL - DAY
Barkanov sits eating an English muffin in the empty room.
STEPANOV (O.S.)
(distorted)
Capt-- nov, can you-- me?
Barkanov picks up his communicator.
BARKANOV
Stepanov? What's wrong?
INT. CAVE - DAY
Four soldiers in exo-suits fight on the cave floor, grabbing
any metallic or sharp lab equipment they can find.
But the exo-suits are tough. Built for extreme conditions.
Little damage is being done.
STEPANOV
(into comms)
We are being attacked by Commander
Lee's men! We are stuck in the
cave! We need help now!
Nearby, Mariah runs head first into both of the soldiers.
Surprisingly, it works. Placing them off balance and giving
the two scientists a window of opportunity.
MARIAH
Get to the lift!
The lift now sits about ten feet above the cave floor.
MARIAH (CONT'D)
(into comms)
Jabari! Stop the lift! Jabari!
The lift keeps moving.
MARIAH (CONT'D)
You'll have to jump.
43.
SAFIYAH
I can't make that!
MARIAH
Low gravity! Just do it!
Safiyah trust Mariah and pushes off the cold grey cave floor.
Her body floats upwards.
She extends her hands... Inches away from the metal of the
lift... and just barely grabs on.
I got it!
SAFIYAH
The lift is now more than twelve feet off the cave floor.
Lee's soldiers are right behind Mariah. She musters every
piece of her strength and jumps.
MARIAH
Hold on Safiyah!
Mariah grabs onto Safiyah's leg and holds on for dear life.
SAFIYAH
I got it! Hang on!
INT. MINE - DAY
For the first time, Jabari glances down into the cave... and
to his surprise he sees Mariah and Safiyah barely clinging to
the lift, while the Russian soldiers fight against Lee's men.
INT. MESS HALL - DAY
Barkanov adjusts his communicator, but gets nothing.
BARKANOV
Stepanov? Zima?
The mess hall doors his open. Two of Lee's soldiers enter the
room, carrying spring-action guns. They immediately begin
firing at Barkanov.
Barkanov dives onto the floor, but not before a bullet
connects with his shoulder. He winces in pain, but continues
to crawl using the tables and chairs as cover.
Lee's soldiers move through the furniture to deliver the
final blow.
44.
INT. CAVE - DAY
Four of Lee's soldiers now surround Stepanov and Zima.
ZIMA
What's going on?
STEPANOV
We're on the same side.
Lee's soldiers say nothing. One of them grabs a handheld
drill from one of the lab tables. He pulls the trigger and it
comes to life.
He lowers the drill bit towards Stepanov and Zima. The other
three Singaporean soldiers move in to grab the duo.
STEPANOV/ZIMA
No! no! no! no! Wait!
The drill inches closer and closer.
INT. MINE - DAY
Mariah and Safiyah near the top of the cave.
JABARI
Hold on a bit longer! I'll pull you
up!
Mariah looks down and gasps. She can barely make out the
brutal deaths of Stepanov and Zima on the cave floor.
What?
SAFIYAH
MARIAH
Don't look! Don't look.
Jabari reaches down and grabs Safiyah's hand. He pulls her up
along with Mariah.
JABARI
What just happened down there?
SAFIYAH
Lee's men. They turned on us.
MARIAH
They just killed Stepanov and Zima.
Holy shit.
JABARI
45.
SAFIYAH
Why? What's going on??
Oh shit...
JABARI
INT. CORRIDOR - DAY
Sergeant Carter sprints down the hallway, his uniform covered
in blood. He holds two of the guns he found in the barracks.
As he sprints, he hears gunshots coming from the mess hall.
He turns and races in that direction.
INT. MESS HALL - DAY
Barkanov is still alive, but barely. He sits pinned down
behind two overturned tables that could give away at any
second.
Lee's men slowly approach. Barkanov scans his immediate area,
looking for some kind of weapon. He finds nothing.
He listens to the footsteps get closer and closer. This is
it. Barkanov closes his eyes, accepting death.
Suddenly, the mess hall doors his open and Carter comes in,
guns blazing. Lee's soldiers dive behind cover, rally, and
return fire.
Carter jumps behind a pillar.
SINGAPOREAN SOLDIER ONE
He's not dead!
SINGAPOREAN SOLDIER TWO
That means he killed the others. We
need to regroup.
Lee's soldiers stand and lay down suppressive fire against
Carter, then they sprint out through a nearby airlock.
Carter comes out from the pillar.
CARTER
Barkanov? Is that you?
It's me.
BARKANOV
Barkanov slowly stands. Blood soaks the shoulder of his
uniform.
46.
I'm hit.
BARKANOV (CONT'D)
CARTER
Our scientists are still down in
the cave.
BARKANOV
How many of Lee's men went down
with them today?
Four.
CARTER
Barkanov closes his eyes in pain.
BARKANOV
And only two of mine.
Carter walks up to Barkanov and hands him a gun.
CARTER
Maybe they made it out. Come on. If
they did, they're gonna need us.
INT. MINE LABORATORY - DAY
Reznov works quietly. Studying a sample of Lunaphilus. He is
completely unaware of the chaos that has been going on.
Carter and Barkanov come rushing through the airlock,
startling Reznov. He sees that they are both covered in
blood.
INT. MINE - DAY
Mariah, Safiyah, and Jabari stare down into the mine. They
can see the small LED lights on the helmets of Lee's men
staring up at them.
JABARI
There's no way they can get up here
without the lift, right?
MARIAH
Yea. We'll keep them there until we
figure out what's going on.
Safiyah stands nearby, trying to catch her breath. Her entire
body shakes. Jabari notices.
47.
JABARI
Safiyah? Are you okay?
Safiyah doesn't respond.
JABARI (CONT'D)
What's wrong with her?
MARIAH
I think she's having a panic
attack. We need to bring her back
up.
Okay.
JABARI
Jabari and Mariah lead Safiyah to the elevator.
INT. CONTROL ROOM - DAY
Lee's two soldiers return from the mess hall.
SINGAPOREAN SOLDIER ONE
Sir. Sergeant Carter is still
alive. He must've killed our men
and taken their weapons. He stopped
us before we could finish the
Russian.
Commander Lee turns the display.
LEE
Where are they now?
Live camera feed of the Mine Laboratory comes up onscreen.
Reznov, Barkanov, and Carter all stand talking.
The elevator is also visible rising to the Mine Hub floor.
LEE (CONT'D)
Place the lab on lockdown. I don't
want them getting out. Where are
our soldiers?
SINGAPOREAN SOLDIER ONE
Still down in the cave, sir.
LEE
Did they handle the Russian
soldiers?
Yes, sir.
SINGAPOREAN SOLDIER ONE
48.
LEE
Good. Tell them to stay put...
Bring up the feed inside the
elevator.
The soldier obeys. Mariah and Jabari crouch around Safiyah,
who sits in a crumpled mess in the corner.
LEE (CONT'D)
Good. They're all there. We'll end
this now.
INT. ELEVATOR - DAY
The trio moves into the airlock.
COMPUTER
Pressurizing.
They wait as oxygen fills the room.
MARIAH
(to Safiyah)
It's gonna be okay. I promise.
COMPUTER
Pressurized.
The airlock opens and they walk into...
INT. MINE HUB - DAY
Barkanov and Carter stand right outside the door, with their
weapons drawn.
MARIAH
Wait! It's just us!
They lower their weapons.
CARTER
(re: Safiyah)
Is she okay?
MARIAH
She's not used to being in the
middle of a fight. What the hell
happened up here?
CARTER
I told you. Lee was planning
something.
49.
MARIAH
Did you set him off?
What? No!
CARTER
BARKANOV
He attacked us all. Anyone who
wasn't one of his.
MARIAH
Who's still alive?
CARTER
I think it's just us.
COMPUTER
Sealing doors to Mining Laboratory.
Everyone's heads turn on a swivel as all of the airlocks
leading into the mine hub turn from green to red.
INT. CAVE - DAY
Damien continues to work on mining more Lunaphilus.
DAMIEN
Do I really need to do this right
now?
SINGAPOREAN SOLDIER
Lee didn't say to stop the work. We
continue until we are rescued.
Damien sighs and continues mining. The other guards get back
to work mining as well.
INT. CORRIDOR - DAY
Commander Lee walks with his men behind him. Everyone is
armed and ready to end this.
INT. MINE HUB - DAY
Carter gets an idea.
CARTER
Wait a minute... Aren't there
charges in here?
50.
Yes...
Where?
REZNOV
CARTER
REZNOV
What are you planning to do?
CARTER
There's only one explanation for
what's going on. He's trying to
take control of the Lunaphilus. We
threaten to drop charges down the
mine-MARIAH/JABARI/REZNOV
NO! ABSOLUTELY NOT! WHAT?
CARTER
Just THREATEN. Then we may be able
to negotiate.
REZNOV
We're not dropping a bomb down
there.
CARTER
Do you have a better plan?
BARKANOV
He's right. We have to gain
leverage. Dr. Reznov, where are the
charges.
Reznov sighs and points towards a storage unit.
INT. CORRIDOR - DAY
Lee and his men arrive outside of the Mine Laboratory
airlock.
LEE
Computer, transmit my voice over
the intercom...
INT. MINE LABORATORY - DAY
Carter and Barkanov are carefully stacking the explosives
beside the elevator as Lee's voice comes over the intercom.
51.
LEE (O.S.)
I'm sorry for the sloppiness of
what has occurred today. You can
thank Sergeant Carter for forcing
my hand.
Mariah glares at Carter. Carter shakes his head.
LEE (O.S.) (CONT'D)
Please surrender and I will make
each of your passings as painless
as possible.
Carter and Barkanov move two tables in front of the airlock
that separates Lee from the Laboratory, flips them on their
side, and aims their guns at the airlock.
Listen up!
CARTER
INT. CORRIDOR - DAY
Lee and his men listen.
CARTER (O.S.)
We have control of the Lunaphilus.
If you enter, we will drop
explosives into the mine and
detonate them in the cave.
INT. MINE LABORATORY - CONTINUOUS
Carter and Barkanov crouch behind the tables.
CARTER
Anything and anyone that's down
there will be incinerated.
INT. CORRIDOR - DAY
Lee thinks...
LEE
Hmm... explosives. He turns and
whispers to his men. They nod and
jog away.
Lee turns back and looks into the laboratory.
Okay...
LEE (CONT'D)
52.
INT. MINE LABORATORY - DAY
LEE (O.S.)
I am willing to negotiate.
Carter and Barkanov look at each other... What now?
EXT. MINING FACILITY - DAY
CLOSE on an airlock. After a moment, the door opens. Two of
Lee's soldiers in exo-suits carry explosives of their own
outside.
They move around the exterior of the base.
INT. MINE LABORATORY - DAY
LEE (O.S.)
If you let my men out of the cave,
I will let you live. However, I
will ask that you hand over your
explosives so that no harm comes to
the work we have done so far.
Everyone inside exchanges glances.
MARIAH
We should do what he says.
JABARI
Are you crazy? You think he's gonna
let us live?
SAFIYAH
We can't kill the men in the cave.
JABARI
They tried to kill you.
SAFIYAH
They were just following orders.
Barkanov and Carter sit and listen.
CARTER
What do you think?
BARKANOV
I think you were right. I sensed
something was wrong too, but I
didn't want to make a move.
53.
CARTER
Let's just get out of here alive...
Do you think we should listen to
him?
Barkanov ponders.
BARKANOV
I think everyone should put on exosuits. Now.
Right.
CARTER
Carter stands up.
CARTER (CONT'D)
Alright, everyone grab an exo-suit.
I don't know what's about to
happen, but we need to be prepared.
Everyone runs to the wall lined with exo-suits and they begin
putting them on.
INT. CORRIDOR - DAY
Lee watches this from the corridor.
LEE
(into comms)
Hurry.
EXT. MINE LABORATORY - DAY
Lee's men have found their way to the outside of the Mine
Laboratory.
LEE (O.S.)
(into comms)
They are putting exo-suits on. If
they get them on, they may survive.
SINGAPOREAN SOLDIER
Understood.
(to ally)
Hurry.
The two men plant explosive charges on the side of lab.
54.
INT. MINE LABORATORY - DAY
The group quickly gets their suits on. Carter and Barkanov
suit up the fastest, and begin helping the others.
Mariah snaps hers into place. Jabari is putting his helmet
on.
SAFIYAH
Wait... mine's stuck.
Mariah and Carter come over to help. Mariah holds the suit
steady while Safiyah adjusts inside.
EXT. MINE LABORATORY - DAY
The charges outside of the lab turn from GREEN to RED.
SINGAPOREAN SOLDIER
(into comms)
Explosives armed.
INT. CORRIDOR - DAY
Blow it.
LEE
INT. MINE LABORATORY
Reznov struggles to get his suit on. Mariah grabs Safiyah's
helmet and begins lowering it onto her.
EXT. MINE LABORATORY
The soldiers move away from the wall.
One holds a detonator.
INT. MINE LABORATORY
Mariah places Safiyah's helmet on her.
MARIAH
Okay, snap it in place.
EXT. MINE LABORATORY
The soldier hits the detonator.
55.
The explosive packs flash red.
SUDDENLY THERE'S A MASSIVE, SILENT EXPLOSION.
INT. MINE LABORATORY
BOOM!!!!!! THE SOUND IS COMPLETELY DEAFENING. A HUGE CHUNK OF
THE SIDE OF THE LAB RIPS OFF AND FLIES INTO SPACE.
Mariah loses her grip of Safiyah. Her helmet is still not
secured!
SAFIYAH!!!
MARIAH
The air rushes out of the massive lab. Reznov screams, but it
silenced as he is pulled into space, his exo-suit still not
closed.
The sound is gone almost as quickly as it came. Barkanov
grabs hold of a metal handle right before being pulled out of
the lab.
Mariah, Carter, Jabari, Reznov, and Safiyah are sucked out
into space.
EXT. MOON - DAY
As Mariah tumbles out of the lab, she sees Safiyah's lifeless
body spinning uncontrollably.
She can't even process this as shock overtakes her body.
In the low gravity, Mariah continues to fly above the ground.
She sees grey... then blackness... then grey... then
blackness as she tumbles above the surface of the moon.
SMASH TO BLACK.
In the darkness, we hear...
BeepBeepBeepBeepBeepBeepBeepBeepBeep...
EXT. MOON - DAY
Sergeant Carter GASPS for air as he sits up quickly. His head
has smashed against his exo-suit. Blood covers one side of
his face and floats inside his helmet.
His suit beeps continues to beep incessantly.
56.
Carter stands, trying to get his bearings. His eyes are fuzzy
and out of focus. He tries to see through the dizzyness and
the blood.
CARTER
(dazed)
Can anyone hear me?
His vision starts to come back. He sees grey hills and
craters. Slowly, he turns to see the damaged facility that
sits about 400 yards away.
Two massive holes have been blown open in the Lab. Carter
holds his hand to his head.
CARTER (CONT'D)
Can anyone hear me? This is
Sergeant Carter. I'm still alive.
Nothing but static. Carter's dizziness takes over and he
stumbles back a few steps. His heel hits something in the
powdery ground and he falls.
Carter looks down at his feet. Dr. Reznov's lifeless body
stares back at him.
Carter sighs and gets back on his feet.
CARTER (CONT'D)
I repeat... Can anyone hear m-JABARI
Yes! Oh thank god! Yes! Sergeant!
I'm here! I'm alive. Where are you?
Oh god help me.
CARTER
I'm about 400 yards away from the
lab. Where are you? Can you stand?
JABARI
Uh... I think so... Yes, yes I can
stand! I'm standing! I'm okay!
CARTER
Okay... Calm down. Just take a
breath. Stay calm.
Carter eases himself with his own words.
Now--
CARTER (CONT'D)
57.
JABARI
Wait!... Wait I see you!
Carter looks around. 250 meters away, Jabari jumps and waves
in the air.
CARTER
I see you. Stop jumping. They may
think we're dead out here.
Jabari stops jumping.
CARTER (CONT'D)
Let's meet in the middle.
Okay.
JABARI
Carter starts clumsily moving across the moon's surface.
Jabari moves towards him.
CARTER
Did you see Mariah?
JABARI
No. I don't know where she is. What
about Safiyah?
CARTER
I don't know. But I know for sure
Mariah's suit was intact. She
could've survived... Mariah do you
copy?
EXT. MOON - DAY
Mariah's unconscious body continues to fly a few meters above
the moon's surface.
CARTER (O.S.)
Mariah, I repeat, do you copy?
JABARI (O.S.)
Mariah! Sergeant Carter and I have
survived! If you can hear us,
please respond.
Mariah softly breathes in and out. Asleep to the world.
58.
INT. CAVE
Lee's four soldiers stand beside Damien as the lift slowly
makes it's way down to them.
It lands on the cave floor and Damien and the other soldiers
climb on.
INT. MINE LABORATORY - DAY
Damien and the soldiers walk out of the elevator into the
lab. It is completely destroyed. Equipment is strewn
everywhere and sits in piles outside.
Papers, and equipment lay in shreds everywhere.
DAMIEN
(to himself)
All that research.
SINGAPOREAN SOLDIER
Come on. Let's get inside.
The group walks to an airlock and waits for it to open.
INT. CONTROL ROOM - DAY
The control room door opens and Damien walks inside.
LEE
It's done, Dr. Lim.
DAMIEN
I can see that. The lab is
completely destroyed.
LEE
I am sorry about that. Really, I
am. It was not my intention. Please
forgive the sloppiness of this
whole thing.
DAMIEN
So what's next?
LEE
Now, we alert the UN that there was
an accident, remove evidence of our
takeover, and continue mining.
Damien nods.
59.
DAMIEN
Are they all gone?
LEE
We are confirming now.
Damien crosses his arms. The men stand in silence for a
moment.
LEE (CONT'D)
Do you want to know why I've done
what I've done today?
Damien is listening.
INT. SMALL APARTMENT - DAY
A much younger Lee plays with his 4 year old daughter.
LEE (V.O.)
Many years ago, I had a daughter.
Her name was Aria. She was the most
beautiful, happy thing I had ever
seen.
Lee kisses Aria's forehead and she giggles.
LEE (V.O.)
Her mother had passed away giving
birth. I thought I would resent my
daughter for taking her mother away
from me... But I couldn't.
EXT. STREET IN SINGAPORE - DAY
Lee walks with Aria, hand in hand. Aria points at things on
the street and talks to Lee. He laughs and talks back, but we
can't make out what they're saying.
LEE (V.O.)
When I wasn't working we would walk
the streets near our apartment and
go to the park.
EXT. PARK IN SINGAPORE - DAY
Lee sits and watches while Aria runs around in the grass
around him.
60.
LEE (V.O.)
She was so innocent. Everything
amazed her. She always knew how to
make me laugh.
INT. SINGAPORE HOSPITAL ROOM - NIGHT
Lee plays with his daughter as she's hooked up to an oxygen
tank. Wires run around her arms and chest. Even though the
situation seems bleak, they both still look happy.
LEE (V.O.)
She got sick. Really sick. I took
her to the hospital and at first it
seemed like they would help.
INT. SINGAPORE HOSPITAL ROOM - DAY
Aria lies asleep and sickly on the bed. Lee argues with the
doctor.
LEE (V.O.)
The doctors kept telling me they
would get to her. They all kinds of
excuses. They were short staffed...
Or there was a limited supply of
antibiotics...
INT. SINGAPORE HOSPITAL ROOM - NIGHT
Aria's eyes are closed. Her soft face is still and lifeless.
Lee buries his face in the bed and cries.
LEE (V.O.)
After three months, she died.
INT. CONTROL ROOM - DAY
Damien stares at Commander Lee.
LEE
Her disease was treatable. She
wasn't able to get what she needed
because there simply wasn't enough
to go around.
Lee places his hands on the control panel.
61.
LEE (CONT'D)
We are standing above the most
valuable medical discovery in
centuries. You have led the
research. I have led this mission.
This shouldn't go to the UN to be
squandered on those who don't need
it. It should go to us. To our
people. It's what we've earned. And
I am making the sacrifices right
now so that that can happen.
Damien looks down at the floor.
EXT. MOON - DAY
Carter and Jabari bounce along the surface.
CARTER
(into comms)
Mariah, can you hear me?
JABARI
Are you sure she's this way?
CARTER
There's no other way she could be.
This is where we flew out.
JABARI
What if she's... dead?
CARTER
Then we need to make sure.
JABARI
When can we look for Safiyah?
CARTER
You can start calling out to her
anytime you like. My responsibility
is Mariah.
They continue to move along the surface.
CARTER (CONT'D)
Wait a minute...
Carter peers ahead of them.
JABARI
Do you see something?
62.
Carter squints. Ahead of him, sits a metallic blob in the
side of a hill.
CARTER
Mariah, it's Sergeant Carter, can
you hear me?
Carter bounces forward.
CLOSE on Moriah's unconscious face through her helmet. Carter
and Jabari come bouncing towards her in the background.
It's her!
CARTER (CONT'D)
JABARI
Mariah! Can you hear us?
Carter and Jabari approach her. Carter turns her on her back.
He checks the vitals on her suit.
CARTER
She's alive.
Carter and Jabari both sigh in relief. Carter gently shakes
her.
CARTER (CONT'D)
Mariah... I need you to wake up...
Mariah...
Mariah stirs and her eyes flutter open.
MARIAH
Where am I?
CARTER
You are on a hill. About 800 meters
away from the lab. On Earth's moon.
Mariah tries to get her bearings.
CARTER (CONT'D)
Can you sit up?
MARIAH
I think so.
Carter and Jabari help her sit up.
CARTER
Easy... easy...
63.
JABARI
We thought we'd lost you.
Mariah begins to fully wake up.
MARIAH
Is anyone else alive?
CARTER
Maybe Safiyah...
MARIAH
No... No, she's gone. I saw her.
Carter looks up at Jabari. Tears well in his eyes.
JABARI
You're sure.
MARIAH
Yea... I'm sure... I'm sorry
Jabari. I loved her too.
Mariah gives Jabari a clumsy hug. A tear rolls down Mariah's
cheek as well.
CARTER
We have to get back. And see if we
can fix this.
MARIAH
Yea... you're right.
CARTER
You want to try and stand up?
Mariah nods. Carter stands and grabs Mariah's hand.
CARTER (CONT'D)
One... Two... Three...
Carter pulls Mariah to her feet and steadies her.
Thanks.
MARIAH
CARTER
How do you feel?
MARIAH
Like I was just thrown out into
space by an explosion.
Carter smiles.
64.
CARTER
These suits only have a few hours
of oxygen. We need to get back
soon.
Jabari stays sitting on the ground.
CARTER (CONT'D)
Come on, Jabari, get up. Let's get
moving.
Jabari doesn't respond.
CARTER (CONT'D)
Private... I need you with me on
this.
JABARI
What's the point. He blew us into
space. There's a lot more of them
than there are of us. We aren't
even sure we can get back before we
suffocate... And I don't have
anything worth going back to.
Carter pauses, and sits down beside Jabari.
CARTER
I understand. I've lost all kinds
of people close to me. But I fight
for a reason. I fight because I
believe in making a better world
and defending it from scum like
Lee. It's hard sometimes... to find
a reason to stand up. But right
now, billions of people are
counting on us. So that we can help
them. Help the ones they love.
Carter stands back up.
CARTER (CONT'D)
So I'm only going to tell you one
more time. I need you to get up,
Private. We've got a fight to win.
For a moment, Jabari doesn't move.
Then he stands, ready to keep moving forward.
MARIAH
Alright. Let's do this.
65.
INT. CORRIDOR - DAY
A battle-worn exo-suit carries Barkanov through the hallway.
He holds no weapons, but he's still alive. Even if everyone
else is dead, he's going to find a way to finish this.
INT. LABORATORY - DAY
Damien and Lee's men walk back into the destroyed lab.
DAMIEN
We're going back down. Nothing
changes.
INT. LIFT - DAY
Damien and the other soldiers ride the lift down to the
bottom of the cave.
The lift hits the ground and the group gets out.
DAMIEN
Pick back up where you left off. We
need to stay on schedule.
EXT. MOON - DAY
EXTREME WIDE SHOT of the horizon. For a moment, nothing
moves. Then on the left of the screen, we see three small exosuits bounce along.
Carter leads the group.
CARTER
There it is. Up ahead. Just a
little farther now.
Mariah is right behind him.
MARIAH
Shouldn't we figure out a plan
before we get back there.
CARTER
I've been working on it. Our best
bet is to gain some leverage and
force him to let us in. I say we
head towards the power grid. If we
cut the power, we leave them in the
dark.
(MORE)
66.
CARTER (CONT'D)
We can come back in through the
holes in the lab and pick them off
one at a time.
No.
What?
MARIAH
CARTER
MARIAH
We need to get them to surrender.
Carter stops.
CARTER
What are you talking about?
MARIAH
We should find a way to get them to
surrender.
CARTER
Do your realize what's just
happened? This man and his team
destroyed the lab along with
decades of research, not to mention
tried to kill every single one of
us. And you think, that with our
extremely limited resources we
should get these men to surrender?
No. Not happening.
MARIAH
What about Damien?
CARTER
What about him?
MARIAH
He's one of us.
CARTER
If he's alive, then he was either
in on it, or complicit. If he
wasn't, then he's dead.
MARIAH
We should try to contact him.
Carter turns back around and continues walking forwards.
67.
CARTER
If he's with them, it will alert
them that we are alive. If they
think we're dead. That gives us the
upper hand.
MARIAH
We have to try something. They are
still people.
CARTER
I realize that. But they are coldblooded murderers that outnumber us
in the most dangerous environment
I've ever had to fight in.
MARIAH
We should at least try. If they
offer surrender. We should accept.
Carter says nothing.
CARTER
Let's get to the power grid.
The trio trudges along, getting closer and closer to the
base.
INT. CORRIDOR - NIGHT
Barkanov moves through the corridor. He has found a gun and a
notepad. As he walks, he can hear the chatter of soldiers. He
pauses and ducks into a nearby storage closet.
The two soldiers pass by Barkanov. He marks on a notepad;
eight alive.
INT. CONTROL ROOM - NIGHT
Commander Lee talks to three faces on the main display.
Different representatives of the UN.
LEE
Ladies and gentlemen, I regret to
inform you that a major accident
has occurred at the facility today.
There was an explosion in the lab.
The cause is unknown. It ripped
open major holes in the exterior
and unfortunately, many of the
members stationed here were killed.
68.
AMERICAN REPRESENTATIVE
How did this happen?
LEE
We aren't sure. We are gathering
all the data. We will evacuate as
soon as possible.
RUSSIAN REPRESENTATIVE
Who all was killed?
LEE
A final count is being made.
EGYPTIAN REPRESENTATIVE
Do you have any concrete
information?
LEE
This happened very recently. I
wanted to report this incident to
you as soon as possible. I wanted
to fully cooperate with your
decision moving forward.
AMERICAN REPRESENTATIVE
Gather what you can, but leave as
soon as possible. There's no
telling what damage was done that
you aren't aware of.
Yes, sir.
LEE
AMERICAN REPRESENTATIVE
Also... that cave.
LEE
Yes. We were able to get inside the
cave. Unfortunately, the science
team's prediction was incorrect. We
only found small traces of
Lunaphilus inside.
EGYPTIAN REPRESENTATIVE
Unfortunate.
LEE
Very. We will return as soon as
possible and you will be given a
full debriefing. Commander Lee out.
The display goes dark.
69.
A Singaporean soldier stands behind Lee.
LEE (CONT'D)
How much have we pulled out so far?
SINGAPOREAN SOLDIER
More than 100 times more than any
other mission.
LEE
How much is left?
SINGAPOREAN SOLDIER
Hard to say. We are continuing to
dig.
LEE
Keep working. We don't leave until
we have to.
EXT. POWER STATION - NIGHT
Night has fallen on the moon. The massive power station
sprawls out in all directions. The earth sits high in the sky
and gives a soft flow to the landscape.
Carter, Mariah, and Jabari move through the darkness towards
the central power station.
MARIAH
Is there a radio at the power
station?
Yes.
CARTER
MARIAH
We should try radioing in, before
we cut power.
CARTER
There's no time. Our suits will run
out of oxygen.
MARIAH
But if we threaten them, they may
surrender.
CARTER
For the last time--
70.
MARIAH
Damien might be in there! You have
to try. Please.
Carter stares at her.
CARTER
Okay, fine. We'll do it your way.
CUT TO:
CLOSE ON: Carter's hand as he boots up the display on the
power station. His hand hovers for a moment. He looks at
Mariah and Jabari.
CARTER (CONT'D)
You two ready?
Mariah nods.
Do it.
JABARI
Carter presses a button on the display.
INT. CONTROL ROOM - NIGHT
Commander Lee paces back and forth in the room. One of his
men sees the call coming in.
SINGAPOREAN SOLDIER
Sir. Someone is transmitting from
the power station.
Lee walks up to the display.
LEE
Do we have any men out there?
No sir.
SINGAPOREAN SOLDIER
LEE
Let it through.
EXT. POWER STATION - NIGHT
LEE (O.S.)
This is Commander Lee.
Carter, Mariah, and Jabari exchange glances.
71.
CARTER
Lee, it's Carter. I want you to
know that if you do not surrender
immediately. I will hard cut the
power to the entire facility. You
and your men will die. Everyone
loses.
INT. CONTROL ROOM - NIGHT
Lee and Damien listen to Carter.
CARTER (O.S.)
But if you surrender. We will not
harm you. Everyone gets to go home.
EXT. POWER STATION - NIGHT
CARTER
Sound good?
They wait for a response.
INT. CONTROL ROOM - NIGHT
Lee ponders this.
LEE
(to himself)
I wonder how many survived...
Lee leans responds to Carter.
LEE (CONT'D)
How will I know you won't kill us
all the second you get the chance?
CARTER (O.S.)
You don't. But if you don't
surrender, we'll do it anyway.
EXT. POWER STATION - NIGHT
Mariah leans into the transmitter.
MARIAH
Damien? Are you there?
72.
INT. CONTROL ROOM - NIGHT
Lee and Damien exchange confused glances.
MARIAH (O.S.)
Damien, if you can hear me... I
don't know what happened, but I
know you don't want this. Please
tell Lee to surrender. It's the
best thing for all of us.
EXT. POWER STATION - NIGHT
Please...
MARIAH
Mariah backs away from the transmitter. Carter crosses his
arms.
JABARI
Do you think that will work?
It won't.
CARTER
They trio stands, silently waiting.
LEE
Okay. We will surrender. We will
meet you at the northern airlock.
Lee out.
Carter shakes his head.
CARTER
It's a trap.
MARIAH
How do you know?
CARTER
Lee isn't the type to surrender. We
are walking into a trap.
MARIAH
How can you be so sure?
CARTER
I just am. I was right about Lee.
I'm right about this. We need to
cut the power.
73.
MARIAH
These are human lives we're talking
about. People. With families.
CARTER
Everyone's from somewhere. That
doesn't make them any less of a
killer.
MARIAH
Then let me go meet them. I'll
accept the surrender. If I'm wrong
and they kill me. You can cut the
power.
Carter thinks for a moment.
CARTER
No. I'll do it.
What?
You're my
watch you
making me
you go or
MARIAH
CARTER
responsibility. I can't
die and I live. If you're
choose between watching
going myself, I'll go.
Carter begins walking towards the facility, but pauses, and
turns back around.
CARTER (CONT'D)
The second they kill me. You better
cut that power.
JABARI
...We will.
Mariah?
CARTER
MARIAH
Yea... We will.
Carter turns back around and continues walking. Mariah and
Jabari exchange looks.
EXT. MOON - NIGHT
Carter makes the trek back towards the facility. As he inches
closer, he becomes more and more focused. More aware of his
surroundings.
74.
The hair stands up on the back of his neck. He's going into a
battle.
EXT. POWER STATION - NIGHT
Mariah and Jabari anxiously wait. Commander Lee's voice comes
through the power station.
LEE (O.S.)
We are unarmed and waiting at the
airlock.
Jabari looks at Mariah.
JABARI
Do you think this will work.
Mariah is conflicted. Tears well up in her eyes.
MARIAH
I don't know.
EXT. MOONBASE - NIGHT
CARTER
(into comms)
Approaching the airlock now. Wish
me luck.
MARIAH (O.S.)
Good luck, Carter. We'll be waiting
for your signal.
Carter trudges forward. Only a few meters away from the
airlock now.
Through the thick glass, he can make out Commander Lee's
face. They lock eyes. Carter's adrenaline pumps.
Then... Lee smiles. A cruel, dark smile that stops Carter in
his tracks.
At that moment, the airlock swings open. Four soldiers, all
armed, stand with their weapons cocked at Carter.
CARTER
I knew it.
(into comms)
CUT THE POWER!
They all fire at Carter, cutting through his thick exo-suit
and exposing his body to the vacuum of space.
75.
The air forcibly pulls itself out of Carter's lungs, leaving
him gasping. His entire body goes cold.
EXT. POWER STATION - NIGHT
Mariah looks over to Jabari. They killed him.
JABARI
Cut the power! Do it now!
Mariah is frozen. Jabari runs to the power station and pulls
a large red lever downwards.
INT. MOONBASE - NIGHT
Lee smiles as Carter's lifeless body softly falls onto the
grey rocks.
But at that moment, the lights fade out and die, leaving Lee
and his soldiers in complete darkness.
INT. CORRIDOR - NIGHT
Barkanov moves quietly through the corridor as the lights
suddenly fade and black out. He isn't wearing an exo-suit.
Shit...
BARKANOV
Barkanov picks up his pace.
INT. MOONBASE - NIGHT
In the darkness, Lee speaks.
LEE
Turn on your suit lights.
After a moment of blackness, LED suit lights appear around
the room.
LEE (CONT'D)
(to himself)
They actually cut the power.
Lee turns to his soldiers.
LEE (CONT'D)
Get to the power station. Finish
this.
76.
The soldiers move out of the airlock towards the power
station.
EXT. POWER STATION - NIGHT
JABARI
The power's off.
Mariah doesn't speak. Jabari touches her shoulder.
JABARI (CONT'D)
Hey... you couldn't know. You tried
to do the right thing.
MARIAH
No... Carter was right. And I made
him go out there. He's dead because
of me.
JABARI
It was his choice to go. You didn't
force him.
MARIAH
For my entire life, I've believed
in that I should never fight...
Because it just creates more
conflict.
Jabari thinks.
JABARI
We should all do that... But maybe
there are times where we don't have
a choice. Sometimes we have to
fight to save lives or to stop bad
men. Don't fight for revenge or
fight because you're angry. Fight
because you have something worth
fighting for.
Mariah takes this in. Jabari stands.
JABARI (CONT'D)
This isn't over. As long as we're
breathing, we can win this fight.
Jabari extends his hand towards Mariah. Mariah takes it.
MARIAH
For Safiyah.
77.
JABARI
For everyone.
As this moment ends, lights start illuminating the power
station. Mariah and Jabari turn to see a group of soldiers in
exo-suits moving towards them.
MARIAH
Should we fight them here?
JABARI
They have guns. We don't. And they
have the numbers. We can't fight
them here... Come on.
Jabari grabs Mariah's hand and they move back from the power
station.
JABARI (CONT'D)
Let's get back inside the base. We
might be able to get to Lee before
the power is restored.
Lee's men approach the power station.
SOLDIER
Spread out. Find them.
The LED lights bounce around the solar panels, casting eerie
shadow.
The soldiers walk softly, meticulously scanning the area.
Mariah and Jabari silently move through the solar panels.
Come on.
JABARI
Mariah follows behind Jabari.
The duo bounces along in the darkness. The station is barely
visible, silhouetted against the stars.
As Jabari and Mariah approach, their communicators crackle...
...And a friendly voice comes through.
BARKANOV (O.S.)
Mariah? Carter? Can you hear me?
MARIAH
Oh my god, Barkanov! Jabari and I
are here! We're alive.
78.
BARKANOV (O.S.)
I heard the commotion around the
power station. Now that the power
is cut off, I can get you back
inside. Make your way to airlock 7.
MARIAH
Airlock 7. Got it.
INT. AIRLOCK 7 - NIGHT
Barkanov struggles to manually open the airlock. He uses a
crank behind a panel in the corridor wall to slowly pry the
door open.
EXT. AIRLOCK 7 - CONTINUOUS
Mariah and Jabari make their way towards the airlock. Jabari
points. He can just make out Barkanov opening the door.
JABARI
There he is!
Barkanov has opened the airlock just enough. Mariah and
Jabari slide through the crack and into the station.
INT. AIRLOCK 7 - NIGHT
MARIAH
I can't believe we made it back!
Me either.
BARKANOV
The trio hugs and laughs. A moment of joy in this otherwise
nightmarish setting.
What now?
BARKANOV (CONT'D)
MARIAH
We need to get to Lee and end this.
BARKANOV
Last I checked, he was in the
control room. It's possible he's
still there.
MARIAH
How many soldiers are still alive?
79.
BARKANOV
I counted eight.
JABARI
Four went out to the power station.
That leaves four in here.
BARKANOV
If we can find them and pick them
off before the others get back, we
may be dealing with a much fairer
fight.
Barkanov hands Mariah and Jabari each a gun.
BARKANOV (CONT'D)
Don't drop them. And please don't
accidentally shoot me.
MARIAH
I'll do my best.
JABARI
Let's get moving.
INT. CORRIDOR - NIGHT
Mariah, Jabari, and Barkanov move through the corridor
towards the control room.
But suddenly, the lights come back on. The brightness is
overpowering. Their eyes struggle to adjust.
In the new light, we can get a better look at each of them.
All three are completely battered and exhausted.
BARKANOV
This isn't good. We've lost the
surprise we needed.
Mariah looks down at her suit. 0.5% Oxygen.
MARIAH
We were going to suffocate if it
didn't come back.
Mariah takes off her helmet. Jabari and Barkanov do the same.
BARKANOV
The plan doesn't change. If we get
to the control room, we may be able
to stop Lee.
80.
INT. CONTROL ROOM - NIGHT
Damien and Lee watch the lights fade back on in their exosuits.
Finally.
LEE
The main display comes back to life. Lee uses it to call to
his soldiers at the power station.
LEE (CONT'D)
Did you find the survivors?
SOLDIER (O.S.)
No sir. They were gone when we got
here.
LEE
Then they must have made their way
back to the base... Computer, bring
up all of the functioning camera
feeds. We need to find them.
Damien walks up beside Lee.
DAMIEN
Who's still out there?
LEE
I'm not sure.
Dozens of camera feeds fill the display.
INT. CORRIDOR - NIGHT
Mariah, Jabari, and Barkanov move through the hallway.
BARKANOV
The control room is just up ahead.
But in front of them, an airlock closes on it's own.
Uh oh.
BARKANOV (CONT'D)
They turn around another airlock shuts.
BARKANOV (CONT'D)
They found us.
Lee voice comes over the intercom.
81.
LEE (O.S.)
This is the end. You have given me
enough trouble. This time I'll make
sure you stay dead.
MARIAH
Damien!! Are you in there!?! It's
me!
INT. CONTROL ROOM - NIGHT
LEE
Computer, remove the oxygen from
the corridor.
MARIAH (O.S.)
We've spent years together. We've
ran experiments together. I've met
your family. You know me.
Damien listens.
MARIAH (O.S.) (CONT'D)
Is this what you really want?
INT. CORRIDOR - NIGHT
Oxygen is slowly being sucked from the room.
MARIAH
Damien... please...
Mariah runs up to the airlock. She sees Damien through the
glass. Damien can't make eye contact with her.
DAMIEN!!
MARIAH (CONT'D)
Mariah slams on the glass. She starts struggling for air.
Jabari begins to panic, trying to take in more oxygen, which
just speeds up his suffocation.
Barkanov calmly sits on the ground, trying to control his
breathing.
INT. CONTROL ROOM - NIGHT
Damien looks around at the soldiers standing beside Lee. He
looks at Lee, who grins as he watches the trio die in the
corridor.
82.
And Damien makes a decision. Damien stands and rushes towards
the control display. Lee turns, surprised.
Damien slams his hand down onto a control panel and opens the
airlock.
INT. CORRIDOR - CONTINUOUS
Air rushes in to fill the vacuum. All three take a deep
breath.
Barkanov stands and raises his weapon.
INT. CONTROL ROOM - NIGHT
Lee raises his gun and shoots Damien. Rage fills his eyes.
The bullet slams into Damien's chest and he stumbles
backwards.
Lee turns to the trio.
LEE
Kill them!!!!
Mariah, Jabari, and Barkanov all start blasting into the
room.
Lee's soldiers return fire. Lee backs away from the fight and
puts his men between him and the trio.
Jabari is hit in the leg and falls down. Barkanov keeps
firing while grabbing Jabari and placing him behind some
cover.
EXT. MOONBASE - NIGHT
An outside airlock opens. Lee's men have returned from the
power station.
They march inside, weapons drawn.
INT. CONTROL ROOM - NIGHT
Mariah lands a shot on one of Lee's soldiers. He falls down,
dead.
Mariah points her gun at Lee and fires. Lee ducks and returns
fire.
83.
Ahhhh!
BARKANOV
Mariah whips her head around to see that Barkanov has taken a
shot in the stomach.
But she can't stop fighting. She blasts two more soldiers.
Her shots land.
Lee backs away and runs into the corridor. Mariah lets him
go. She turns to help Barkanov. She kneels down beside him.
MARIAH
Are you okay?
BARKANOV
I'm fine. Go get him. Finish this.
Mariah stands and follows Lee into the corridor.
INT. CORRIDOR - DAY
Mariah walks softly, listening to every sound. She hears
nothing but the sound of her own feet hitting the floor.
LEE (O.S.)
You have no idea what you've done.
Mariah turns the corner to see Lee standing still, gun
trained on her.
LEE (CONT'D)
You've ruined everything. You can't
help everyone. You are dooming
millions.
MARIAH
You were going to take it all. What
about all those who you were going
to deny treatment to?
LEE
They aren't my people. They aren't
my concern. Not everyone can he
helped. You must pick and choose. I
choose my own people.
MARIAH
Maybe you can't help everyone. But
I will do my best. And I will do my
best to make sure people like you
never make the decisions for those
who are sick and dying.
84.
LEE
Then finish it.
Mariah raises her gun.
LEE (CONT'D)
Shoot me. End it now.
Mariah hesitates.
Behind her, an airlock opens and Lee's four soldiers walk in.
They start firing at Mariah. She ducks for cover and returns
fire.
INT. CONTROL ROOM - NIGHT
Jabari hears the gunshots. He musters his strength and
stands.
JABARI
Mariah needs our help.
Jabari grabs his gun and runs into the corridor.
INT. CORRIDOR - NIGHT
Bullets whiz by Mariah, coming from both sides. She's running
out of ammo.
Boom. Boom. Boom.
Jabari turns the corner and fires into the soldiers.
Immediately, two of them fall.
The other two soldiers turn to fight Jabari. Mariah uses this
chance and fires into them. They both fall down.
Lee fires at Jabari as Jabari runs towards Mariah.
JABARI
Are you okay?
MARIAH
Let's finish this!
Mariah stands. Lee points his gun right at her and squeezes
the trigger.
Boom.
85.
Lee's eyes widen. He clutches his stomach as blood start to
pour.
Mariah stands, with her gun shaking in her hands. She watches
Lee fall.
JABARI
It's over. We did it.
Mariah and Jabari embrace.
INT. CONTROL ROOM - NIGHT
Jabari limps over to Barkanov.
BARKANOV
Is it over?
I hope so.
JABARI
Mariah enters the room. They stare up at her.
MARIAH
It's done. We've done it.
She gives a weak smile, then looks over to Damien, who is
coughing up blood.
Mariah kneels beside him.
DAMIEN
Mariah... I'm sorry.
It's okay.
MARIAH
Mariah and Damien embrace.
Barkanov stands.
BARKANOV
Is it over?
MARIAH
It's over. Are you okay?
BARKANOV
I could kill for a cigarette right
now.
86.
EXT. MOONBASE - DAWN
The sun comes over the grey horizon. A new day.
Multiple shuttles fly into the base and land.
The shuttle doors open.
INT. AIRLOCK - DAY
Personnel with the United Nations insignias on their
shoulders pour into the facility.
There are soldiers, medical teams, construction workers,
excavators, and more.
EXT. MOONBASE - DAY
Mariah, Barkanov, Jabari, and Damien stand over their fallen
friends; Carter, Reznov, Safiyah, and others. Each person has
their national flag draped over them.
Jabari steps forward in front of Safiyah's body.
JABARI
I'm so sorry.
He begins to cry.
JABARI (CONT'D)
I'll tell your parents everything.
I'll make sure they know how strong
you were.
Jabari kneels down at touches the flag that is draped over
Safiyah.
INT. MOONBASE - DAY
Inside the base, the UN workers catalog and examine all of
the evidence from the events of the story.
NEWS REPORTER (V.O.)
After the brutal battle that took
place at the United Nation's
Lunaphilus Mining facility, the
survivors are finally coming back
to Earth as heroes.
87.
INT. SHUTTLE
Mariah stares of the window at the stars as the shuttle moves
through the darkness of space.
NEWS REPORTER (V.O.)
The discovery made by that team
will help billions of sick and
dying people.
JABARI
So what now?
BARKANOV
Now we go back to our families. I'm
never leaving home again.
Mariah smiles.
EXT. MOONBASE - DAY
Exo-suit clad construction workers are dotted across the dome
of the laboratory.
WORKERS
I need that tool./Bring that sheet
over here./Just a little further,
etc.
They work to repair the damage done by the explosions.
INT. CAVE
More than fifty excavators work together to mine out the
Lunaphilus from the cave.
Massive floodlights have been set up to illuminate the cave.
We can now see the cave for what it is. A massive, expansive
room, with multiple tunnels leading out in all directions.
And the entire thing, from floor to ceiling, is covered in
dark blue bacteria.
EXT. RUNWAY - DAY
Multiple shuttles touch down as a crowd of people cheer and
scream.
The doors open and Mariah, Jabari, Barkanov, and Damien exit.
They are slow to walk, still recovering from their injuries.
88.
They smile at the crowd as soldiers part the crowd and allow
them to pass.
EXT. WOODS - DAY
An axe swings onto a log and breaks it in two.
Barkanov places down another and swings again.
A young boy with blonde hair runs towards him, holding a
glass.
BOY
(in Russian)
Daddy!
Mm?
BARKANOV
BOY
(in Russian)
Mommy told me to bring you some
lemonade.
BARKANOV
(in Russian)
Thank you.
Barkanov takes the lemonade from the boy and drinks it. The
boy beams.
INT. BARKANOV'S HOME - DAY
The door opens and the boy from the previous scene runs
through the house. Barkanov follows, covered in dirt and
sweat.
BARKANOV'S WIFE
(in Russian)
Hello darling.
She comes up and kisses Barkanov.
INT. EGYPTIAN MILITARY TRAINING CAMP - DAY
Soldiers stand in a line. Jabari walks down it.
JABARI
(in Arabic)
Welcome to the Academy. Here we
will make soldiers out of you.
(MORE)
89.
JABARI (CONT'D)
You will obey my orders at all
times. Are we clear?
SOLDIERS
(in Arabic)
Yes sir!
INT. LABORATORY - DAY
The lights flicker on as Mariah walks into a small
laboratory. Mariah breathes it in and smiles.
Damien walks in behind her.
MARIAH
It's good to be back.
DAMIEN
Yes, it is.
EXT. SAFIYAH'S PARENTS' HOME - DAY
Jabari's car rolls up.
INT. JABARI'S CAR - CONTINUOUS
Jabari takes a moment to check the address, then steps
outside.
EXT. SAFIYAH'S PARENTS' HOME - CONTINUOUS
Jabari walks up and knocks on the door.
After a moment, a woman answers.
EXT. SINGAPORE HOSPITAL - DAY
Mariah walks up to a large hospital.
INT. SINGAPORE HOSPITAL - HALLWAY - DAY
Mariah walks beside a nurse.
NURSE
All of children have been reacting
miraculously well to the treatment.
90.
MARIAH
Good. I'd like to see all of them
please.
NURSE
Of course. Right this way.
INT. SINGAPORE HOSPITAL ROOM - DAY
The nurse opens the door. Mariah walks to see a young girl
laying in the hospital bed. Her parents sit beside her.
The little girl waves at Mariah.
Mariah smiles at them and walks into the room. She begins
speaking to the parents, but we can't hear what she says.
The door shuts.
CUT TO BLACK.
THE END.