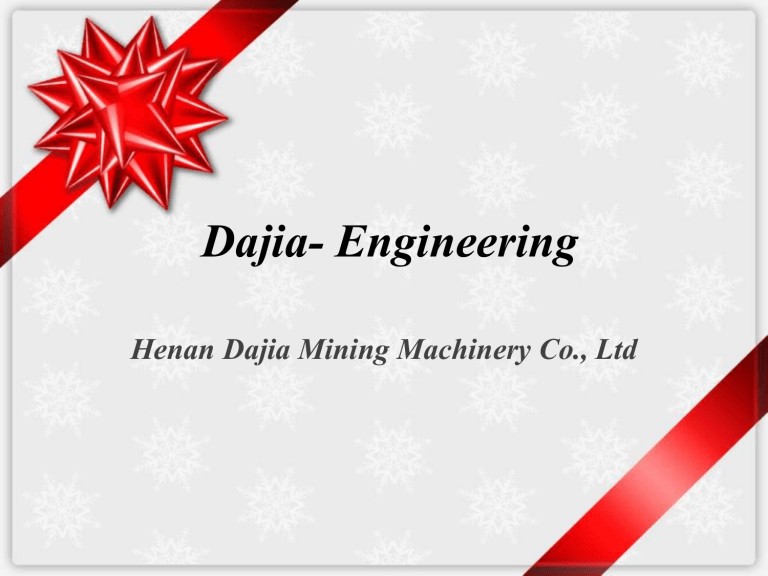 Dajia- Engineering
Henan Dajia Mining Machinery Co., Ltd
General Instruction
1 Henan Dajia Mining Machinery Found in 1994
2 Mainly produce and install crushing plant between 1994-2000
3 We design and install rotary kiln and rotary dryer from 2000
4 Coal gasifier and stone&sand washing plant also in our working scope
5 We became one of biggest kiln manufacture in 2005
6 Factory moved to Zhengzhou west( Xintian road) in 2012
7 Due to city relocation, we moved factory Mazhai Industrial zone
Our Old Fatory
Our New Fatory
Inner Layout
Main Products
Jaw Crusher, impact Crusher, Roller crusher, sand crusher, VSI crusher, etc
Rotary Dryer
Rotary Kiln & Rotary Cooler
Ball Briquette machinery (Dry and wet pressing)
Flotation cell, spiral classifier, ball mill, magnetic separator, etc
What kind plants we can do?
40-800T/H Stone Crushing Plant
Rotary Drying Plant for various materials
Mineral Processing Plant
Cement Plant
Light weight expanded clay aggregate Plant
Fly ash
Clay
Shale
Oil Proppant (Frac sand ) Plant
Active lime Plant
And we also produce some OEM Equipments, i.e. we make
according to your drawing or design.
Sales Amount
80 million
Value
05
60 million
Value
04
40 million
20 millon
Value
03
Value
01
2005
Value
02
2007
2009
2011
2013
Immense Visual Appeal
100 million
To offer you what you want, when you want
2015
OEM Equipment
Working Procedure
Order
Material Purchasing
Technical Dept
Installation
Professional
Production Team
Arrange 4-6
Engineers
Select best steel from local
manufacture
Cutting
Welding
Choose motor, reducers, etc from
famous supplier
Making No. for all purchased
products, easier to find original
manufacture.
Two Mechanical engineer, one
kiln brick liner engineer, one PLC
Contrrol engineer, guiding you
install in local
Mechnical in big lathe
Painting
Marks and LOGOS
30-60 days install, 10-20 days for
training
Dajia- Engineering
Bye
Henan Dajia Mining Machinery Co., Ltd
Tel: +86-371-67575157
Mob: +8615617816797
Mail: Sell@chinadjks.com
Web: www.dajia-engineering.com
Add: 500m West, Crossroad of Rizhao and Industrial
road, Zhengzhou city, China.