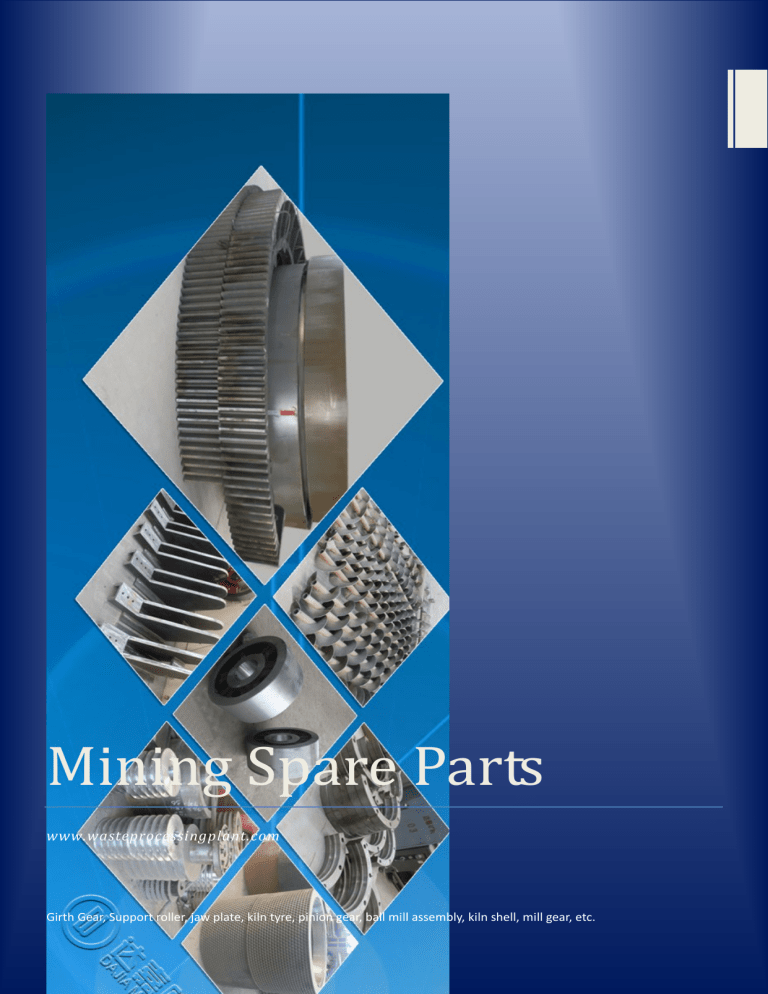 Mining Spare Parts
www.wasteprocessingplant.com
Girth Gear, Support roller, jaw plate, kiln tyre, pinion gear, ball mill assembly, kiln shell, mill gear, etc.
Company Instruction
Henan No.3 Machinery Factory is one of largest machinery manufacturing and important enterprises in Zhengzhou City,
founded in 1902. After joint-stock reform, we established the Henan Dajia Mining Machinery Co., Ltd, and specialized in
designing and producing mining machinery, processing equipment, rotary kiln, building material equipment, etc. With rich
experience and solid strength, we design the whole set of crusher, crushing machine, mining and cement equipment by
ourselves, and its quality get thought international quality system.
Our company is largest mining machine manufacturing enterprise and also the equipments widely used in mining, industry,
chemical, construction, etc. Henan Dajia Mining Machinery Co., Ltd has advanced testing equipment for ensure the
manufacturing quality, also formed strict quality assurance system, achieved ISO9001 certification in 1997 and transfer to
2000version certification in 2003..
Now, we mainly produce crusher, rock breaker, ball mill, rotary kiln, etc, vibrating screen, feeder and other relate machine
as chain equipment for whole plant. Our thirty various plants included sand & gravel crushing, mining, cement, ceramsite,
etc. High-tech, high reliability, low maintenance cost, make sure our equipment in the industry-leading level. Our machinery
has been exported to more than 40 countries, widely used global mining and construction industries. Our Experienced and
sales-team provide you full technical details; technical engineers help you to solve the production problems. Worldwide
clients and fellow-industry have recognition and praise for our technology.
Our company also have a small factory which located in Xinxiang for making foraged mining spare parts.
With over 20 years' experience, we formed our own design and production team, not only providing you mining machinery
and waste handling machine, but also offer you spare parts and mining equipment repair service. With concerted efforts
since its inception, Hengyang Industry has successfully catapulted itself to extraordinary heights as a reputed manufacturer
& exporter of gears for various industrial applications. Our core objective is to achieve the maximum level of customer
satisfaction and are committed to quick delivery and prompt services. We believe in the use of innovative technology in
our manufacturing processes to ensure the production of goods of international standards at the most competitive prices.
Spare parts manufactured by us:
Girth Gears
Helical Gears
Worm Wheel
Support Rollers
Pinion Shafts
Ground Gears
Trunnion Gear
Tyres For Kilns
Pinion Gears
Blank Casting
Worm Reduction Gearboxes
Railway Wheels
Worm Gears
Jaw Plate
Hammer
Movable plate
Ball mill cover
Bearing house
Kiln tyre (ring)
Kiln seal
Grinding media
Ball mill liner
Kiln hood
Quality
The quality of our products is a resultant of the concerted team efforts of our qualified engineers, strict quality control
measures accompanied with the use of the best materials and, above all, updating the technology.
Automation, instrumentation and computerized controls bring about quality controls, operational optimization, enhanced
productivity and operational cost benefits. Our plants incorporate the newest developments, adhere to the latest
international standards and are environment-friendly in terms of dust emission and noise levels.
Infrastructure
Our manufacturing facilities incorporate state-of-the-art and innovative machinery and equipment to ensure a high quality
in all our products. We are also dependent on a dedicated and qualified team of professionals and support staff that
executes the challenging jobs as per organizational needs.
Grinding Media
Steel ball, as the indispensable consumable to ball mill, is a kind of wear-resistant material that made of carbon, chromium,
manganese, and molybdenum, etc. as the main added metal elements, and can be produced through forging, spinning,
rolling, grinding and casting.
Crusher Spare parts
Machined surfaces for a consistent fit with less hassle and
downtime
Large selection of tooth and curve configurations for optimum
performance in any application
Unsurpassed alloys for extended wear life and lower cost per
ton
• Toggle Plate
• Cheek Plate
• Jaw Wedges
• Jaw Plate
Other parts which are available include Feed Tubes, Feed Disks, Table
Liners, Outer Table Liners, Upper Tub Liners, Lower Tub Liners, and
Pedestal Skirt Liners. We also make long-lasting wear parts for horizontal
shaft impactors, including Standard and Heavy Duty Impeller Bars,
Curtain Liners and Liner Plates.
Blow bar
hammer plate
liner plates
We produce Hammers in One and Two-Piece styles, Grates, Breaker Blocks, Side Liners, Breaker Bar Sleeves, Rotor Hubs,
Complete Rotor Assemblies, Top Cover Liners and
Throat Collars.
• Grates
• Breaker Blocks
• Side Liners
• Breaker Bar Sleeves
• Rotor Hubs
• Complete Rotor Assemblies
• Top Cover Liners
• Throat Collars
Ball mill Liner
Ball mill linings from dajia-engineering protect your mill from the abuses of mineral processing while allowing high grinding
and crushing efficiency.
Our ball mill linings are designed from rubber or casting steel or rubber composite materials according to your application
and throughput requirements.
Rotary Kiln tyres (Rings)
The purpose of tyres (often called riding rings) and rollers is to support the kiln and allow it to rotate with minimal friction.
Rotary kilns are among the largest items of permanently moving
industrial machinery, the largest examples weighing in their
fully-loaded form several thousand tonnes. Despite the challenges
of their size and their high temperature, the best examples of
rotary kiln rotate on their rollers almost frictionlessly, the power
supplied by the drive being almost entirely in order to oppose the
eccentric load of the contents of the kiln. On cutting the power to
a kiln, the kiln will "roll back" and unless a brake is applied, will
continue to swing like a pendulum for ten or fifteen minutes
before coming to a standstill. This finely-tuned mechanical
condition requires sophisticated design of the kiln's supports.
A standardised design evolved during the first three decades of the twentieth century, allowing the great escalation in size
of kilns that then followed.
Kiln Support Roller
Kiln Support Rollers are backed by latest technology and provide
desired support to cables and other related products. These
support rollers are driven to rotate using friction between roller
surface and web. The small friction torque of the roller bearings
also allow higher speed operations and helps in avoiding
possibilities of slippage due to presence of large air film between
roller surface and web.
Features:
Coming with small friction torque of roller bearings
Rollers are close together that decrease pulling tension
Manufactured as per defined industry standards
Can also be custom designed as per client's specific requirements
Durable finish and reliable performance
Mill Girth Gears
Mill Girth Gears comprise high integrity girth gears that find application in driving horizontal grinding mills. With these
gears developed for achieving superior finish strength and process reliability, these can be designed for different kW
applications as well as in diameter and weight choices. For ensuring in them flawless finish support, we manufacture them
in temperature controlled environment.
Applications:
Girth gears mainly using in Ball Mills
Kiln drive system
Rotary Dryer
Steel re-rolling mills
Paper industries
Rod Mills
Ring Gears
Ring Gears are also known as starter ring and comprises medium carbon steel ring with teeth which comes fitted on
periphery of flywheel of internal combustion engine generally in
automotive applications. With the teeth driven by smaller gear
(pinion) of starter motor, its primary use is in transferring torque
from starter motor pinion to flywheel/flexplate for engine
rotation.
Features :
Starter ring gear featuring precision construction support
These are made to undergo different heat-treatment including
tempering, normalizing and others for precision finish
Teeth of starter ring hardened for enhancing its strength and wear
resistance
Modern computer aided designing support using software like AUTOCAD, SOLID WORKS for ensuring precision
construction standards
Interference checks and dimensional accuracies carried out using these tools
Can also provide load analysis & stress analysis on gears using finite element analysis
Application :
These are mostly used in automotive applications including:
Rotary Dryer
Rotary Cooler
Kiln
Three drum dryer
Ball mill
Ball Mill Head/Cover:
Henan Dajia Mining Company is professional manufacture in producing ball mill components and rotary kiln components.
Our components can meet the requirement of most kinds of mills. We supply components service not only for mill
manufacturer but also for whom in maintaining.
Ball mill head:
1. Material: ASTMA-27 grade 70-40 Class 1
2. Heat treatment:Q.T.
3. NDT:ASTM E-709 and ASTM E-125
Alumina Grinding Media/Ceramic Ball:
Alumina Grinding Media/Ceramic Ball also named as Alumina grinding ball for all sorts of ball mills, pearl mills, sand mills
for the super fine grindings and dispersions of products with special quality
requirements ,such as: Zircon sand, Silicon dioxide, Calcite(GCC),Magnetic
bands coatings for audio and video tapes, paint, pigment, coatings, Ceramic
glaze, Titanium dioxide and so on.
Main Advantage:
High strength, Excellent wear resistance,20 times more than commonly ceramic
ball of France or ceramic ball, keep the material high degree of purity.
High density, high grinding efficiency, shorten 50% grinding times.
Very good roundness, very smooth and shiny surface, long times of use.
Mechanical Properties:
Content of Al2O3
≥92%
Porosity
Gravity
≥3.6g/cm3 water absorbation
Sizes:
Ø0.5-3mm grinding ball use in sand mill
Ø5-20mm grinding ball use in mix mill and ball mill
Ø20-130mm grinding ball use in ball mill
Alumina Liner For ball mill:
0% Mohs Hardness
8.5-9
0% Compression Strength
≥1800Mpa
Grinding Alumina Liner:
PU Vibrating Plate/Sieves:
Plate is fabricated by advanced polyurethane materials with embedded metal framework structure, which combines all the
characteristics of rubber sieve, but also have superior wear resistance, higher screening accuracy, better tear resistance.
Material: Polyurethane
Type: PU Screen Plate
Thickness: 15-120mm
Hole size: 0.15-120mm
Hardness: 85-100A
Tensile strength: >50 MPA
Extensibility: >500%
Tear strength: >70 KN/M
Akron wearing: >0.02 cm3/1.6km
Color Yellow, Green, Blue, Red, etc
Application: Metallurgy, Mining, Coal, Chemical,
Construction, Sand & Gravel and in Aggregate-ore Processing.
Zhengzhou Hengyang Industry Co., Ltd
Tel: +86-15617816797
Fax: +86-371-67571922
Whatsapp: +8615617816797
Mail: sell@chinadjks.com
Web: www.wasteprocessingplant.com
Skype:gary102884 Webchat: gary10288
Add: 500m West, Crossroad of Rizhao and
Industrial Road, Zhengzhou City, China.