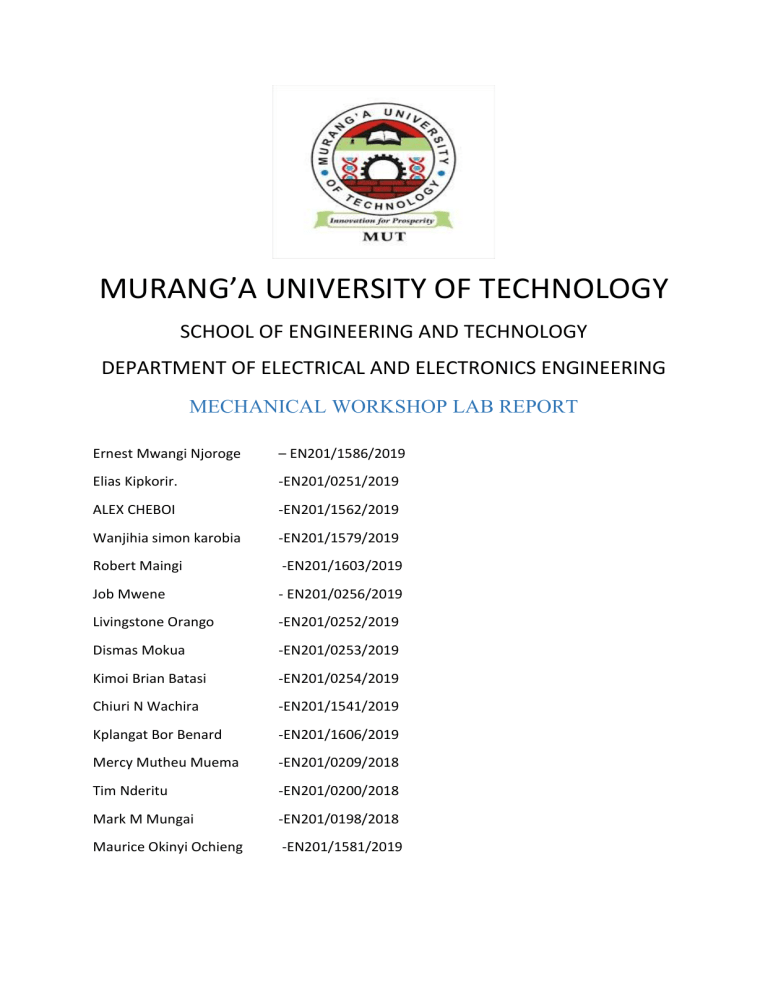 MURANG'A UNIVERSITY OF TECHNOLOGY
SCHOOL OF ENGINEERING AND TECHNOLOGY
DEPARTMENT OF ELECTRICAL AND ELECTRONICS ENGINEERING
MECHANICAL WORKSHOP LAB REPORT
Ernest Mwangi Njoroge
– EN201/1586/2019
Elias Kipkorir.
-EN201/0251/2019
ALEX CHEBOI
-EN201/1562/2019
Wanjihia simon karobia
-EN201/1579/2019
Robert Maingi
-EN201/1603/2019
Job Mwene
- EN201/0256/2019
Livingstone Orango
-EN201/0252/2019
Dismas Mokua
-EN201/0253/2019
Kimoi Brian Batasi
-EN201/0254/2019
Chiuri N Wachira
-EN201/1541/2019
Kplangat Bor Benard
-EN201/1606/2019
Mercy Mutheu Muema
-EN201/0209/2018
Tim Nderitu
-EN201/0200/2018
Mark M Mungai
-EN201/0198/2018
Maurice Okinyi Ochieng
-EN201/1581/2019
Abstract
Mechanical workshop is introduced, its importance and what it comprises of is stated in this
report.
Introduction
These types of hands-on training programs give you exposure to latest technologies and help
you to acquire skills by building projects hands-on. Attending such mechanical workshops
will also help you to identify your area of interest and then you can develop more skills on
them to master it.
Here we are introduced to various tools, machines and equipment, their functionality, how to
use them and safety precautions to be taken in the mechanical workshop especially in
handling of the machines that may be dangerous when carelessly held.
Safety precautions in the mechanical workshop;
1. Always wear safety gear while working in the workshop. Hand gloves, safety shoes,
helmets and eyeglasses are mandatory for workshops.
2. Malfunctioning machines can occur any time. It could happen during the process of
screw tightening or replacing the motor of the machine. Irrespective of the type of
break down, never try to work on it while the machine is on and running.
3. Non-slip mats should be used in front of machines where necessary, and machines
should be sensibly placed to avoid overcrowding and suitably anchored to vibration.
4. Maintain all the service records of machines and equipment. It will not only save time
but also help you to take care of repetitive break downs.
5. All the tools and accessories must be kept back at their relevant places. Placing them
anywhere will lead to chaos and inefficient working.
6. Smoking and drinking should be prohibited in the workshop.
7. The gangway through the workshop must be kept clear. Any grease or oil spillage
must be cleaned on a regular basis.
Orientation
Tour around the mechanical workshop being showed various machines their functionality and
safety precautions are stated.
No
1.
Machine
Off-hand grinding
machine.
Functionality
Removes material with
geometrically nondefined, bonded cutting
edges, where the
relative movement
between tool and work
piece is rotational or
linear.
Safety Precaution
 Check that grinders do not
vibrate or operate
roughly.
 Hold grinders as follows
as guided by its manual.
 Use racks or hooks to
store portable grinders.
 Stand away from the
wheel when starting
grinders.

2.
Guillotine machine.
Has blades that shears
the material, starting at
one side of the sheet.
3.
Bending machine.
Assemble a bend on a
work piece.
4.
Hydraulic press
machine.
5.
Power hack saw.
Generates power for
compressing metals
using hydraulics.
Used to cut large sizes
(sections) of metals
such as steel.
6.
Lathe machine.
7.
Milling machine
Remove metal from a
piece of work to give it
a desired shape and
size.


This machines
used to making
gears.
Usually used to
a machined flat
Inspect all wheels for
cracks and defects before
mounting.
Check workspaces and walkways
to ensure no slip/trip hazards are
present. Ensure working parts are
well lubricated and free of rust
and dirt. Ensure the area around
the machine is adequately lit. Be
aware of other people in the area.
Always wear protective safety
equipment such as safety gloves,
safety goggles and work boots.
These will protect your hands,
eyes and feet from any scrap
metal or sharp equipment. Keep
your work surface clean and clear
of metal scrap to avoid injury.
Mount the equipment properly.
Check and maintain your
equipment regularly.
 Do not use faulty
equipment. Report suspect
machinery immediately.
 Do not cut very small
items.
 Do not cut material other
than metal.
 Never leave the machine
running unattended.
Lathes contain several fastrotating parts that can cause
contact and entanglement
hazards.
 Keep all body parts away
from all rotating parts.
 Never wear loose-fitting
clothing or jewellery
while operating a lathe.
 Tie back and contain all
long hair.
 Use guards to protect
from accidental contact
with rotating parts.
 Make sure that the
machine is fully stopped
before taking any
measurements.

surface but can
also produce
irregular
surfaces.
Used to produce
the groove or
slot.



8.
Shaping machine
Used to produce
Horizontal, Vertical or
Inclined flat surfaces by
means of straight-line
reciprocating singlepoint cutting tools
similar to those which
is used in lathe
operation.





Operation
V-fitting was performed using various tools.
V-fitting schematic drawing
Always use cutters which
are sharp and in good
condition.
Don't place anything on
the milling machine table
such as wrenches,
hammers, or tools.
Always stay at the
machine while it is
running.
Keep clear of moving
machine parts.
Never leave the machine
running unattended.
Do not leave equipment
on top of the machine.
Follow correct clamping
procedures – keep
overhangs as small as
possible and check work
piece is secure.
Ensure you have selected
correct speed and rate.
No OPERATION
1
Marking out and cutting of work piece. Length
60mm-,width 45mm
2
Filing edges to square.
3
Right angle between adjacent sides is checked
4
Chalk is then applied on the surface of the two
pieces
5
Marking the dimensions of the v fitting
6
Punching dots along the scribed lined
7
Removing unwanted portions
8
Cut edges are filed
9
Corners of the stepped surfaces are filed to get
sharp corners
10 The piece are fitted together and the mating is
checked for the correctness of the fit
TOOL/EQUIPMENT
Steel rule, scriber, tri square, power
hacksaw
Bench vice, flat file, try square,
Try square
Steel rule, scriber and try square
Vernier height calipers
Dot punch, hammer
Hack saw, bench vice
Half round file, bench vice
Square or triangle file, bench vice
Bench vice
Conclusion
This report has presented a general information about mechanical workshop. I have shown
the safety rules for the clothing and behaviour. Then, I have introduced some of the workshop
tools and machines used to perform various operations. It is important to build up knowledge
and experience about the workshop since it is the place where engineers and technicians
produce the parts and pieces the need for different purposes.
References
Deakin University (2017). Workshop rules and Safety Considerations.
Machine Shop (2017).
Yash. S (2013). Types of Workshop Machinery.