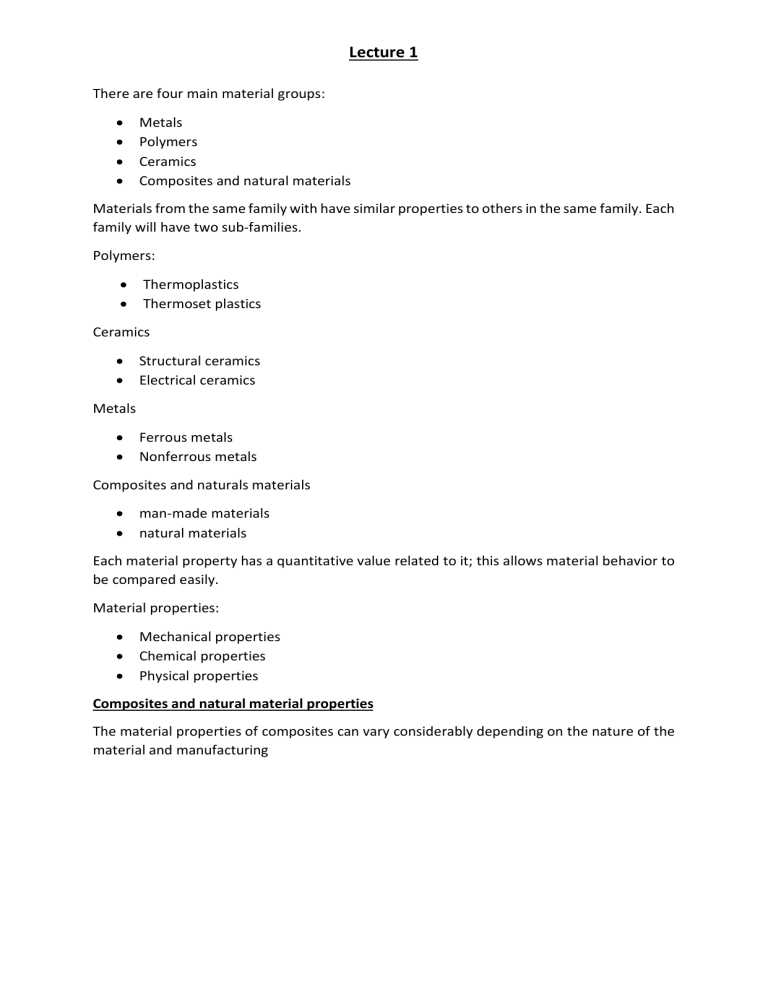 Lecture 1
There are four main material groups:




Metals
Polymers
Ceramics
Composites and natural materials
Materials from the same family with have similar properties to others in the same family. Each
family will have two sub-families.
Polymers:


Thermoplastics
Thermoset plastics
Ceramics


Structural ceramics
Electrical ceramics
Metals


Ferrous metals
Nonferrous metals
Composites and naturals materials


man-made materials
natural materials
Each material property has a quantitative value related to it; this allows material behavior to
be compared easily.
Material properties:



Mechanical properties
Chemical properties
Physical properties
Composites and natural material properties
The material properties of composites can vary considerably depending on the nature of the
material and manufacturing
Lecture 1
Material properties and characteristics
Density- Mass per unit volume kg/m³
Thermal conductivity- The ability of a material the absorb heat
Electrical conductivity- The ability of a material to transfer electrical current
Melting point- The temperature at which a solid material changes to liquid
Hardness- The ability for a material to resist indentation (resistance to wear)
Flexural/ young's modulus- ease of bending the material
Tensile strength- the ability of a material to resist tension
Toughness- ability of a material to absorb energy and plasticly deform without fracturing.
Lustre- Shiny appearance
Structure- Materials with the same structure will tend to have similar physical properties
Opaqueness- The materials ability to permit light to pass through it
Expansion and contraction- A materials ability to change in size due to a change in temperature
Magnetism- An object that is surrounded by a magnetic field and that has the property, either
natural or induced, of attracting iron.
Ductility- A materials ability to be plasticly deformed without fracturing
Malleability- A materials ability to be shaped, hammered and rolled without rupturing.