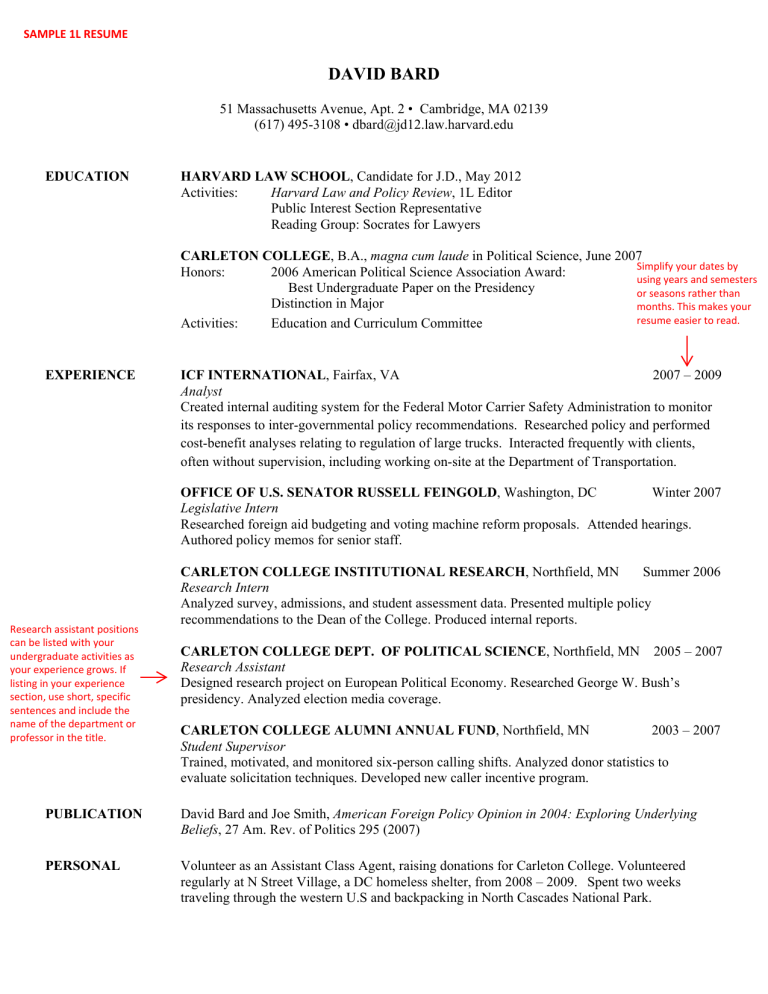 SAMPLE 1L RESUME
DAVID BARD
51 Massachusetts Avenue, Apt. 2 • Cambridge, MA 02139
(617) 495-3108 • dbard@jd12.law.harvard.edu
EDUCATION
HARVARD LAW SCHOOL, Candidate for J.D., May 2012
Activities:
Harvard Law and Policy Review, 1L Editor
Public Interest Section Representative
Reading Group: Socrates for Lawyers
CARLETON COLLEGE, B.A., magna cum laude in Political Science, June 2007
Simplify your dates by
Honors:
2006 American Political Science Association Award:
using years and semesters
Best Undergraduate Paper on the Presidency
or seasons rather than
Distinction in Major
months. This makes your
resume easier to read.
Activities:
Education and Curriculum Committee
EXPERIENCE
ICF INTERNATIONAL, Fairfax, VA
2007 – 2009
Analyst
Created internal auditing system for the Federal Motor Carrier Safety Administration to monitor
its responses to inter-governmental policy recommendations. Researched policy and performed
cost-benefit analyses relating to regulation of large trucks. Interacted frequently with clients,
often without supervision, including working on-site at the Department of Transportation.
OFFICE OF U.S. SENATOR RUSSELL FEINGOLD, Washington, DC
Winter 2007
Legislative Intern
Researched foreign aid budgeting and voting machine reform proposals. Attended hearings.
Authored policy memos for senior staff.
Research assistant positions
can be listed with your
undergraduate activities as
your experience grows. If
listing in your experience
section, use short, specific
sentences and include the
name of the department or
professor in the title.
CARLETON COLLEGE INSTITUTIONAL RESEARCH, Northfield, MN
Summer 2006
Research Intern
Analyzed survey, admissions, and student assessment data. Presented multiple policy
recommendations to the Dean of the College. Produced internal reports.
CARLETON COLLEGE DEPT. OF POLITICAL SCIENCE, Northfield, MN 2005 – 2007
Research Assistant
Designed research project on European Political Economy. Researched George W. Bush's
presidency. Analyzed election media coverage.
CARLETON COLLEGE ALUMNI ANNUAL FUND, Northfield, MN
2003 – 2007
Student Supervisor
Trained, motivated, and monitored six-person calling shifts. Analyzed donor statistics to
evaluate solicitation techniques. Developed new caller incentive program.
PUBLICATION
David Bard and Joe Smith, American Foreign Policy Opinion in 2004: Exploring Underlying
Beliefs, 27 Am. Rev. of Politics 295 (2007)
PERSONAL
Volunteer as an Assistant Class Agent, raising donations for Carleton College. Volunteered
regularly at N Street Village, a DC homeless shelter, from 2008 – 2009. Spent two weeks
traveling through the western U.S and backpacking in North Cascades National Park.
SAMPLE 1L RESUME
MIA L. BECKETT
1563 Massachusetts Avenue  Cambridge, MA 02138  (617) 495-3108  mbeckett@jd13.law.harvard.edu
EDUCATION
HARVARD LAW SCHOOL, Candidate for Juris Doctor, May 2013 (Expected)
Activities: Human Rights Journal, Subciter
Harvard Defenders
Harvard Prison Legal Assistance Program
Black Law Students Association
Smaller margins can
be okay -- but be sure
to do a test print
before moving them
lower than .75 in.
COLUMBIA UNIVERSITY, COLUMBIA COLLEGE, Bachelor of Arts, Sociology, May 2008
Honors: Kluge Scholar
Activities: Community Impact, GED Tutor
Double Discovery, Middle School Tutor
Columbia College Student Council, Liaison to the School of General Studies
Thesis:
Prison Recidivism and the Stabilization of the New York State Criminal Justice System
UNIVERSITY OF CAPE TOWN, Semester abroad with a full course load in social sciences and humanities, Fall 2006
Activities: Students' Health and Welfare Centres Organisation, Children's Home Volunteer
EXPERIENCE
This is a good example of private sector experience described in a
GOLDMAN, SACHS & CO., New York, NY
way that highlights skills relevant to public sector employers.
Analyst, Fixed Income, Currency & Commodities Legal
2008-2010
Drafted, edited and negotiated terms of non-disclosure agreements (NDA) for all transaction types and business lines.
Produced weekly analysis of New York region NDA volume for report to senior legal management. Maintained 50
regulatory licenses for five firm affiliates including applications, regulatory examinations and annual reports. Conducted
due diligence on more than 100 firm investments for required reporting to the Federal Reserve.
Summer Analyst, Employment Law Group (ELG)
Summer 2007
Researched legal and regulatory issues for policy development purposes, including for use in firm-wide orientation.
Created an online electronic library of global ELG materials for cross-regional use and access.
COLUMBIA UNIVERSITY OFFICE OF PUBLIC AFFAIRS, New York, NY
2005-2008
Assistant to the Office Administrator
Researched media-related university information to respond to public inquiries. Maintained media exposure list for use in
managing university public relations.
FAIRFAX COUNTY PUBLIC SCHOOL SYSTEM, Fairfax, VA
Summer Clinic Assistant
Summer 2005
Worked closely with school personnel and parents to schedule student disability assessments. Updated student
information database used for tracking and addressing student needs during the school year.
KINGS COUNTY DISTRICT ATTORNEY'S OFFICE, Brooklyn, NY
Legal Assistant
Fall 2007
Drafted criminal complaints based on interviews with police officers, witnesses, and victims. Liaised with Assistant
District Attorneys to determine charges and submitted orders of protection and evidentiary notices.
OTHER LEADERSHIP AND VOLUNTEER ACTIVITIES
Goldman Sachs Legal, Compliance and Internal Audit Black Network
Recruitment, Retention and Advancement Subcommittee Member
New York Cares
Soup Kitchen Volunteer
Columbia University Alumni Representative Committee
Volunteer Admissions Interviewer
2009-2010
2009
2008- 2009
A short section like this may be a good choice for students with community service or leadership activities that took place while they were
working after graduation, but are not robust enough to list in the experience section. Note that clear job titles are used in place of longer
descriptions.
SAMPLE 1L RESUME
RACHEL MOSS
81 Oxford Street
Cambridge, MA 02138
(617) 495-3108
rmoss@jd11.law.harvard.edu
EDUCATION
Including your thesis can be helpful
if it relates to the work you are
pursuing. This student went on to
discuss her thesis work in her cover
letter. Remember to italicize your
thesis title.
EXPERIENCE
Your work in student practice
organizations can be listed
under "Experience."
HARVARD LAW SCHOOL, J.D. Candidate, May 2011
Activities:
Harvard Law and Policy Review
American Constitution Society
Women's Law Association
1L Section Events Committee
UNIVERSITY OF TEXAS AT AUSTIN
B.A. with High Honors in American Studies and English, May 2008
Honors:
Phi Beta Kappa
Rapoport-King Honors Thesis Scholarship
Kemp-Foreman Unrestricted Endowed Presidential Scholarship
Activities:
University Democrats
Blanton Museum of Art Student Guild
First-Generation College Student Mentorship program, mentor
Thesis:
"They Aren't Hearing Us – They're Rich": Consequences of Social Difference
on Public Housing in New Orleans and Nationwide
TENANT ADVOCACY PROJECT
Fall 2008 – Present
Harvard Law School, Cambridge, MA
Represent tenants facing eviction and other housing issues such as application denials,
transfers, and reasonable accommodation in Housing Authority grievance hearings.
Advise tenants of legal rights by telephone.
CENTER FOR AMERICAN HISTORY
Summer – Fall 2007
Austin, TX
Served as student page in University of Texas archival library. Retrieved archival
materials for researchers. Entered data in a biographical newspaper database, compiled
newspaper clippings for vertical files, and assisted with special projects.
UNIVERSITY OF TEXAS RESIDENCE LIFE
Fall 2005 – Spring 2007
Austin, TX
Provided support, peer education, conflict mediation, policy enforcement, emergency
management, and event planning for a floor of 40-50 student residents. Performed
administrative shifts at residence hall front desk.
MARK STRAMA FOR TEXAS STATE REPRESENTATIVE
Summer 2006
Austin, TX
Volunteered for eight weeks of full-time grassroots campaign work including phone
banking, canvassing, and direct mail. Obtained training in local issues, constituent
interactions, voter registration, and fundraising through Campaign Academy program.
PERSONAL
Interests include travel, movies, vegetarian cooking, reading fiction, following
political news, and practicing yoga.
SAMPLE 1L RESUME
SARA TSVETANOVA
319 Highland Avenue
Somerville, MA 02144
(617) 495-3108
stsvetanova@jd12.law.harvard.edu
EDUCATION
Reading groups should be
included with your activities.
HARVARD LAW SCHOOL, Cambridge MA
Candidate for J.D., May 2012
Activities: Federalist Society, Speakers Committee
1L Reading Group, Adoption and Reproductive Technology
UNIVERSITY OF ILLINOIS AT URBANA-CHAMPAIGN, Urbana, IL
B.S. in Journalism, May 2009
Honors:
University Honors (top 3% of graduating class)
Chancellor's Scholar/Campus Honors Program
Phi Kappa Phi Honor Society
Harold E. and Dorothy Jonson Sorter Journalism Scholarship
Illinois Sheriff's Association Scholarship
Activities: Campus Honors Program, Orientation Group Leader and Senior Sibling
Daily Illini On the Air, Radio News Reporter
EXPERIENCE
Use your descriptions to
highlight transferable skills
like leadership, organization,
and time management.
Include all work experience
(space permitting), even if it
doesn't seem relevant to a
legal internship. Employers do
appreciate the value of these
experiences.
UNIVERSITY OF ILLINOIS, Urbana, IL
2008-2009
News Director for Television 2 Class
Directed a 30-minute live newscast twice a week as a paid teaching assistant. Led
a team of other students through the newscast. Made split-second decisions to
correct any mistakes made on-air. Trained students on the use of news cameras
and computer equipment.
LONESTAR STEAKHOUSE AND SALOON, Champaign, IL
2006-2009
Served customers in a fast-paced restaurant. Made bar drinks. Trained new
employees. "Closed" the restaurant several nights a week, which included
checking the work of other servers. Worked 20-30 hours per week during the
academic year and during the summer to finance education.
COLLEGE COMMUNICATIONS LIBRARY, Urbana, IL
2006
Helped patrons find books. Retrieved books from the reserves. Checked books in
and out of the library electronically. Occasionally served as sole librarian on
weeknights and locked up library.
INTERESTS
Cooking, scrapbooking, playing the piano.
SAMPLE 1L RESUME
TINA WAKEFIELD
49 Elm Street, Apt. 2
Somerville, MA 02143
617-495-3108 • twakefield@jd13.law.harvard.edu
EDUCATION
HARVARD LAW SCHOOL, Candidate for J.D., May 2011
Activities:
Harvard Civil Rights-Civil Liberties Law Review
Human Rights Advocates
Add a brief description if award titles
DARTMOUTH COLLEGE, B.A. magna cum laude in Government, June 2004 do not provide enough information.
Honors:
Colby Prize, presented annually to one senior for excellence in Government
Two citations for outstanding work in Government courses
Activities:
Government and Psychology Departments, Research Assistant
Big
Brother Big Sister, Mentor
When you have more experience and space is
Branches
Neighborhood After-School Program, Co-Founder and President
an issue, move research assistant positions
Quality Community Council, Community Organizer
and other undergrad roles up to activities.
EXPERIENCE
RESULTS EDUCATIONAL FUND, Washington, D.C.
2007 - 2008
Managed projects, organized political and media outreach, wrote briefings and fact sheets, and
coordinated international efforts for global political advocacy campaign to fight poverty and its effects.
Functioned as a U.S. liaison to international affiliates in six countries. Served as one of several lead
organizers for annual five-day international poverty conference. Worked with consultants to develop a
marketing plan and new website for international tuberculosis campaign. Co-wrote two policy papers on
U.S. foreign assistance for basic education.
This is a strong example of how to list two positions at the same organization.
AMERICA VOTES, Washington, D.C.
Website and State Resources Coordinator
2006 - 2007
Supported launch of nine state offices for national voter outreach and registration campaign. Coordinated
field strategy among state offices and with national office. Managed national website content, online
tools, and volunteer database. Wrote briefings and newsletters on organization's activities for potential
Use job titles, dates, and a small space to distinguish the
donors and coalition partners.
positions. Try not to repeat duties and responsibilities
Executive Assistant to the President in the descriptions.
2005 - 2007
Created and edited briefings, speeches, and presentations for the President. Assisted in high-level
fundraising and coalition building.
AMERICA COMING TOGETHER, Manchester, N.H.
Summer - Fall 2004
Developed statewide processes for recruiting and tracking of 5,000 volunteers for voter mobilization
campaign. Led team of five full-time volunteers to support field staff in recruiting 2,500 Election Day
volunteers. Participated in senior staff meetings to develop and implement Get Out the Vote strategy for
New Hampshire.
JOHN KERRY FOR PRESIDENT, Hanover, N.H.
Fall 2003 - Winter 2004
Organized candidate and surrogate events, volunteer recruitment, and voter education and mobilization.
SAMPLE LAW SCHOOL
APPLICATION RESUME
Paul R. O'Neal
p.oneal@gmail.com • (202) 495-3108 • 1000 Connecticut Ave., NW #7 • Washington, DC 20009
Education
University of Notre Dame
Bachelor of Arts in Political Science and Honors Theology, Summa cum Laude
GPA: 3.92
Student Organizations: Glee Club, Student Theater, Center for Social Concerns
Study Abroad Fall 2005: John Cabot University, Rome, Italy
2003-2007
Work Experience
Capital Area Immigrants' Rights Coalition, Washington, DC
August 2007-Present
Legal Assistant/Board of Immigration Appeals Accredited Representative
- Directly representing detained clients before the Arlington Immigration Court, Immigration
and Customs Enforcement, and the Arlington Asylum Office for asylum, waivers of
inadmissibility, adjustment of status, humanitarian parole, and removal proceedings –
including complex immigration legal claims.
- Mentoring pro bono attorneys who have taken cases on referral from CAIR Coalition.
- Managing the Credible Fear Partnership with the Arlington Asylum Office, including the
training of pro bono attorneys. My oversight of this project included serving as faculty at the
DC Bar Foundation's Annual Asylum Training for approximately 100 pro bono attorneys.
- Leading CAIR Coalition's case screening process and playing a specialized role regarding
complex legal issues in asylum law and the immigration consequences of criminal
convictions.
- Supervising jail visits to explain immigration procedures to persons in the custody of the
Department of Homeland Security in accordance with the Executive Office for Immigration
Review's Legal Orientation Program.
- Supervising and coordinating detainee correspondence and other legal materials.
- Performing factual investigations and legal research on cases that are being prepared for pro
bono referral.
- Answering telephone inquiries from clients and pro bono attorneys regarding issues of
immigration law.
- Administering CAIR Coalition's client database and managing the storage of physical client
files.
Catholic Relief Services, Kampala, Uganda
Summer 2006
Peacebuilding Intern
- Facilitated monitoring and evaluation field work of various peacebuilding and HIV/AIDS
projects in Bundibugyo, Uganda.
- Developed training materials for CRS partner organizations.
- Prepared and edited reports and proposals for USAID grants.
- Designed and maintained database of articles and reports concerning the peace process in
northern Uganda.
Shalom Catholic Worker House, Kansas City, KS
Summer Service Project Intern
- Oriented, supervised, and supported each day's volunteers.
- Supported the day-to-day running of the homeless shelter.
Summer 2005
Volunteer Experience
Center for Social Concerns, Notre Dame, IN
2004-2007
- Participated in several of the Center's service learning projects, including the winter break
Education Seminar and two summer service learning seminars.
- Volunteered several times a semester on community service projects sponsored through the
South Bend Center for the Homeless, the Notre Dame Glee Club, and the Peter Claver
Catholic Worker House.
- Served on the selection team for the International Summer Service Projects for the summer
of 2007.
- Co-facilitated the Notre Dame Peace Fellowship, a student group that advocated for nonviolent social change on campus, in our communities, and globally.
Foundry United Methodist Church, Washington, DC
2007-Present
- Served as an English as a Second Language teacher for Spanish-speaking people in the
community that Foundry serves.
- Participated in Foundry's efforts in coalition with the Washington Interfaith Network to
garner support on the District of Columbia City Council for funding for permanent
supportive housing for chronically homeless individuals and other homelessness/fair housing
issues.
- Was recently selected to serve as the Worship Leader for the church's Mission Council,
which provides vision and leadership to Foundry's social justice activities.
Publications
"Beyond Just War: Catholic Peacebuilding since John XXIII." Senior Honors Thesis, Department of
Theology, University of Notre Dame, May 2007.
Languages
Spanish - intermediate proficiency in speech, reading, and writing
French- basic competence in speech, reading, and writing
Italian - basic competence in speech, reading, and writing
Awards and honors
-
Recognized twice by the Mennonite Mission Network in news articles written about my
work at CAIR Coalition.
Notre Dame Scholar – for academic excellence.
Andrew's Scholar – for commitment to community service
Dean's List – Every Eligible Semester
Departmental Honors – Theology
Eagle Scout
SAMPLE 1L RESUME - AFTER
There are many ways this student could have edited his
resume -- this is just one example.
PAUL R. O'NEAL
poneal@jd13.law.harvard.edu • (617) 495-3108 • 1563 Massachusetts Ave • Cambridge, MA 02138
EDUCATION
HARVARD LAW SCHOOL – J.D. Candidate, May 2013
Activities:
Harvard Human Rights Journal, 1L Editor
Harvard Immigration Project, Board Member
UNIVERSITY OF NOTRE DAME – B.A. in Honors Theology/Political Science, May 2007
Note that Dean's List and GPA were omitted. These aren't needed when you
Honors:
summa cum laude
Department Honors – Theology have Latin or university honors that speak to the same achievement.
Activities:
Center for Social Concerns (service-learning opportunities)
Notre Dame Glee Club
Honors Thesis: Beyond Just War: Catholic Peacebuilding Since John XXIII
As you gain experience and advance in your career, you will start to pare down your undergraduate details to just
those things that are the most meaningful and relevant to your search.
EXPERIENCE
TENANT ADVOCACY PROJECT, Cambridge, MA
August 2010–Present
Student Representative
Represented low-income family in Section 8 termination hearing. Research landlord-tenant problems and deliver advice
through hotline for low-income callers. Will join the intake committee in Spring 2011, researching and screening cases
for potential representation.
CAPITAL AREA IMMIGRANTS' RIGHTS COALITION, Washington, DC
2007–2010
Board of Immigration Appeals Accredited Representative/Legal Assistant
Directly represented detained immigrants in complex immigration claims before the Arlington Immigration Court and
the Department of Homeland Security. Managed the Credible Fear Program and the Detained Children's Program.
Screened cases for pro bono referral and mentored attorneys. Performed factual investigation and legal research.
Supervised intake volunteers during jail visits.
FOUNDRY UNITED METHODIST CHURCH, Washington, DC
2007 – 2010
Served as an English as a Second Language teacher for Spanish-speaking people in the local community. Participated in
Foundry's efforts in coalition with the Washington Interfaith Network to garner support on the District of Columbia City
Council for funding for permanent supportive housing for chronically homeless individuals and other homelessness/fair
housing issues. Served as the Worship Leader for the church's Mission Council, which provides vision and leadership to
Foundry's social justice activities.
CATHOLIC RELIEF SERVICES, Kampala, Uganda
Summer 2006
Facilitated monitoring and evaluation sessions with local partner organizations implementing USAID-funded
peacebuilding and AIDS programs. Developed training materials. Prepared and edited reports and proposals for USAID
grants.
SHALOM CATHOLIC WORKER HOUSE, Kansas City, KS
Summer 2005
Oriented, supervised, and supported each day's volunteers. Supported the day-to-day running of the homeless shelter.
PUBLICATIONS
"Respondent's Brief …. (full name redacted for purposes of the sample)." (Published as an appendix to practice manual)
If including links, be sure they are working and do not require a password.
Available at [URL goes here].
PERSONAL AND LANGUAGES
Recognized twice by the Mennonite Mission Network in news articles written about my work at CAIR Coalition. Earned
rank of Eagle Scout. Proficient in Spanish and French. Conversational in Italian.