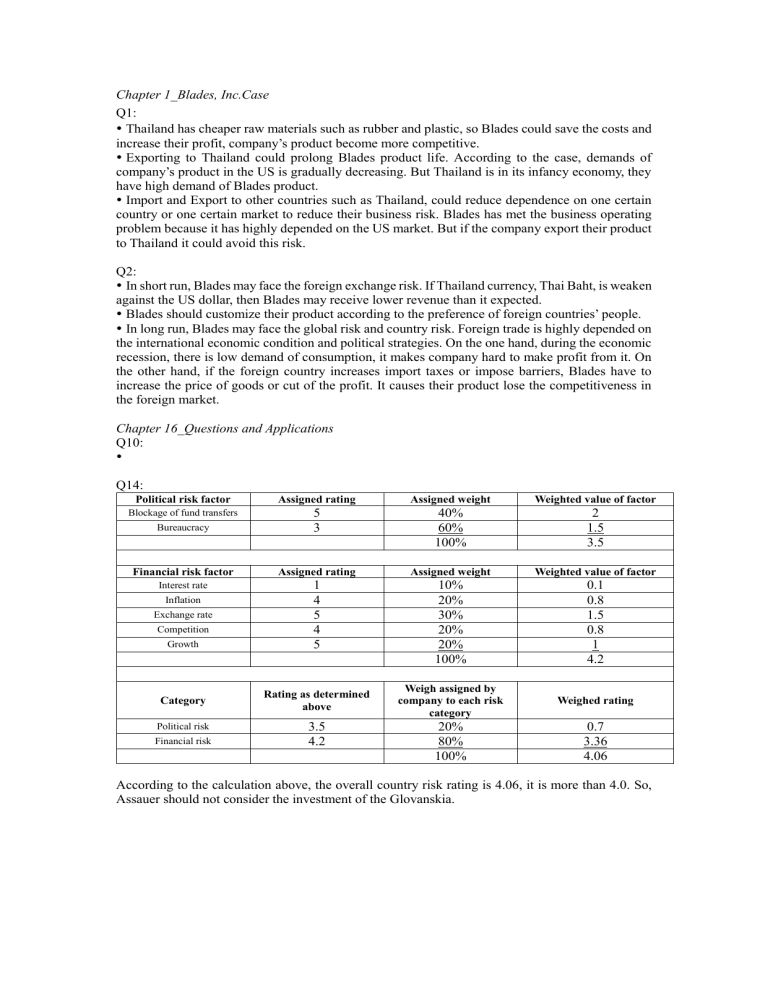 Chapter 1_Blades, Inc.Case
Q1:
 Thailand has cheaper raw materials such as rubber and plastic, so Blades could save the costs and
increase their profit, company's product become more competitive.
 Exporting to Thailand could prolong Blades product life. According to the case, demands of
company's product in the US is gradually decreasing. But Thailand is in its infancy economy, they
have high demand of Blades product.
 Import and Export to other countries such as Thailand, could reduce dependence on one certain
country or one certain market to reduce their business risk. Blades has met the business operating
problem because it has highly depended on the US market. But if the company export their product
to Thailand it could avoid this risk.
Q2:
 In short run, Blades may face the foreign exchange risk. If Thailand currency, Thai Baht, is weaken
against the US dollar, then Blades may receive lower revenue than it expected.
 Blades should customize their product according to the preference of foreign countries' people.
 In long run, Blades may face the global risk and country risk. Foreign trade is highly depended on
the international economic condition and political strategies. On the one hand, during the economic
recession, there is low demand of consumption, it makes company hard to make profit from it. On
the other hand, if the foreign country increases import taxes or impose barriers, Blades have to
increase the price of goods or cut of the profit. It causes their product lose the competitiveness in
the foreign market.
Chapter 16_Questions and Applications
Q10:

Q14:
Political risk factor
Assigned rating
Assigned weight
Weighted value of factor
Blockage of fund transfers
Bureaucracy
5
3
40%
60%
100%
2
1.5
3.5
Financial risk factor
Assigned rating
Assigned weight
Weighted value of factor
Interest rate
1
4
5
4
5
10%
20%
30%
20%
20%
100%
0.1
0.8
1.5
0.8
1
4.2
Weigh assigned by
company to each risk
category
Weighed rating
20%
80%
100%
0.7
3.36
4.06
Inflation
Exchange rate
Competition
Growth
Category
Political risk
Financial risk
Rating as determined
above
3.5
4.2
According to the calculation above, the overall country risk rating is 4.06, it is more than 4.0. So,
Assauer should not consider the investment of the Glovanskia.