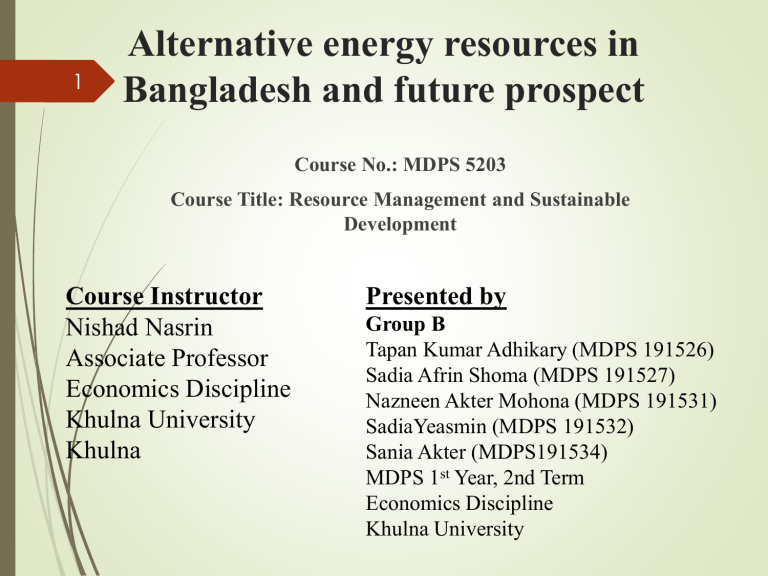 1
Alternative energy resources in
Bangladesh and future prospect
Course No.: MDPS 5203
Course Title: Resource Management and Sustainable
Development
Course Instructor
Nishad Nasrin
Associate Professor
Economics Discipline
Khulna University
Khulna
Presented by
Group B
Tapan Kumar Adhikary (MDPS 191526)
Sadia Afrin Shoma (MDPS 191527)
Nazneen Akter Mohona (MDPS 191531)
SadiaYeasmin (MDPS 191532)
Sania Akter (MDPS191534)
MDPS 1st Year, 2nd Term
Economics Discipline
Khulna University
2










Contents
Introduction
Present scenario of energy sector in Bangladesh
Energy consumption and demand
Leading renewable energy sector in Bangladesh
Solar energy
Wind power
Biomass and biogas
Hydro energy
Other prospective renewable energy sources
Conclusion
Introduction
 Renewable energy is energy that is obtained from renewable resources, which
are naturally restocked on a human timescale, such as sunlight, wind, rain,
tides, waves and geothermal heat. Electricity is a very important factor in
developing the economy and the standard of living of a country.
 Now a day, Bangladesh is facing energy crisis. In Bangladesh, around 70% of
people having lack accesses to electricity and most of them are living in the
village. Among them about 40% of them are living in below poverty line. On
the other hand climate change puts addition threats to development.
 To solve this energy crisis we can use different form of renewable energy to
generate power. Renewable energy is the energy that comes from different
types of natural resources mainly from sunlight, wind, rain, tides, and geo
thermal heat, biodiesel, biofuel etc.
3
Present scenario of energy sector in Bangladesh
4
 The power generation
in Bangladesh mainly
depends on natural
gas and currently
about 79% of
electricity is produced
from natural gas and
coal.
 However, some
researches indicated
that the net reserve of
gas (i.e. probable) that
remains is only 15.32
TCF and the coal
reserve is only 2.7
billion tons.
.
Fig:1 Percentage of electricity generation in Bangladesh
from different sources, 2006.
5
 Table 1 indicate the standard electricity generation in Bangladesh from assorted
resources. In addition, recently the power crisis (load shedding) has been
increased up to 950 MW in an average and the crisis growth rate is 35 MW in
average per annum since 2007.
 The current crisis scenario suggests
that the future average load
shedding may be raised up to 900
MW per year until 2015.
Furthermore, the growing pace of
energy production is about 5.37%
that is lower than the existing
requirement which is about 5.43–
6.72% per year during the identical
phase.
Table:1 Present energy scenario in Bangladesh,
as of FY 2011
6
Energy consumption and demand
 According to energy
consumption and demand, the
household consumption outline
of energy increased from a
declining rate from 2001 to 2002
(i.e. except 2005–2006) until
recently. The commercial
sources also show similar trends.
 The uses of system energy in the
manufacturing services from
2005 to 2006 also have increased
after having a falling rate in the
year 2003–04.
Fig:2 Electricity consumption by category (MkWh)
from 2000 to 2008.
 The national data and statistics from the year 2000–2001 to 2007– 2008
show that energy consumption and demand were the highest during the year
2005–06 and the rate of annual increase was about 15.6% in the commercial
services, 13.8% for the households, 13.3% in the manufacturing services and
6.4% was in the rest of the services.
Leading renewable energy sector in Bangladesh
7
 Bangladesh is blessed with the abundant sources of renewable
energy. The required energy demand on power generation can be
fulfilled by utilizing unconstrained renewable sources.
 It is a fortune that gradually more energy production from
renewable resources and its diverse technologies are becoming
affordable, economically feasible and capable to race against
fossil-fuelled technologies in the near future.
 As the energy consumption and demand are a real concern in
Bangladesh, the extent and prospect of the renewable resources
like solar power, wind energy, hydro power, biogas and biomass
are necessary to be correctly spread in Bangladesh
8
Renewable sources in Bangladesh
Fig:3 Ratio of different renewable energy sources in Bangladesh
9
Solar Energy
 Bangladesh can produce sufficient amount of electricity by solar energy.
Because Bangladesh is a subtropical country, 70% of year sunlight is dropped in
Bangladesh. For this reason, we can use solar panels to produce electricity
largely. Almost every newly built apartment building is now using solar panels
along with the grid connection to get support during the load shedding period.
 Bangladesh could possibly meet its unprecedented energy demand as well as
increasing energy security through their progression by acknowledging the
potential of solar-energy resources.
 Therefore, as an alternative of present energy crisis scenario, solar energy such
as solar photovoltaic (PV) can resolve a portion of power demand with
accompanying deficiency and problems.
 Recent literatures on solar photovoltaic (PV) suggest that the daily average
variation of solar discharge fluctuates following the pattern of dry and wet
seasons in Bangladesh from 4 to 6.5 kWh in a square meter.
 Solar radiation varies from season to season in Bangladesh. The highest level
of radiation is accessible from March to April whereas the least from
10
December to January and the average sunlight hours vary between 6.69/7.6
h, 6.16 h and 4.81 h respectively in winter, summer and monsoon seasons.
 The figure represents that the projected value of solar radiation is the highest
in the month of March–May, where 1 (one) square meter area occupies the
potential of producing 4–5 kWh/m2 /day. The maximum sunlight hours
recorded in Khulna differ from 2.86 to 9.04 h whereas in Barisal it varies
from 2.65 to 8.75 h.
Fig:4 Average solar radiation in the six divisions in Bangladesh.
11
Wind Power
 Wind power depicts the process of utilizing wind power to create mechanical
power. Wind turbines works to generate mechanical power.
 Bangladesh have enormous potentials for power generation from wind energy.
 Economically profitable as maintenance and support cost of wind turbines is
very little.
 Wind energy in the coastal districts of Bangladesh can be a proficient solution
of electricity generation.
 Three wind turbines with a combined capacity of 3MW have been in operation
for the last few years.
 Bangladesh approved a proposal of a 55-megawatt private wind power plant.
 The government has taken an initiative to set up 3 wind power plants having
50MW capacity by 2021.
Wind Power
12
Organizations Installed
capacity
(Watt)
Location
Present Status
Grameen
Shakti
4500
Grameen offices in the
Coastal region
Functioning
Grameen
Shakti
7500
Cyclone shelter in the
Coastal region
Functioning
BRAC
900
Coastal region
Functioning
BRAC
4320
Coastal region
Functioning
Bangladesh
Army
400
Chittagong hill Tracks
Functioning
IFDR
1100
Teknaf
Functioning
IFDR
600
Meghnaghat
Functioning
LGED
400
Kuakata
Functioning
Table:2 Wind turbine installations in Bangladesh by different organizations
13
Biomass and Biogas
 Biomass can be viewed as the biggest fuel source in Bangladesh.
 Biomass comprises of varieties of natural and organic substances.
 Direct ignition and gasification are two technologies use for biomass
energy translation into electrical and heat energy.
 Bangladesh produces a variety of waste items which can be
transformed into economically productive biogas energy to help to
defeat the national power crisis.
 Animal manure and poultry compost are the raw materials for biogas.
 Some 71,396 biogas plants are currently run in Bangladeshi villages.
 Government is providing subsidies to set up 44,000 biogas plants
which provides clean energy to around 200,000 people.
14
Biomass and Biogas
15
Hydro Energy
 Hydropower requires both water current and height.
 The system of this feasible energy is considered as preservation and
absorption energy in the outline of automatic stream energy.
 Kaptai Dam the only hydroelectric power station having the capacity to
generate 230 MW electricity.
 Micro-hydro power transfers hydropower to mechanical power energy and
efficient to deliver up to 5–300kW of electricity.
 Karnafuli, Shangu, Matamuhuri etc. rivers are supposed to be good
prospects for installing micro-hydro power.
 The Installed capacity for renewable energy in Bangladesh stands at
650.53 MW with solar energy accounting for 416MW and hydropower
230MW.
16
Other prospective renewable energy
sources
Biodiesel Energy: Biodiesel is one of the alternative ways to generate
renewable power or energy. Now a day's fossil fuel depletion and global
warming issues are the point of concern around the world. To reduce Carbon
emissions and decreasing reserves of fossil fuels, Biofuel can be an attractive
source of energy. Next generation biofuels can be a great solution to the global
warming and the crying need of fossil fuels.
Ocean Wave Energy: Ocean wave energy is generated directly from the
waves of the oceans. It is another special type of renewable energy which helps
to decrease the harmful emissions of greenhouse gases associated with the
generation of power. It can be potentially a significant source of electricity for
Bangladesh. Though the main purpose of ocean wave energy is electricity
generation, it can also be used for the pumping of water, water desalination etc.
17
Tidal Power: Tidal power or tidal energy is a form of hydropower that
converts the energy of tides into electrical power. Among these coastal
areas, with 5 meter tides experienced, Sandwip has the best prospect to
generate tidal energy .
Geothermal Energy: Geothermal is another way to generate power or
energy which is renewable power or energy. The thermal energy which is
generated and stored inside the earth surface is called Geothermal energy.
It is very much cost effective and environmentally friendly. The northern
districts of Bangladesh show the prospect to explore the geothermal
resources. The demand of electricity in urban as well as in the rural areas
are increasing, but our production of electricity is not increasing. A
Dhaka based private company namely Anglo MGH Energy has initiated a
project to setup the country's first geothermal power plant with a capacity
to produce 200 MW of electricity close to Saland in Thakurgaon district.
18
Conclusion
 Energy crisis and possible alternative energy sources are really big issues in
Bangladesh. Renewable energy is one of the sustainable solutions to avoid the
power crisis. Renewable energy sources discussed above can help Bangladesh
produce more power in order to reduce Load-shedding problem.
 It needs to take visionary planning, must attract investment and create mass
awareness. The potentiality of renewable energy resources is very good for its
national growth, sustainability and socio-economic development.
 It has a great impact on improving the socio-economic condition of rural people
as well as will be a good sign of green energy technology.
 With the help of these resources Bangladesh can make sustainable development
and export electricity meeting the internal demand in the future.
 Therefore, the Government and the Private sector should work hand in hand to
emphasize more on renewable energy source to produce electricity to solve our
power crisis problem and sustainable develop our county faster.