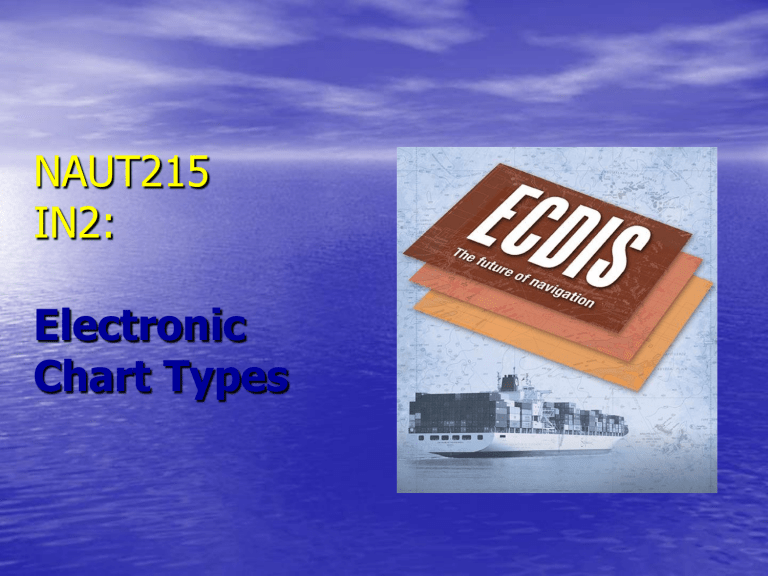 NAUT215
IN2:
Electronic
Chart Types
What makes it an ECDIS
• The charts.
• An ECDIS includes electronic navigational
charts (ENCs) and integrates position
information from GPS and other
navigational sensors such as radar, depth
sounders and automatic identification
systems (AIS).
Electronic Chart Types
Objectives
1.
2.
3.
4.
Describe principle types of electronic charts
Understand official status of charts
Understand various distribution methods for charts
Describe under what circumstances a chart may be
used in an ECDIS for primary navigation
RASTER
Private
Official
Vector
TX-97 (Transas)
BSB (NOAA)
ENC
Official electronic chart data
• Official electronic chart data are of two
general types:
– Electronic Navigational Charts (ENC), and
– Raster Navigational Charts (RNC).
• ENCs are vector charts, and
• RNCs are raster charts.
Electronic Navigational Chart
• ENC means the database, standardized as
•
to content, structure and format, issued
for use with ECDIS on the authority of
government-authorized Hydrographic
Offices (HO).
The ENC contains all the chart information
useful for safe navigation, and may
contain supplementary information in
addition to that contained in the paper,
which may be considered necessary for
safe navigation.
The Types of EC Formats are:
Raster and Vector
Raster Charts
Raster Charts (ARCS, Seafarer, BSB)
Scanned charts - an image!
Advantages:
• Inexpensive to produce
• Similar to paper charts
Disadvantages:
• "Dead chart", no Alarms
• Limited zoom options
• Requires large memory capacity
• Expensive to correct (a new chart)
• Only easy to read in north-up orientation
Raster Charts
A set of colored pixels
representing chart
information as a picture
on computer screen
Simply an array of pixels
arranged in rows and
columns
Pixels are color coded,
but do not represent
features explicitly
The Appeal of Raster
• Looks like a paper chart
(appeals to traditionalists)
• Cheap and easy to produce
(scan existing paper chart)
• Runs easily on PC
• World-wide availability
Vector Chart
Vector Charts (ENC, TX 97, C-Map 93...)
Digitalized paper charts- every object is defined and grouped in layers that can be selected
within the set safety parameters.
Advantages:
–
Automatic alarm generation
–
Optional information (customized settings)
–
Zoom-able
–
Easy to correct
–
Requires little memory capacity (quick loading)
–
–
–
Information can be added (files, pictures etc.)
Readability in all presentations
Presentation according to the safety parameters
of the own ship
Disadvantages:
–
Expensive and time demanding production
–
Layout can be a bit different from paper charts
–
Coding errors even in official ENCs
Vector Charts: More detail
• A set of accurately
positioned lines (vectors),
points and areas, with
associated attributes
(e.g. "shoreline", "buoy -red")
organized in a database accessed
by clicking on displayed symbol
Vector Charts: More detail
• Looks "different" from a paper
chart
• Underlying database allows
queries and layer selection
• Zooming reveals detail
• Complex, expensive, and
time-consuming to produce
• Needs more powerful computer and
expensive display to meet IHO/DoD
requirements
S-57 ENC
•
•
•
•
NOAA - US
PRIMAR - Norwegian
IC-ENC - Worldwide
JHA - Japan
• Local Hydrographic offices produce charts within standards of the
International Hydrographic Office (IHO)
SENCs
• ECDIS converts each ENC into an
internal format called the system
electronic navigational chart (SENC),
which is optimized for chart image
creation.
• Allows an ECDIS to display ENC data
quickly enough. An ECDIS does not
process the ENC content directly to the
screen.
• SENC is the displayed chart.
Vector Private Chart Formats
TX-97
Transas
CM93
C-Map/Jeppesen
Do NOT meet S-57 standards and therefor not classified as ENCs
DNC chart format
For Military Use Only
Legal aspects and requirements
Chart data format, origin, updating, legal status and usage
Data
Category
Origin
Existence
of Priority
Coverage
Data
Standard
Updating
Status of
Data Set
HO
S57
Official
Official
ENC
Non-HO
other
Non
regular
ECS
data
No
official
ENCs
Official
updates
Official
RNC
Official
ENCs
exist
No
regular
updates
ECS
data
Vector
HO
Raster
Non-HO
Regulatory
Status of
System
ECDIS
ECS
+ full paper
folio
RCDS
+ suppl.
paper
charts
ECS
+ full paper
folio
Legal aspects and requirements
Link between IMO, IHO and IEC
IMO
Performance Standards for
ECDIS
S-52
IHO
Color and Symbol
Specifications for EDCIS
S-57
Transfer Standard for
Digital Hydrographic
Data
S-63
Encryption Standard for
protection of Digital
Hydrographic Data
IEC 61174, ed 3
Performance Standards for ECDIS
Maritime navigation and radio communication equipment and systems
– Electronic chart and information systems (ECDIS) –
Operational and performance standards, methods of testing and required test results
A Compliant ECDIS
Principal types of Electronic Charts
Availability of ENC Charts , April 2016
Differences
•
•
•
•
ECS
Electronic Chart
System
ECDIS
Electronic Chart Display
and Information System
Navigation AID
No substitute for
paper charts
All Chart formats
permitted (official
and non-official)
Status definition
•
•
•
•
•
Primary navigation
system
Substitution of paper
charts permitted
Using ENC charts
Clear definition
If using non-official
data, ECDIS becomes
an ECS
RCDS
Raster Chart Display
System
•
•
•
•
An ECDIS using official
RNC charts
Primary Navigation
system if area is not
covered by ENCs
Back-up substitution of
paper charts depends on
Flag State
If using non-official data,
ECDIS becomes an ECS
Legal aspects and requirements
What is the difference between ECS and ECDIS
ECS (Electronic Navigation System)
ECDIS (Electronic Chart Display and Information System)
• Electronic chart software
• Type-approved ECDIS software
• Unofficial charts (e.g. Transas TX-97)
• Official charts (ENC/SENC/ARCS*)
• Non-approved hardware
• Type-approved hardware
• can ONLY be used as AID to
• Approved installation
Navigation
• navigation needs to be conducted
on paper charts
CAN BE USED AS AN
AID TO NAVIGATION
• Chart corrections subscription
• The crew has been trained for
the usage
CAN BE USED FOR
PRIMARY NAVIGATION
Questions?