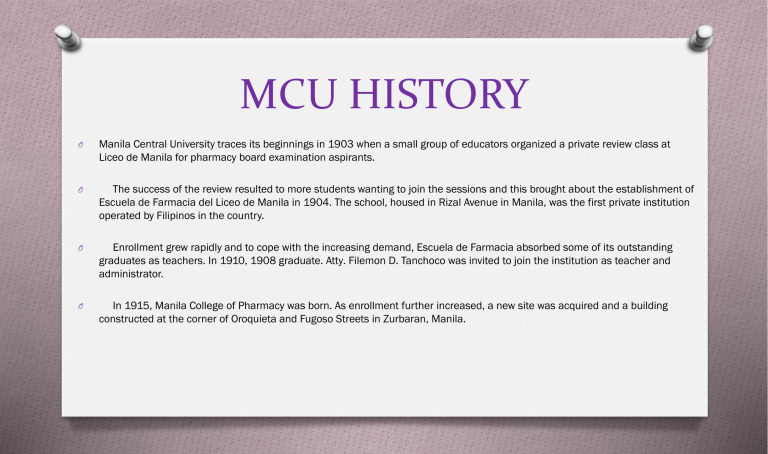 MCU HISTORY
O
Manila Central University traces its beginnings in 1903 when a small group of educators organized a private review class at
Liceo de Manila for pharmacy board examination aspirants.
O
The success of the review resulted to more students wanting to join the sessions and this brought about the establishment of
Escuela de Farmacia del Liceo de Manila in 1904. The school, housed in Rizal Avenue in Manila, was the first private institution
operated by Filipinos in the country.
O
Enrollment grew rapidly and to cope with the increasing demand, Escuela de Farmacia absorbed some of its outstanding
graduates as teachers. In 1910, 1908 graduate. Atty. Filemon D. Tanchoco was invited to join the institution as teacher and
administrator.
O
In 1915, Manila College of Pharmacy was born. As enrollment further increased, a new site was acquired and a building
constructed at the corner of Oroquieta and Fugoso Streets in Zurbaran, Manila.
O
The College was authorized to confer the degree of graduate Pharmacy and Doctor of Pharmacy by 1917. Then again, an
increasing enrollment led to the purchase of a lot at the corner of Mayhaligue and Felix Huertas Streets and the construction
of a new building in 1926.
O
The College of Dentistry was opened in 1929 and the school was renamed Manila College of Pharmacy and Dentistry.
High School classes started in 1940 at the three-story building in Mayhaligue.
O
The College operated remarkably until war shut it down in 1941. The school was ravaged during the Japanese occupation
to a point where only the bare structure of its buildings remained.
O
In 1945, mustering all their savings and energy, Atty. Tanchoco and his wife Purificacion Gallego Tanchoco reopened the
school. At that time, some of the original incorporators have passed away or moved on to other interests.
O
The following year, the school's Board of Trustees reorganized. Atty. Tanchoco became the chairman and the school was
renamed Manila Central Colleges. Mrs. Tanchoco also began actively participating in the school's management.
O
In addition to Pharmacy and Dentistry, the school at that time offered Liberal Arts, Education, Commerce, Business
Administration and Post Graduate courses in Pharmacy. In 1947, the College of Medicine opened.
O
The Tanchocos were at the forefront of the school's expeditious growth with Mrs. Tanchoco credited for spearheading the development of the
Medicine and Nursing programs. She led the construction of the MCU Hospital and acquisition of advanced equipment.
O
With a diversity of courses, Manila Central Colleges was granted a university status, thus becoming Manila Central University in 1948. Atty.
Tanchoco became the first MCU President.
O
A year later, MCU inaugurated its nearly 10-hectare campus in Caloocan. Expansion and development projects for the colleges continued to
meet the educational demands of the time.
O
Additional school buildings and support facilities were constructed in the 1960s. It was also during this time that the College of Optometry,
Medical Technology, Midwifery, High and Grade School and Kindergarten levels were opened.
O
Atty. Tanchoco dutifully served as president of the University until his passing in 1963. His wife, Mrs. Purificacion Gallego Tanchoco
succeeded him and was formally installed as the second president on October 23, 1964.
O
O
O
The doctoral programs were opened in 1992 and two years later, the College of Physical Therapy began.
Mrs. Tanchoco served as president until 1994 and was succeeded by Dr. Lualhati Tanchoco Gonzalez. Dr. Gonzalez continued her parents'
legacy and spearheaded MCU's growth.
In 1996, all the colleges, departments and facilities moved to the Caloocan campus.
O
On August 2003, the Department of Computer Studies was established. The same year, MCU was granted a deregulated status by the
Commission on Higher Education giving MCU the privilege to prescribe curricular programs to achieve global competence.
O
The year 2004 marked the centennial anniversary of MCU. The MCU administration saw the 100th year as an opportunity to undergo
organizational restructuring.
O
Dr. Aristotle T. Malabanan's appointment as the fourth president of MCU in 2009 coincides
with the institution's 105th anniversary. His academic and management prowess and firm
resolve to further develop MCU benefited all of its stakeholders especially the students, faculty
members and employees.
O
In 2015, a review of the MCU Vision, Mission, Institutional Philosophy and Values was
conducted.
O
On February 15, 2017, the MCU Board of Trustees led by its Chairperson, Mrs. Luningning T.
Estanislao, approved the revisions as recommended by MCU President, Dr. Aristotle T.
Malabanan.
O
On January 30, 2018, the MCU Board of Trustees elected Mrs. Luningning T. Estanislao as
President of MCU. Mrs. Estanislao will hold the positions of President and Chief Operating
Officer of MCU concurrent with her position as Chairman of the Board and Chief Executive
Officer.
O
In the same meeting, the MCU Board also elected Dr. Crisostomo T. Malabanan as a
Member of the Board of Trustees of MCU effective January 30, 2018.
VISION
Sustain the leadership of MCU / in health science
professional programs // through holistic education,
/ technology-based instruction and research //
responsive to the needs of the country, / region and
the growing global village.
Mission
Develop students to be well-rounded individuals /
more human, / more humane, / equipped with
adequate knowledge and skills, // and imbued with
desirable personal traits, / love of country and
sense of public service // and to enable them to
participate intelligently and actively / in community
and national development efforts, // through
competent instruction, / immersion, / research /
and quality assurance initiatives.
VALUES
Prudence
Perseverance
Resiliency
Integrity
Nurturing
Teamwork
INSTITUTIONAL PHILOSOPHY
As an institution of higher learning dedicated to academic excellence, MCU believes
that men and women
value what is good
search truth and knowledge and
strive to acquire a scientific mind and faculty of wise judgement.
Aligned to these convictions, MCU is committed to pursue relevant programs of
studies to develop men and women
to attain maturity in the ability to use scientific problem solving methods of inquiry
to deepen their aesthetic sensitivity;
to be committed and responsible participants in productive activities of society;
to select and live by noble standards of value governing the choices of conduct
to have personal considerateness and attitude towards their dealings in life; and
to value encounters beyond their material experiences and existence.
Prior to 1980's
To graduate men and women,
more human, more humane,
more intelligent, with adequate
skills and imbued with social
consciousness of such sensitivity
as to impel them to bring to bear
their knowledge in the
improvement of their
communities and the
development of the nation.
MISSION
Post 1980
Post 2000
To develop responsive leadership
in education, training, research
and community service in
various health sciences geared to
the development if high quality
health care and professional
services as well as development
of other basic sciences in support
of this mission.
As an educational institution,
we develop well-rounded
individuals through
competent instruction and
research in the acquisition of
desirable personal traits and
adequate knowledge and
skills that will enable them to
participate intelligently in
community and national
development efforts and
imbue them with love of
country and a sense of public
service.
2017
Develop students to be wellrounded individuals more human,
more humane, equipped with
adequate knowledge and skills, and
imbued with desirable personal traits,
love of country and sense of public
service and to enable them to
participate intelligently and actively
in community and national
development efforts, through
competent instruction, immersion,
and research and quality assurance
initiatives.
Explanation of the elements
Develop students to be well-rounded individuals, more human, and more
humane equipped with adequate knowledge and skills...
Well-rounded refers to awareness of the issues and concerns regarding the practice of
their professions as well as those of allied professions and are capable and willing to
adapt accordingly.
They are aware and have innate confidence in their capabilities.
Human and humane are the human qualities of having compassion, personal
considerateness and mutual respect towards others. It is maintaining harmonious
relations among the stakeholders of the university community through mutual
cooperation and understanding.
Explanation of the elements
…and imbued with desirable traits, love of country and sense of
public service, to enable them to participate intelligently and actively
in community and national development efforts
Through MCU education they will be able to select and live by noble standards of their
profession and humankind. Just like the founder FDT who expressed indebtedness to his
countrymen for his modest achievement and success as an educator, we, the people who
comprise the MCU community should also have that sense of gratitude for the graces
that we receive expressed through service,to improve the lives of others and country.
To be an active participant and not be passive in national and development efforts.
Instill in its student the true meaning of nationalism as opposed to super-nationalism
(makes the youth narrow-minded and intolerant)
Explanation of the elements
...through competent instruction, immersion, research and quality
assurance initiatives.
In developing the student the university shall help them toward maturity by providing an institutional climate that will foster
learning through:
goals and outcomes-based instruction (instruction);
foster social consciousness through socio-civic immersion (immersion);
pursuit of knowledge guided by principles and procedures for methodical recognition and formulation of a problem, collection of
data through observation and experimentation and the formulation and testing of hypotheses and ethical methods of inquiry in
conducting researches (research).
The university shall generally adhere to these guiding principles and practices:
hiring of competent (prudent) teachers, instructors, professors and administrators;
religious tolerance in order to develop among its students independent thinking and a well-balanced sense of morality;
"individual freedom" is not absolute and should also encompass regard for firm rules of correctness and maintaining legal and moral
restraint
VISION
Post 2000
2017
To sustain the leadership of MCU as
an educational institution in the
health science and professional
programs whose graduates are
exposed to holistic education and
technology-based instruction and
research and responsive to the needs
of the growing global village.
Sustain our leadership of MCU in health
science professional programs through
holistic education, technology-based
instruction and research responsive to
the needs of the country, region and the
growing global village.
Explanation of the elements
Sustain the leadership of MCU in health science and professional
programs
Why do we say, "sustain the leadership"? MCU having existed for more than a century, pioneered in many of its initiatives as an
institution in health science and professional programs. Among their achievements are as follows:
• MCU was the first School of Pharmacy established and run by Filipinos (1904)
• One of the oldest post-revolution schools of higher learning in the country
• Graduated the great majority of women pharmacists in the country
• The first women who graduated as professionals (pharmacists) were from MCU.
• First educational institution that offered Filipino women the opportunity to take professional careers
• Manila College of Pharmacy produced prominent pharmacists
• First Graduate School of Business Administration (1947-1948). One of its kind Concentrated in the field of scientific
management.
• Pioneered the establishment of one of the most unique and one of the best Graduate Pharmacy Laboratory in Southeast Asia as
cited by well-known publications Pharmacy International and American Journal of Pharmacy sometime in 1948.
• Newspapers gave due credit to College of Medicine for their "better" if not the "best" preparation and training of its graduates
in all aspects.
• Policy of "self-improvement" (resource improvement)
Explanation of the elements
…responsive to the needs of the country, region and the growing
global village.
Education that is relevant and responsive to the current and emerging
competency requirements of their professions in the country, region and
the world. Note that this last phrase emphasizes the order of priority the
institution shall respond to the said needs. That it should first respond to the
needs of the country before it considers external territories and boundaries.
PRUDENCE
V
a
l
u
e
s
Critical mental discernment and a keen practical sense of judgment when gathering, integrating and
evaluating pertinent information before executing a decision as well as managing one's activities.
•
•
•
•
•
•
•
•
•
Considers the pros and cons before making a decision
Check if proposed action satisfies the need
Consider the interests of the organization and the people who will be affected by the decision
Involve and inform the right people
Consider the short and long term impact
Consider alternatives and options
Render decisions that improve or resolve problems
Using knowledge to create understanding and enlightenment not to oppress and intimidate.
Consider potential problems as a consequence of a decision
PERSEVERANCE
V
a
l
u
e
s
Unwavering pursuit of excellence in people, processes and programs for the advancement and progress of the
institution.
•
Continuously seek ways to improve the present status
•
Consistency of results and quality of outputs
•
Rigorous monitoring and review
•
Going the "extra mile"
•
Working with and through people to achieve results
•
Taking pride in your work
•
Leading by example
•
Expanding the circle of influence
•
Understanding the performance standards and measures of the institution and complying with them
RESILIENCY
V
a
l
u
e
s
Ability to recognize, understand, and appropriately respond to challenges posed by constant and disruptive
changes in the institutional environment and develop appropriate and calibrated responses consistent with
the university's VMOS.
•
•
•
•
•
•
•
Adapts and gradually develops the relevant competency required in the course of changes in job
requirements, scope and levels. Can adjust from one job priority to another as required by internal
and external demands.
Listening and receptiveness to customer concerns as a key skill to continuous improvement.
Align responses towards overall improvement.
Deal effectively with diverse individuals and groups who have different cultural, social and
economic backgrounds
Unshaken by new or unexpected situations
Dealing appropriately, skillfully and promptly with new and difficult situations instead of readily
adjusting and adapting.
Ability to transcend traditional ideas, rules, patterns, relationships, and create meaningful new
ideas, forms, methods, interpretations, with originality, progressiveness, or imagination.
INTEGRITY
V
a
l
u
e
s
Adherence to moral and ethical principles and soundness of moral character. Trustworthy, honest and
demonstrates humility. Lives with honor at all times and demonstrates grit amidst deceit and dishonesty.
• Stand by your commitments
• Ability to make enlightened choices that sets clear parameters for what one will and will not do.
• Doing something for the greater good of the organization, or society, ahead of self-interest.
• "Belief that they can do what they claim can do (competence), they do what they say will do (character),
share information honestly and openly (communication)
• Concerned more about "what is right" rather than "who is right".
• Trustworthy and ability to discern and keep confidential information.
• A role model; truthful and honest in actions and behavior.
• Set high standards and don't compromise
• Holds oneself accountable for all his/her actions
• Full, accurate information in reports
• Values others, their time, money and efforts
• Maintain social, ethical and organizational norms in job-related activities
• Personal accountability for his/her work and responsibility
NURTURING
V
a
l
u
e
s
Foster an environment of care and attention that will enable people to grow, develop
and acquire desirable human traits.
• Sensitivity towards the needs of others
• Always seek for understanding when faced with conflict, disagreements and
difficult situations during people interaction.
• Receptive to novel ideas and thinking to the extent that it will not compromise
institutional standards and human morals.
• Motivate and encourage others to achieve and go beyond their "existing" selves.
• Always pursue human learning and development.
• Accommodating, willingly and patiently shares knowledge and experience
during learning situations.
TEAMWORK
V
a
l
u
e
s
Cooperative or coordinated effort to work efficiently and to be mutually responsible in producing an output in
response to a common goal or shared priority. The output of which is greater than the sum of the individual
inputs.
• Consistently propose and build on ideas; proactively seeks and shares information; listens with heart and
mind; always test for understanding; use constructive disagreement and fruitful friction to avoid
groupthink, conformity and compromise.
• Inclusiveness
• Mutual respect
• Ability to build and mend relationships through management ofpeople and their perceptions of how
they are being treated.
• Acknowledge the importance of diversity in opinions and ideas as a means to enrich the perspectives of
an issue or a problem.
• Voice personal opinions tactfully
• Show a win-win state of mind and a willingness to arrive at a mutually beneficial compromise.
• Promotes harmony to maximize the output of the team, through encouragement, rotating leadership as
conditions change, and sacrificing personally to provide help unconditionally to team members
experiencing difficulty.
TEAMWORK
V
a
l
u
e
s
• Show respect for each other, to prove no single person thinks he or she has all the answers, and to
minimize the promotion of self-interests
• Cooperation/collaboration with a strong focus on results
• Invest emotionally by caring for and about each other as human beings, by being both teachers and
leaders, by "having each other's backs".
• Getting things done through people or involving others, building consensus and influencing, as opposed
to coercing, others when deliberating on a decision.
• Share knowledge, resources, etc., to reach common goals, without being asked
• Work toward solutions, not more problems
• Disclose specific sources of information when stating an opinion
MISSION
Develop students to be well-rounded
individuals who are more human, more
humane, equipped with adequate
knowledge and skills, and imbued with
desirable personal traits, love of country
and sense of public service and enable
them to participate intelligently and actively
in community and national development
efforts through competent instruction,
immersion, research and
quality assurance
assurance initiatives
initiatives.
quality
ISO
COE/
COD
Accredita
tion
ISA
2017-2021
ISO 9001:2015
ISA
AUTONOMOUS
UNIVERSITY
CENTER OF
EXCELLENCE
PACUCOA
PAASCU
Accreditations
What is accreditation?
O Accreditation ensures a basic level of quality in the
education you receive from an institution.
O It also ensures your degrees will be recognized for
the true achievements they are.
O It is the job of an accreditation organization to
review colleges, universities, and other institutions
of higher education to guarantee quality and
improvement efforts.
Why accreditation matters to:
Students:
- Accreditation ensures that the
university is continuously
reviewed and meets nationally
endorsed standards
Programs and institutions
- The university is eligible to
participate in government
assistance programs
Industry, Government & the World
- Verifies that the educational
experience meets the standard
BS Biology
BS Psychology
Level III Requirements
Philosophy and Objectives
2. Faculty
3. Instruction
4. Laboratory
5. Research
6. Library
7. Student Services
8. Physical Plant
9. Community
10. Organization and Administration
1.
Board Exam
Level
Average Board
Passing Percentage
vs the National
Passing Average
No of years to
compute
Candidate Status
60%
3 years
Level I Accredited
Status
75%
3 years
Level II Reaccredited
Status
90%
4 years
Level III Reaccredited
Status
100%
5 years
Benefits
O
O
O
O
O
O
O
full administrative deregulation
financial deregulation in terms of setting of tuition and other fees and
charges;
authority to revise the curriculum without CHED approval provided that
CHED and PRC minimum requirements and guidelines are complied with;
and;
authority to graduate students without prior approval of CHED for special
order;
priority in the awards of grants/subsidies or funding assistance from CHED.
authority to offer new courses allied to existing level III courses without need
for prior approval; and
privilege to offer new graduate programs, open learning/distance education;
and privilege to offer extension classes and to participate in transnational
education.
Quality Assurance:
all those planned or systematic actions necessary to
provide adequate confidence that a product or service
will satisfy given needs
Making sure that Quality is what it should be
QUALITY POLICY
MCU is committed to produce competent
and dedicated professionals imbued with
the university core values as stated in its
program educational objectives and
desired student outcomes by research for
continual improvement.
THE DIRECTIONS AS REGARDS TO QA
Responsibility of the MCU Community
O Shared values and commitments of all communities involved
(academics, administrative and support staff, students, parents,
stakeholders)
O Protection and improvement of the quality of the educational offered
O Internal quality assurance mechanisms
O Fair information to public
Quality is not any single thing but an aura,
an atmosphere,
An overpowering feeling that
MCU IS DOING
EVERYTHING WITH EXCELLENCE
Q
WELCOME TO
THE MCU
FAMILY!