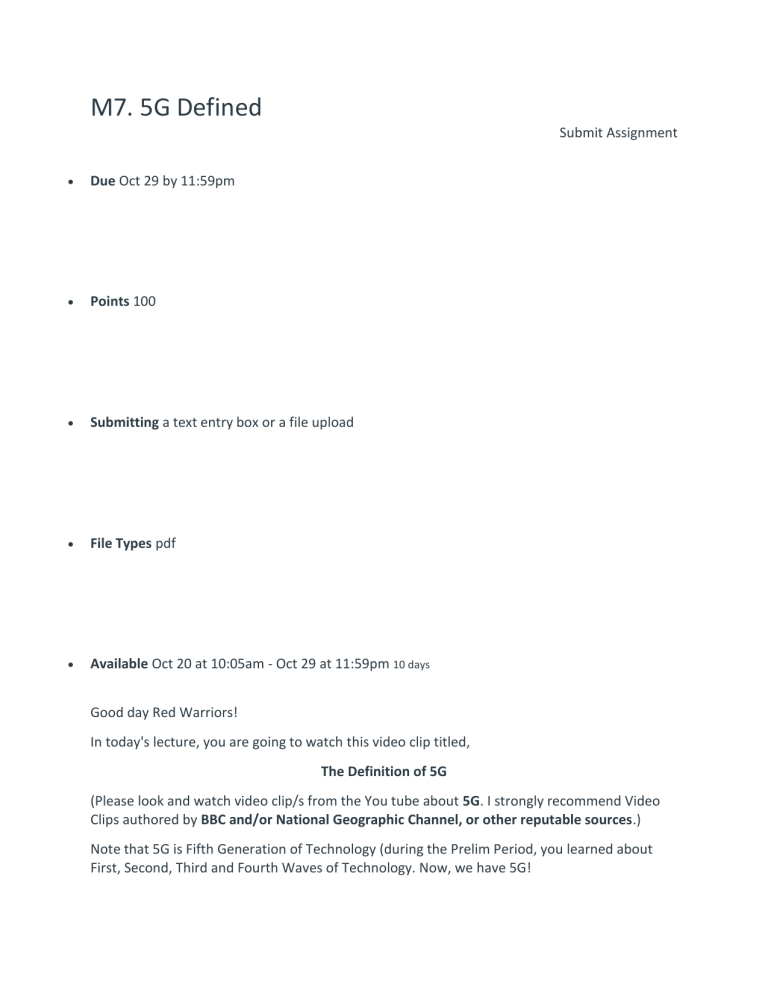 M7. 5G Defined
Submit Assignment

Due Oct 29 by 11:59pm

Points 100

Submitting a text entry box or a file upload

File Types pdf

Available Oct 20 at 10:05am - Oct 29 at 11:59pm 10 days
Good day Red Warriors!
In today's lecture, you are going to watch this video clip titled,
The Definition of 5G
(Please look and watch video clip/s from the You tube about 5G. I strongly recommend Video
Clips authored by BBC and/or National Geographic Channel, or other reputable sources.)
Note that 5G is Fifth Generation of Technology (during the Prelim Period, you learned about
First, Second, Third and Fourth Waves of Technology. Now, we have 5G!
INFORMATION TECHNOLOGY: PHILIPPINES IN FOCUS
In this graded activity, you are going to write a Newspaper Editorial titled,
"The Status of INTERNET in the Philippines"
Kindly apply this format:
Read the mechanics (elements) of writing a newspaper editorial.
Include visuals/Images/caricature
Rubrics:
Richness of Content:
Editorial Style/Type:
30 pts.
30 pts.
Punctuality and Single Submission: 15 pts.
References:
15 pts.