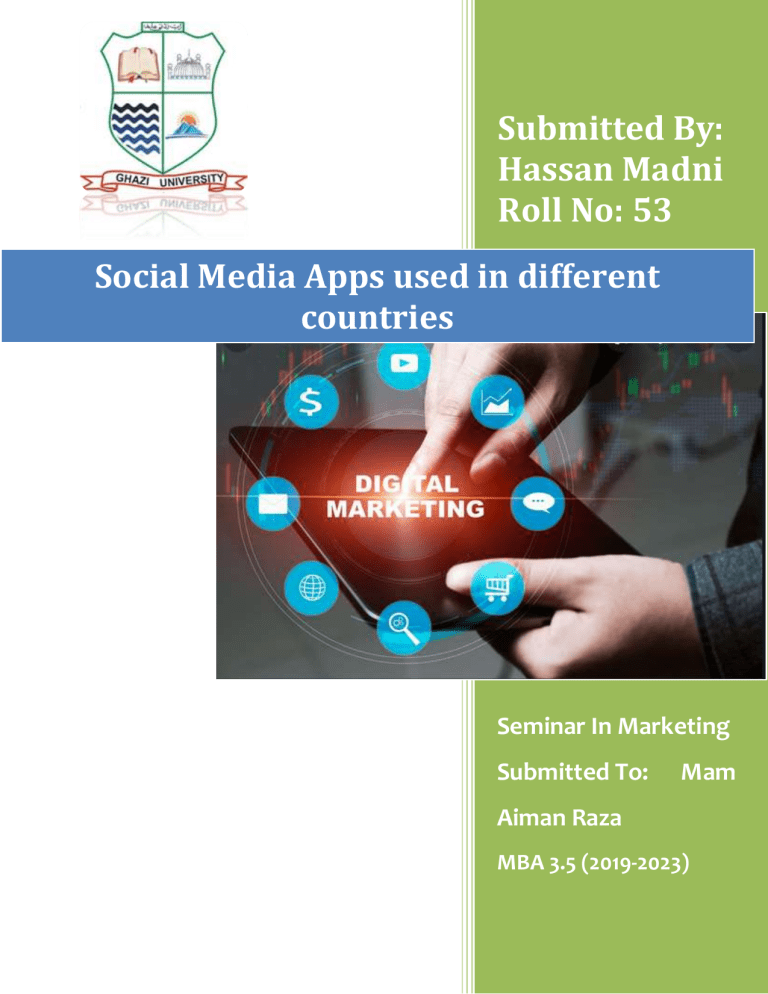 Submitted By:
Hassan Madni
Roll No: 53
Social Media Apps used in different
countries
Seminar In Marketing
Submitted To:
Mam
Aiman Raza
MBA 3.5 (2019-2023)
Social Apps used in Malaysia
Lamour, the most effective dating app ever. Meet, match, video call random
people from anywhere & everywhere. Chat with strangers from all across the
world with our powerful features. You will meet your next crush, love, date or
partner much faster only on Lamour.
CuteU is the only Real-time video matching app where you can video match
and chat at the same time. Video match with real verified people through live
video.
【Get
only
what
you
want】
Match only with your preferred gender, if you like girls match with girls or if you like guys match with guys.
Fenix brings you a fresh and modern Twitter experience!
Tired of the same old Twitter apps? Give Fenix a try and you won't go back!
✓
Support
for
multiple
accounts
✓ Fully customizable main screen, where your lists and saved searches can be
just
a
swipe
away
✓ Beautiful images and videos previews, with support for external websites like YouTube, Instagram, Vine and
Flicker
✓
Gorgeous
conversations
layout
✓
Mute
system
for
noisy
or
unwanted
users,
hash
tags
or
keywords
✓ Choose from a selection of beautiful light or dark themes.
Social Apps used in Italy
Way too bored and wanna have some fun?! Welcome to Who App – the greatest
online video community so far! Match with new people around the world. So yeah,
don't
be
shy;
just
start
calling,
and
no
more
boredom!
Why WHO? – It's so simple and fun, better than webcam! Just tap, match and
voila! You're now ready to video chat with real people. Take it easy, no stress! If
you don't wanna miss out just keep the conversations going otherwise, just skip to
the
next
person.
Master
is the
best analytics tool for Instagram
influencer.
Do
you
want
to
know
who
viewed
your
Insta
profile?
Are
you
curious
about
who
doesn't
follow
you
back?
InsMaster is the most accurate analyzer, whether you want to know who likes
your
stories
or
unfollow
those
who
don't
engage.
Get the answers you're seeking about your profile activity. Get all the data in one
place and find out how popular you are.
Say "Hi" to HOLLA, the best live random video chat social app of 2021 --- live &
instant video chat and video call with random people from all over the world!
With more than 30 million users from 190 countries around the world, you can
meet new people from multiple cultures, all through the unique experience of
free live random video chat and video call.
Here You'll Enjoy:- Free live video chat - Free live voice chat - Free text chat - 1-on-1 direct video call - Select the region
and gender you like - Safe community - Meet new people all over the world.
Social Apps used in Turkey
Start meeting new people and making friends in OmeTV video chat. Connect
with over 1 million mobile users and over 100,000 website visitors chatting
online
day
and
night!
Features:
● Easy to use cam to cam chat: swipe and chat with a real person
● You still can use text chatting if your phone's camera isn't working or you
have
low
internet
speed
● Free and easy to use: no membership fees, no registration. We respect your privacy
● Hundreds of thousands of users all around the world: you will always find someone interesting to talk to
● Safe and secure: system monitors chat rules violations automatically; also, moderators are available 24/7 to provide
fast reaction to users' complaints.
can
easily
With Ghostegro, you can view all accounts. You can find out who looked at
your profile and you can hide your profile to them. You can watch Instagram
stories anonymously and save them easily. You can download the photos and
videos to your phone, use and watch them whenever you want. With its secure
technology infrastructure of Ghostegro App, you can use it smoothly and
safely. After connecting to the application with your Instagram account, you
enjoy
all
the
functions.
Chat and hangout with people nearby who are online NOW! Have fun, make
new
friends,
play
games
and
more,
all
100%
FREE.
• NEW! Watch live streams from people nearby or around the world, or start
your
own
and
earn
real
money!
• Chat rooms with 1000's of real people online NOW - public, private and
group
chats,
including
video
calls
and
voice
messages.
• Meet people nearby or around the world and make new friends. Search by age, gender, location, and sexual
preference
including
gays
and
lesbians
and
more.
Moco is the largest social network of African Americans and Hispanics / Latinos in the world.
Social apps used in Macao
Litmatch is about meeting up new friends and having fun, where leads you for a new
friendship
by
providing
diverse
communication
tools.
Litmatch is a safe and warm community where you can share your honest thoughts
and feelings. You can always encounter cool and interesting people in Litmatch. People here can experience emotional
communication comfortably through different online interactive features. Most of our users have become actual friends
by
taking
initiative
first
moves
inspired
by
Litmatch's
amazing
features.
Meet new friends in Litmatch empowers your encounter with a new friend with a diverse communication platform.
Meet,
Chat,
and
Go
Live
on
MeetMe!
MeetMe helps you find new people nearby who share your interests and
want
to
chat
NOW!
It's
fun,
friendly,
and
free!
Join 100+ MILLION PEOPLE video chatting, messaging, streaming, and
making
new
friends
every
day!
So
what
are
you
waiting
for?
Download
the
best
app
for
meeting
new
people!
On MeetMe you can - Video chat with local people - Chat with new people near you and around the world
- Livestream and feel the love.
Keeping up with Ladies, Tablers, and members of 41 international is now
faster and easier than ever. Access contact information, browse
associations and areas, and stay connected with clubs important to you.
Features
on
the
ROUND
TABLE
Family.APP
include
* World-wide and cross-family members' directory, and -search
*
World-wide
and
cross-family
club
directory
*
Favorite
your
friends,
and
keep
your
phone
book
up-to
date
*
Never
miss
a
birthday
again,
we'll
notify
you
* Get connected! Nearby Members in your own family shows other members around you, that are willing to share their
location.
Social apps used in New Zealand
Whatslive - a live chat and a popular live video chat app where you will
have
a
funny
time.??
Over 10 million interesting women and men are logged in to Whatslive,
chatting, making new friends, and finding their perfect match!
Whatslive is the most exciting way of meeting new people and expanding
your social circle. You may have free live video chat with strangers around the world.
Privacy
made
easy
with
Wicker
Me.
With Wicker Me, you can instantly connect with your friends 1:1 or in
groups - now with fully encrypted voice calling, voice memos - new
additions to the trusted end-to-end secure sharing of files, images, and
videos. Take full control over who has access to your content and how
long
it
remains
accessible.