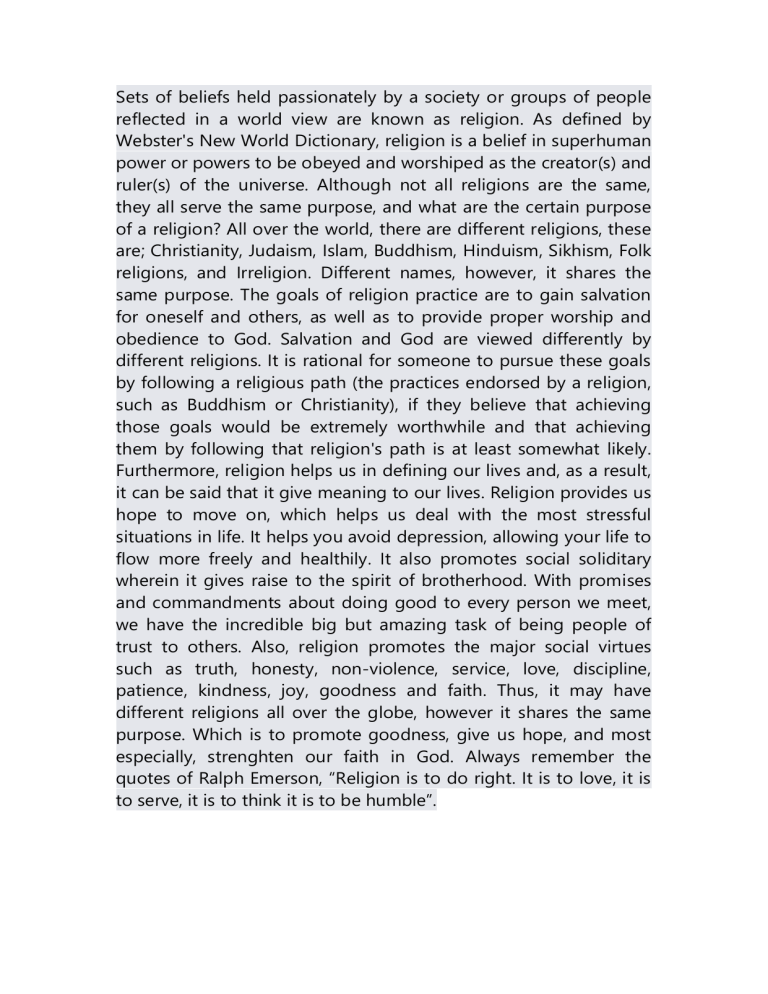 Sets of beliefs held passionately by a society or groups of people
reflected in a world view are known as religion. As defined by
Webster's New World Dictionary, religion is a belief in superhuman
power or powers to be obeyed and worshiped as the creator(s) and
ruler(s) of the universe. Although not all religions are the same,
they all serve the same purpose, and what are the certain purpose
of a religion? All over the world, there are different religions, these
are; Christianity, Judaism, Islam, Buddhism, Hinduism, Sikhism, Folk
religions, and Irreligion. Different names, however, it shares the
same purpose. The goals of religion practice are to gain salvation
for oneself and others, as well as to provide proper worship and
obedience to God. Salvation and God are viewed differently by
different religions. It is rational for someone to pursue these goals
by following a religious path (the practices endorsed by a religion,
such as Buddhism or Christianity), if they believe that achieving
those goals would be extremely worthwhile and that achieving
them by following that religion's path is at least somewhat likely.
Furthermore, religion helps us in defining our lives and, as a result,
it can be said that it give meaning to our lives. Religion provides us
hope to move on, which helps us deal with the most stressful
situations in life. It helps you avoid depression, allowing your life to
flow more freely and healthily. It also promotes social soliditary
wherein it gives raise to the spirit of brotherhood. With promises
and commandments about doing good to every person we meet,
we have the incredible big but amazing task of being people of
trust to others. Also, religion promotes the major social virtues
such as truth, honesty, non-violence, service, love, discipline,
patience, kindness, joy, goodness and faith. Thus, it may have
different religions all over the globe, however it shares the same
purpose. Which is to promote goodness, give us hope, and most
especially, strenghten our faith in God. Always remember the
quotes of Ralph Emerson, "Religion is to do right. It is to love, it is
to serve, it is to think it is to be humble".