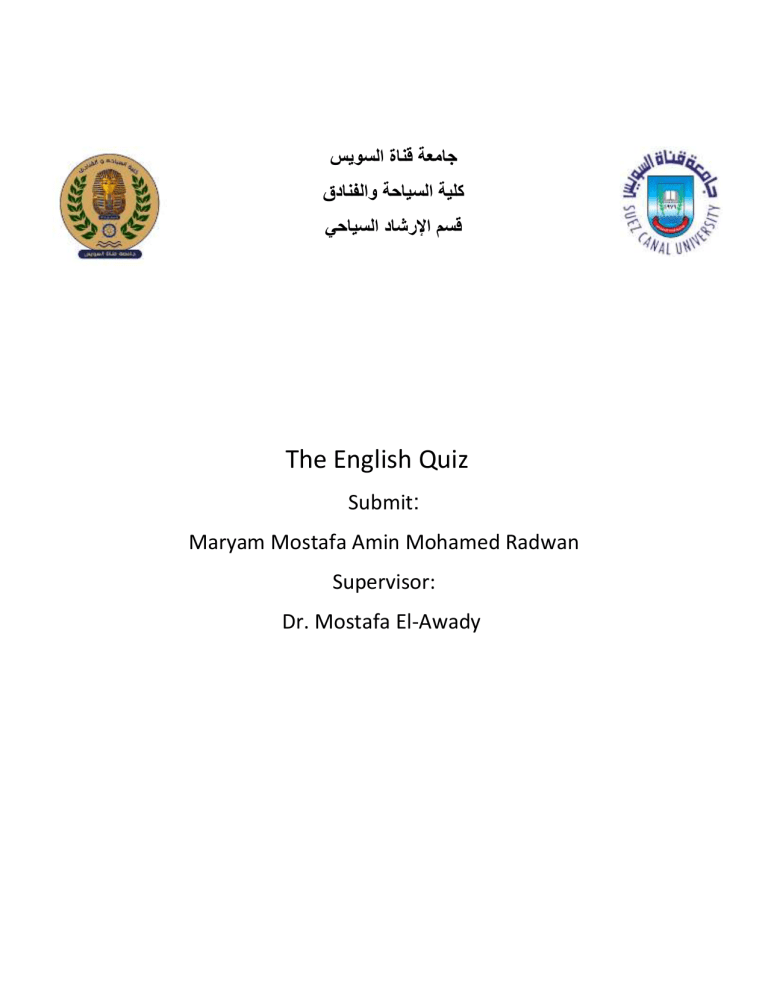 ‫جامعة قناة السويس‬
‫كلية السياحة والفنادق‬
‫قسم اإلرشاد السياحي‬
The English Quiz
Submit:
Maryam Mostafa Amin Mohamed Radwan
Supervisor:
Dr. Mostafa El-Awady
1-The General English Quiz
Question A:
1-b
2-b
3-a
Question B:
9-T
10-T
2-Basic book
My favorite tourist destination
South of Korea is from my favorite destinations this
country contains many activities for people as tourists
and each city has different activities than the others. Soul
is an astonishing mix of ancient and modern, evident in
its modern skyscrapers and sparkling neon lights that
stand side by side with Buddhist temples, structures and
palaces. Indulge your senses completely by admiring its
stunning views and sights from the top of the N Seoul
Tower, which is constructed on top of one of the peaks in
Namsan Park. The cafes and shops of Insadong will give
you a taste of Korean, which you can also enjoy by
visiting the courtyards and museums of Gyeongbokgung
Palace. Changdeokgung Palace, a UNESCO World
Heritage Site, is a fine example of authentic ancient
architecture. Soul was just an example there is many
cities in south of Korea and all of them is wonderful.