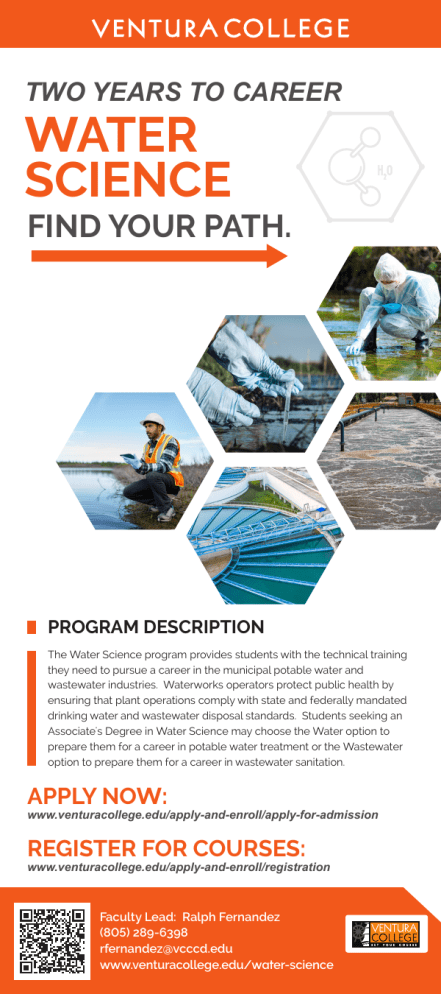 TWO YEARS TO CAREER
WATER
SCIENCE
FIND YOUR PATH.
PROGRAM DESCRIPTION
The Water Science program provides students with the technical training
they need to pursue a career in the municipal potable water and
wastewater industries. Waterworks operators protect public health by
ensuring that plant operations comply with state and federally mandated
drinking water and wastewater disposal standards. Students seeking an
Associate's Degree in Water Science may choose the Water option to
prepare them for a career in potable water treatment or the Wastewater
option to prepare them for a career in wastewater sanitation.
APPLY NOW:
www.venturacollege.edu/apply-and-enroll/apply-for-admission
REGISTER FOR COURSES:
www.venturacollege.edu/apply-and-enroll/registration
Faculty Lead: Ralph Fernandez
(805) 289-6398
rfernandez@vcccd.edu
www.venturacollege.edu/water-science
RA COLL
E
E
VE
TU
G
N
W
A
REQUIRED COURSES
E
H 2O
REQUIRED COURSES FOR A.S. DEGREE &
CERTIFICATE OF ACHIEVEMENT IN
WATER SCIENCE
TE
R S CIE N
C
UNITS
WS V15
Water System Instrumentation & Controls
WS V16
Water Quality Protection &
3
Cross-Connection Control
3
WS V17
Water & Wastewater Hydraulics
3
WS V18
Motors & Pumps Maintenance & Operation
3
WS V21
Water Chemistry & Bacteriology
4
WS V25
Water & Wastewater Management
3
REQUIRED ADDITIONAL COURSES
UNITS
Select one (1) of the following options & complete all courses listed:
WASTERWATER OPTION:
WS V10
Basic Water & Wasterwater Systems
3
WS V12
Wastewater Treatment
3
WS V13
Wastewater Collection
3
WS V11
Water Treatment
3
WS V14
Water Distribution
3
WS V19
Advanced Water Treatment
3
WATER OPTION:
TOTAL 28
Award Title
Type
GE Units
Major Units
Water Science
A.S.
32
28
Water Science
C
28
*At least 60 degree-applicable units are required to earn A.S. Degree
WORK-BASED EXPERIENCES
Ventura College offers students the opportunity to apply their skills while
still in college, gain on-the-job experience, and "try out" a career before
graduation through internships or work-based learning experiences.
Courses are $46 per unit.
Ventura College participates in an array of federal and state financial aid
programs including the Ventura College (VC) Promise, grants, loans and
work-study. Contact the Financial Aid Office at (805) 289-6369 or
vcfinancialaid@vcccd.edu.
The Ventura College Foundation provides additional scholarships and
textbook lending support. Contact the Ventura College Foundation at (805)
289-6461 or vcfoundation@vcccd.edu / vcgiving.org for more information.
Planned schedule of courses may be subject to change.