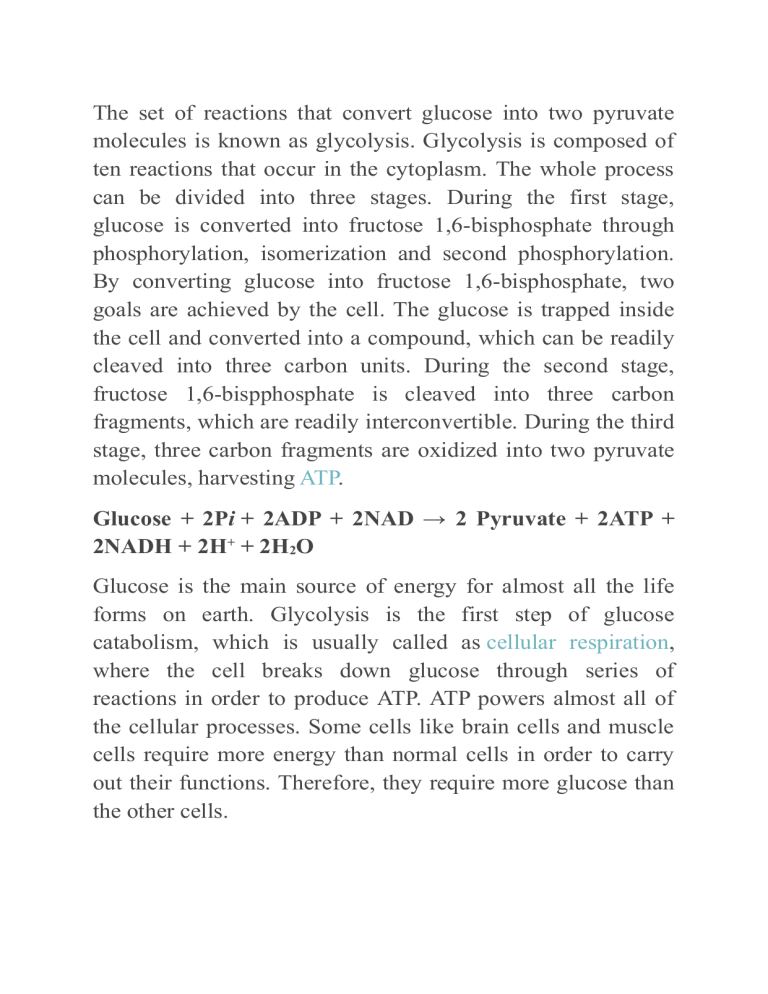 The set of reactions that convert glucose into two pyruvate
molecules is known as glycolysis. Glycolysis is composed of
ten reactions that occur in the cytoplasm. The whole process
can be divided into three stages. During the first stage,
glucose is converted into fructose 1,6-bisphosphate through
phosphorylation, isomerization and second phosphorylation.
By converting glucose into fructose 1,6-bisphosphate, two
goals are achieved by the cell. The glucose is trapped inside
the cell and converted into a compound, which can be readily
cleaved into three carbon units. During the second stage,
fructose 1,6-bispphosphate is cleaved into three carbon
fragments, which are readily interconvertible. During the third
stage, three carbon fragments are oxidized into two pyruvate
molecules, harvesting ATP.
Glucose + 2Pi + 2ADP + 2NAD → 2 Pyruvate + 2ATP +
2NADH + 2H+ + 2H2O
Glucose is the main source of energy for almost all the life
forms on earth. Glycolysis is the first step of glucose
catabolism, which is usually called as cellular respiration,
where the cell breaks down glucose through series of
reactions in order to produce ATP. ATP powers almost all of
the cellular processes. Some cells like brain cells and muscle
cells require more energy than normal cells in order to carry
out their functions. Therefore, they require more glucose than
the other cells.