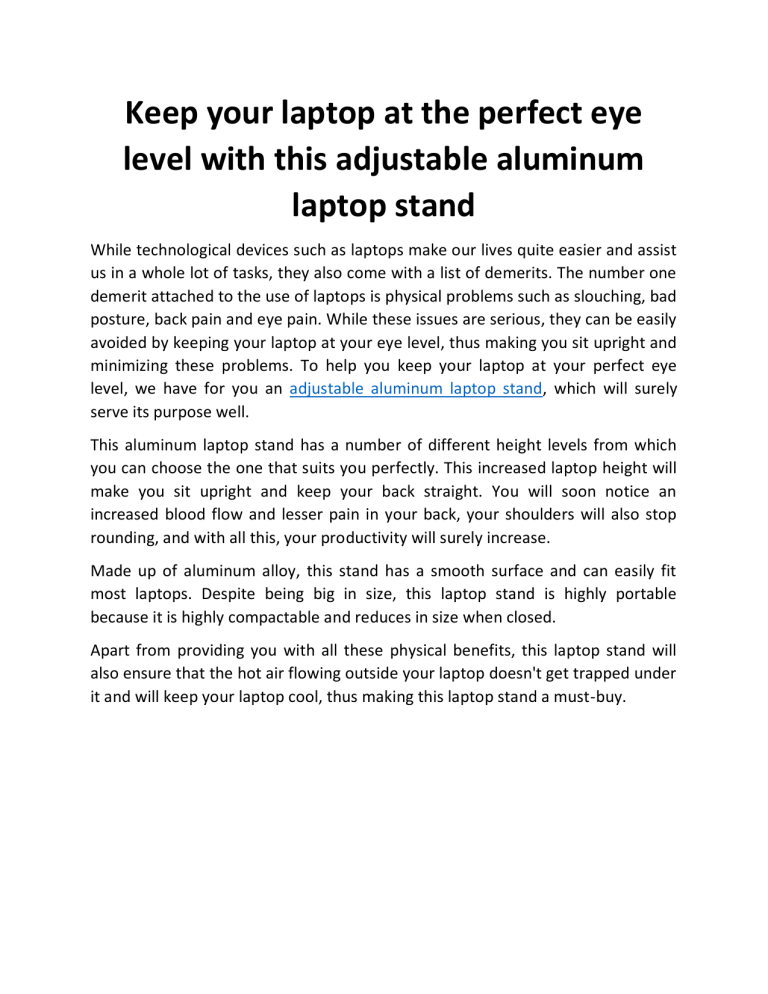 Keep your laptop at the perfect eye
level with this adjustable aluminum
laptop stand
While technological devices such as laptops make our lives quite easier and assist
us in a whole lot of tasks, they also come with a list of demerits. The number one
demerit attached to the use of laptops is physical problems such as slouching, bad
posture, back pain and eye pain. While these issues are serious, they can be easily
avoided by keeping your laptop at your eye level, thus making you sit upright and
minimizing these problems. To help you keep your laptop at your perfect eye
level, we have for you an adjustable aluminum laptop stand, which will surely
serve its purpose well.
This aluminum laptop stand has a number of different height levels from which
you can choose the one that suits you perfectly. This increased laptop height will
make you sit upright and keep your back straight. You will soon notice an
increased blood flow and lesser pain in your back, your shoulders will also stop
rounding, and with all this, your productivity will surely increase.
Made up of aluminum alloy, this stand has a smooth surface and can easily fit
most laptops. Despite being big in size, this laptop stand is highly portable
because it is highly compactable and reduces in size when closed.
Apart from providing you with all these physical benefits, this laptop stand will
also ensure that the hot air flowing outside your laptop doesn't get trapped under
it and will keep your laptop cool, thus making this laptop stand a must-buy.