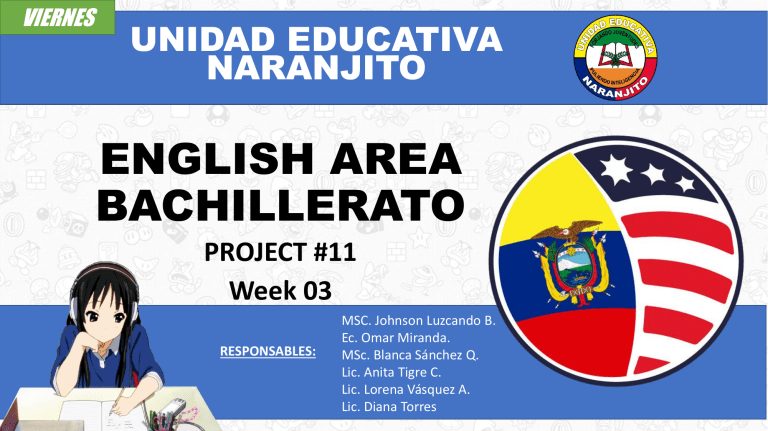 VIERNES
UNIDAD EDUCATIVA
NARANJITO
ENGLISH AREA
BACHILLERATO
PROJECT #11
Week 03
RESPONSABLES:
MSC. Johnson Luzcando B.
Ec. Omar Miranda.
MSc. Blanca Sánchez Q.
Lic. Anita Tigre C.
Lic. Lorena Vásquez A.
Lic. Diana Torres
WISHES ABOUT THE PRESENT
We talk about imaginary situations in present or future.
WISH + PAST SIMPLE
WISH+PAST CONTINUOUS
WISH+ COULD + INF
1. I wish I had a car.
2. I wish it weren't raining
3. I wish I could help you.
I AM NOT VERY TALL.
………………
I WISH
I WISH I WAS TALL
I can't speak English fluently.
I wish ……….
I wish I could speak fluent english
My nose is very big
I WISH MY NOSE WAS
SMALL
My hair is not blonde.
I WISH MY HAIR WAS BLONDE
Wishes that express our annoyance. We hope that
attitude will change in the future
• WISH + WOULD + INF
1. I wish he would stop talking about his new car
2. I wish he would stop calling me at night.
BUT!!! If we talk about ourselves we don't use WOULD!
1. I wish I had a job.
My boss yells at me.
I wish he….
My husband smokes. I want him to give up.
ACTIVITY
TRANSFORM THE FOLLOWING SENTENCES:
1.- I lent John my tennis racket and he broke
it
I wish ...
2.- He is always breaking my things
I wish ...
3.- Tom can't speak French
He wishes ...
4.- I don't like the town where I live
I wish ...
5.- Her husband never eats what she cooks
She wishes ...
6.- I got sunburnt because I didn't use
sun cream
I wish ...
7.- Mary's wedding was a disaster because it
rained torrentially
She wished ...
8.- The plane was delayed because there was a
strike at the airport
I wished ...
Save your activities in your " caja portafolio"
Si tienes dudas, consulta a tu Teacher
YOU CAN DO IT!!