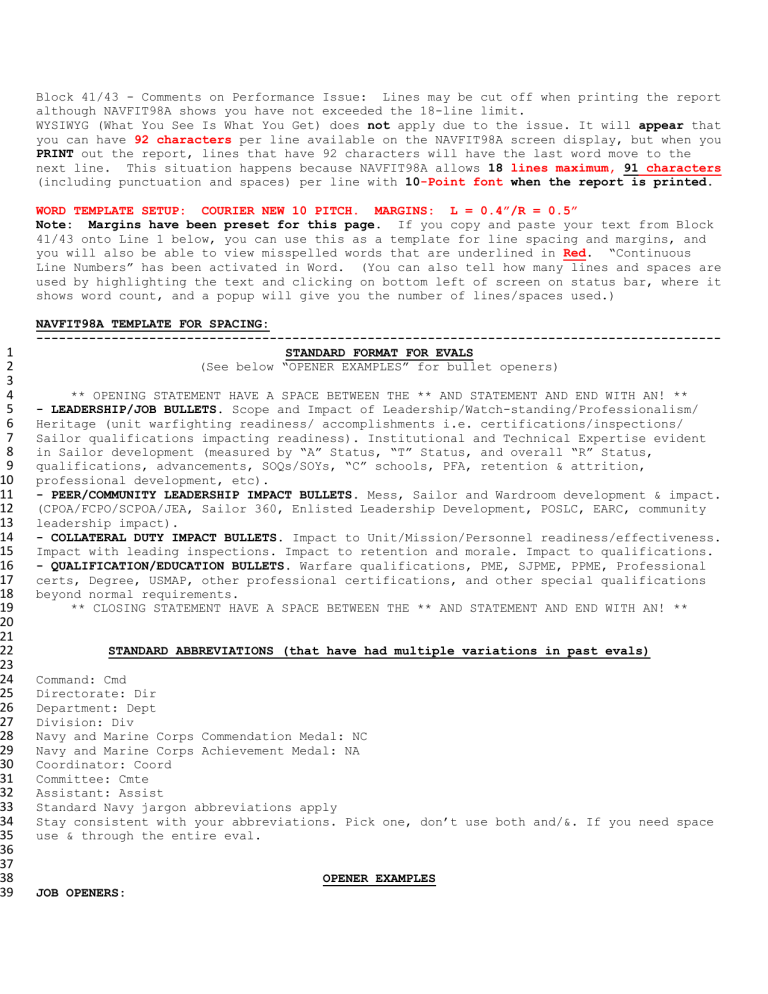 1
2
3
4
5
6
7
8
9
10
11
12
13
14
15
16
17
18
19
20
21
22
23
24
25
26
27
28
29
30
31
32
33
34
35
36
37
38
39
Block 41/43 - Comments on Performance Issue: Lines may be cut off when printing the report
although NAVFIT98A shows you have not exceeded the 18-line limit.
WYSIWYG (What You See Is What You Get) does not apply due to the issue. It will appear that
you can have 92 characters per line available on the NAVFIT98A screen display, but when you
PRINT out the report, lines that have 92 characters will have the last word move to the
next line. This situation happens because NAVFIT98A allows 18 lines maximum, 91 characters
(including punctuation and spaces) per line with 10-Point font when the report is printed.
WORD TEMPLATE SETUP: COURIER NEW 10 PITCH. MARGINS: L = 0.4"/R = 0.5"
Note: Margins have been preset for this page. If you copy and paste your text from Block
41/43 onto Line 1 below, you can use this as a template for line spacing and margins, and
you will also be able to view misspelled words that are underlined in Red. "Continuous
Line Numbers" has been activated in Word. (You can also tell how many lines and spaces are
used by highlighting the text and clicking on bottom left of screen on status bar, where it
shows word count, and a popup will give you the number of lines/spaces used.)
NAVFIT98A TEMPLATE FOR SPACING:
------------------------------------------------------------------------------------------STANDARD FORMAT FOR EVALS
(See below "OPENER EXAMPLES" for bullet openers)
** OPENING STATEMENT HAVE A SPACE BETWEEN THE ** AND STATEMENT AND END WITH AN! **
- LEADERSHIP/JOB BULLETS. Scope and Impact of Leadership/Watch-standing/Professionalism/
Heritage (unit warfighting readiness/ accomplishments i.e. certifications/inspections/
Sailor qualifications impacting readiness). Institutional and Technical Expertise evident
in Sailor development (measured by "A" Status, "T" Status, and overall "R" Status,
qualifications, advancements, SOQs/SOYs, "C" schools, PFA, retention & attrition,
professional development, etc).
- PEER/COMMUNITY LEADERSHIP IMPACT BULLETS. Mess, Sailor and Wardroom development & impact.
(CPOA/FCPO/SCPOA/JEA, Sailor 360, Enlisted Leadership Development, POSLC, EARC, community
leadership impact).
- COLLATERAL DUTY IMPACT BULLETS. Impact to Unit/Mission/Personnel readiness/effectiveness.
Impact with leading inspections. Impact to retention and morale. Impact to qualifications.
- QUALIFICATION/EDUCATION BULLETS. Warfare qualifications, PME, SJPME, PPME, Professional
certs, Degree, USMAP, other professional certifications, and other special qualifications
beyond normal requirements.
** CLOSING STATEMENT HAVE A SPACE BETWEEN THE ** AND STATEMENT AND END WITH AN! **
STANDARD ABBREVIATIONS (that have had multiple variations in past evals)
Command: Cmd
Directorate: Dir
Department: Dept
Division: Div
Navy and Marine Corps Commendation Medal: NC
Navy and Marine Corps Achievement Medal: NA
Coordinator: Coord
Committee: Cmte
Assistant: Assist
Standard Navy jargon abbreviations apply
Stay consistent with your abbreviations. Pick one, don't use both and/&. If you need space
use & through the entire eval.
OPENER EXAMPLES
JOB OPENERS:
40
41
42
43
44
45
46
47
48
49
50
51
52
53
54
55
56
57
58
59
60
61
62
63
64
65
66
67
68
69
70
71
72
73
74
75
76
77
78
79
80
81
82
83
84
85
86
87
88
89
90
91
92
93
94
95
96
97
98
-
EXCELLENT ADMINISTRATOR. - TECHNICAL EXPERT. - COMMAND LEVEL LEADERSHIP.
ASSERTIVE MANAGER. - DECISIVE AND FORWARD-THINKER. - LEADER OF LEADERS. - GIFTED MANAGER.
METICULOUS MANAGER. - EXCEPTIONAL MANAGER. - METICULOUS ADMINISTRATOR.
MISSION ORIENTED. - EXCEPTIONAL ADMINISTRATOR. - RESOUNDING INITIATIVE.
LEADERSHIP OPENERS:
- DECK-PLATE LEADER. - DECKPLATE MENTOR. - PROACTIVE LEADER. - PROACTIVE MENTOR.
- GIFTED LEADER. - EXCEPTIONAL LEADER. - PERSONIFIES DECKPLATE LEADER. - ASTOUNDING MENTOR.
- DEDICATED LEADER.
COLLATERAL DUTY OPENERS:
- RESOUNDING INITIATIVE. - VITAL SPECIAL ASSISTANT. - CMD WIDE IMPACT. - CMD IMPACT.
- EXTRAORDINARY PROGRAM MANAGER. - TRUSTED ASSISTANT. - HIGHEST COMMAND CONFIDENCE.
- EXCEPTIONAL ADMINISTRATIVE ACUMEN. - EXCEPTIONAL PROGRAM MANAGER.
- COMMITTED TO EXCELLENCE.
PEER LEADERSHIP OPENERS:
- DEDICATED TO THE (CPO/FCPOA/JEA/POA) MESS AND COMMUNITY. - LEADER IN MY ### MEMBER
(CPO/FCPOA/JEA/POA) MESS. - ENGAGED IN MY ### MEMBER (CPO/FCPOA/JEA/POA) MESS.
- ADMIRED WITHIN THIS ### (CPO/FCPOA/JEA/POA) MESS. - LEADS MY (CPO/FCPOA/JEA/POA) MESS.
- LEADER IN MY (CPO/FCPOA/JEA/POA) MESS.
COMMUNITY SERVICE OPENERS:
- CIVIC MINDED. - DEDICATED TO COMMUNITY RELATIONS. - SENSE OF HERITAGE. - NAVY AMBASSADOR.
QUALIFICATION/EDUCATION: (LIST COMPLETED QUALS AND EDUCATION)
(1) Copy blocks 28, 29, 41, 43 and 44 on a word document and change to lowercase to spellcheck.
(2) Take a good look at the administrative data. Make sure report date is actual date obtained from
(FLTMPS). Ensure periods after initials, write NMN for no middle name, and so on. Pay attention to
date format.
(3) If the Sailor has a concurrent report from the MERCY put TEMADD: YYMMMDD-YYMMMDD in block 29. Do
not mention it in block 43.
(4) Job scope is needed for block 29, tailor it to your clinic or the individual's job. (Dir SEL,
Dept LCPO, Dept CPO, Div LCPO, Div CPO, Dept LPO, Div LPO, WCS, Tech, etc)
EXAMPLE
PRI: Health Services Department LCPO-9. Mentors 2 JOs, 1 CPO and 14 Sailors who are responsible for the medical
and dental treatment of a 371 crew. COLL: DCTT-4; MTT Coord-8; CMEO-8; SOQ/Y Program Coord-8; CPO Phase II
Coord-8. PFA: 13-2/14-1. TEMDU/LV/TT: 13OCT05-13DEC15.
(5) There is no need to put the Sailor's na+-me in block 41/43 because it is in block #1.
(6) Standard Navy jargon does not have to be spelled out e.g. SOQ, PO1, CMEO, DAPA, IMR,
ODR, DCTT, MAP, LPO and so on. If in doubt, spell it out like ISO.
(7) Numbers, percent and dollar amounts do NOT have to be spelled out.
(8) 1 space after every period in blk 29, 41 (Chief Evaluations) and 43/44 (E1-E6 Evaluations).
(9) All bullets must have cause and effect, fluffy words take up space.
(10) Always capitalize the word Sailor.
(11) Block 21 is NA.
(12) Block 44 use EDU: AWD:, VOL: and QUAL: in that order.
(13) If the eval dates are from 16JUN01-17MAR15 why is block 30 NOT PERF or REQ? If the Sailor is
here when they are supposed to get a midterm then they get a midterm.
(14) Block 35 will be a 3.0 unless the Sailor is part of the CMEO, CAT, Focus Group Team or Diversity
Committee (E1-E6 Evaluations).
(15) Make sure, don't assume, that all of the supporting documents are in the folders when they are
turned back in. There are some that are missing PRT results and the last eval.
(16) Assignment in Rate will not be used on E5 and above evals. Be specific about all of the
recommendations that are made for block 41. Above all, be honest!
(17) If Sailor didn't do it, can't document it. If Sailor did it, need to show the cause and effect.
99
00
01
02
03
04
05
06
(18) All opening and closing statements are capitalize. Use white space after the opening and closing
statements when there's not enough bullet on summary block - Only ONE person can be the
DAPA/CFL/CFS/CCC.... all others should be stated as Assistant
(19) Block # 29 input must be addressed in back write up
(20) Refrain from using gender (he/she) or name
(21) Standard blurb for all LIMDUs and NOBs. "Member on temporary limited duty assignment to NM RTCSD"
"Member onboard less than 90 days"
(22) Be mindful of how you use apostrophes because everything is not possessive.