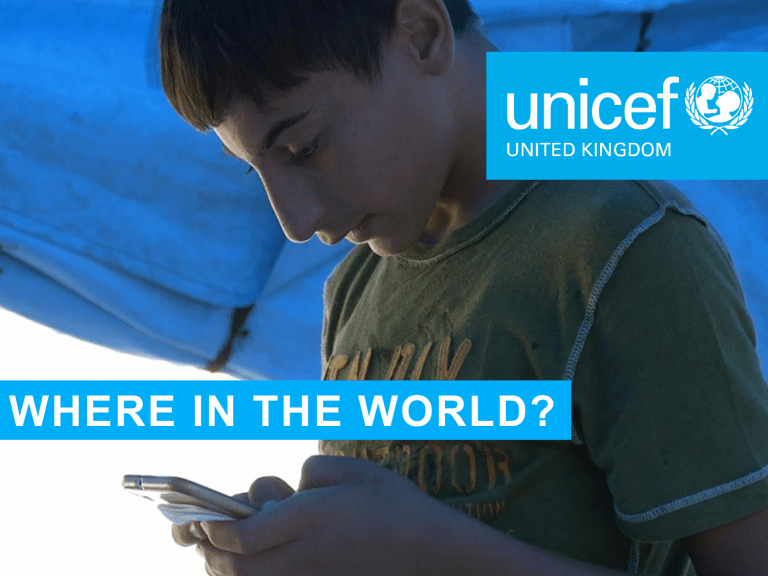 WHERE IN THE WORLD?
LEAVING HOME
In different parts of the world
people are sometimes
forced to leave their homes.
M I L L I O N S O F P E O P L E H AV E L E F T T H E I R
HOMES BUT NOT BY CHOICE
FLEEING TO EUROPE
 In 2015, over a million people arrived in Europe
by land or sea; a quarter were children.
 Their journeys started from lots of different
countries but especially Syria, Afghanistan and
Iraq.
• 78 per cent of those who have claimed asylum
in Europe in 2015 come from these three
countries.
WHY ARE PEOPLE COMING?
48
%
21
%
Syria
There has been a civil war in Syria since March 2011.
More than 250,000 people have been killed and over
11 million people displaced, 5.2 million of whom are children.
Afghanistan
Before the war in Syria forced millions of Syrians to become refugees,
Afghanistan was considered by the UN Refugee Agency as having "the
world's largest protracted refugee population", with 2.6 million refugees living
in 92 countries after three decades of conflict.
Iraq
9%
% of all
people
coming to
Europe as
refugees
from each
country
United States-led forces removed Saddam
Hussein, Iraq's President, from power in 2003.
He was later sentenced to death by an Iraqi court
for crimes against humanity. Democratic
elections were held in 2004 but violence and
repression continues in the country.
JOURNEYING TO EUROPE
People have
journeyed to
Europe along
different
routes
depending
upon their
original starting
point.
THE OBSTACLES
What are the obstacles asylum seekers face when they
leave their country?
YOUR TASK
In small groups, reflect upon the practical obstacles asylum seekers from
Syria, Afghanistan and Iraq face in reaching mainland Europe.
Use the following headings to help you in your discussions:
•
•
•
•
•
•
•
dangers within their home country;
methods of travel;
food and shelter;
language differences;
weather;
border controls; and
caring for sick and vulnerable family members,
including children.
RIGHTS UNDER THREAT
Which children's rights are under threat when children
and young people flee to another country to seek asylum
and refuge?
How can these rights be protected?