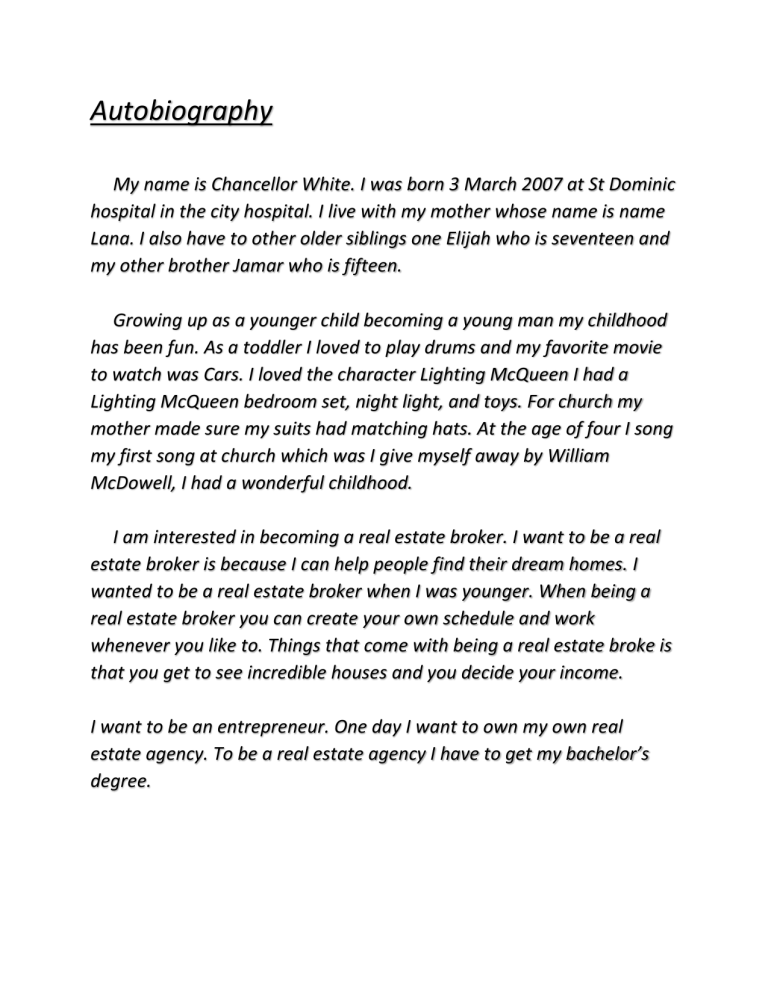 Autobiography
My name is Chancellor White. I was born 3 March 2007 at St Dominic
hospital in the city hospital. I live with my mother whose name is name
Lana. I also have to other older siblings one Elijah who is seventeen and
my other brother Jamar who is fifteen.
Growing up as a younger child becoming a young man my childhood
has been fun. As a toddler I loved to play drums and my favorite movie
to watch was Cars. I loved the character Lighting McQueen I had a
Lighting McQueen bedroom set, night light, and toys. For church my
mother made sure my suits had matching hats. At the age of four I song
my first song at church which was I give myself away by William
McDowell, I had a wonderful childhood.
I am interested in becoming a real estate broker. I want to be a real
estate broker is because I can help people find their dream homes. I
wanted to be a real estate broker when I was younger. When being a
real estate broker you can create your own schedule and work
whenever you like to. Things that come with being a real estate broke is
that you get to see incredible houses and you decide your income.
I want to be an entrepreneur. One day I want to own my own real
estate agency. To be a real estate agency I have to get my bachelor's
degree.