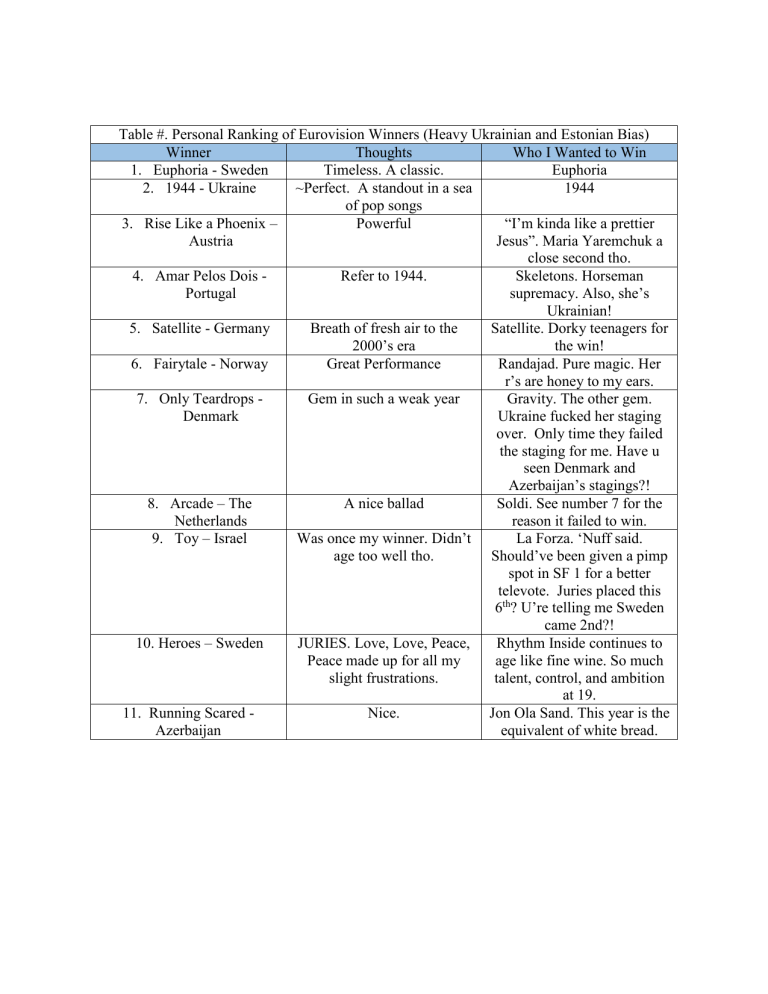 Table #. Personal Ranking of Eurovision Winners (Heavy Ukrainian and Estonian Bias)
Winner
Thoughts
Who I Wanted to Win
1. Euphoria - Sweden
Timeless. A classic.
Euphoria
2. 1944 - Ukraine
~Perfect. A standout in a sea
1944
of pop songs
3. Rise Like a Phoenix –
Powerful
"I'm kinda like a prettier
Austria
Jesus". Maria Yaremchuk a
close second tho.
4. Amar Pelos Dois Refer to 1944.
Skeletons. Horseman
Portugal
supremacy. Also, she's
Ukrainian!
5. Satellite - Germany
Breath of fresh air to the
Satellite. Dorky teenagers for
2000's era
the win!
6. Fairytale - Norway
Great Performance
Randajad. Pure magic. Her
r's are honey to my ears.
7. Only Teardrops Gem in such a weak year
Gravity. The other gem.
Denmark
Ukraine fucked her staging
over. Only time they failed
the staging for me. Have u
seen Denmark and
Azerbaijan's stagings?!
8. Arcade – The
A nice ballad
Soldi. See number 7 for the
Netherlands
reason it failed to win.
9. Toy – Israel
Was once my winner. Didn't
La Forza. 'Nuff said.
age too well tho.
Should've been given a pimp
spot in SF 1 for a better
televote. Juries placed this
6th? U're telling me Sweden
came 2nd?!
10. Heroes – Sweden
JURIES. Love, Love, Peace,
Rhythm Inside continues to
Peace made up for all my
age like fine wine. So much
slight frustrations.
talent, control, and ambition
at 19.
11. Running Scared Nice.
Jon Ola Sand. This year is the
Azerbaijan
equivalent of white bread.