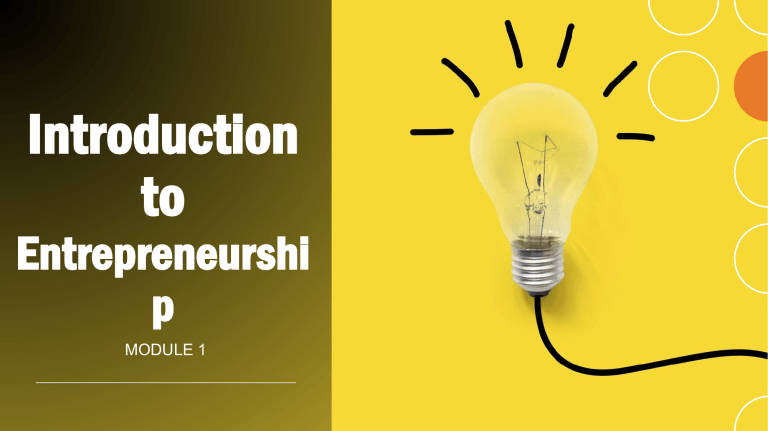 Introduction
to
Entrepreneurshi
p
MODULE 1
What is
Entrepreneurship?
LESSON 1
IDENTIFY WHETHER THE STATEMENT REFERS TO
ENTREPRENEUR or ENTREPRENEURSHIP
Entrepreneurship
• The act of creating a business or businesses while building and
scaling it to generate a profit.
• An important driver of economic growth and innovation.
• What people do to take their career and dreams into their hands and
lead it in the direction of their own choice.
• About building a life on your own terms. No bosses. No restricting
schedules. And no one holds you back.
Entrepreneur
• A person who sets up a business with
the aim to make a profit and creates a
new business, bearing most of the risks
and enjoying most of the rewards.
• An innovator, a source of new ideas,
goods, services, and business/or
procedures.
• Playing a key role in any economy,
using the skills and initiative necessary
to anticipate needs and bring good new
ideas to market.
Types
 Mega
entrepreneurs
–
individuals who are willing to
absorb huge risks of using
enormous amounts of capital in
their business ventures
 Microentrepreneurs
–
individuals who are engaged in
micro or small businesses as
an
alternative
to
formal
employment.
Importance of
Entrepreneurship?
LESSON 2
1. Entrepreneurship generates new wealth in an economy.
2. Entrepreneurship decreases poverty.
3. It creates opportunities, ensures social justice, instills
confidence and stimulates the economy.
4. Entrepreneurship improves productivity
5. Entrepreneurs create jobs.
6. Entrepreneurs innovate.
7. Entrepreneurs create innovation and social change
8. Entrepreneurs give to society
Relevance of Entrepreneurship to SHS
Students
1. To prepare students for livelihood even before college.
2. Entrepreneurship education aids students from all socioeconomic backgrounds to
think outside the box and nurture unconventional talents and skills.
3. Entrepreneurship develops their initiative and helps them to be more creative and selfconfident in whatever they undertake and to act in a socially responsible way.
4. It exposes students to numerous opportunities to learn how to think critically and
analyze the pieces on the board.
5. Being aware of all the important factors and seeing how they affect each other is the
foundation of a smart decision-making process.
6. Students have to be exposed to real-world examples and learn from their own
experience.
7. Entrepreneurship education requires students to be innovative, creative and
collaborative with others.
8. Entrepreneurship education provides budding entrepreneurs with the skills and
knowledge to come up with business ideas and develop their own ventures.