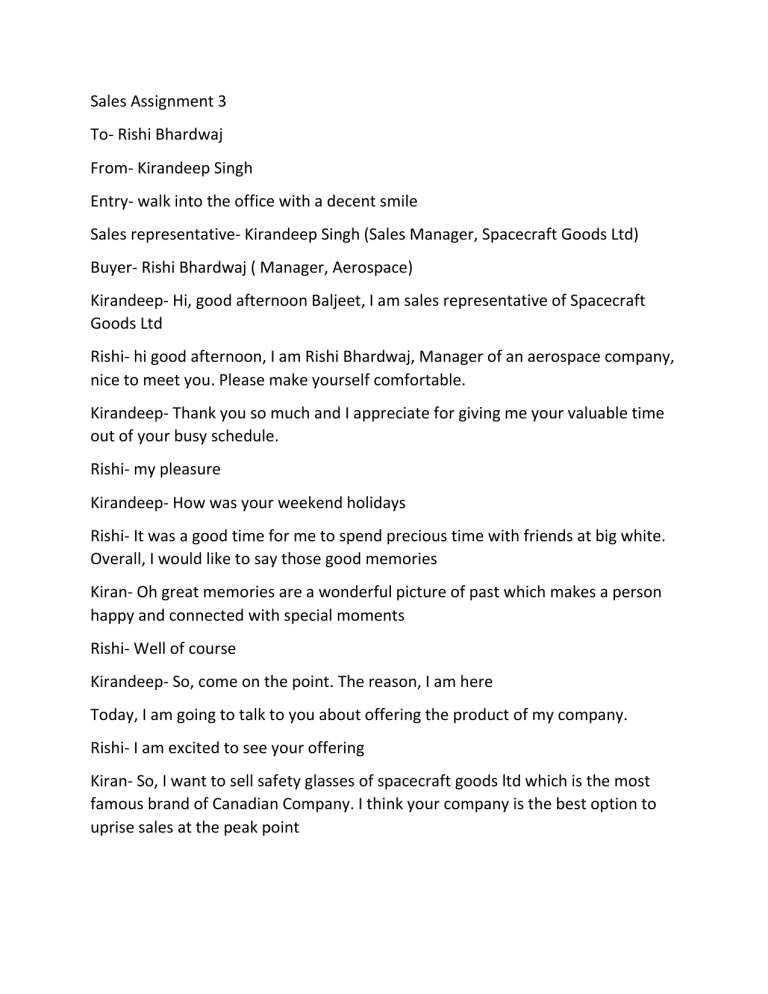 Sales Assignment 3
To- Rishi Bhardwaj
From- Kirandeep Singh
Entry- walk into the office with a decent smile
Sales representative- Kirandeep Singh (Sales Manager, Spacecraft Goods Ltd)
Buyer- Rishi Bhardwaj ( Manager, Aerospace)
Kirandeep- Hi, good afternoon Baljeet, I am sales representative of Spacecraft
Goods Ltd
Rishi- hi good afternoon, I am Rishi Bhardwaj, Manager of an aerospace company,
nice to meet you. Please make yourself comfortable.
Kirandeep- Thank you so much and I appreciate for giving me your valuable time
out of your busy schedule.
Rishi- my pleasure
Kirandeep- How was your weekend holidays
Rishi- It was a good time for me to spend precious time with friends at big white.
Overall, I would like to say those good memories
Kiran- Oh great memories are a wonderful picture of past which makes a person
happy and connected with special moments
Rishi- Well of course
Kirandeep- So, come on the point. The reason, I am here
Today, I am going to talk to you about offering the product of my company.
Rishi- I am excited to see your offering
Kiran- So, I want to sell safety glasses of spacecraft goods ltd which is the most
famous brand of Canadian Company. I think your company is the best option to
uprise sales at the peak point
Rishi- Yes, it is depending upon our management skills and the cooperation of
team members. As per customer needs, we deliver the product which gives them
proper satisfaction.
Kiran- That is good. Make sure you could increase sales as compared to last year
Rishi- Of course, due to the new safety rules of the Canadian government, it
becomes necessary for every worker to wear a proper helmet and safety glasses.
Every work needs a lot of attention and safety. Every small mistake can lead to big
destruction
Kirandeep- Rishi, if I could provide you with a better product with a money-back
guarantee at a reasonable price then it would be helpful to boost the sales and
goodwill; of your company
Rishi- I like your idea because it will help in increasing profits. I love to gain more
information about this company.
Benefits:
Kirandeep- Our product has a lot of advantages
To begin with, it is a very long-lasting product. People can use it for years. It is
made from strong glass which is not easily broken and the side of the glasses are
made from perfect plastic which did not cause headache.
It is a very big brand. Customer can go on word mouth. People find this product
more trustworthy.
Low price is another factor that can not be overlooked. The price of the product is
very low as compared to other company's product.
SPIN Questions
What equipment are you using now?
Rishi- Currently, we are using BrandX's safety glasses
How long you are using this brand's safety glasses?
Rishi- We are using these safety glasses for 4 years.
How many people buy these products from you?
Rishi- The current sales of safety glasses are about 800k/year.
Who are the manufactures of safety glasses?
Rishi- Safety glasses are made by a company named Megasafe Products
Are you satisfied with your present equipment?
I am satisfied with those glasses but if I can get better equipment on a lower
price, it is more advantageous
What reliability problems does your equipment have now?
Rishi- The frames of this product is not very good and cause many problems to
customers.
What type of problem do you face while setting the price of the product?
Rishi- Using the same margin for all the products
Have you received any complaint or from customers?
Rishi- Yes, the most common complaints we received from customers is that the
frame of the glasses is not quite strong, which can be easily broken and cause
several problems like headache uncomfortable pressure.
Does your overtime expense increase when your equipment goes down?
Rishi- Yes, overtime of employee will increase if productivity goes down.
Are you experiencing high turnover and training costs because of the difficulty
that your employees are having in operating your equipment?
Rishi-Turnover is not high but training costs are increasing because we have to
give proper training to newcomers and usually takes several days. Sometimes
employees do mistakes that hinder the performance of the company.
How inefficient it is if your problem is not solved (IMPLICATION)
Rishi- It may lose reputation, trust and loyalty among customers.
How would you feel if you will get the delivery on time? (NEED PAYOFF)
Rishi- it sounds good. There will be noting better than that.