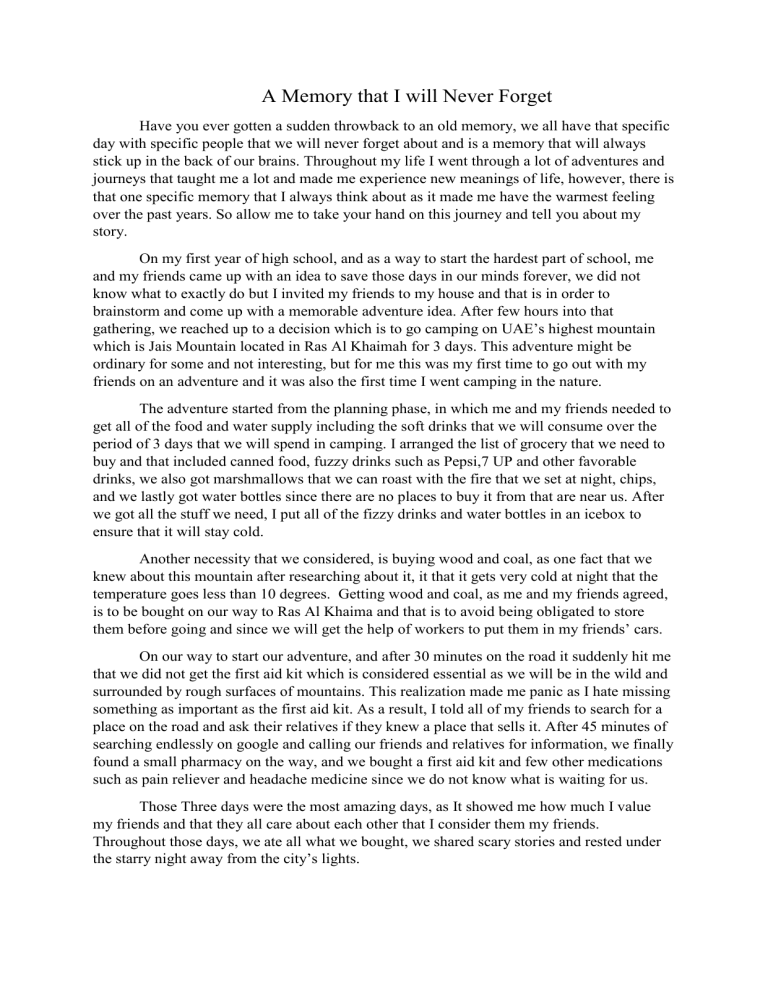 A Memory that I will Never Forget
Have you ever gotten a sudden throwback to an old memory, we all have that specific
day with specific people that we will never forget about and is a memory that will always
stick up in the back of our brains. Throughout my life I went through a lot of adventures and
journeys that taught me a lot and made me experience new meanings of life, however, there is
that one specific memory that I always think about as it made me have the warmest feeling
over the past years. So allow me to take your hand on this journey and tell you about my
story.
On my first year of high school, and as a way to start the hardest part of school, me
and my friends came up with an idea to save those days in our minds forever, we did not
know what to exactly do but I invited my friends to my house and that is in order to
brainstorm and come up with a memorable adventure idea. After few hours into that
gathering, we reached up to a decision which is to go camping on UAE's highest mountain
which is Jais Mountain located in Ras Al Khaimah for 3 days. This adventure might be
ordinary for some and not interesting, but for me this was my first time to go out with my
friends on an adventure and it was also the first time I went camping in the nature.
The adventure started from the planning phase, in which me and my friends needed to
get all of the food and water supply including the soft drinks that we will consume over the
period of 3 days that we will spend in camping. I arranged the list of grocery that we need to
buy and that included canned food, fuzzy drinks such as Pepsi,7 UP and other favorable
drinks, we also got marshmallows that we can roast with the fire that we set at night, chips,
and we lastly got water bottles since there are no places to buy it from that are near us. After
we got all the stuff we need, I put all of the fizzy drinks and water bottles in an icebox to
ensure that it will stay cold.
Another necessity that we considered, is buying wood and coal, as one fact that we
knew about this mountain after researching about it, it that it gets very cold at night that the
temperature goes less than 10 degrees. Getting wood and coal, as me and my friends agreed,
is to be bought on our way to Ras Al Khaima and that is to avoid being obligated to store
them before going and since we will get the help of workers to put them in my friends' cars.
On our way to start our adventure, and after 30 minutes on the road it suddenly hit me
that we did not get the first aid kit which is considered essential as we will be in the wild and
surrounded by rough surfaces of mountains. This realization made me panic as I hate missing
something as important as the first aid kit. As a result, I told all of my friends to search for a
place on the road and ask their relatives if they knew a place that sells it. After 45 minutes of
searching endlessly on google and calling our friends and relatives for information, we finally
found a small pharmacy on the way, and we bought a first aid kit and few other medications
such as pain reliever and headache medicine since we do not know what is waiting for us.
Those Three days were the most amazing days, as It showed me how much I value
my friends and that they all care about each other that I consider them my friends.
Throughout those days, we ate all what we bought, we shared scary stories and rested under
the starry night away from the city's lights.