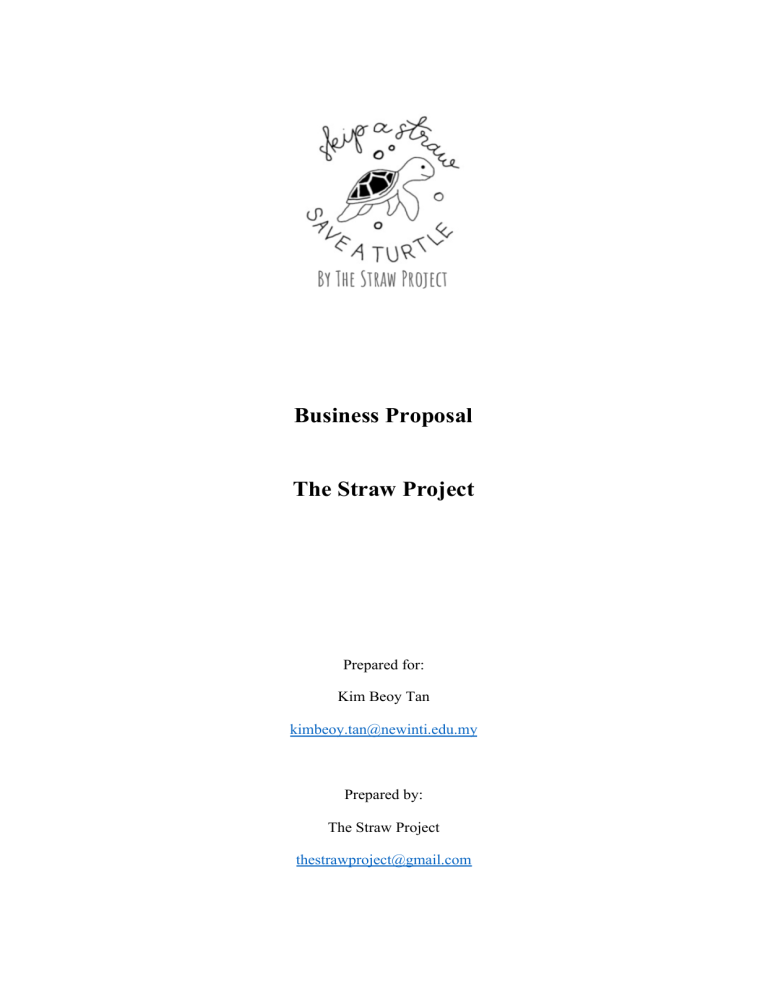 Business Proposal
The Straw Project
Prepared for:
Kim Beoy Tan
kimbeoy.tan@newinti.edu.my
Prepared by:
The Straw Project
thestrawproject@gmail.com
1.0 Executive Summary
This business project will have a start-up investment of only RM100 and will possibly
yield a net profit of RM80, or an 80% cumulative net profit over a 6 week period with an
average weekly sales of RM30.
The main idea of this business is to maximise profit at the same time satisfying the needs
of our prospects while promoting the use of reusable items instead of single-use plastics.
The Straw Project will be the first project to build our reputation in the environmental
businesses which would indirectly be of service to our future businesses.
As of now, there are only a handful companies focussing on products that benefit the
environment, therefore this projects main competition will also be China-based online
stores that offer a better price but a longer duration of delivery.
1.1 Objectives
•
•
•
•
To replace the publics usage of plastic straws with stainless steel straws
To offer our customers a quality product at a reasonable price and a chance
to make a difference environmentally
To generate a positive cash flow from sales and operations
To build a reputation in the environmental industry
1.2 Start-up costs and funding
The business is based on an online concept that would solely focus on promoting
and selling products using an online platform, therefore this would not require any
funding as we do not and will not own a physical store.
However the only costs will be from ordering the products that will be sold. At
approximation, the stock of 125 items will be RM100, including shipping costs.
We will then proceed to deposit another RM100 into our capital, using the
minimum amount to fund advertisements and promotions whereas saving the rest
as backup for any emergency situations.
1.3 Company Ownership
The Straw Project will be a privately held business owned in a partnership.
However, if the business is to grow into a corporation that would be registered
under the law, we will accept in more investors, but the majority will still be
owned by the partners.
1.4 Products
The Straw Project will only offer 2 sets of products, compiling of 4 items for the
first set, and 5 items for the other set.
1.5 Market
The target market for our business varies from the low to middle class teenagers
and adults.
With the deteriorating health condition of the environment, opportunities to serve
the public with environmental products has increased exponentially in recent
months.
1.6 Strategy
We will opt to use social media influence as our main strategy. Our strategy is
based on delivering a strong influence about the environments health and the steps
we as humans can take to prevent the situation from deteriorating even further.
We will also use news articles to make the public aware of the dangers plastic
straws and plastic in general can bring to the environment, ocean, sea animals, our
country, and the public inn general.
2.0 Products and Services
The two (2) sets of products that we will be focusing on is 2 key differences. But first we
will look at the similarities of both sets. Both sets are made up of the same 3 items, an
elbow straw (21.2cm x 0.6cm), a small straight straw (21.5cm x 0.6cm) and a brush
(24.0cm), while the key differences is that premium set comes with an extra big straight
straw (21.5cm x 1.2cm) and an embroiled white pouch where's the basic set comes with a
normal black pouch. The material for both sets of straws are stainless steel 304.
2.1 Competitive Landscape
Currently, only a few physical stores are selling similar products, such as Mr DIY,
Jaya Grocer, Watsons, The Hive Bulk Foods, and Frangipani Natural, while most
of the sales for these products are done online where the price is cheaper, such as
Lazada an Shopee.
Regarding physical stores as a competition, the average price of these products are
RM14 to RM20 while our products are only priced between RM6 to RM10,
excluding shipping, which is also another reason by why customers would prefer
to buy from us, due to the fact that we would be shipping these products directly
to their doorstep.
While online stores might offer a cheaper price than we do, the shipping period is
often longer as most of the companies are located in China while we are locally
based and are able to ship the product to our customers location within 3 working
days.
3.0 Market Analysis and Strategy
3.1 Market Analysis
According to a Nielson Survey, it is said that "66% of global respondents would
pay more for products that come from companies committed to positive social and
environmental impact", and we are not just an environmental business but we are
a business that is selling environmental products.
It is also easy to see, that with the global situation of pollution, more and more
people are turning to products that preserve the environment. Recent studies has
shown that the sales of environmental products has reach its all time high since it
started, and it is expected to rise. In 2020, Starbucks Corporation will stop using
plastic straws. In California plastics straws has been banned.
Therefore it is safe to say that metal straws will definitely have a good opportunity
to generate a sustainable profit.
3.2 Strategy and Implementation
Our strategy is based on taking full advantage of the global impacts on the
environment to maximise profit.
However, there are a few implementation strategy that we will note out. First of
all is using the influence of Non-Profit Organisations (NGO) to promote our
products. These organisations are based not only on providing aid for the lessable, but also to improve environmental quality.
The next influence we would definitely take advantage of is the social media
influencers. These people are the trend setters of the younger generation. If we can
get these group of people to use our products and promote our businesses, we will
get an array of customers from the younger generation.
Our last strategy is setting up promotions. The main promotion that we will focus
on is by providing free shipping for orders of 3 products an above, this will
influence the buyers to buy more than 2 products just to save on shipping while
we will cover the costs of shipping with the profit that overweights the shipping
cost by at least 60%.
3.3 SWOT Analysis
The SWOT analysis provides us
with an opportunity to assess our
strengths, weaknesses, opportunities
and threats before we head into the
open market. This analysis is done
to provide us with enough
knowledge to prevent and
unnecessary problems and solve
them beforehand. It also allows us to focus on the external opportunities presented
by the business environment as well as the potential threats that we mighty face.
3.3.1
Strengths
•
•
•
•
•
Environmental awareness
Clear vision of the market needs
Low budget
Positive impact
Managements successful proven experience
3.3.2
Weaknesses
•
•
•
3.3.3
Opportunities
•
•
•
3.3.4
Start-up challenges
New to this field
Low budget
Increasing need of environmentally friendly products
Current environmental issues
Low local competition
Threats
•
•
•
•
Other cheaper online stores
Changes in the business environment
Inflation that affects stock price from China
Lack of public awareness
4.0 Management
Since there is no physical store, the management and humans resource will be will be
handled by the partners of the business. However, promoters might be hired and will be
payed by commission from the profit. This method might dilute the profitability, therefore
we will focus on promoting through NGOs, friends, volunteers and the power of social
media influence.
5.0 Finance
The capital will remain at an approximate of RM100, which will be deducted for
purchasing of goods. Other expenses will be deducted from the profit generated by the
liquidity of our assets. When the need comes, the partners will increase the capital to
cover any other expenses occurred, such as paid promotions, etc.
New goods will be purchased if the stock count reached a limit of 3 stocks by the 4th
week of sale. However, if the stock count is still above 3 stocks by the end of the 4th
week, we will not purchase any new stocks and focus on liquidating the current goods
before the 6th week.
5.1 Break-Even Analysis
For our break-even analysis, we have RM100.47 as our start-up capital and if we
sell all the products, we will have a net gain of RM220, which brings us to an
average of RM7.60 per product.
It is expected that the break even is at the 13 product of sales.
Break Even Chart
RM250
RM200
RM150
RM100
RM50
RM0
0
5
10
Sal es
15
20
25
30
Break Even Point
Break-Even analysis chart
6.0 Expanding Strategy
Our expanding strategy is separated from our main strategy due to the fact that we are
new to this field and have insufficient experience to expect a long term investment return.
However, if we reach the break-even point within the first 2 weeks of our venture, we will
order a new bulk of products and target eateries such as cafes and restaurants. During that
time we will consider accepting partners and investors as well. This way we will be able
to build a pathway into achieving a globally sustainable entreprise.