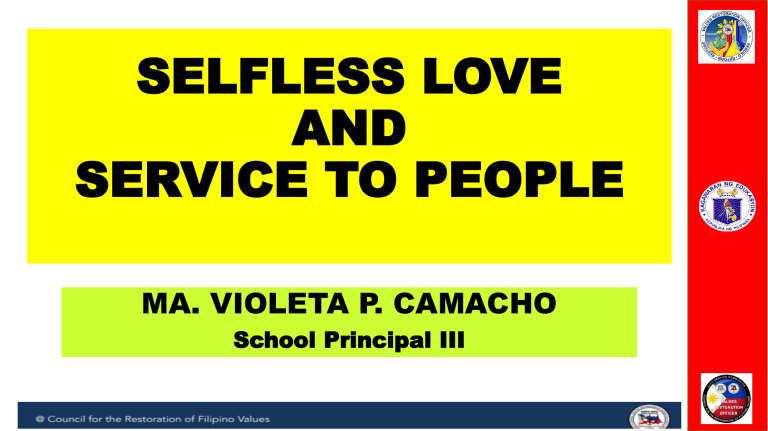 SELFLESS LOVE
AND
SERVICE TO PEOPLE
MA. VIOLETA P. CAMACHO
School Principal III
You have a Life to
live
and a Nation to
Build!
After the session, the participants are
expected to:
1.Identify the ways of showing
.
selfless
love and service to people .
Show commitment to public
interest over and above private
interest.
2.
4-PICS 1 WORD
L O V E
O
E
L
V
S E R V I
C
S
I
R
V
C E
E
E
C O M MA N D ME N T S
M
A
N
T
M
C
M
S
O
D
E
N
F O U N D A T I
T
I
U
N
O
D
F
O N
A
N
O
S E L F L E S S
F
E
L
L
S
S
E
S
Activity 2
PSDS- Give your own definition of
selfless love in relation to your work.
CID- Cite a thing that symbolizes
selfless love.
School Heads – Give a verse in the
bible related to selfless love.
OUR ACTIONS, OUR
CONDUCT AND HOW WE
WORK MUST BE ROOTED ON
SELFLESS LOVE
IN THE SERVICE OF THE
PEOPLE
The Need
for
Selfless LOVE
 We are able to release
FORGIVENESS.
 We are able to see beyond what
the naked eye can perceive
 We become TRUTHFUL,
HONORABLE, JUST and SINCERE
 We RESPECT AUTHORITY not because
we fear them but we love them.
 We do not lead out of tyranny
but out of love.
 We become good STEWARDS of
all that God has entrusted to us.
 We are able to use our words
properly and powerfully.
• We can live a life of HONESTY
and INTEGRITY.
HOW
TO
SHOW
AND
PRACTICE SELFLESS LOVE
AS PUBLIC SERVANT AND
VALUES
RESTORATION
OFFICER?
1. By showing Commitment to public
interest over and above our private
interest
a. All government resources and powers
of their respective offices must be
employed and used efficiently, effectively,
honestly and economically particularly to
avoid wastage in public funds and
revenues.
2. By showing Professionalism
 Shall perform and discharge their duties
with the highest degree of:
 excellence
 professionalism
 intelligence and
 skill
3. By practicing Justness and
Sincerity
 Shall remain true to people at all times.
 Must act with justness and sincerity
and shall NOT discriminate against
anyone, especially the poor and the
underprivileged
 Practicing
Justness
and
sincerity means observing:
 At all times respect for the rights of
others, and refrain from doing acts
contrary to law, good morals, good
customs,
public policy,
public
order, public safety and public
interest.
4. By observing Political
neutrality
 Shall provide service to everyone
without
discrimination
and
regardless of party affiliation or
preference.
4. By being responsive to the
Public
 We extend prompt, courteous, and
adequate service to the public;
develop
understanding
and
appreciation of the socio-economic
conditions
prevailing
in
the
country, especially in depressed
rural and urban areas
 Shall at all times be loyal to the
Republic and to the Filipino people
• Nationalism and Patriotism
- Promotes the use of locallyproduced goods, resources and
technology.
7. By being committed to democracy
-We commit ourselves to the democratic way
of life and values.
-Maintain the principle of public
accountability.
-Uphold the constitution and put loyalty to
country above loyalty to persons or party.
7.
By practicing simple living
 Public officials and employees
and their families shall lead
modest lives appropriate to
their position and income.
 Shall
not
indulge
in
extravagant or ostentatious
display of wealth in any form.