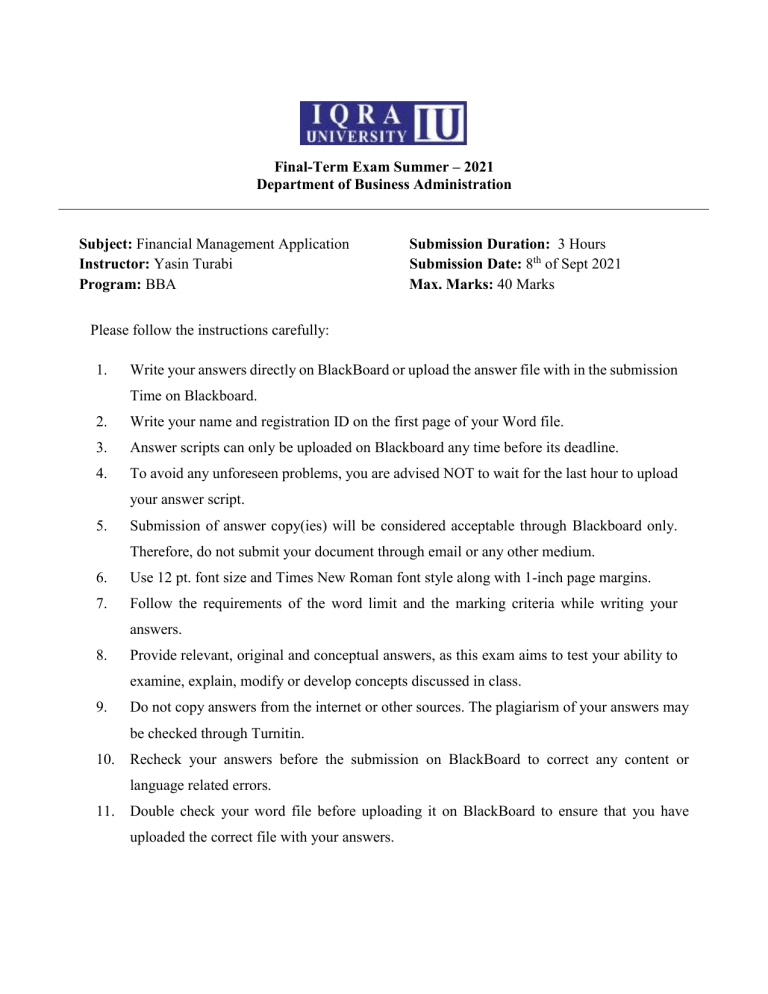 Final-Term Exam Summer – 2021
Department of Business Administration
Subject: Financial Management Application
Instructor: Yasin Turabi
Program: BBA
Submission Duration: 3 Hours
Submission Date: 8th of Sept 2021
Max. Marks: 40 Marks
Please follow the instructions carefully:
1.
Write your answers directly on BlackBoard or upload the answer file with in the submission
Time on Blackboard.
2.
Write your name and registration ID on the first page of your Word file.
3.
Answer scripts can only be uploaded on Blackboard any time before its deadline.
4.
To avoid any unforeseen problems, you are advised NOT to wait for the last hour to upload
your answer script.
5.
Submission of answer copy(ies) will be considered acceptable through Blackboard only.
Therefore, do not submit your document through email or any other medium.
6.
Use 12 pt. font size and Times New Roman font style along with 1-inch page margins.
7.
Follow the requirements of the word limit and the marking criteria while writing your
answers.
8.
Provide relevant, original and conceptual answers, as this exam aims to test your ability to
examine, explain, modify or develop concepts discussed in class.
9.
Do not copy answers from the internet or other sources. The plagiarism of your answers may
be checked through Turnitin.
10. Recheck your answers before the submission on BlackBoard to correct any content or
language related errors.
11. Double check your word file before uploading it on BlackBoard to ensure that you have
uploaded the correct file with your answers.
Question # 1
(Marks 05)
Stare Whether each of the following statements is True (T) or False (F).
1. Principal objective of making investment is return, hence, risk can be ignored by an
investor.
2. Return includes only the interest or dividend received from an investment.
3. If more than one value of return is expected, then expected return can be ascertained with
the help of probabilities.
4. Business risk arises because of competition in the market.
5. Financial risk of a firm depends upon composition of capital structure.
6. Systematic risk is diversifiable.
7. Degree of risk and risk premium are positively related.
8. No investor is ready to take risk in whatsoever situation.
9. Higher risk may be assumed by an investor if the return is lower.
10. CAPM establishes that the return of a security must be related to risk of that security.
Question # 2
(Marks 06)
A bond has a face value of $1000 with a time to maturity ten years from now. The yield to
maturity of the bond now is 10%.
a) What is the price of the bond today, if it pays no coupons?
b) What is the price of the bond if it pays annual coupons of 10%?
c) What is the price today if pays 8% coupon rate semi-annually?
Question # 3
Consider each of the following stocks, and solve for the missing element:
Stock
A
B
C
D
E
Current year's
dividend
$1
?
$1
$ 0.75
$ 1.10
Expected growth
in dividends
3%
4%
?
2%
4%
Required rate of
return
5%
6%
10%
?
10%
(Marks 05)
Value of a share
of stock
?
$ 26,000
$ 21,000
$ 7,650
?
Question # 4
(Marks 06)
Anle Corporation has a current price of $20, is expected to pay a dividend of $1 in one year, and
its expected price right after paying that dividend is $22.
a. What is Anle's expected dividend yield?
b. What is Anle's expected capital gain rate?
c. What is Anle's equity cost of capital?
Question # 5
(Marks 5)
Realizing the benefits of diversification you have invested in the following securities:
United
Chubb
Chase
Expected return
12%
14%
9%
Standard deviation of return
3%
5%
3%
Beta
1.65
1.2
0.89
Amount invested in each security
$50,000
$125,000
$75,000
Compute the expected rate of return on the portfolio, and the beta of the portfolio.
Question # 6
(Marks 06)
Macedonia Oil is drilling an offshore oil well. The following table lists the expected cash flow
from each possible outcome and, based on geological studies, the probability of each.
Outcome
Cash Flow
Probability
Dry Well
-$1,000,000
0.30
Natural Gas
1,000,000
0.30
Gas and Oil
2,000,000
0.20
Oil
1,000,000
0.20
Each cash flow will occur one year from today and will fully deplete the well. There is a cash
outflow for a dry well due to shutdown expenses. Calculate the expected value of the cash flows
from the well, and the standard deviation and coefficient of variation of the cash flows.
Question # 7
The following information is available from the Balance Sheet of a company:
Equity Share Capital-20,000 shares of Rs. 10 each
Rs. 200,000
Preference Share
Rs. 130,000
8% Debentures
Rs. 170,000
(Marks 03)
The rate of tax for the company is 30%. Current level of Equity Dividend is 12%.
Calculate the weighted average cost of capital using the above figures.
Question # 8
(Marks 04)
The following information has been extracted from the balance sheet of Fashions Ltd.
Rs (000)
Equity Share Capital
400
12% Debentures
400
18% Term Loan
1,200
2,000
Determine the weighted average cost. of capital of the company. It had been paying dividends at
a consistent rate of 20% per annum. Shares and Debentures are being traded at par. Tax rate is
40%.