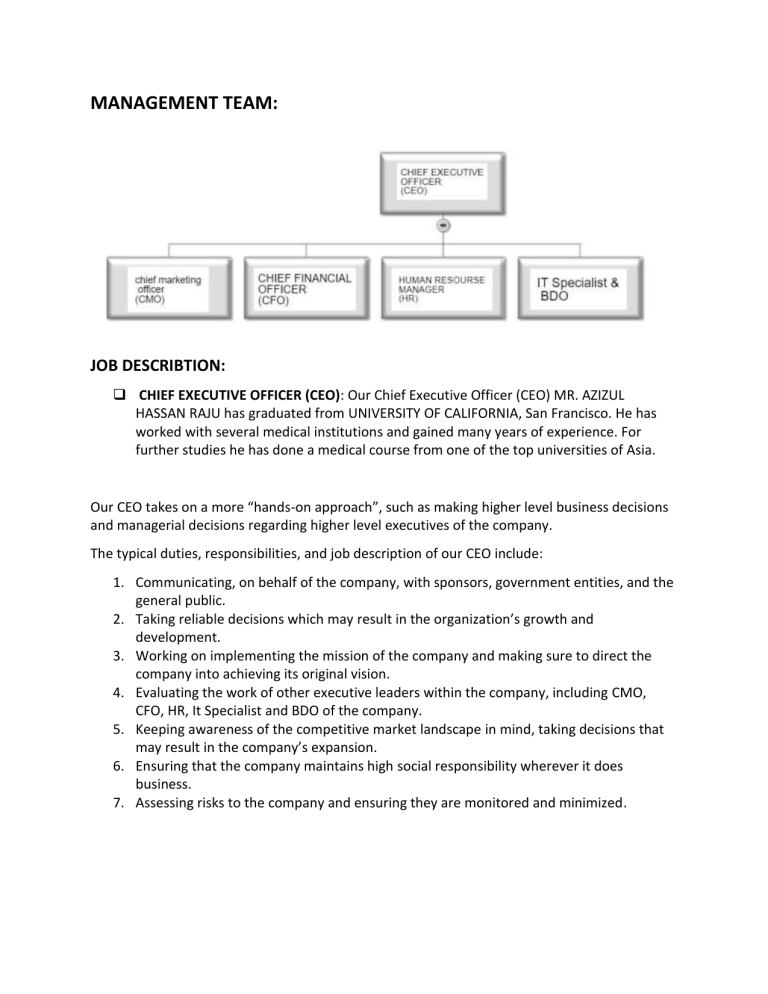 MANAGEMENT TEAM:
JOB DESCRIBTION:
 CHIEF EXECUTIVE OFFICER (CEO): Our Chief Executive Officer (CEO) MR. AZIZUL
HASSAN RAJU has graduated from UNIVERSITY OF CALIFORNIA, San Francisco. He has
worked with several medical institutions and gained many years of experience. For
further studies he has done a medical course from one of the top universities of Asia.
Our CEO takes on a more "hands-on approach", such as making higher level business decisions
and managerial decisions regarding higher level executives of the company.
The typical duties, responsibilities, and job description of our CEO include:
1. Communicating, on behalf of the company, with sponsors, government entities, and the
general public.
2. Taking reliable decisions which may result in the organization's growth and
development.
3. Working on implementing the mission of the company and making sure to direct the
company into achieving its original vision.
4. Evaluating the work of other executive leaders within the company, including CMO,
CFO, HR, It Specialist and BDO of the company.
5. Keeping awareness of the competitive market landscape in mind, taking decisions that
may result in the company's expansion.
6. Ensuring that the company maintains high social responsibility wherever it does
business.
7. Assessing risks to the company and ensuring they are monitored and minimized.
 CHIEF MARKETING OFFICER (CMO): Our Chief Marketing Officer (CMO) MR. SAIFUL
ISLAM graduated from Harvard School of Business. He has completed his major in
marketing. He worked in several marketing field and gained experience.
Our CMO is passionate for their profession and have great knowledge for all things marketing.
He can balance a practical mindset with a creative business acumen and lead people through
complex marketing operations.
1. Define marketing strategies to support the company's development and growth in the
long run.
2. Develop a feasible marketing plan for the department and oversee its day-to-day
implementation.
3. Plan and organize marketing functions and operations (app development, branding,
communications etc.), and ensure that they project the company's unique "voice".
4. Design and coordinate promotional campaigns, PR and other marketing efforts across
channels.
5. Build a highly efficient team of marketing professionals.
6. Leader of the marketing department with both creative and analytical capabilities.
7. Outstanding communication (written and verbal) and interpersonal abilities.
8. Solid understanding of market research and data analysis methods.
 CHIEF FINANCING OFFICER(CFO): Our Chief Financial Officer (CFO) MS. POONAM SHAHA
graduated from The University of Chicago, United States of America. She has
completed her major in Finance. In addition, she has been working for 2 years in World
Bank organization and also gained experience working in one of the topmost banks in
the United States of America, The U.S Bank.
(CFO) of our company has primary responsibility for the planning, implementation, managing
and running of all the finance activities of a company, including business planning, budgeting,
forecasting and negotiations.
Responsibility of our CFO includes:
1. Providing leadership, direction and management of the finance and accounting team
2. Providing strategic recommendations to the CEO/president and members of the
executive management team
3. Managing the processes for financial forecasting and budgets, and overseeing the
preparation of all financial reporting
4. Advising on long-term business and financial planning
5. Establishing and developing relations with senior management and external partners
and stakeholders
6. Reviewing all formal finance, HR and IT related procedures
 HUMAN RESOURCE MANAGER (HR): Our head of Human Resources (HR) MS. KAZI
LAMISA NAHAR graduated from University of Toronto, Canada. She majored in Human
Resources Management (HRM). Moreover, she has also worked in top
companies of Bangladesh such as Grameenphone and Unilever, two of the leading
multinational telecom companies and FMCG companies in Bangladesh respectively.
The responsibilities and duties of HR manager is the most important part. Here is the outline of
the functions that our HR department will perform on a regular basis:
1. Develop programs to enhance productivity of the employees and the staff.
2. Ensure that the hiring process properly introduces new employees to the corporate
culture of the company.
3. Deliver compensation and benefit comparison reports to the executive team each
month and make recommendations to improve or add in the company's current
offerings to the general public.
4. Come up with new ways to measure employee morale and determine methods for
improving overall employee satisfaction which ultimately results in greater productivity.
5. Act as liaison between the company and outside legal and professional resources to
ensure that all employment policies follow current laws and regulations
 IT SPECIALIST AND BUSINESS DEVEVELOPMENT OFFICER (BDO): Our IT specialist and
Business Development Officer (BDO) MR. ISHTI SIDDIQUE graduated from University of
Southern California. He completed his major in Computer Science. He worked as the
marketing development officer for 4 years in Skype video communication, one of the
best video-calling apps in the US.
Our IT Specialist maintains and improves the technical systems of our company to ensure
that all the employees have the proper technology they need to complete their work
because our business relies mostly on technology. His summary will provide an overview of
our company and expectations for the position. He will outline the types of activities and
responsibilities required for the job so job seekers can determine if they are qualified, or if
the job is a good fit. He will be adept at negotiating business deals and able to make sound
decisions that will benefit the company.
The functions that he will perform from this position on a regular basis:
1. Excellent problem-solving and critical thinking skills regarding the Information
Technology of the company.
2. Keen attention to detail.
3. Good organization, time management and prioritization in terms of software
development.
4. Analyzing customer feedback data to determine whether customers are satisfied with
company's app and services.
5. Providing insight into product development and competitive positioning within the area
of expertise of the app.
6. Analyzing financial data and developing effective strategies to reduce business costs and
increase company profits.
7. Efficient troubleshooting abilities.