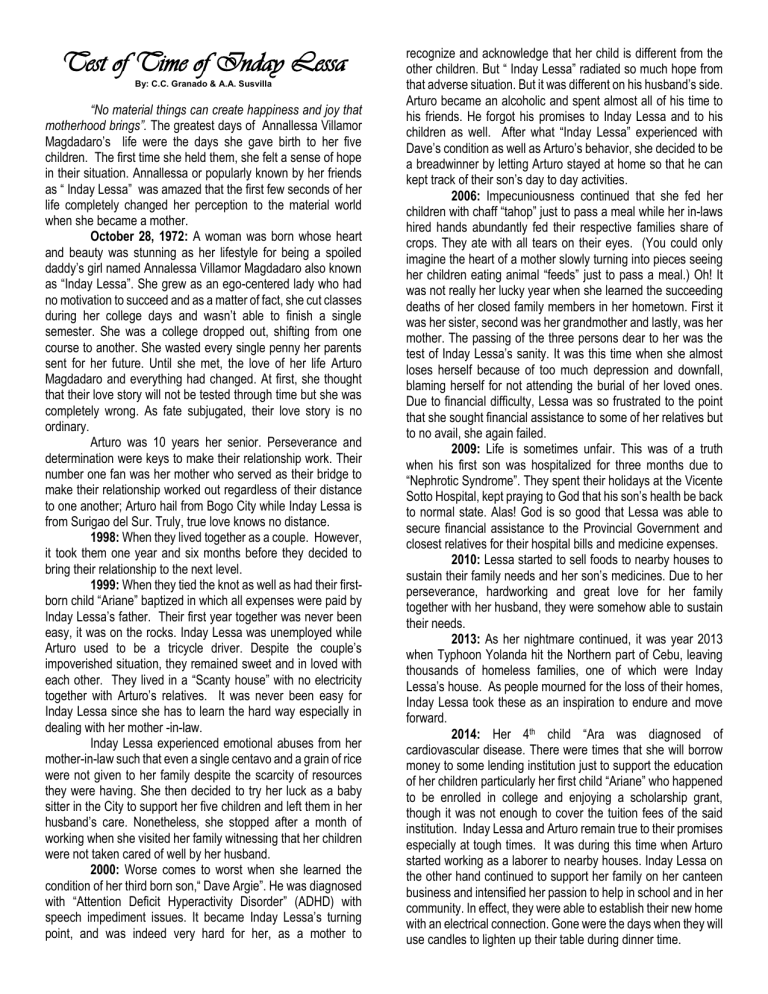 Test of Time of Inday Lessa
By: C.C. Granado & A.A. Susvilla
"No material things can create happiness and joy that
motherhood brings". The greatest days of Annallessa Villamor
Magdadaro's life were the days she gave birth to her five
children. The first time she held them, she felt a sense of hope
in their situation. Annallessa or popularly known by her friends
as " Inday Lessa" was amazed that the first few seconds of her
life completely changed her perception to the material world
when she became a mother.
October 28, 1972: A woman was born whose heart
and beauty was stunning as her lifestyle for being a spoiled
daddy's girl named Annalessa Villamor Magdadaro also known
as "Inday Lessa". She grew as an ego-centered lady who had
no motivation to succeed and as a matter of fact, she cut classes
during her college days and wasn't able to finish a single
semester. She was a college dropped out, shifting from one
course to another. She wasted every single penny her parents
sent for her future. Until she met, the love of her life Arturo
Magdadaro and everything had changed. At first, she thought
that their love story will not be tested through time but she was
completely wrong. As fate subjugated, their love story is no
ordinary.
Arturo was 10 years her senior. Perseverance and
determination were keys to make their relationship work. Their
number one fan was her mother who served as their bridge to
make their relationship worked out regardless of their distance
to one another; Arturo hail from Bogo City while Inday Lessa is
from Surigao del Sur. Truly, true love knows no distance.
1998: When they lived together as a couple. However,
it took them one year and six months before they decided to
bring their relationship to the next level.
1999: When they tied the knot as well as had their firstborn child "Ariane" baptized in which all expenses were paid by
Inday Lessa's father. Their first year together was never been
easy, it was on the rocks. Inday Lessa was unemployed while
Arturo used to be a tricycle driver. Despite the couple's
impoverished situation, they remained sweet and in loved with
each other. They lived in a "Scanty house" with no electricity
together with Arturo's relatives. It was never been easy for
Inday Lessa since she has to learn the hard way especially in
dealing with her mother -in-law.
Inday Lessa experienced emotional abuses from her
mother-in-law such that even a single centavo and a grain of rice
were not given to her family despite the scarcity of resources
they were having. She then decided to try her luck as a baby
sitter in the City to support her five children and left them in her
husband's care. Nonetheless, she stopped after a month of
working when she visited her family witnessing that her children
were not taken cared of well by her husband.
2000: Worse comes to worst when she learned the
condition of her third born son," Dave Argie". He was diagnosed
with "Attention Deficit Hyperactivity Disorder" (ADHD) with
speech impediment issues. It became Inday Lessa's turning
point, and was indeed very hard for her, as a mother to
recognize and acknowledge that her child is different from the
other children. But " Inday Lessa" radiated so much hope from
that adverse situation. But it was different on his husband's side.
Arturo became an alcoholic and spent almost all of his time to
his friends. He forgot his promises to Inday Lessa and to his
children as well. After what "Inday Lessa" experienced with
Dave's condition as well as Arturo's behavior, she decided to be
a breadwinner by letting Arturo stayed at home so that he can
kept track of their son's day to day activities.
2006: Impecuniousness continued that she fed her
children with chaff "tahop" just to pass a meal while her in-laws
hired hands abundantly fed their respective families share of
crops. They ate with all tears on their eyes. (You could only
imagine the heart of a mother slowly turning into pieces seeing
her children eating animal "feeds" just to pass a meal.) Oh! It
was not really her lucky year when she learned the succeeding
deaths of her closed family members in her hometown. First it
was her sister, second was her grandmother and lastly, was her
mother. The passing of the three persons dear to her was the
test of Inday Lessa's sanity. It was this time when she almost
loses herself because of too much depression and downfall,
blaming herself for not attending the burial of her loved ones.
Due to financial difficulty, Lessa was so frustrated to the point
that she sought financial assistance to some of her relatives but
to no avail, she again failed.
2009: Life is sometimes unfair. This was of a truth
when his first son was hospitalized for three months due to
"Nephrotic Syndrome". They spent their holidays at the Vicente
Sotto Hospital, kept praying to God that his son's health be back
to normal state. Alas! God is so good that Lessa was able to
secure financial assistance to the Provincial Government and
closest relatives for their hospital bills and medicine expenses.
2010: Lessa started to sell foods to nearby houses to
sustain their family needs and her son's medicines. Due to her
perseverance, hardworking and great love for her family
together with her husband, they were somehow able to sustain
their needs.
2013: As her nightmare continued, it was year 2013
when Typhoon Yolanda hit the Northern part of Cebu, leaving
thousands of homeless families, one of which were Inday
Lessa's house. As people mourned for the loss of their homes,
Inday Lessa took these as an inspiration to endure and move
forward.
2014: Her 4th child "Ara was diagnosed of
cardiovascular disease. There were times that she will borrow
money to some lending institution just to support the education
of her children particularly her first child "Ariane" who happened
to be enrolled in college and enjoying a scholarship grant,
though it was not enough to cover the tuition fees of the said
institution. Inday Lessa and Arturo remain true to their promises
especially at tough times. It was during this time when Arturo
started working as a laborer to nearby houses. Inday Lessa on
the other hand continued to support her family on her canteen
business and intensified her passion to help in school and in her
community. In effect, they were able to establish their new home
with an electrical connection. Gone were the days when they will
use candles to lighten up their table during dinner time.
2015: Lessa started building her legacy as PTA Officer
(Board Member, Secretary and President). Her passion and
desire to help in her community was very evident since she was
able to lead many accomplishments in schools particularly in
physical aspects. To name a few were the following; the
construction of covered pathway, rehabilitation of activity center
and establishment of waiting shed in Cayang National High
School. Her works and accomplishments as PTA Officer were
becoming popular in her community and in the City as well.
2017: Inday Lessa never put on airs of any kind, her
happiness lay in seeing her five children grow up attaining good
education, good health and she was very eager to do anything
to achieve that goal. Her children's joys were her top priority,
she will always take time to celebrate her children's special day,
despite how meager the food served in the table, it was happily
shared by them. As a matter of fact during the 18th birthday of
her second child " Abegayle" she surprised her with a debut
party that made her daughter cried for joy. She emphasized that
her children's birthdays were special, it reminded her that very
day made her the happiest woman on earth.
2018 up to present: Because of Inday Lessa's
persistent nature and her positive outlook in life, her son
"Arianne" graduated with flying colors and later on employed as
a "Call Center Agent" which helped in elevating their financial
status. Her canteen business also was doing well and continued
to thrive. Inday Lessa's behavior shows resilience and
dedication to her family as proven through test of time. No
matter what kind of battles she faces or she was placed in, she
was one of those individuals that were meant to succeed.
Life will always be meaningful when we know that we
were able to overcome each trials with joy and gladness in heart
as we recognize that there is always someone who gives us
strength and grace to continue. Believing that Inday Lessa has
overcome life's adversity because there's a God that never left
her in her difficult times. Inday Lessa remain tough, Godfearing and goal-driven despite the "Test of Time".