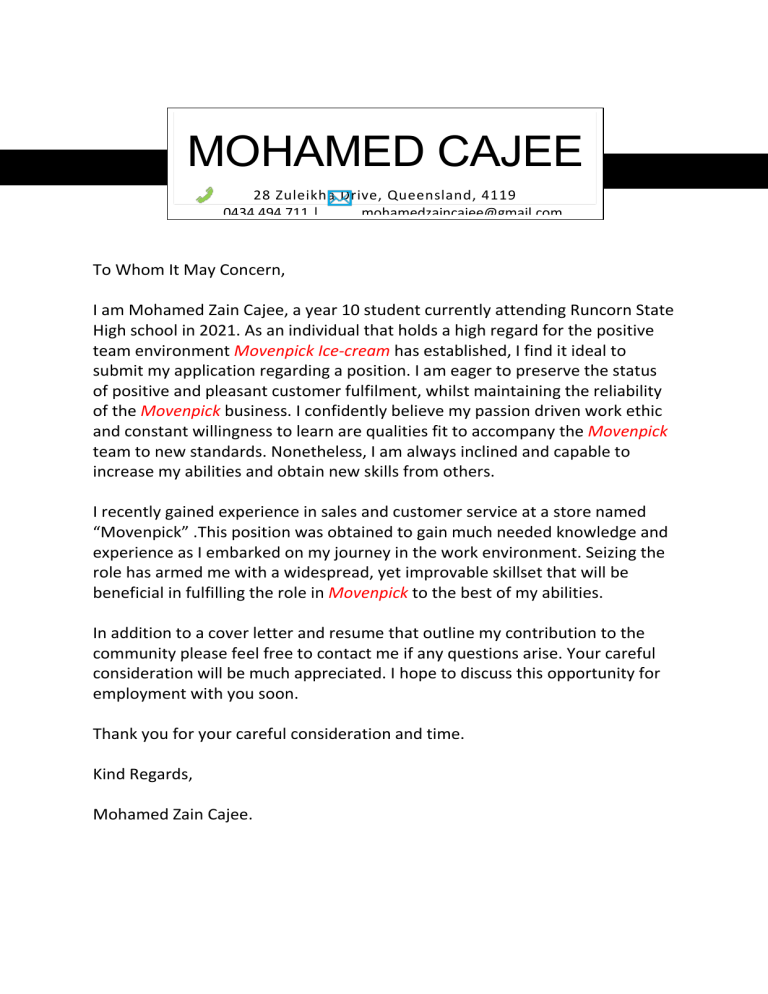 MOHAMED CAJEE
28 Zuleikha Drive, Queensland, 4119
0434 494 711 |
mohamedzaincajee@gmail.com
To Whom It May Concern,
I am Mohamed Zain Cajee, a year 10 student currently attending Runcorn State
High school in 2021. As an individual that holds a high regard for the positive
team environment Movenpick Ice-cream has established, I find it ideal to
submit my application regarding a position. I am eager to preserve the status
of positive and pleasant customer fulfilment, whilst maintaining the reliability
of the Movenpick business. I confidently believe my passion driven work ethic
and constant willingness to learn are qualities fit to accompany the Movenpick
team to new standards. Nonetheless, I am always inclined and capable to
increase my abilities and obtain new skills from others.
I recently gained experience in sales and customer service at a store named
"Movenpick" .This position was obtained to gain much needed knowledge and
experience as I embarked on my journey in the work environment. Seizing the
role has armed me with a widespread, yet improvable skillset that will be
beneficial in fulfilling the role in Movenpick to the best of my abilities.
In addition to a cover letter and resume that outline my contribution to the
community please feel free to contact me if any questions arise. Your careful
consideration will be much appreciated. I hope to discuss this opportunity for
employment with you soon.
Thank you for your careful consideration and time.
Kind Regards,
Mohamed Zain Cajee.