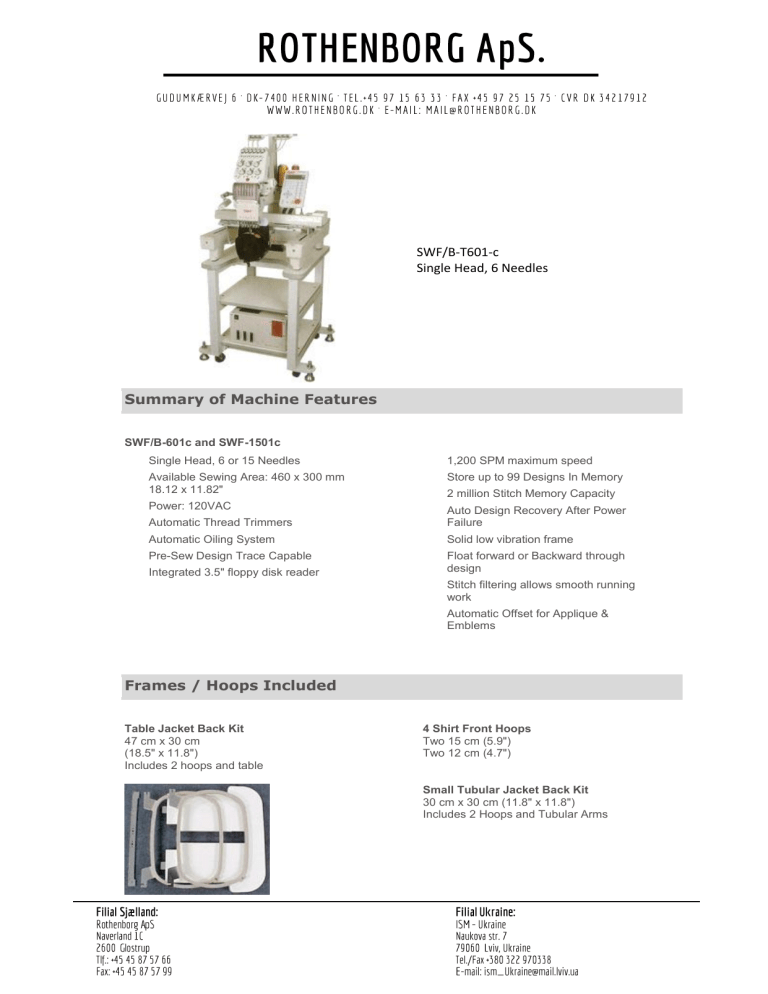 SWF/B-T601-c
Single Head, 6 Needles
Summary of Machine Features
SWF/B-601c and SWF-1501c
Single Head, 6 or 15 Needles
1,200 SPM maximum speed
Available Sewing Area: 460 x 300 mm
18.12 x 11.82"
Store up to 99 Designs In Memory
Power: 120VAC
Automatic Thread Trimmers
Auto Design Recovery After Power
Failure
Automatic Oiling System
Solid low vibration frame
Pre-Sew Design Trace Capable
Float forward or Backward through
design
Integrated 3.5" floppy disk reader
2 million Stitch Memory Capacity
Stitch filtering allows smooth running
work
Automatic Offset for Applique &
Emblems
Frames / Hoops Included
Table Jacket Back Kit
47 cm x 30 cm
(18.5" x 11.8")
Includes 2 hoops and table
4 Shirt Front Hoops
Two 15 cm (5.9")
Two 12 cm (4.7")
Small Tubular Jacket Back Kit
30 cm x 30 cm (11.8" x 11.8")
Includes 2 Hoops and Tubular Arms
Machine Control Panel
Memory Capacity: 2 million
stitch memory capacity and
99 design memory capacity
Rotate, Mirror Image
Conversion: All designs
can be converted into
symmetry by turning
0º~359º.
Scale Up/Down: Within the
range of 50~200%, the
machine can extend and
reduce by 1% to X or Y
direction.
Built-in 3.5" FDD: FDD is installed in the
machine, which can save 480,000 stitches /
233 designs at maximum per 2HD floppy disk
so input and output for various designs are
available. (Both 2DD and 2HD can be
used).The machine can read and save disks
with SWF format, which is compatible with
different formatted designs from other
company codes by automatic recognition. It is
also very convenient to output data with the
codes of other companies.
Manual/Automatic Offset: During the
embroidery work for appliqué and frame
change, the frame can be returned to the
previous position with only simple key
operation. If you designate automatic
offset position in the setting mode, it can
be returned to the previous offset
position after finishing embroidery work.
Origin Return / Frame Offset: During
the embroidery work, the frame returns to
the starting point of design, and if there is
any problem occurred, you can make the
frame go back for the correct embroidery
work.
Tracing: For accurate position of
embroidery, the machine traces the
outline of design before starting main
operation.
Automatic returns to the suspension
point after power failure: When
unexpected power failure occurs, it can
search for the exact suspension spot
automatically for continuous operation to
prevent from inferiority of production.
Floating: The frame can process both
forward and backward without stitching
by units of 1, 100, 1000 and 10000
stitches or by color code.
Accessories Included
Operation Manual
Bobbin Winder
Cap Frame Manual
Quick Reference Manual
Tool Kit with necessary screw drivers,
wrenches, etc.
Parts Book
Machine Grease
Backup of Software on Disk
Machine Oil and Oiling Bottle
Machine Stand - 29" x 24 1/2" x 29" (w,
d, h)
Optional Starter Kit
1-Head Starter Kit:
15 Cones of Thread
1 roll (10"x110 yds) of Solvy
20 pcs. 15"x15" felt
1 box (100) of needles (#11BP)
1 metal thread nipper
1 box (144) of bobbins
1 seam ripper
1 roll (4"x250 yds) of tearaway backing
1 thread color chart
1 roll (21.75"x100 yds) cutaway backing
Dakota Collectibles 100 Stock Designs
Optional Accessories
Large Tubular Jacket Back Kit
41.2 cm x 27 cm (16.2" x 10.6")
Includes 2 hoops and tubular arms
Rapid Change Cap Kit:
1 Cap Driver
1 Cap Gauge
2 wide Cap Frames
Machine Size/Weight
Size (w,d,h):
Weight * (uncrated):
76.2cm x 76.2cm x 152.4cm
63.5kg
(Rounded to nearest .5 for simplicity)
* This weight does not reflect the shipping weight
due to dimensional weight used by the shipping
companies.