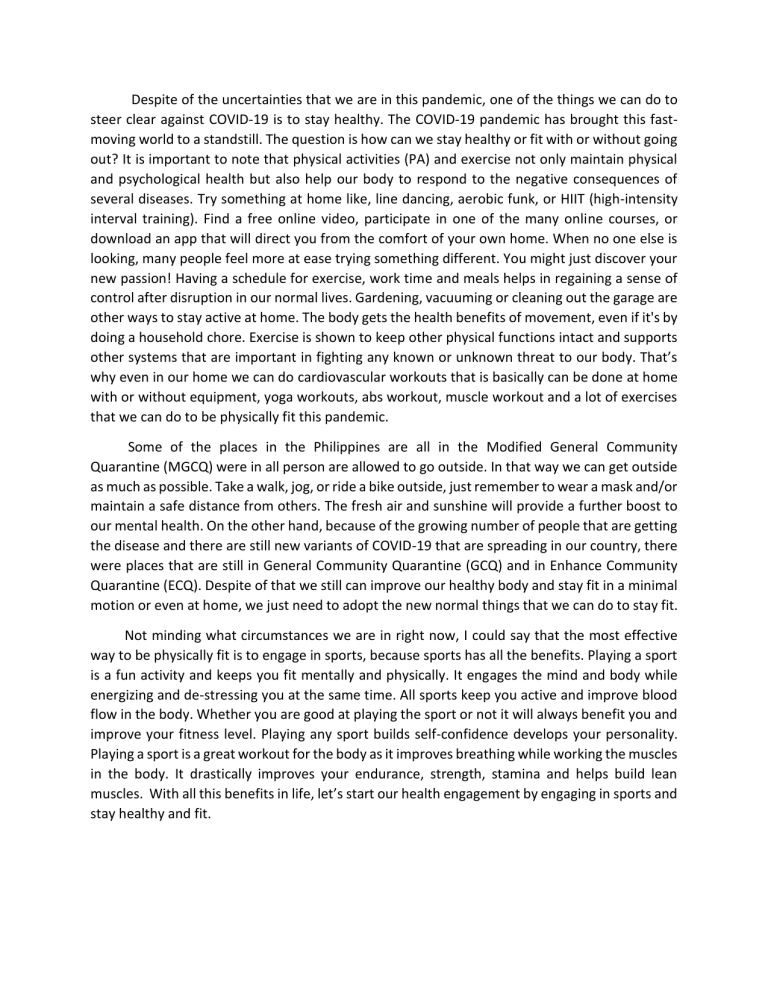 Despite of the uncertainties that we are in this pandemic, one of the things we can do to
steer clear against COVID-19 is to stay healthy. The COVID-19 pandemic has brought this fastmoving world to a standstill. The question is how can we stay healthy or fit with or without going
out? It is important to note that physical activities (PA) and exercise not only maintain physical
and psychological health but also help our body to respond to the negative consequences of
several diseases. Try something at home like, line dancing, aerobic funk, or HIIT (high-intensity
interval training). Find a free online video, participate in one of the many online courses, or
download an app that will direct you from the comfort of your own home. When no one else is
looking, many people feel more at ease trying something different. You might just discover your
new passion! Having a schedule for exercise, work time and meals helps in regaining a sense of
control after disruption in our normal lives. Gardening, vacuuming or cleaning out the garage are
other ways to stay active at home. The body gets the health benefits of movement, even if it's by
doing a household chore. Exercise is shown to keep other physical functions intact and supports
other systems that are important in fighting any known or unknown threat to our body. That's
why even in our home we can do cardiovascular workouts that is basically can be done at home
with or without equipment, yoga workouts, abs workout, muscle workout and a lot of exercises
that we can do to be physically fit this pandemic.
Some of the places in the Philippines are all in the Modified General Community
Quarantine (MGCQ) were in all person are allowed to go outside. In that way we can get outside
as much as possible. Take a walk, jog, or ride a bike outside, just remember to wear a mask and/or
maintain a safe distance from others. The fresh air and sunshine will provide a further boost to
our mental health. On the other hand, because of the growing number of people that are getting
the disease and there are still new variants of COVID-19 that are spreading in our country, there
were places that are still in General Community Quarantine (GCQ) and in Enhance Community
Quarantine (ECQ). Despite of that we still can improve our healthy body and stay fit in a minimal
motion or even at home, we just need to adopt the new normal things that we can do to stay fit.
Not minding what circumstances we are in right now, I could say that the most effective
way to be physically fit is to engage in sports, because sports has all the benefits. Playing a sport
is a fun activity and keeps you fit mentally and physically. It engages the mind and body while
energizing and de-stressing you at the same time. All sports keep you active and improve blood
flow in the body. Whether you are good at playing the sport or not it will always benefit you and
improve your fitness level. Playing any sport builds self-confidence develops your personality.
Playing a sport is a great workout for the body as it improves breathing while working the muscles
in the body. It drastically improves your endurance, strength, stamina and helps build lean
muscles. With all this benefits in life, let's start our health engagement by engaging in sports and
stay healthy and fit.